Last Updated on June 24, 2019 by Soumya
An inconsequential dialogue in a Bollywood movie in 2010 – a quick read about the famous Mogok's ko-thwe ruby of Mandalay – Sudha Shah's book on a Burmese King in Exile – learning and falling in love with the cultural richness of Mandalay for 7 long years – finally the much-awaited trip to Myanmar in 2017. You can imagine my excitement when I added the Cultural Capital of Burma – Mandalay in my itinerary. There are tonnes of unique things to do in Mandalay. However, what holds a special place in my heart is the bunch of short excursions I made to some of the smaller and older cities near Mandalay. These day trips are a must-add in your Mandalay itinerary whenever you are planning a trip to Myanmar.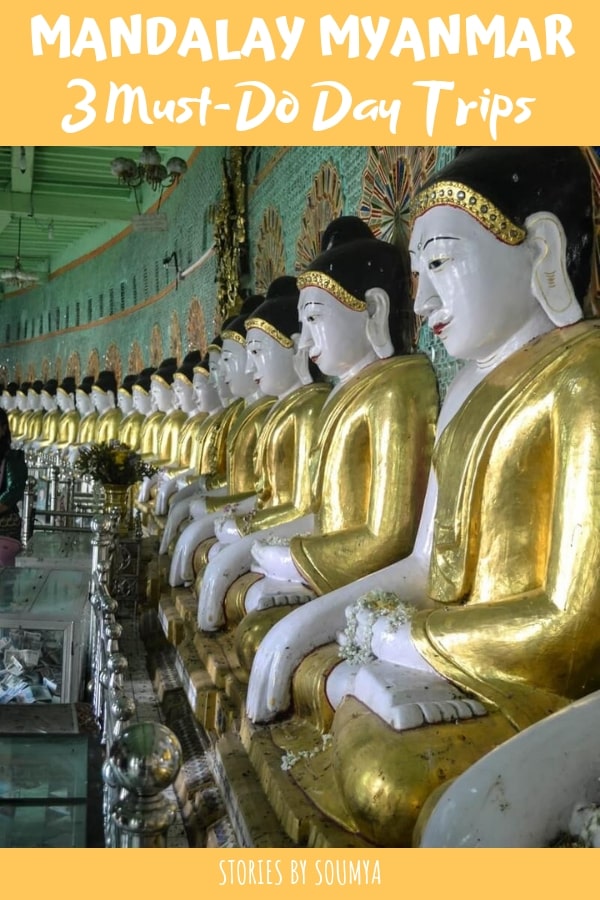 Here's why you should definitely do these 3 day trips from Mandalay.
Venturing beyond the boundaries of Mandalay is probably one of the smartest things to do – not only to avoid the crowds and the noise but also to get a closer look at Burmese history and culture. On the first day, we rented a bike and headed out to Sagaing and Inwa. On the second, we hired a private taxi and had a more comfortable but stuck-in-the-traffic journey to Mingun. Let's take them one by one.
Sagaing
Sagaing is an important religious and cultural center of Myanmar. Between the 14th and the 18th centuries, Sagaing remained the capital of many Burmese kingdoms – small and big. The strategic location of Sagaing on the Irrawaddy River was key in establishing the power of the city.
This cultural center is one of the most preferred destinations of day trippers from Mandalay. And that is because of two important reasons. First, numerous Buddhist pagodas of all sizes dot the hilly landscape of Sagaing. White and gold pagodas peppered all over the hills make an extremely picturesque sight. Visitors often refer to Sagaing as Bagan with an elevation. And the statement stands quite true.
I am sure Bagan is on your Myanmar itinerary. Take a look at the best things to see and do on your trip to Bagan.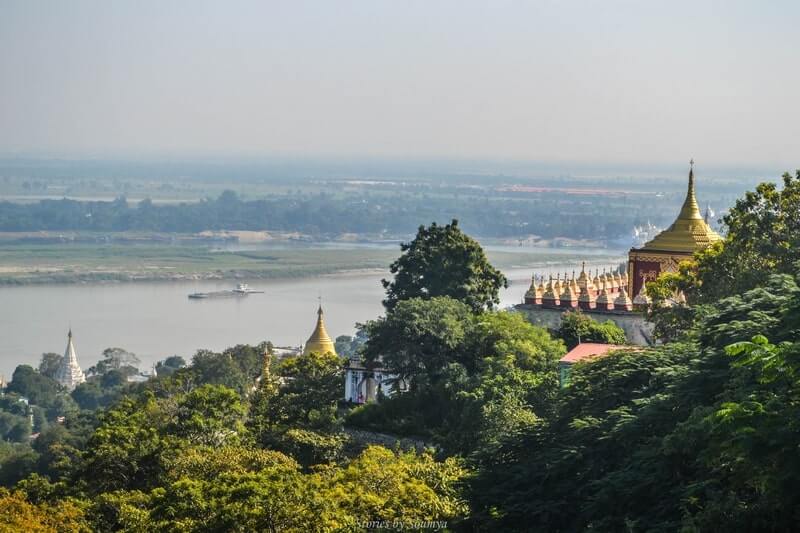 Second, some of the pagodas such as the Soon U Ponya Shin Pagoda provide brilliant viewpoints. If you climb up the covered staircases and reach the top, you can get panoramic, 360-degree views of the city as well the hills dotted with pagodas. Another unmissable pagoda in Sagaing is the Umin Thonse Pagoda or the 30 caves pagoda (pictures below). It is extremely photogenic.
Getting to Sagaing from Mandalay
Sagaing is located at a distance of 20 km in the south-western direction of Mandalay. A bike ride can take anywhere between 45-75 minutes depending on the traffic.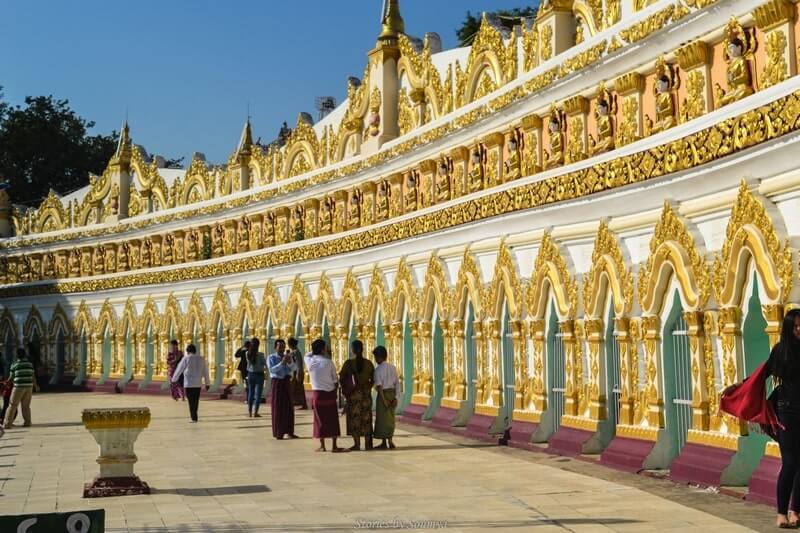 Inwa
Inwa, also known as Ava, is another ancient city located near Mandalay. Inwa also functioned as the Imperial Capital of multiple Burmese dynasties between the 14th-19th century. It was completely destroyed in an earthquake in 1839.
Today, you can find a fascinating collection of old pagodas, monasteries, abandoned fortresses, and watchtowers in Inwa. Some of the more popular sites are the Maha Aungmye Bonzan Monastery, Bagaya Monastery, and the Nan Myint Watch Tower.
A lesser-known beauty is the group of Yadana Hsimi Pagodas that can be accessed through a dusty, country road. Creepers consume much of the remaining structure. Local kids play hide-n-seek as the sun goes down the horizon. This relic of Yadana Hsimi truly transports you back in time.
Getting to Inwa from Mandalay
Inwa is located about 20 km in the southern direction of Mandalay. You can arrive here either on a ferry on the Irrawaddy or a self-driven motorbike. The motorbike ride can take anywhere between 30-60 minutes.
For the ferry ride, you can look up the details on tickets and boarding here. Once you have crossed the river, you have the option of taking a horse cart or walking. Walking can get tiresome. And if you are concerned about using animals for your travels, then a motorbike is the best option. You can hire one in Mandalay.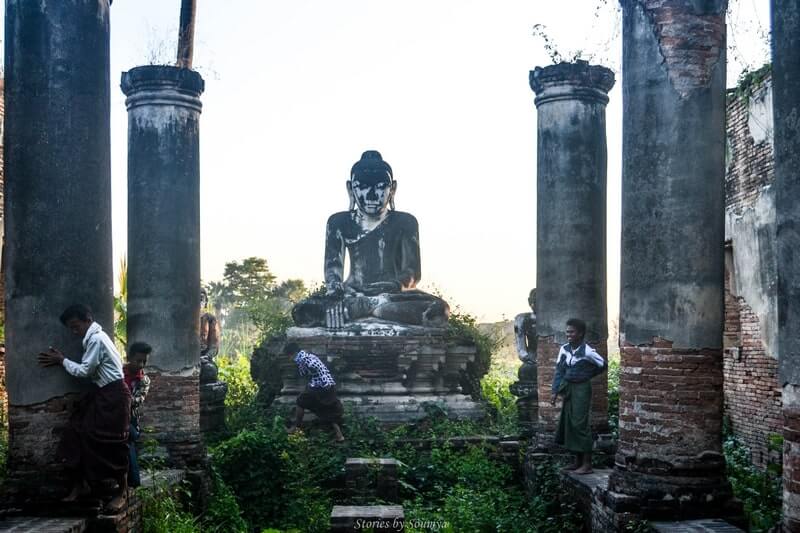 Mingun
Mingun, an otherwise inconspicuous little town near Mandalay, finds fame in a huge, unfinished stupa called the Pahtodawgyi. It was intended to be a 500 ft stupa but was never finished because of an ominous prophecy. It was prophesized that the reigning king would die on completion of the stupa. Today, the unfinished structure is both a religious and tourist destination. Atlas Obscura calls it a pile of rocks. A huge interesting pile, nevertheless!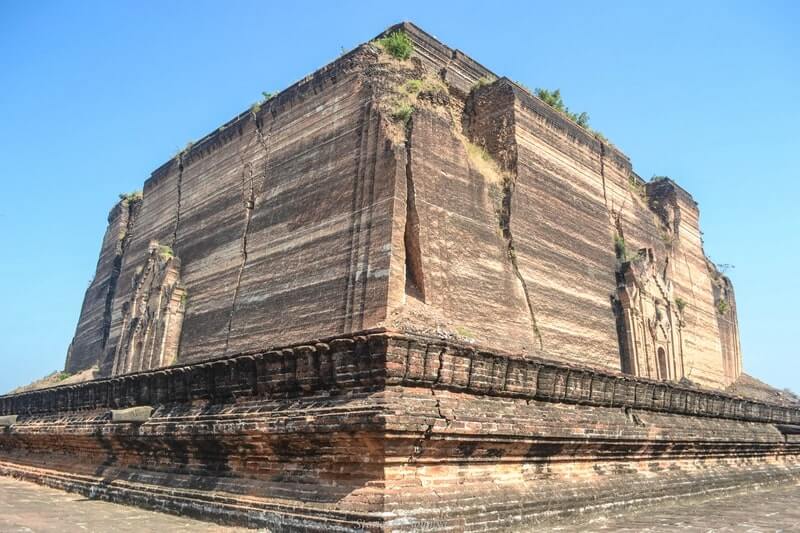 The small town also features the Hsinbyume Pagoda, an Instagram sensation. The temple is completely white and has a wonderful wavy architecture. No doubt it is one of every tourist's favorite photo spots. The Mingun Bell and the Giant Lions are also worth a see, especially if you are traveling to Mandalay with kids.
On a side note, we tried a really delicious fritter made out of an edible leaf and rice powder near the Pahtodawgyi. You can find many more street food options here. And if you are really interested in the Burmese cuisine, have a look at our post on Myanmar's traditional dishes.
Getting to Mingun from Mandalay
Mingun is located 11 km away from Mandalay as the crow flies. The road to Mingun is longer. Hence, a ferry is the fastest route to get there. Ferry details can be found here. Tickets sell out fast. So, a bit of planning helps.
When we arrived at the jetty in the morning, tickets to Mingun were already sold out. We had to then take a private taxi to get there. You can also take a motorbike. But it is a long ride and not very great for your back!
So, this is my list of must-do day trips from Mandalay. Have you been to any of these ancient cities of Burma? Or taken other interesting day tours from Mandalay? Have we missed your favorite here? Feel free to drop us a line below and we will get back to you.
Looking for more posts on Myanmar? Here, they are.
What to do in Ngapali, Myanmar's Best Beach Destination
Best things to do in Bagan
Burmese lifestyle and customs
Travel Guide to Mrauk U, the lost capital of the Arakan Empire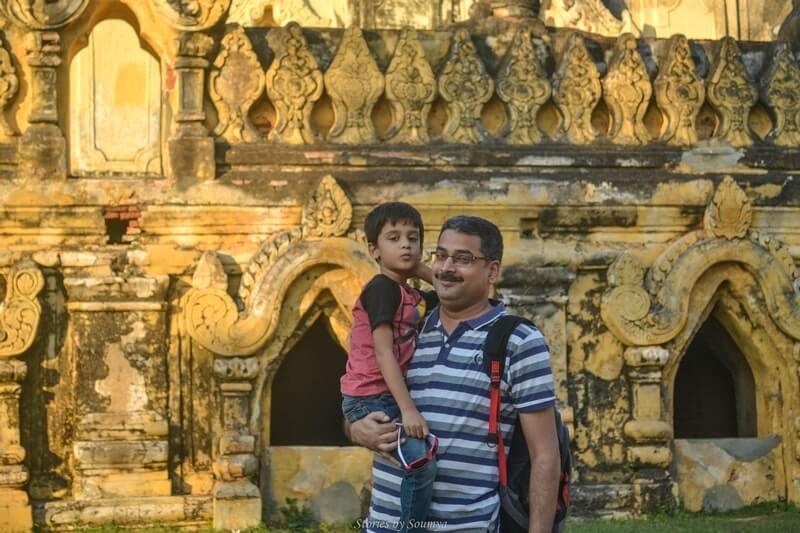 And while you are writing to us, don't forget to follow us on Facebook and Twitter to get regular updates on cultural travel destinations from across the world.
Pin It For Later!