Last Updated on November 20, 2019 by Soumya
Myanmar or Burma is located in the tropics, a place that experiences monsoons – an annual season of heavy rainfall – that is sometimes coupled with strong winds and devastating hurricanes. Monsoons in Myanmar are spread over June – September. Everything is wet, damp, and soggy. In our opinion, monsoons are not the best time to visit Myanmar.
Want to find out which is the best time to visit Myanmar? Keep reading.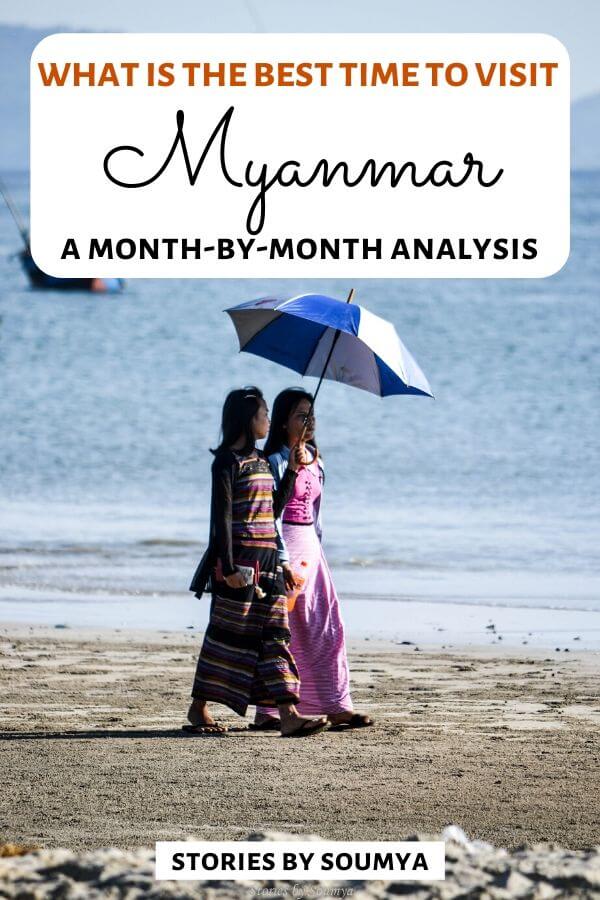 Please note: This post contains affiliate links which means I may earn a commission if you make a purchase by clicking a link on this post. This will be at no additional cost to you. Affiliate links help me keep this website up and running. Thanks for your support!
Since we have ruled out June – September, let's focus on the other months. March-May experiences high temperature with maximums going over 40°C (104°F). Even though March-May is part of the dry season in Myanmar, high temperatures and raised humidity levels make traveling a sweaty job.
That leaves us with October-February, which in our opinion is the best time to visit Burma. October sees the end of the rainy season. Temperatures start dipping. Humidity goes down. And the weather becomes your best friend while exploring Myanmar.
But the weather is not the only reason why October-February is the best time to visit Myanmar.
We have so many more reasons lined below, separated by month. I am sure you will find something to suit your tastes. If you are a culture-freak like me, you will find many.
Best time to visit Myanmar by month
October – The Month of Light Festivals
Temp Range in Yangon: 24 (75) – 31°C (88°F)
Great time to visit: Bagan, Shwe Kyin Creek
October is the end of the rainy season. Everything around you is green and fresh just after the rains. This makes it the best time to visit the temples of Bagan.
A guided e-Bike tour of Bagan is a unique way to check out the picturesque pagodas. Book your guided e-Bike tour here.
Ballooning Season in Bagan starts at the beginning of October. So, if you are looking forward to gliding over the pagodas of Bagan, then go for it.
The Festival of Lights is celebrated for 3 days in October across the country. Pagodas, homes, even parks are lit with candles and lanterns. This festival marks the end of Buddhist Lent.
You can also catch a traditional dance form called the "Zat Pwe" that commences once the rainy season ends.
Another spectacle to watch is the Shwe Kyin Light Festival. It includes sailing performances by men and women during the day and dropping off of thousands of lanterns in the Shwe Kyin Creek at night.
Recommended Read: What to include in your Bagan Itinerary?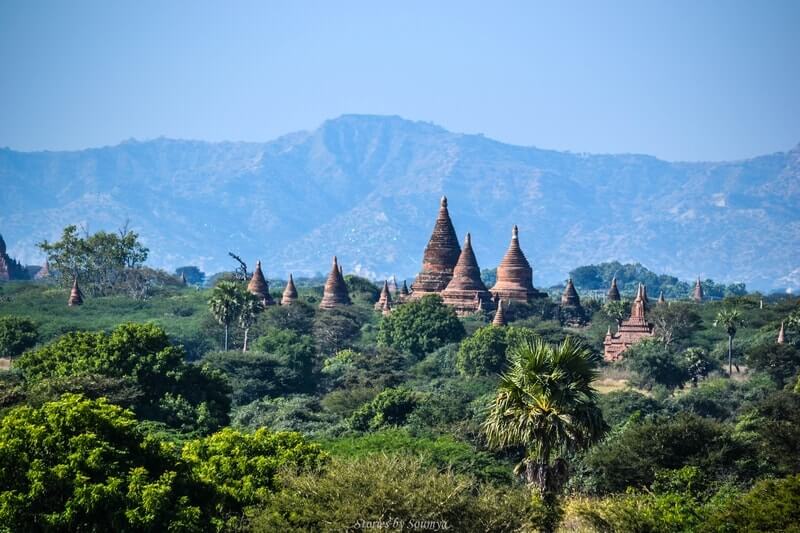 November – The Month of The Big Balloon
Temp Range in Yangon: 22 (72) – 32°C (90°F)
Great time to visit: Bagan, Shan State, Yangon, & Ngapali
The most spectacular of all festivals, Tazaungdaing Taunggyi or the Full Moon Festival is held in November. This is when a massive hot air balloon lit with candles is released into the night sky. Head to the Shan State if you wish to be part of the festivities.
Robe-weaving competitions are also pretty common during this time. Special yellow robes, called the Kathina, are woven for monks across pagodas in the country. The Shwedagon Pagoda in Yangon is a great place to experience this unique piece of Burmese culture and tradition.
November is also a great time to visit Bagan to attend the Shwezigon Pagoda Festival which includes a fair by locals. You can witness traditional plays, magic, and puppet shows, taste some delicious Burmese food, and buy the much-sought-after Myanmar souvenirs.
Beach resorts are fully functional and yet, not so crowded. Temperatures dip. A great time to take a beach holiday in Myanmar.
Recommended Read: The best things to do on Ngapali Beach in Myanmar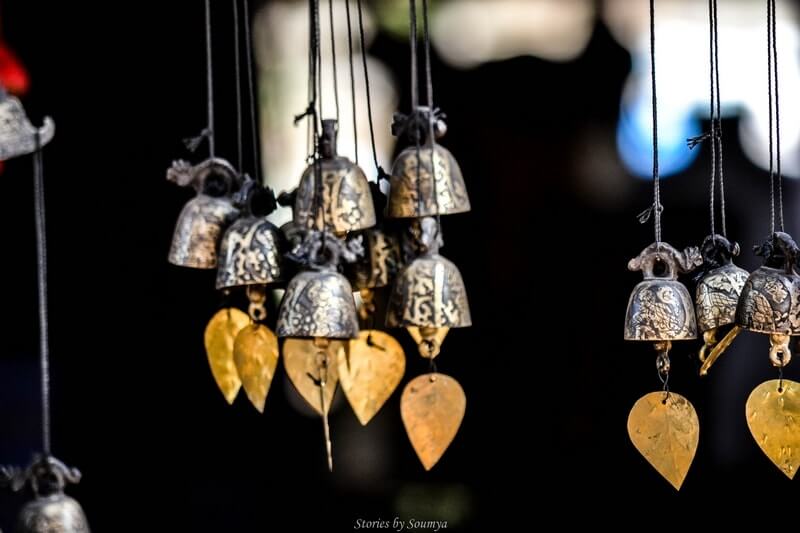 December: Christmas & New Year Celebrations
Temp Range in Yangon: 19 (66) – 31.5°C (89°F)
Great time to visit: Yangon, Irrawaddy, Beaches & Literally Anywhere in Myanmar
9000 Lights of Candle Festival, equivalent to New Year Eve in Myanmar, is celebrated on the 31st of December. It happens in Kyaiktiyo (home to the golden rock pagoda).
If you wish, you can do a private day trip to Kyaiktiyo from Yangon. Book your trip to Kyaiktiyo here.
Christmas celebrations happen throughout the country. Hotels and streets are decorated. A festive time to visit any major tourist destination in Burma. We were in Bagan during Christmas and our hotel, the Amata Garden Resort (which we highly recommend in my post on Best Places to stay in Bagan) was gloriously decked up.
Book your stay at Amata Garden Resort in Bagan here.
Mae Lamu Pagoda Festival in North Okkalapa, Yangon is another spectacle to be witnessed.
Temperatures are more than pleasant. And it easy to travel around without huffing and puffing in the heat.
Water levels in rivers are pretty high providing the best conditions for cruising on the Irrawaddy. Click here to book a highly recommended Irrawaddy river cruise.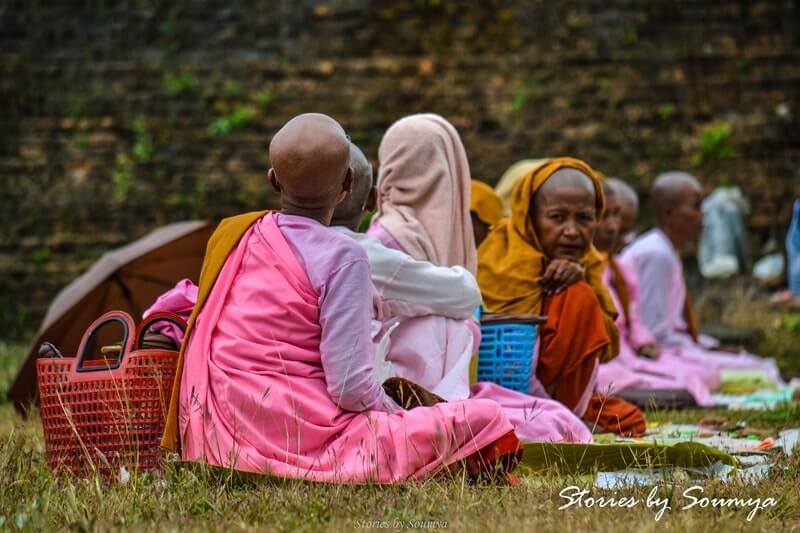 January: New Year & Ethnic Festivals
Temp Range in Yangon: 18 (64) – 32°C (90°F)
Great time to visit: Bagan, Mandalay, & Anywhere Else in Myanmar
The coolest month of the year. The minimum temperature in Yangon can go as low as 18°C.
Two unique new year festivals are celebrated in Myanmar in January. The New Year Festival of the Nagas (in Sagaing) and the New Year Festival of the Kachins (in Kachin State). Sagaing is an easy day trip from Mandalay if you are planning your trip there.
The Ananda Pagoda festival is another famous festival that takes place in Bagan. Thousands of Buddhist monks continuously chant scriptures for 72 hours and it can be an electrifying experience to witness it.
Recommended Read: 3 Must-Do Day Trips from Mandalay
February: Season of Harvest
Temp Range in Yangon: 19 (66) – 34.5°C (94°F)
Great time to visit: Mandalay, Ngapali, Minbu
The Sticky Rice Festival in February is an interesting one among an entire lot of Burmese festivals. People celebrate rice harvests during this time. Sticky rice making competitions are held across the country. Priests, then offer the product to deities and distribute it among devotees.
Mahamuni Pagoda Festival in the ancient capital of Mandalay is another fascinating celebration to look forward to.
Temperatures start rising in February but the weather is still pleasant. Water activities are enjoyable. All the more reason to visit your favorite beaches.
Also, a great time to visit the mud volcanoes of Minbu and the Hlawga National Park.
There is enthusiasm all around because of the harvest season. It is probably the best time to check out Burmese local markets and get intoxicated by the smell of fresh produce and new clothes. Or enjoy a bonfire.
Recommended Read: Life and Culture of Myanmar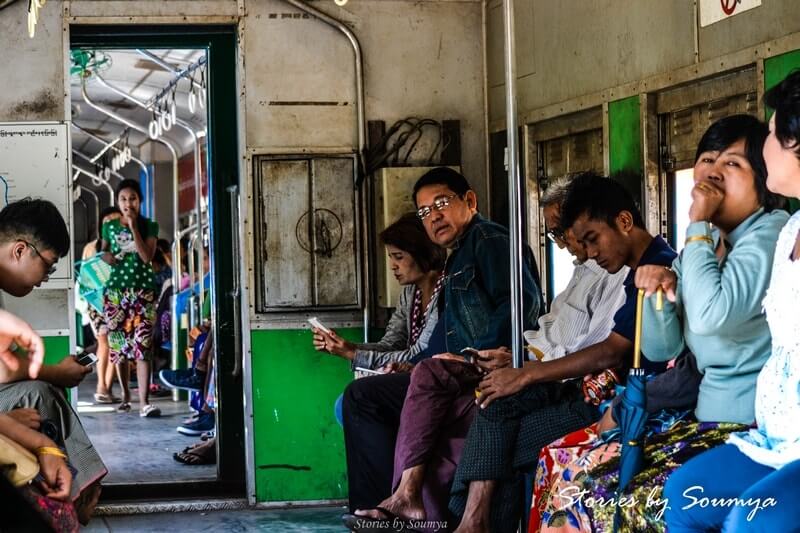 Myanmar is a naturally-rich and culturally-vibrant country. It has some of the world's finest white sand beaches, picturesque landscapes, and beautiful pagodas. But too much sun or rain could ruin your trip to Myanmar.
Therefore, October – February is the best time to visit Myanmar.
However, exceptions always remain. Inle Lake, which is at a higher altitude than the rest, can be a pleasant getaway even in the summers. And might be a little chilly during winters. Also, the fun water festival of Thingyan is celebrated in April every year. So if you plan to get drenched in Myanmar, then come in April.
For anything else, we would highly recommend visiting Myanmar in the winter. There is simply so much to do in winter. If you are thinking about traveling to Myanmar, then do check out our other posts on the country.
More Myanmar Resources
Did you like our post on the best time to visit Myanmar? Why not pin it!