Last Updated on April 28, 2021 by Soumya
Myanmar is a beautiful country filled with stunning natural landscapes, magnificent historical landmarks, and exotic cultural practices. Due to its close proximity to India, it makes for a quick and wonderful holiday destination from India. And that means you need to have a good idea about what goes into getting a Myanmar visa for Indians.
Here's my easy, step-by-step guide to Myanmar visa for Indian citizens where you will learn all about:
The 3 different kinds of Myanmar visas that an Indian citizen can apply for traveling to the country on a holiday.
What goes into each visa application, all the documents you need, and ports of entry.
Since Myanmar has opened up to world tourism relatively recently, the process of applying for a Burmese visa can be confusing and outright daunting for many. Through this ultimate guide, we hope to make the Myanmar visa application process for Indians quick and easy.
I am sure you are looking forward to seeing the beautiful Shwedagon Pagoda in Yangon, planning your Bagan itinerary, and tasting some delicious Burmese food. So, let's get done with the visa first so that you can plan your Myanmar trip in peace.
I have created this Myanmar visa application guide based on my personal experiences of applying for a Myanmar eVisa and tons of online research. Hope you will find it helpful.
In a hurry? Pin this for later!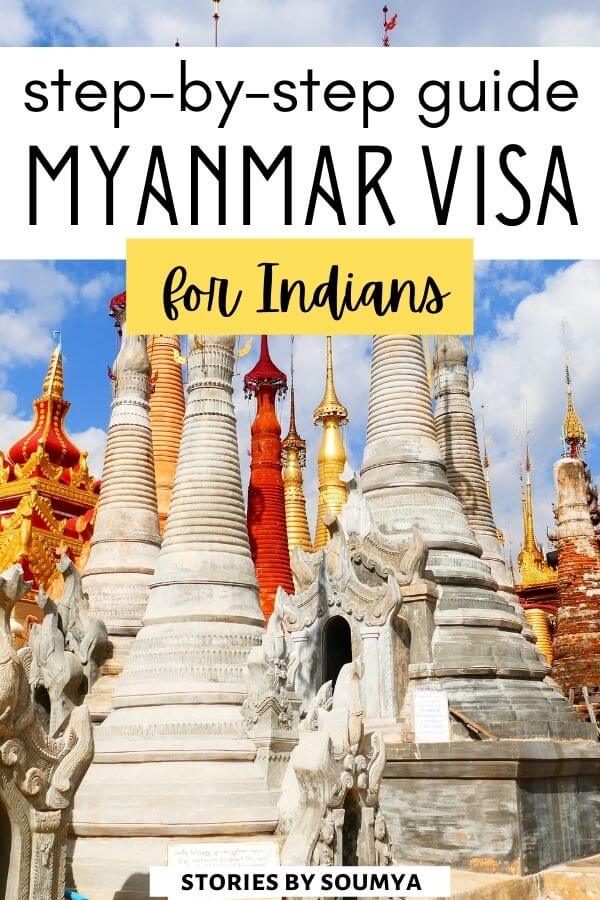 Easy Myanmar Visa Guide for Indians
An Indian passport may not be entirely travel friendly but we do have some special privileges with our neighbours and Myanmar is one of them. Indians are allowed a hassle-free entry into the 'Golden Land' through both Myanmar eVisa and Visa on Arrival apart from the visa provided by the Myanmar Embassy. Let's have a look at what all of this means for travelers like us.
Myanmar eVisa for Indians
The Government of Myanmar launched its eVisa system way back in September 2014. This eliminated the need for a time-consuming trip for passport holders of qualifying countries, including India, to visit the local consulate for obtaining a tourist visa. Instead, it made the whole process straightforward and simple.
What is Myanmar eVisa?
A Myanmar eVisa is an electronic visa that can be obtained in your email without having to visit the Embassy for a paper visa.
All you need to do is to submit a few documents, answer some questions, pay the processing fee online and get approval in due course. You will receive the visa in your inbox in a few days.
Application requirements for Myanmar eVisa for Indians
You will have to provide the following to get an eVisa to travel to Myanmar:
A valid email address for correspondence and receiving the visa approval.
Personal details like name, date of birth, and passport details.
Your Indian passport with a minimum of 6 months of validity left from your date of arrival in Myanmar.
A recent color digital photo of size 4.6cm*3.8cm.
A debit/credit card or Alipay to pay the necessary fees.
Children under the age of 7 years can travel on the same passport with their parents without paying any additional fee. Do not forget to enter the child's details in the designated section of the application form.
Visiting Myanmar? Here are 7 authentic souvenirs to bring back home.
eVisa validity
The Myanmar eVisa is valid for 90 days from the date of issue and you can stay for a maximum of 28 days in total.
The visa only allows a single entry into the country. If you plan to travel to another country for a short trip and return to Myanmar you will have to apply for another eVisa, each time you re-enter the country.
Myanmar eVisa prices and processing times
The Government of Myanmar charges a visa processing fee of USD50 for an online tourist visa. The processing time for a normal eVisa is 3 working days.
If you wish to get your visa faster, you will need to apply through the Tourist Visa Express Service and pay a processing fee of USD56. The visa will be processed in 24 working hours.
In all cases the processing time begins from the time you receive the acknowledgement of the application and online payment is successful. Please note that the eVisa fee is non-refundable.
Ports of entry
With your eVisa you can enter Myanmar only through the entry points mentioned below and not from anywhere else:
Mandalay International Airport
Bay Pyi Taw International Airport
Yangon International Airport
Tachileik Land Border
Myawaddy Land Border
Kawthaung Land Border
Tamu-Moreh Land Border
Roh Khaw Dar-Zokhawthar Land Border
Choose the appropriate port of entry on the Myanmar visa form because you might get delayed if the ports differ.
Please note that if you enter the country by a cruise ship your eVisa will not be valid and you will have to apply for a fresh visa on arrival (VoA) instead. For additional information your cruise operator will be able to guide you better.
Planning a trip to Myanmar? Check out the most amazing things to do in the country.
Application process
Once you have all the documents ready, you can apply online for a Myanmar eVisa. Just follow the steps given below.
If you ever feel overwhelmed by the whole visa application process, feel free to get in touch with an online visa agency. The agency representatives will guide you through the entire process thus making it quick and easy for Indians wanting a hassle-free Myanmar visa.
Myanmar Visa on Arrival for Indians
Myanmar also grants visa-on-arrival (VoA) to Indian passport holders. This allows Indians to enter Myanmar without having to make trips to the embassy in India or applying for eVisa before landing in the country.
What is Myanmar Visa on Arrival? How is it different from Myanmar eVisa?
A Myanmar Visa on Arrival is the visa that you can get directly upon your arrival in Myanmar. It is advantageous when you do not wish to plan your trip beforehand or just decide to arrive in Burma impromptu.
However, there is also the element of uncertainty in applying for a visa on arrival in Myanmar like with any other VoA. You never know if you are going to be denied entry although the chances are pretty low if you furnish all the right documents. (We will talk of the documents below).
I would highly recommend applying for a Myanmar eVisa if you are able to plan your trip in advance. The costs are literally the same. Plus, it saves you the uncertainty headache.
Allowed ports of entry
Indian passport holders can get a Myanmar visa on arrival only at the international airports of Yangon, Mandalay and May Pyi Taw. So, if you are planning to get a VoA, make sure you arrive only at one of these airports.
Application requirements
You need the following before you can request for a Myanmar visa on arrival at any of the above 3 international airports.
A valid passport not expiring for at least six months from the date of entry.
Two recent passport size photos taken within the last six months. Size 4cmx6cm.
Travelers who enter through the designated entry points need to exit from there as well.
Proof of accommodation in Myanmar along with addresses of all places of stay.
Any additional document which can support your purpose of stay.
Visa validity & price
A Myanmar visa on arrival allows you to stay in Myanmar for 30 days.
You need to pay a fee of USD50 at the time of submitting your application for getting a tourist visa on arrival in Myanmar.
Find the best time to visit Myanmar here.
Myanmar Tourist Visa from Myanmar Embassy in India
Alternatively, Indians can also apply for a Myanmar visa at the Myanmar Embassy in New Delhi, India. Their office is located at 3, 50F, Nyaya Marg, Chanakyapuri. Find their contact details here.
Application requirements
To get a tourist visa for Myanmar, Indians need to furnish the following documents.
A copy of the filled-in application form. You can have a look at the application form at the embassy website here. Scroll down to find images of visa forms. The tourist visa form is at the top.
Booked air tickets (onward/return) and hotel bookings.
Cover letter stating the duration and purpose of stay.
Two recent photographs in white background of size 1.5×2 inches.
Valid passport of at least six months validity and a copy of it.
A demand draft favoring 'Embassy of Myanmar'.
Visa price, processing time, and validity
Visa fee for a tourist visa is USD40 (approx. 2,800 INR). Children under 7 years of age need not pay any visa fee.
The processing time for a Myanmar visa at the embassy is generally 2 working days. However, they advise you to contact/apply for your visa at least three working weeks before the date of your scheduled departure.
The validity of a tourist visa received from the Myanmar Embassy in Delhi is 28 days from the date of entry.
Visa application and collection hours
You can apply for a Myanmar visa at the embassy anytime between 10-11 am, Monday to Friday.
You can collect your visa between 4-5pm, Monday to Friday.
Found our post helpful? Pin it for later!