Last Updated on October 28, 2023 by Soumya
Are you looking for the best Myanmar traditional food? Curious to find out what Burmese dishes you need to try on your next Myanmar trip? Keen to cook some authentic
Here's our extensive guide on Myanmar food – what and where to try them + quick and easy recipes.
Food is an integral part of Burmese way of life. The people of Myanmar love to indulge in food and spend hours preparing and eating a meal.
Lunch and dinner in Myanmar are no small affairs. You will always be treated to a wide variety of side dishes along with your Burmese main course and trust me, Burmese sides are sometimes enough to fill you up.
Myanmar traditional food is wholesome, nutritious, and filled with the right amount of carbs, proteins, and vitamins. In this article, I bring you a list of must-try dishes from the Burmese cuisine.
The best of traditional Myanmar food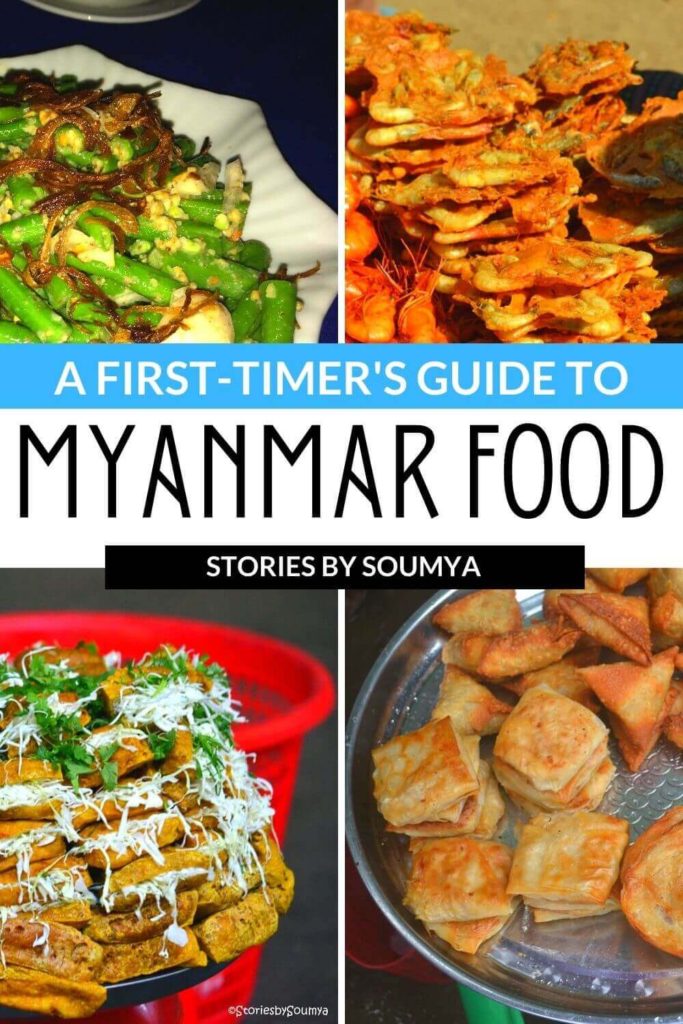 When I was reading about food in Myanmar, I found that Burmese cuisine had often been underrated when compared to those of its more famous Southeast Asian neighbors. It was not a surprise at all. Myanmar has only recently opened up to international tourists, so there is a general lack of awareness. Also, people find Burmese food lacking in fiery spices. I found this to be true although it was more of a blessing to me than a drawback. Burmese food is easy on the stomach and fills you up without causing discomfort.
I also found a lot of vegetarian and/or vegan items at restaurants and on streets in Myanmar. You will find a number of them in the list below.
Furthermore, food in Myanmar is an eclectic mix of cuisines from different communities that reside here namely Burmese, Mon, Indian and Chinese; not to mention 100 other smaller, ethnic groups. Locals are fiercely passionate about dishes from their respective regions which makes the food scene in Myanmar exceedingly vibrant.
Samosa Thoke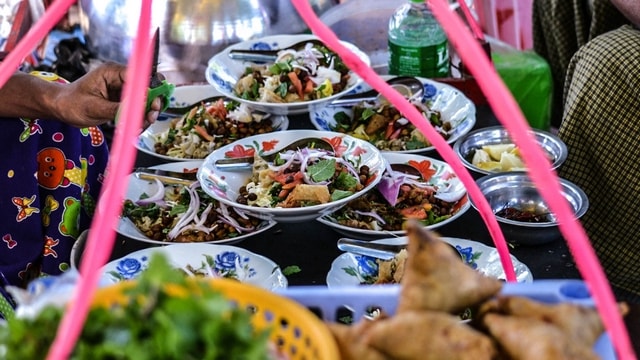 Thoke literally translates to salad in English. And Burmese salads are worth trying out. In fact, my favorite food in Myanmar was a salad called Samosa Thoke.
The samosa thoke is a traditional Burmese street food that resembles the Indian samosa chaat but not entirely.
Burmese samosas are called samusas and are smaller than their Indian cousins. They are filled in with potatoes and chickpea powder. The deep-fried pastries are then dunked in a plain Burmese curry and garnished with mint leaves, sliced onions, tomatoes, cabbage, and brown chickpeas.
The base dish is not spicy at all. You can choose to add more chili if you want.
Easy Samosa Thoke recipe
Where to find Samosa Thoke in Myanmar?
Samosa Thoke is a favorite among locals and a popular street food in Myanmar especially in Yangon.
We would highly recommend having it on the streets of Yangon especially from the vendors near the Thakin Mya Park on Aung Yadana Street.
Deep-fried Burmese Tofu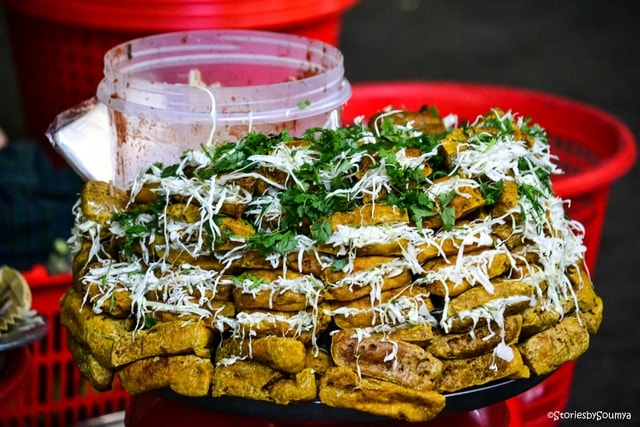 Deep-fried Burmese Tofu is yet another popular traditional food item in Burma. It is made out of chickpea flour which makes it all the more unique.
Unfortunately, I never had the chance to try it when I was traveling in Burma but made sure I clicked some great pictures. A friend helped me identify this amazing dish in the picture above. This is deep-fried tofu stuffed with fried garlic and garnished with cabbage, cilantro, lemon juice, and fish sauce.
Burmese deep-fried tofu recipe
Where to find deep-fried tofu in Myanmar?
Again in Yangon. From the vendors at various stations on the Yangon Circular Train route.
Laphet Thoke
Laphet Thoke is another popular Burmese salad. Among various Myanmar traditional food items, laphet thoke was probably one that I had not heard of before traveling to Myanmar.
Laphet means pickled tea leaves in Burmese and laphet thoke is actually a salad made out of pickled/fermented tea leaves. The fermented tea leaves may not look great to discerning eyes but they taste wonderful once they are converted into an amazing salad.
Vendors add to the tea leaves a number of things: peanuts, garlic, chili, tomatoes, and some shrimps/fish if you wish to concoct a delicious mix right in front of your eyes.
Easy Laphet Thoke recipe
I always got so engrossed in eating it that I never remembered to click a picture. But Laphet Thoke is definitely one of the best Myanmar delicacies that I highly recommend. Read more on why laphet thoke is the country's favorite snack.
Where to find Laphet Thoke in Myanmar?
It is available widely across the country and we had it in Yangon, Ngapali, Mrauk-U, and Bagan. You can find it in restaurants as well as streetside stalls.
Mohinga
If you are looking for the most traditional Myanmar food, then Mohinga should be it. This soupy dish is often referred to as the Burmese National Dish.
Mohinga is a rice noodle and fish soup that can have many other ingredients like garlic, onion, ginger, fish paste, eggs, fritters, or cilantro. It is usually eaten for breakfast but is now creeping in as a filling snack that can be relished at any time of the day.
How to prepare Mohinga at home?
Where to find Mohinga in Myanmar?
You can smell and find Mohinga anywhere and everywhere in Myanmar. Downtown Yangon is especially famous with a number of stalls specializing in Mohinga variants.
Fried Shrimps
Fried shrimps are another tasty street snack from Myanmar. We found them quite abundantly on the streets and in front of temples in Bagan.
As you can see in the picture below, there were these huge plates on which fried shrimps, fried shrimps-in-batter, and fried fish were stacked high, one beside the other.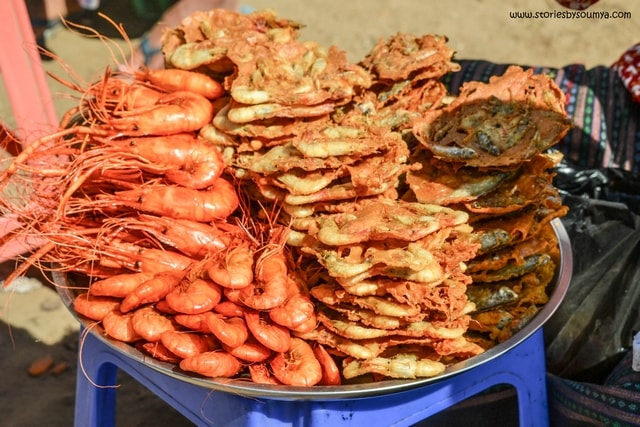 We had our first bite in front of Bupaya Pagoda in Bagan. There were a number of vendors there, mostly women, selling this delicious snack. And we could not just restrict ourselves to one. It can be a little oily as most street food generally is.
Where to find fried shrimps in Myanmar?
Abundantly available on the streets of Bagan. We did not find them anywhere else. So dig into them when you are here.
Burmese Bean Salad
Burmese love their salads or thokes. Apparently, the Burmese can turn anything into a salad by adding fried garlic, onions, nuts, and baby shrimp. 
Following our love for the Burmese thoke, we discovered the green beans salad in Ngapali. It was made out of long beans sautéed in oil and garnished with fried onions and garlic, and a generous amount of peanuts. My 5-year old loved it and so did we.
Authentic Burmese green beans salad recipe
Where to find green beans salad in Myanmar?
At all restaurants in Ngapali. However, we liked the bean salad at the beach shacks the best. So, get your dose of bean thoke at an evening beach shack at Ngapali amidst the thunderous roar of the India ocean and a couple of sticks of yummy grilled fish. I am sure you will not regret it.
Burmese Indian Food
Ethnic Indians form about 2% of the Burmese population and are mostly concentrated in and around Yangon and Mandalay. We were lucky enough to taste authentic Burmese Indian food in both these places.
The food is Indian but it has a got a refreshing Burmese whiff to it. The curries, vegetable sautés, and even the parathas tasted a little different from the usual Indian fare.
And since there are so many Indian restaurants, it is never very difficult to get a wholesome vegetarian meal in Myanmar. You can easily get an Indian thali, dosas or "thosai", and parathas and curries.
Where to find Burmese Indian food?
There are a number of Indian restaurants in Mandalay and Yangon. We would strongly recommend trying out the food at Kuang Thant Cafe/Nay Cafe on the 82nd 27th Streets in Mandalay. It is a streetside restaurant and opens only by evening. The rotis/parathas of Nay are a big hit. Hygiene may not be great but the food is delicious.
Fried and Stuffed Pancakes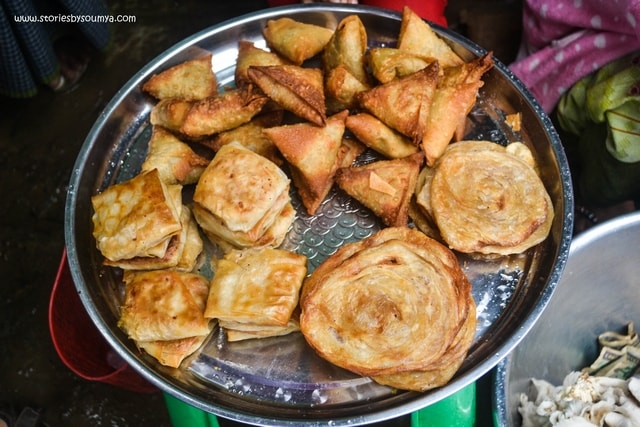 Burmese love deep-fried snacks. It is almost impossible to walk by a street and not spot fried snacks at several vendors.
Apart from the ubiquitous samusa, you can spot fried pancakes (the round ones) and stuffed pancakes (the square ones) across the country. These are generally vegetarian with the filling consisting of beans, potatoes, onions, and cabbage.
Eat them hot because that is when they taste the best.
Where Can I Find Them?
At streetside vendors across the country. We spotted quite a few joints on our way from Sittwe to Mrauk-U. This picture was taken at a local market in Thandwe.
Myanmar Shrimp Curry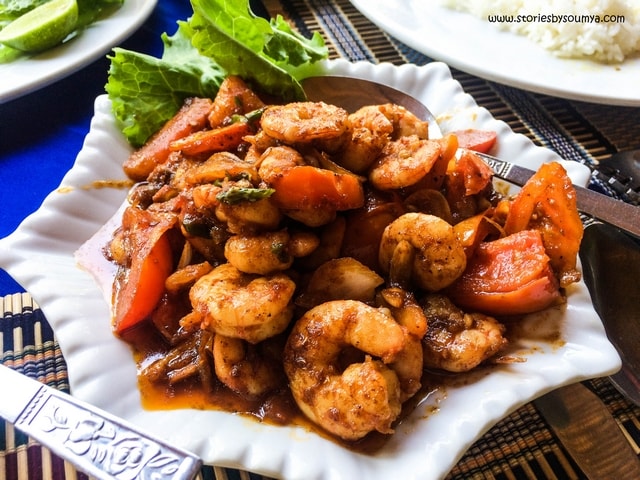 It is hard not to find and relish a shrimp curry when you are in Southeast or South Asia. However, Burmese shrimp curries are not quite the same as Thai or Indian ones.
High on flavors, medium on spices, and low on broth, a Burmese shrimp curry has its own characteristic flavor and taste. Paired with rice, it can make for a perfect lunch during the day.
Quick and easy Burmese shrimp curry
Where to find Myanmar shrimp curry?
Across restaurants in Myanmar. However, I would strongly recommend trying the Rakhine shrimp curry in Mrauk-U. That was definitely our favorite.
Related: A Travel Guide To Mrauk-U
BBQ in Yangon
This is not necessarily a gem of Myanmar traditional cuisine but definitely a must-try experience when in Yangon.
The busy BBQ street in Yangon attracts a lot of tourists. It has a number of restaurants, open BBQ and drinking places, and enjoyable crowds. The food is cheap and decent for the taste buds.
I loved the grilled chicken wrapped in veggies. The place can be a bit of a disappointment if you are looking for the variety of Thailand or Vietnam. But it is great for a country that is still finding its way in international tourism.
Where to find barbeque in Myanmar?
The BBQ Street is on the 19th Street in Yangon but is not restricted to it. Connecting streets also house lots of BBQ spots.
My experience of food in Myanmar was great. I found the food delicious, flavorful, and not extremely spicy which actually worked for me. I would love to hear your experience of Burmese food. What was your favorite dish in Myanmar? Did you taste any of these jewels of Myanmar traditional food? Feel free to drop a comment below.
Like this Myanmar food guide? Pin it for later!