Last Updated on March 29, 2023 by Soumya
If you are looking for the best wildlife resort in Bandhavgarh, King's Lodge by Pugdundee Safaris is an extraordinary choice. I just came back from a 3-night stay at King's Lodge and cannot say how much I loved this place. Keep reading this piece to find out why.
When you are planning for a wildlife safari trip in the jungles of Central India, it is important to have a nice, cozy place to stay. If some luxury can be thrown in the deal, nothing better. The Pugdundee King's Lodge at Bandhavgarh National Park is one such place that exudes warmth along with luxury.
On my recent trip to Bandhavgarh tiger reserve in Madhya Pradesh, I spent three comfortable days at King's Lodge. The staff arranged for my safaris (including waking me up at 5:00am in the morning), took care of my food needs, and showed me a different side of Bandhavgarh that included local tribes, foot trails, and several interesting birds. I was also impressed by their sustainability endeavors and efforts to bring humans closer to raw nature.
The service at this Bandhavgarh lodge was par excellence and absolutely fit for kings. No doubt, they call it the King's Lodge of Bandhavgarh. Here's my honest review of this wildlife resort and multiple reasons why I am going back again.
Please note: This post may contain affiliate links which means I may earn a commission if you make a purchase by clicking a link on this post. This will be at no additional cost to you. Affiliate links help me keep this website up and running. Thanks for your support!
About Pugdundee King's Lodge Bandhavgarh
King's Lodge in Bandhavgarh is a popular, 4-star wildlife resort located near the Tala core zone of Bandhavgarh National Park. It is spread over an area of more than 14 hectares between two hills covered by sal trees. The Rancha village is not very far away.
The King's Lodge is a flagship lodge of Pugdundee Safaris, an award-winning wildlife safari company in India. The name "pugdundee" literally translates to a foot trail used by wild animals and locals in the deep jungles of India. Pugdundee does a good job of acting as a foot trail – it provides you access into the jungles but does not change anything about the forest.
Pugdundee has 7 wildlife resorts across Central India and their lodges are an interesting mix of luxury and eco-consciousness. When you stay at any of the Pugdundee lodges, you do not miss out on the comforts. Yet, you feel so close to nature. That's what makes King's Lodge in Bandhavgarh special too.
Sustainability at King's Lodge
The best part about Bandhavgarh King's Lodge is that it is ecofriendly and is woven around the forested area instead of making artificial space for construction. Can you believe that not a single tree was cut while building King's Lodge? Unbelievable but true!
Most employees at King's Lodge are locals. Food is also sourced locally if not produced in-house. They have a lush green kitchen garden where you'll find plump tomatoes, okra, lettuce, egg plant, mint, cilantro, and so much more.
You'll not find any plastic on the lodge premises. Everything in the room including drinking water and toiletries are available in glass and steel bottles. The team gives you a Pugdundee-branded steel water bottle as soon as you check in – this is their way to spread the "no plastic" message in the world.
Local handicrafts including bamboo baskets, wooden carvings, Gond paintings, paper mache artifacts are used to decorate every room at King's Lodge. Be sure to check out the mushroom decor at the bar – so innovative! The furniture is also very rustic and does not let any wood go waste.
Rooms at Pugdundee King's Lodge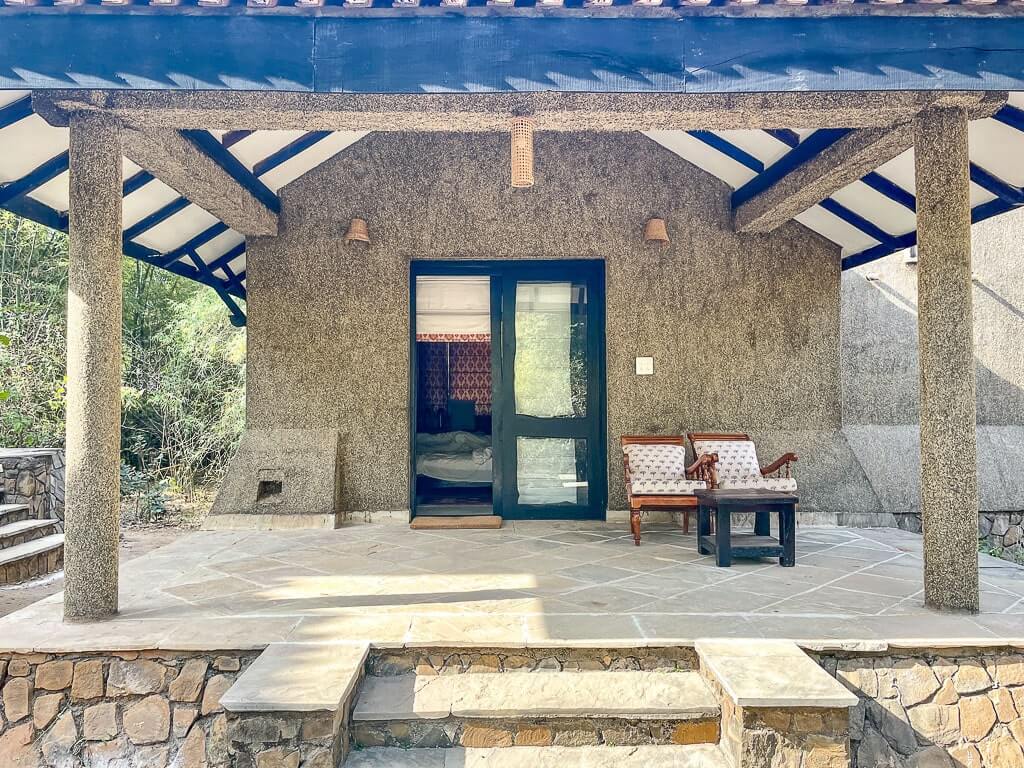 There are two kinds of rooms at Pugdundee King's Lodge in Bandhavgarh. They are the cottages (10 in number) and stilt cottages (8 in number).
I stayed in Cottage #18 and this is how my room looked (check pictures above and below).
Here's a list of things that you'll find in your room at King's Lodge.
A fully-furnished room dressed in earthy colors. Soft cotton linen, beautiful Gond paintings, and exquisite wooden craft make the rooms very appealing.
There's a small sofa by the window from which you can enjoy calming views of nature.
A tea/coffee maker is available by the bed. Plus, there's a jar of cookies to enjoy.
There's a locker in the room for your valuables. You'll also find a yoga mat and a couple of umbrellas that you can use in case of rains.
The bathroom has a huge shower area and a bathtub. They have glass jars filled with shampoo, soap, and body lotion which is the best part because guess what, no disposable plastic bottles here!
Every room has a veranda or patio where you can sit and enjoy a cup of tea/coffee.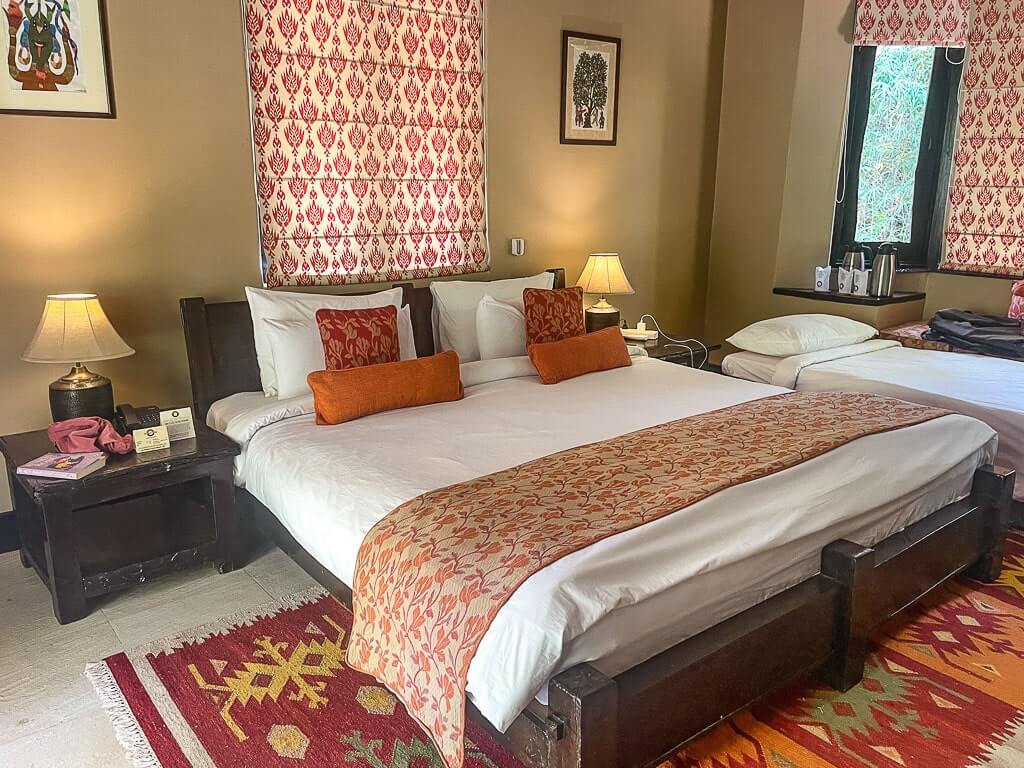 The rooms at King's Lodge in Bandhavgarh are a harmonious fusion of luxury and nature. As soon as you get into the room, you feel like you are in a soothing, luxurious abode but not very far from nature. The rustic colors and mud walls covered with husk give you the true feeling of living far away from the city.
Dining experiences at King's Lodge, Bandhavgarh
Pugdundee King's Lodge in Bandhavgarh has plenty of dining experiences lined up for you.
Baiga food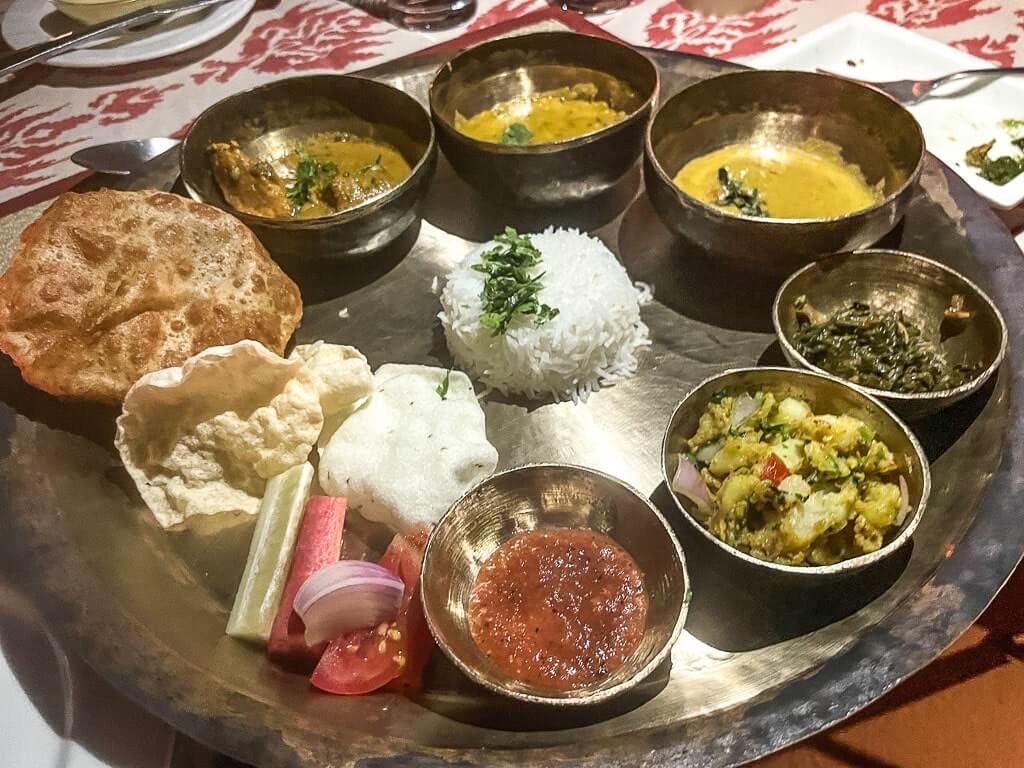 I personally enjoyed my platter of Baiga cuisine that was cooked by the resort's local chef, Sanjan Baiga. Sanjay belongs to the Baiga ethnic group found in Central India and he has been dishing out delicious Baiga food at King's Lodge for over 12 years now.
A typical Baiga Thali (plate) contains rice, lentils, aloo chokha (local mashed potatoes), greens cooked in the local style, pan vada curry (curry of dumplings flavored with betel leaves), mahua (mahua is forest flower common in Central India) puri, and salad. Lots of local and forest ingredients are used in Baiga cuisine which makes it a delightful thing to taste when in Bandhavgarh.
Forest grills and romantic dinners
Apart from eating at their traditional dining hall where you can share jungle stories with your fellow diners, you can also eat in the forest grill area which is closer to nature and out in the open. King's Lodge usually organizes cultural evenings where locals dance to the tunes of Baiga music and you get to taste amazing tribal food.
If you'd like, the team at King's Lodge can also organize special, romantic dinners for you and your special one. Ask about it at the reception.
Daily meals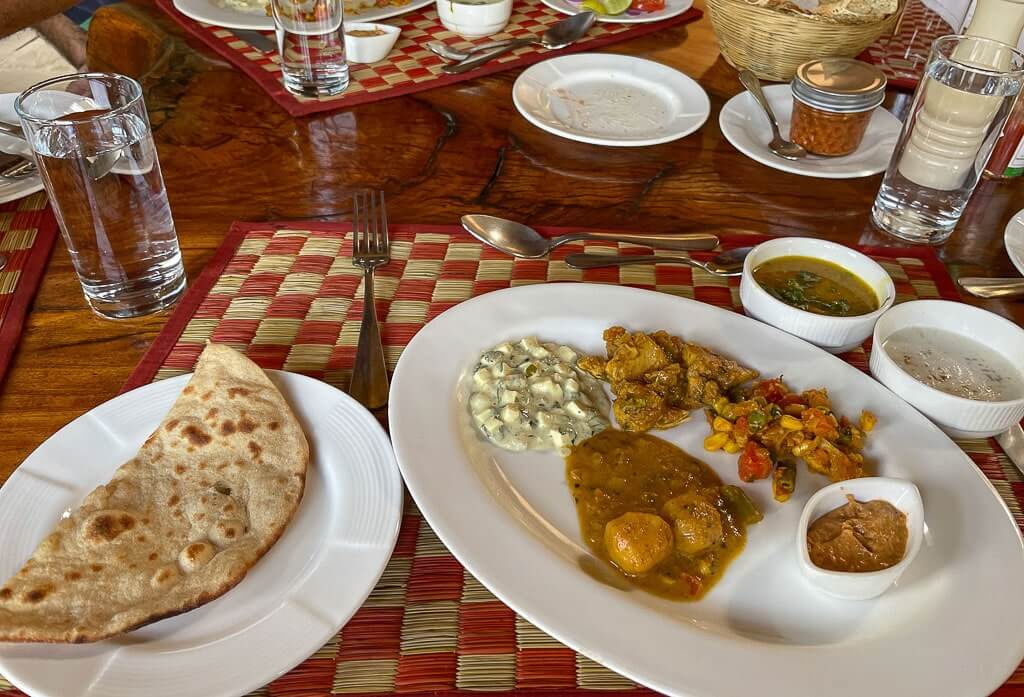 You'll typically have your breakfast inside the national park during the morning safari. The resort packs sandwiches, stuffed bread, eggs, cakes, fresh fruits, and tea/coffee for your breakfast that you'll carry in your gypsy.
Lunch and dinner are usually chef specials for the day. It includes an Indian spread of rice, daal, breads, veg and non-veg curries, green salads, and desserts. You can also request for continental food at the resort.
Safari experiences at King's Lodge, Bandhavgarh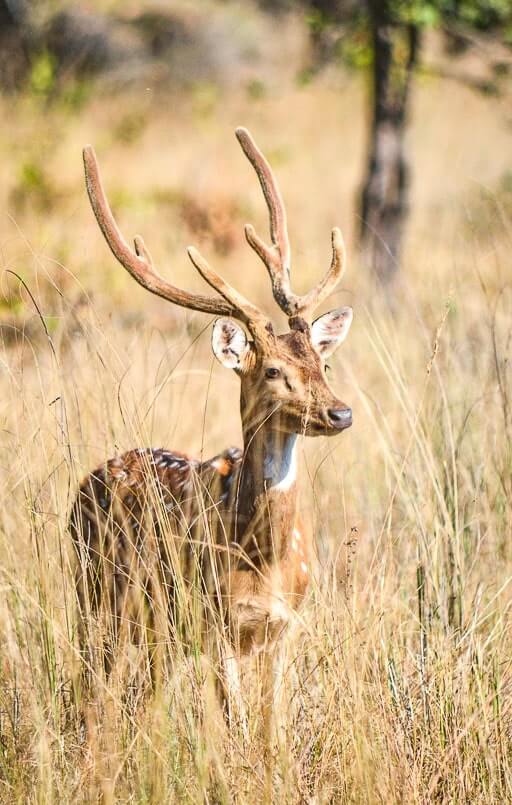 Bandhavgarh safari times
You can choose from morning and afternoon safaris at Bandhavgarh National Park. Morning safaris last for 5 hours, between 6:30am – 11:30am while afternoon safaris last for 3 hours, 3:15am – 6:15am.
As you must have guessed already, chances of sighting big cats are higher in the morning safaris because, obviously, you're staying for a longer time inside the national park. But you can get lucky during the afternoon ones too, like we did on our first safari at the Magadhi Gate.
You can ask the team at King's Lodge Bandhavgarh to book your tiger safari in India and they'll do it for you. If you book it through them, the entire package will include a gypsy ride to the park and back as well as breakfast. You can ask for a naturalist guide for an extra amount.
Alternately, you can book the safari tickets through the government portal and ask King's Lodge to book your gypsy. They will do it for a smaller charge. A gypsy will pick you up at the resort and you'll be supplied with breakfast.
Best safari zones in Bandhavgarh
There are 3 core zones in Bandhavgarh. They are called Magadhi, Tala, and Khitauli. There are 3 buffer zones too – Dhamokar, Johila, and Panpatha.
Depending on the year, season, breeding patterns, animal movements, and a hundred other things, any of the above zones may be good for sighting. As a rule of thumb, core zones have the best sightings but nowadays, because of an increase in tiger population, buffer zones are also having good big cat sightings.
However, the best way to find out which zone is the best when you visit is by calling your hotel and asking them. They are the people on the field and they are aware of where the tigers are. King's Lodge has a host of naturalist guides who are well aware of tiger presence in different zones. Plus, their General Manager, Prasanta Kumar Sarmah keeps a tab too. So, they are the best people to advise you. Ask them.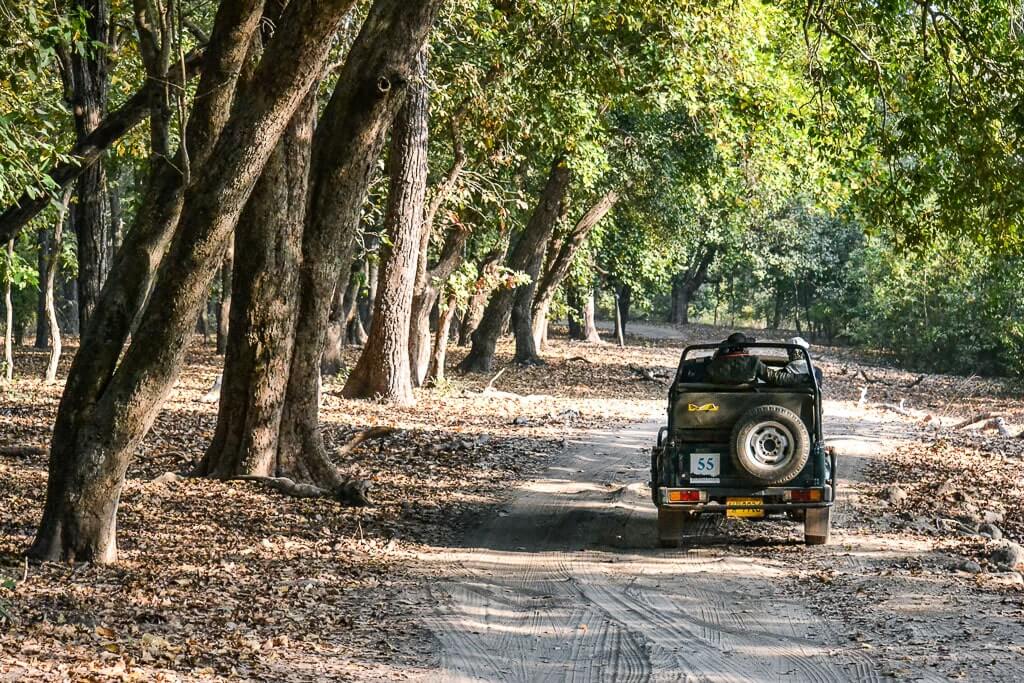 Tour guides & drivers for Bandhavgarh safari
Pugdundee's King's Lodge assigns trained naturalist guides (you have pay an extra for a naturalist but it is absolutely worth it) and expert drivers for your safaris. We had Santosh Edupuganti from King's Lodge as a naturalist guide on one of our safaris and he was brilliant.
The norm is to tip both your guides and drivers after your safari. Guests are usually very generous if they see big cats during the safari. So, keep that in mind.
Other special experiences
Naturalist training programs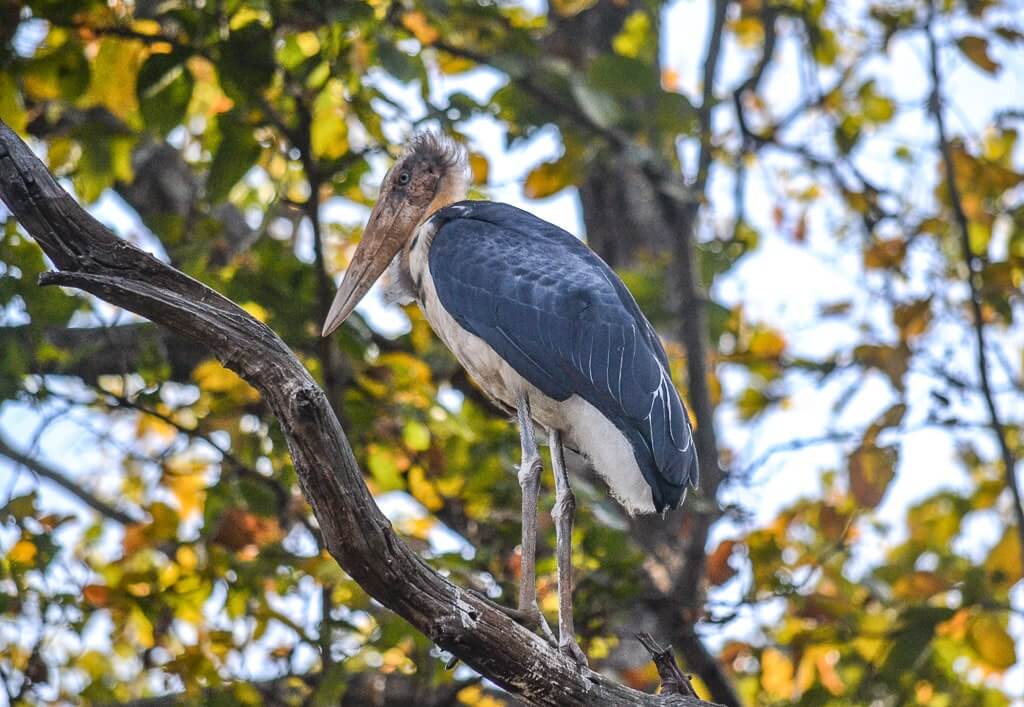 Pugdundee Safaris have a unique flagship program called the naturalist training program for travelers of all kinds. They have different programs to suit the requirements of both professional and amateur wildlife enthusiasts as well as a special program catering to the needs of young naturalists. They are respectively called the Pro-NAT, ANAT, and YNAT.
These courses have several modules to choose from including ones on mammals, birds, plants, reptiles, insects, and amphibians.
When we were checking in at Pugdundee King's Lodge in Bandhavgarh, we saw a young girl and her family checking out. She had just trained as a YNAT and was receiving her special gift and certificate.
While Pro-NAT and ANAT are available at the Denwa Backwater Escape in Satpura, YNAT is available at Bandhavgarh's King's Lodge. You need to book a stay of minimum 4 nights if you wish your child to participate. YNAT is a great gift to give your child if they are interested in wildlife. Check out the Pugdundee YNAT course here.
Nature trails
A rustic, nature trail exists right by the side of Cottages #18 and #19. During the day, you can take a leisurely walk through this trail and spot birds and small animals. Be sure to wear good, covered shoes so that you don't suffer insect bites.
If you'd like an expert to guide you, then book a foot trail with the team at the King's Lodge reception. They will take you to a spot where you can begin your walk and see some interesting flora and fauna in the region. Of course, the guide will always be there with you to give you deeper insights into the place and the animals.
Bandhavgarh presents great opportunities for birders. In fact, it is one of my favorite birding spots till date, surpasses Tadoba National Park and Kanha jungles also.
Other facilities at Pugdundee King's Lodge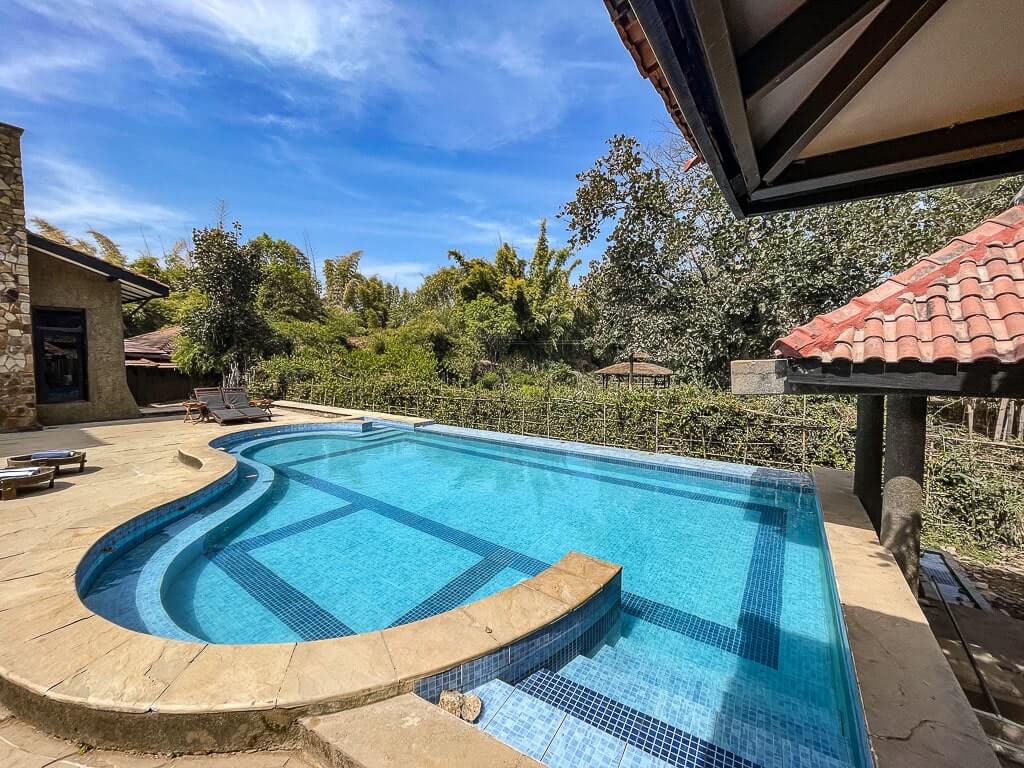 The resort has a swimming pool overlooking the gardens. Good place for a dip if you are visiting in summer.
There's an audio visual room where you can watch wildlife documentaries every evening around 7:15pm. Snacks and starters are also served during this time. You can also view recordings of nocturnal visits at the resort on request. King's Lodge has camera traps set all over the place and interesting visitors including leopards and tigers get closer at night. The best way to find out is by viewing these camera recordings. This room also has a small library.
Ask for the activity room where you can spend hours playing chess, table tennis, and so many other indoor & outdoor games. An in-house spa featuring Ayurvedic massages is close by.
A cute souvenir shop is also present on the premises. Every morning, a local artist called Rakesh Prajapati comes and paints right in front of the shop. His tiger paintings are so lifelike. Check out Rakesh's Instagram page here.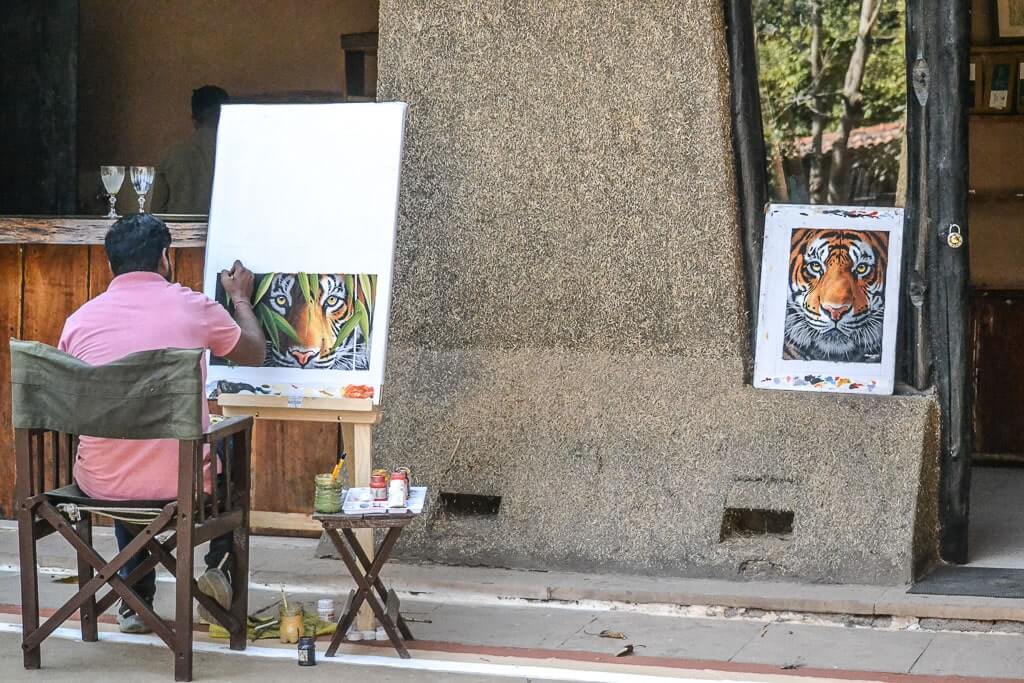 Final verdict
Pugdundee King's Lodge in Bandhavgarh is one of the best wildlife resorts I have stayed in India. It is luxurious yet ecologically sustainable. It is filled with comforts yet shows you raw nature like nothing else.
In my opinion, the King's Lodge is one of the best places to stay in Bandhavgarh. So, if you are planning for a wildlife safari in Bandhavgarh and are looking for a great place to stay, then go ahead and check out Pugdundee's King's Lodge here.
Loved our review of King's Lodge Bandhavgarh? Pin it for later!