Last Updated on August 19, 2022 by Soumya
Planning a getaway to Chapel Hill in North Carolina? Wondering if there are fun things to do in Chapel Hill, NC? Who better than a former UNC student to guide you! One who was seen and done it all!
Chapel Hill, a small town in the Southern state of North Carolina, is home to the illustrious UNC-Chapel Hill. Not only is UNC one of the oldest public universities in America, but also it is stunningly beautiful.
Taking a tour through the beautiful campus is one of my favorite things to do in Chapel Hill.
But that's not all. There are lots of other things to see in Chapel Hill that can easily motivate you to stay a day or two in this pretty Southern town. Whether you are here for a campus tour or visiting NC's Research Triangle, make sure you spare some time for iconic Chapel Hill attractions.
Come, let's take a tour of Chapel Hill NC and find out all the best things that you can do in Chapel Hill.
12 Fun things to do in Chapel Hill, NC
In a hurry? Pin this for later!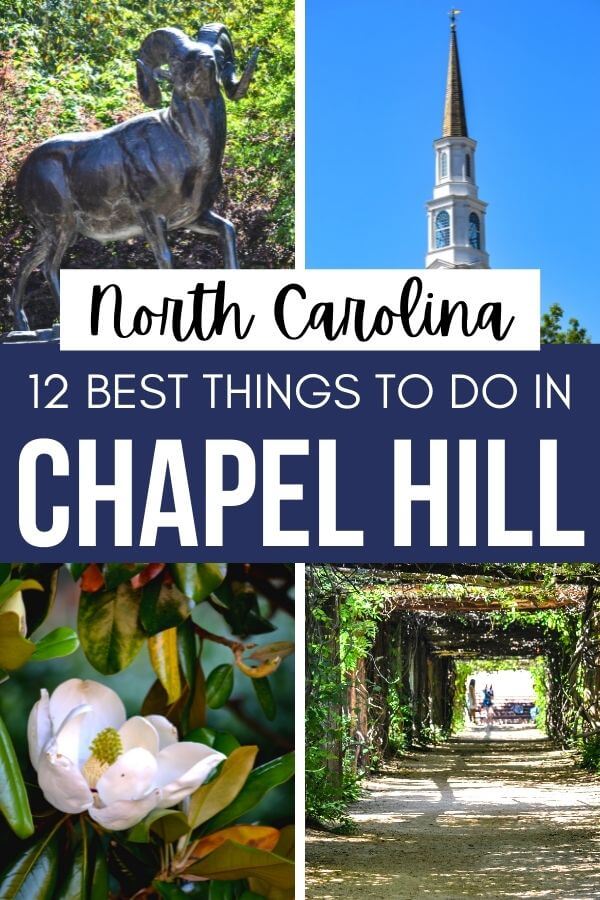 Please note: This post may contain affiliate links which means I may earn a commission if you make a purchase by clicking a link on this post. This will be at no additional cost to you. Affiliate links help me keep this website up and running. Thanks for your support!
Take a walk through the beautiful university campus
University of North Carolina, Chapel Hill is the oldest public university in America and totally gorgeous. With an illustrious history of more than 200 years, steadfast traditions, great architecture, and lots of open spaces, UNC has a lot to offer to every traveler.
If you wish to experience the pulse of this small university town, take a walk through the charming streets appreciating splendid buildings and discovering hidden nooks and corners.
An interesting way to do this is to take a free guided walking tour of Chapel Hill and the campus. The tour usually lasts 90 minutes and spaces get filled up fast. Be sure to reserve your space before you arrive.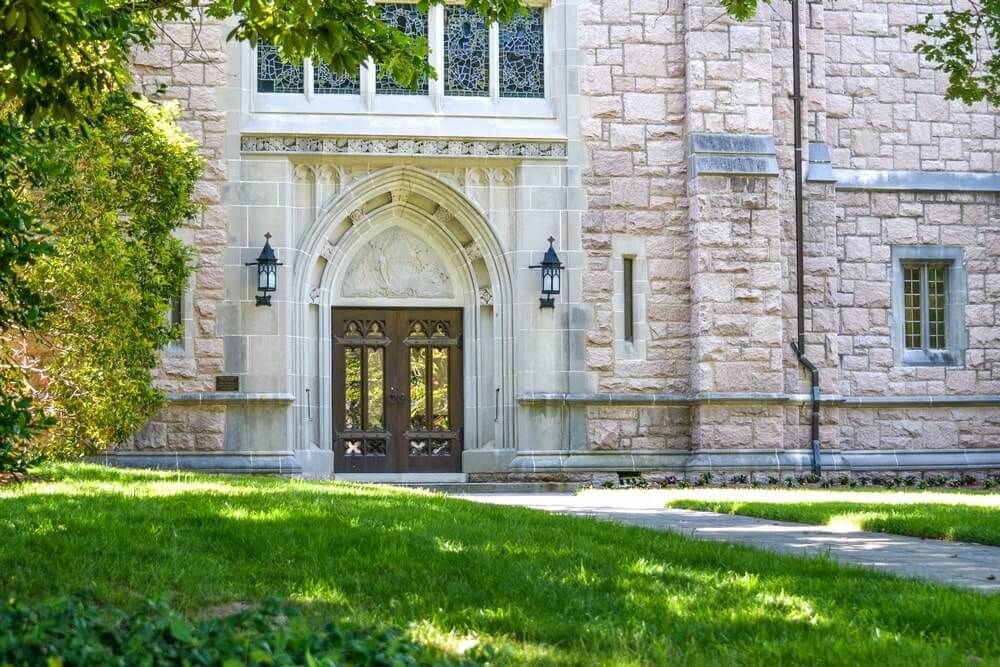 Get clicked at the Old Well
When you are in Chapel Hill, you cannot miss visiting the Old Well. It is a neoclassical rotunda located right in the northern end of the campus and features a small drinking fountain.
Probably the most famous landmark of UNC, the Old Well is the place where every Tar Heel gets their first sip of water when classes begin. For good luck and a high GPA! Never worked for me but you never know!
If you are not interested in the GPA, the Old Well is still a great place to visit because of its European architecture and great photo-ops. Apparently, it was modeled after the Temple of Love in Versailles. The place gets prettier in spring when the flower beds are in full bloom. Just sit down on one of the benches nearby and soak in the beauty of it all.
By the way, Tar Heel is the nickname given to UNC students, sports teams, alumni, and fans. If you are curious, how the university got this name, dig into the history here.
Smell the flowers at Coker Arboretum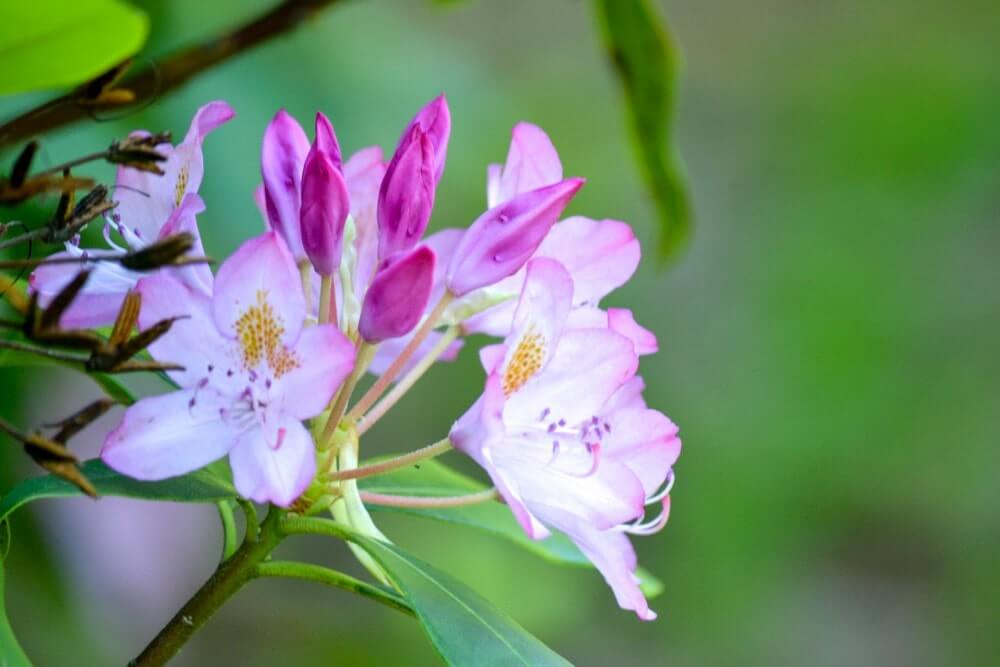 Now that we are at flowers, let me take you to Coker Arboretum located at the corner of Cameron Ave and Raleigh St. Honestly, this was my favorite haunt between classes and after. Such a serene place filled with flowers and lots of greenery.
The best time to visit Coker Arboretum is during spring when the whole place is brimming with flowers of all kinds. Don't be surprised if you spot squirrels and birds. They abound. An occasional cat too!
The arboretum is more than a hundred years old and was named after Dr. William Chambers Coker, UNC's first prof. of botany. It is open every day of the year from dawn to dusk.
Visit Morehead-Patterson Bell Tower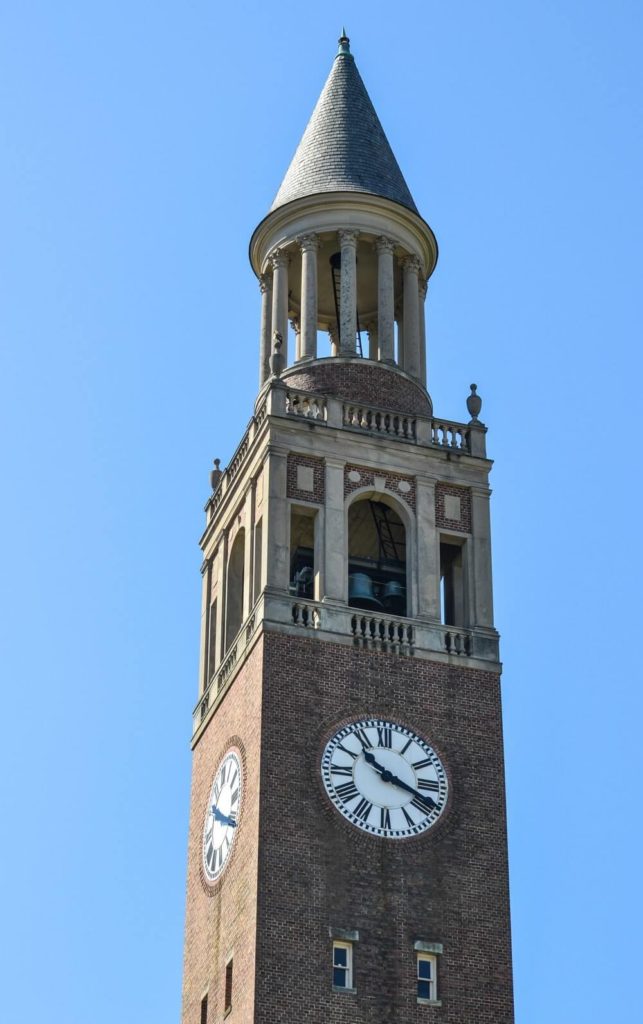 Built in 1931, the Morehead-Patterson Bell Tower stands tall and impressive near the Kenan Memorial Stadium. It is 172 feet tall and has Roman numeral clocks built in on all four sides.
The tower was built in honor of NC State alumni that lost their lives during World War I. Today, it is surrounded by pretty hedges and flowering plants and chimes every hour calling the students back to their classes.
Head to the world's largest ram statue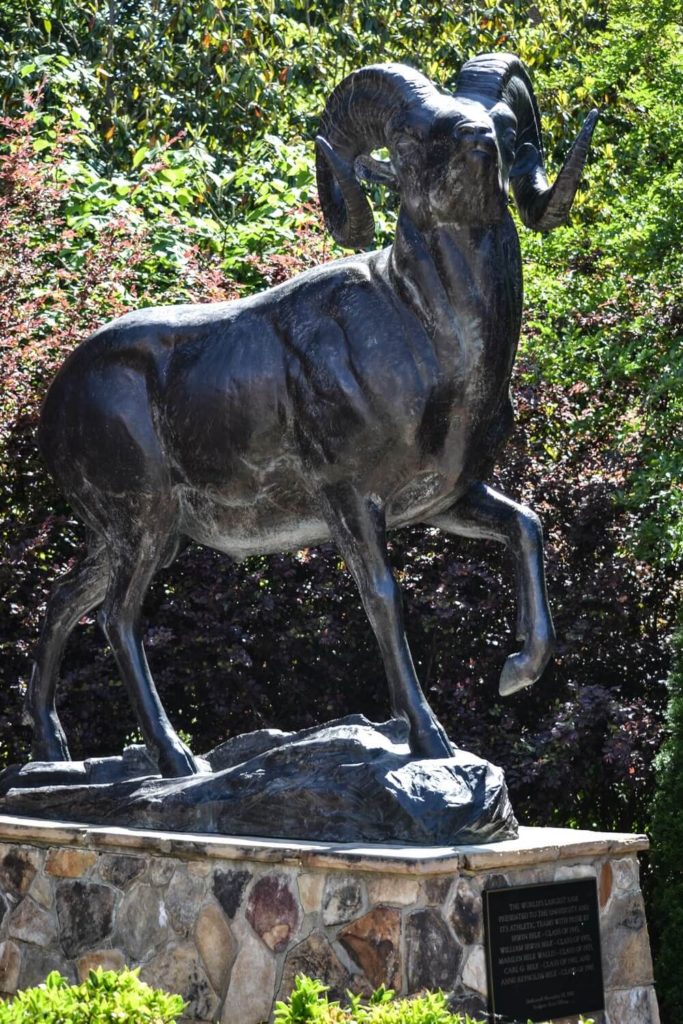 Did you know that UNC-Chapel Hill has the world's largest ram statue?
Yes, right in front of Kenan Football Center you will find a huge ram statue that was unveiled in 2002. Together, with the Old Well and the Bell Tower, the statue makes for a wonderful collection of Chapel Hill attractions.
If you did not already know, a ram called Rameses is the mascot of North Carolina Tar Heels – the athletic team of UNC-Chapel Hill.
Relax at McCorkle Place
There is no dearth of green spaces in this small town. One of the most interesting ones is the McCorkle Place which not only has greenery but history too.
Located between E Franklin St and the Old Well, McCorkle Place is chock full of historical monuments. Here, you will find the Unsung Founders Memorial – a beautiful monument that honors People of Color who helped build the Carolina of today.
There is also the Davie Poplar that is at least 230 years old. A popular legend says that if you kiss your sweetheart under this tree, both of you will marry. Now, isn't that super romantic?
Catch a show at Morehead Planetarium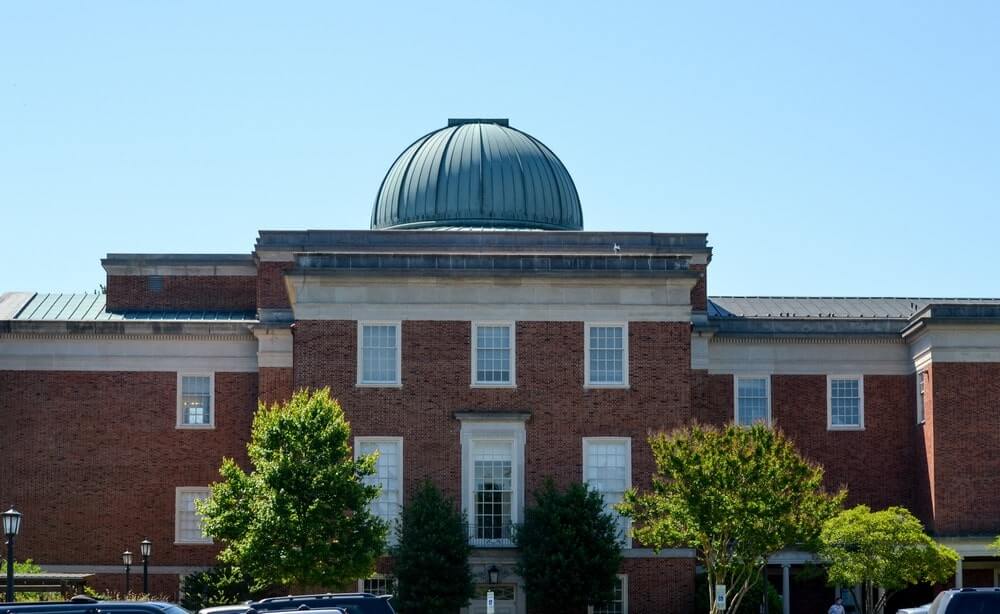 Morehead Planetarium and Science Center is one of America's oldest and largest planetariums. It was built way back in 1949 to train astronauts in celestial navigation.
Today, the planetarium is one of the best things to see in Chapel Hill, NC. They run various shows on astronauts, skies, planets, and stars. It is a great place to visit not just for kids but also for adults who wish to dig deeper into the mysteries of space.
You will need to purchase a ticket before going. Check out admission prices and show details here.
Stroll through Franklin Street
If I had to sum Chapel Hill in just two things, those would be UNC and Franklin Street.
Honestly, the city would never be the same without the presence of either one of them. If UNC is the intellectual haven filled with architectural delights and green spaces, Franklin St. is the happening place dotted with lively restaurants, attractive murals, and vibrant nightlife.
Taking a walk through Franklin St. and exploring all the amazing eateries and boutique shops here was one of my favorite things to do in Chapel Hill. Go here right when the sun is going down and students are heading out – it is bound to be a lively experience.
If you do not like crowds, avoid Friday and Saturday evenings. Also the days when UNC beats Duke. Those days are huge!
Do a mural tour of Chapel Hill
One of the best things to do in Chapel Hill is to check out the murals on Franklin Street. There are actually quite a few spread over the entire Orange County.
Some of my favorite ones are the Love Peace Joy Bus, Parade of Humanity, and the Football Men murals.
You can find tons of other beautiful ones in and around the area. There are so many that you can actually do a Chapel Hill mural tour. Check out an exhaustive list of Chapel Hill murals here.
Have coffee at Carolina Coffee Shop
Almost a hundred years old, Carolina Coffee Shop is as much a UNC tradition as the Old Well. It is the oldest restaurant in Chapel Hill and serves great breakfast and lunch apart from good coffee, of course.
Explore Chapel Hill's restaurant scene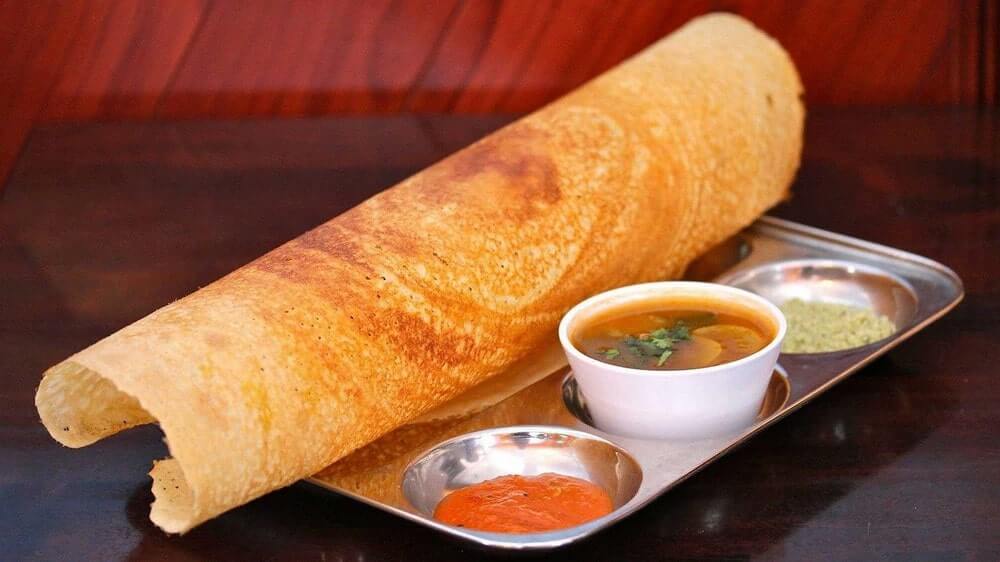 Chapel Hill has incredible restaurants. You can find food from all over the world here. And I am talking about food that is really authentic.
Here are some of my favorite restaurants in the area. Try one or many – you are not going to regret your choice.
Walk through the picturesque Purefoy Road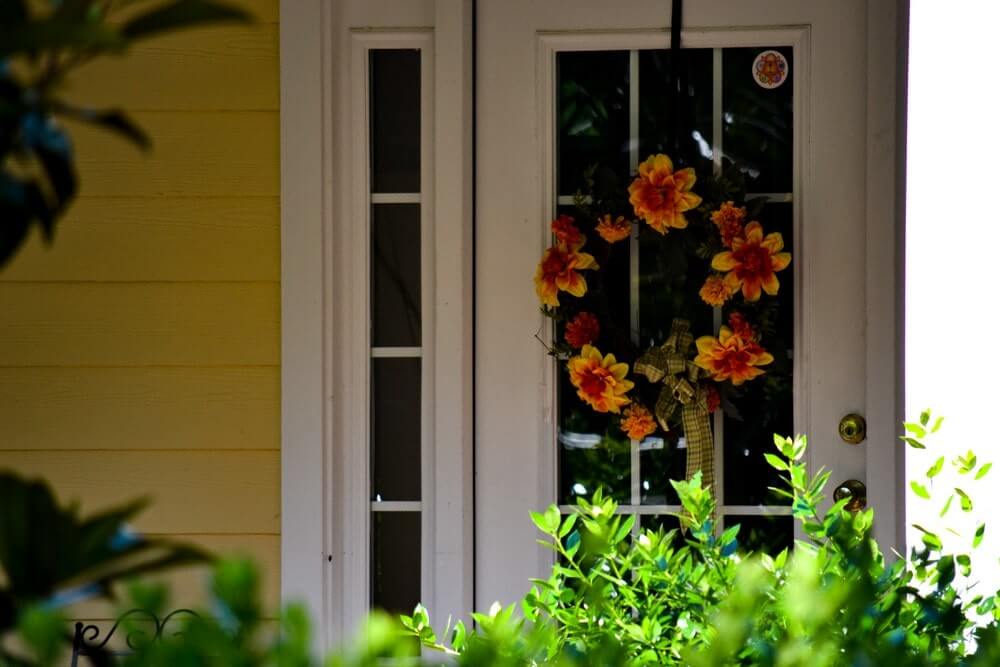 Now, this is my little secret – a walk down Purefoy Road. You won't find this place listed in any travel guide or Chapel Hill travel blog.
A charming street dotted by pretty homes, beautiful flower gardens, and verdant greenery, Purefoy Road and nearby Whitehead Road, are hidden gems in this pretty town. They are located in the southern end of the campus right by the Kenan-Flagler Business School.
If you are looking to get some scenic pictures, Purefoy Rd. is the place you should be heading to.
I love walking through pretty streets when I am exploring a new place. Be it the Rainbow Row in Charleston, the public squares of Savannah, the Alfama District of Lisbon, or Purefoy Rd in Chapel Hill – I love them all.
Interactive map
Practical information to plan your Chapel Hill, NC trip
Best time to visit Chapel Hill, NC
The best time (my favorite season too!) to visit Chapel Hill is during spring when this small university town in fragrant with blossoms, temperatures are just perfect, and there is greenery all around. This is also the time for some great pictures.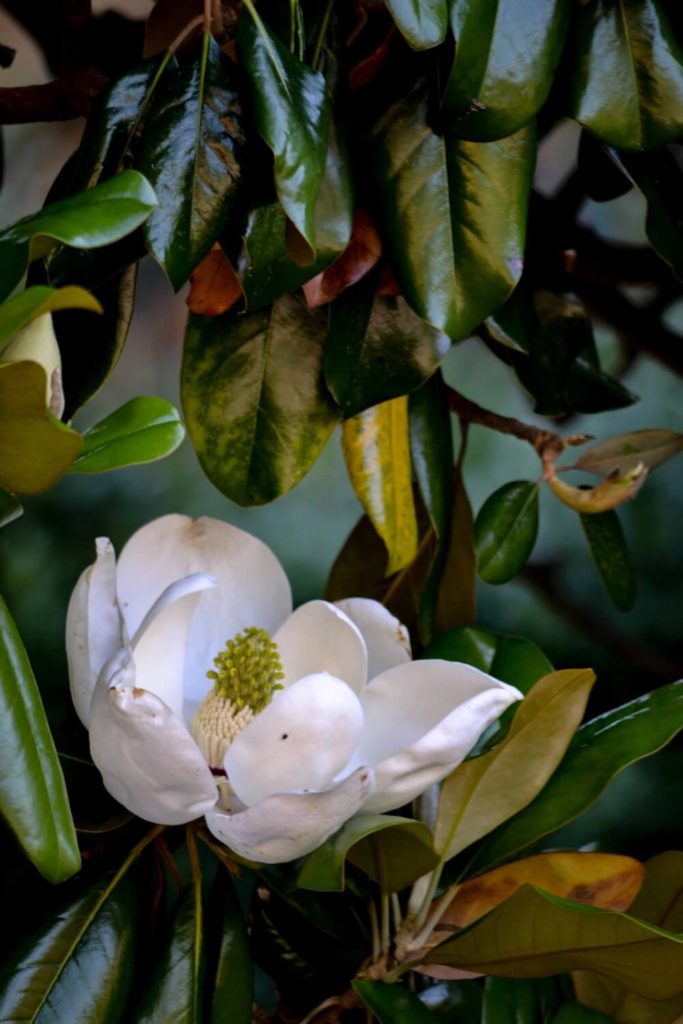 Best places to stay in Chapel Hill, NC
Find more hotels in and around Chapel Hill here.
Getting to Chapel Hill, NC
If you are flying, Raleigh Durham International (RDU) Airport is the closest one. Click here for a complete list of airlines servicing RDU.
In case you are taking the train, the closest train stations serviced by Amtrak are at Raleigh, Durham, Cary, and Burlington.
If you are driving, then you should be looking at I-40 and NC-54.
Getting around Chapel Hill, NC
Chapel Hill is an extremely walkable town. You can literally walk to each of these attractions while admiring the greenery and beautiful buildings surrounding you. Be sure to get a good pair of walking shoes with you and sunscreen and hat if you are visiting in summer.
If you ever feel the need to rest your feet, hop aboard a Chapel Hill Transit bus. They provide fare-free services between UNC and the city center and stop at all major landmarks.
Loved our Chapel Hill travel guide? Pin it for later!