Last Updated on June 22, 2022 by Soumya
Planning your Southern USA trip and want to squeeze in one day in Charleston, South Carolina? Wish to see the best that Charleston, SC has to offer in under 24 hours?
Well, you are at the right place because we have just the perfect 1-day Charleston itinerary for you.
You will dig into the Holy City's centuries-old history, walk through a charming French Quarter, visit a historic public market, and get wowed by amazing antebellum architecture. Add to this some delicious Southern food and you have the best way to spend your first 24 hours in Charleston.
Is one day in Charleston enough, you may ask?
It is not. Though it is definitely better than no day in Charleston. There are so many wonderful things to do in Charleston that I am sure you will keep coming back for more later on. But one day is a great way to get started, explore Charleston's historic center, and dive into its history and charm.
If you have more time, feel free to check out our long weekend itinerary for Charleston.
The best itinerary for 1 day in Charleston SC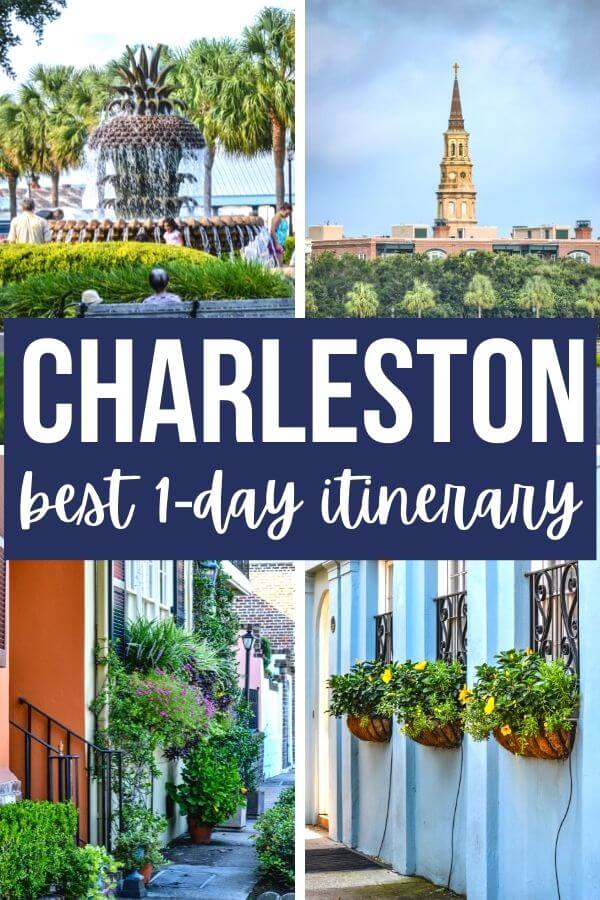 Please note: This post may contain affiliate links which means I may earn a commission if you make a purchase by clicking a link on this post. This will be at no additional cost to you. Affiliate links help me keep this website up and running. Thanks for your support!
Begin the day with breakfast at Toast
I am always up for a good breakfast while traveling. And there's no better place to begin your day in Charleston than at the Toast.
Voted by The New York Times Magazine as a must-eat place in Charleston, Toast is a winner all the way.
Their breakfast is especially popular. Try their classic breakfast biscuits, stuffed French toast, or Lowcountry omelets – you cannot go wrong with anything here. And do not forget to sample some of the New Orleans Beignets for me. Yummy!
Take a stroll through Charleston's French Quarter
Once done with your delicious breakfast, head to Charleston's French Quarter just 5 minutes away from the restaurant. A small neighborhood in the historic district, French Quarter gets its name from the large number of French Huguenots that fled religious persecution and settled in this area.
Today, French Quarter is deemed to be one of the most romantic places in Downtown Charleston. Just perfect for a leisurely stroll as you sample architectural delights and centuries old history.
Here are some of the old buildings that you should not miss checking out.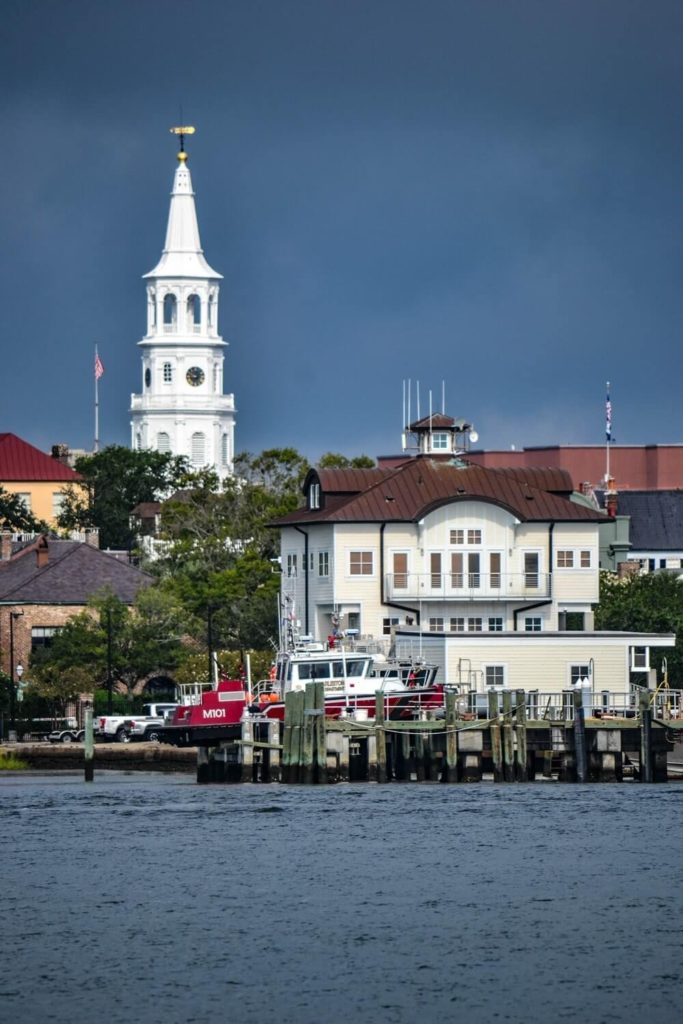 Learn about the history of slavery at Old Slave Mart
The Old Slave Mart is located on 6 Chalmers Street and is a must have on your itinerary even if you are visiting Charleston for one day.
One of the first African-American slave museums in the country, Old Slave Mart is housed in a building that was once a slave auction gallery. Slave auctions were held here until 1863.
Today, there is a lot to learn here through informative posters, artifacts, and an interview with a former slave. Plan to spend at least an hour here to soak in all the history.
The museum is open 9am – 5pm every day of the week except on Sundays.
P.S. Displays at the museum can be disturbing for some people and kids. A friend of mine did not feel quite alright after visiting. So, please use your own discretion while visiting.
Also read: 25 Incredible things to do in Charleston SC
Head to the Pineapple Fountain
Next up on our one day in Charleston itinerary is the beautiful Pineapple Fountain, a must-do when in Charleston. This famous Charleston icon sits right along the harbor in the middle of a green public space called the Waterfront Park.
Did you know that pineapple is the symbol of hospitality in Charleston? And the fact that there are so many pineapple icons sprinkled all over the city in art, architecture, and even jewelry?
Indulge in a delicious Lowcountry lunch
I can never get enough of Lowcountry food when I am visiting the American South. All that fried chicken, shrimp and grits, and crab cakes keep calling me back to these places again and again.
Cannot blame myself for stuffing on Southern food especially when there are such amazing restaurants in Charleston. I suggest you pick one of these for your lunch.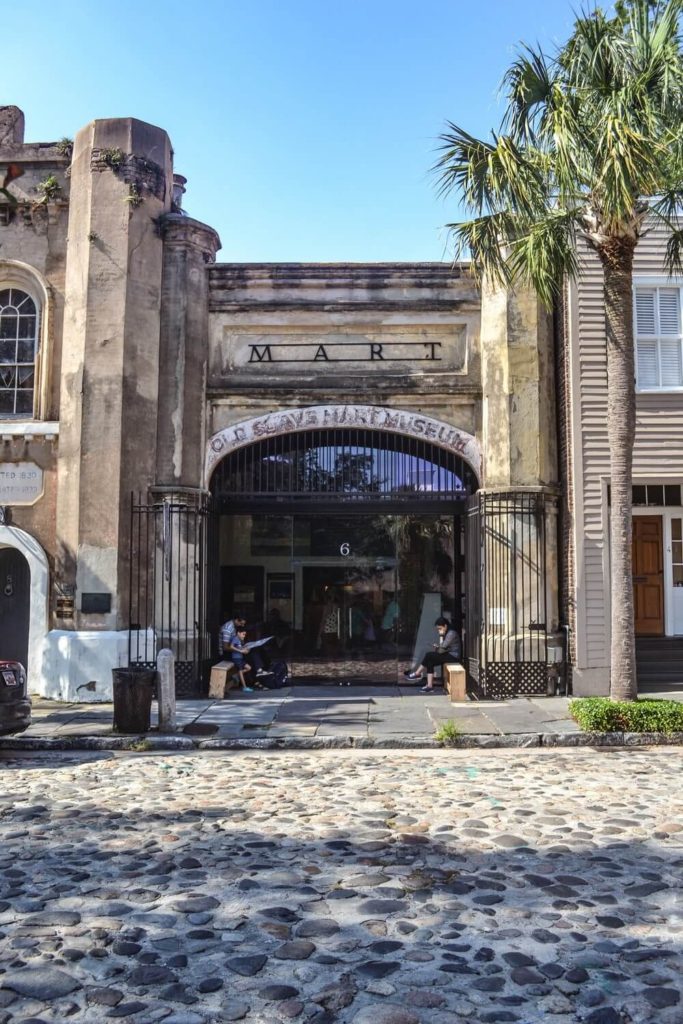 Soak in some history and culture
Depending on how you wish to spend your afternoon, you can either head to the Historic Charleston City Market, one of Charleston's historic homes, or Fort Sumter.
Alternately, you could take a 1-hour carriage tour through the historic district of Charleston. A quick and efficient way to learn more and see more.
Charleston City Market
If you are looking to buy some souvenirs to take back home, head to the Charleston City Market. It is not just a great place for purchasing goodies but for soaking up local culture too.
Do not forget to pick up a sweetgrass basket, a quintessential souvenir from the South. Gullah artisans have been weaving these baskets for more than 300 years now!
Historic homes in Charleston
Even though I love the historic homes of Savannah more, there are some pretty good ones in Charleston too.
Aiken-Rhett House is one of the finest historic homes in the country. Take a tour to see some gorgeous architecture and dig into decades of antebellum history. The Aiken-Rhett slave quarters, virtually untouched since the 1850s, are especially moving.
Nathaniel Russel House, with its magnificent cantilevered staircase and elaborate plasterwork, is another great option.
Fort Sumter
Learn more about the American Civil War at Fort Sumter where the first shots were fired. Take a 1-hour tour to explore the ruins of the fort and browse through the souvenir store downstairs.
Be sure to note that there are 2 ferry departure points: Liberty Square in downtown Charleston and Patriot's Point in Mt. Pleasant. You will need to factor in the time needed to get to these departure points when planning for your Charleston 1-day itinerary.
Highly recommend purchasing a Fort Sumter Entry Ticket and Ferry Ride beforehand to avoid messing with your 24 hours in Charleston.
We made the mistake of not buying tickets earlier and could not get on the ferry departing from downtown. We had to ride the one leaving from Mt. Pleasant. Honestly, not the most efficient use of our time!
Get pictures at the Rainbow Row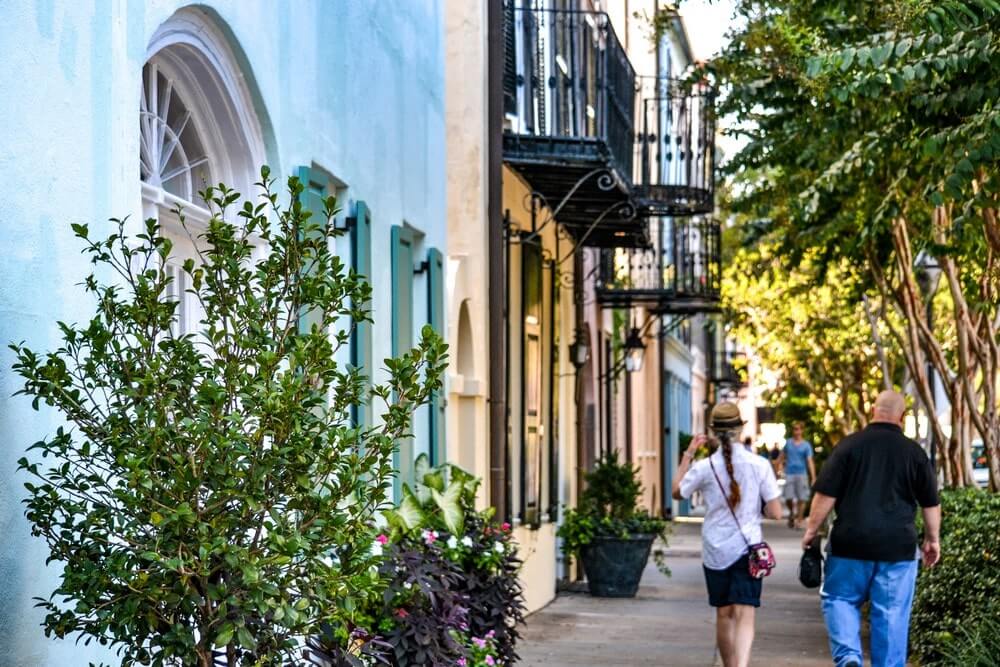 Need some great pictures for your gram? Go, visit the Rainbow Row.
A row of 13 pastel-colored historic houses makes for a pretty photo op. Not a surprise that the Rainbow Row is one of the most photographed areas in the entire city.
Also read: How to spend the perfect weekend in Charleston SC?
Take a leisurely stroll along the waterfront
Around sunset is the best time to enjoy a leisurely walk along Charleston's waterfront.
There are so many green spaces here that you can just sit down and relax, watch people go by, and take in the calming vibe of the historic district. Perhaps you would want to go back to the Pineapple Fountain and dip your feet in its cool waters.
If you are hungry, grab a gelato and some pancakes at Belgian Gelato.
Maybe take a walk to the Battery, adore the beautiful antebellum architecture right in front of it, and watch the sun go down the horizon.
End your day with an evening carriage tour
If you still have some energy left after spending this exciting day in Charleston, explore the charming historic district on a private horse-drawn carriage.
Or maybe try a spooky ghost tour in the evening if you have the nerves for it. I was too scared to do one but some of my friends absolutely loved them. Here are some great options.
Feeling hungry after all the wonderful activities in Charleston? End your day with dinner at Husk or 82 Queen. 82 Queen is my favorite place to eat when I am in Charleston. Their she-crab soup is delicious.
An interactive map of how to spend one day in Charleston SC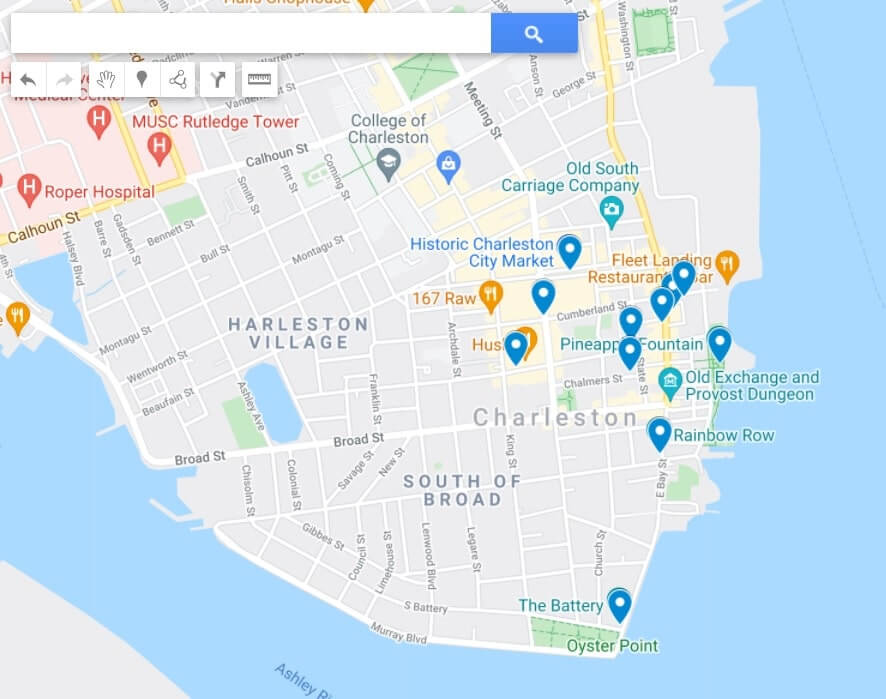 More than 1 day in Charleston SC?
Practical information for visiting Charleston in one day
Best time to visit Charleston
The best time to visit Charleston, South Carolina is during spring (March – May) or fall (September – November). Weather is enjoyable during this time with pleasant temperatures and lower humidity levels.
That said, between September – November is also the hurricane season in Charleston. Not all hurricanes make landfall but some do. Be sure to check the weather report before planning for a fall trip.
Spring is also when you can catch the Festival of Houses & Gardens and the Charleston Wine & Food Festival. During fall, you can attend MOJA Arts Festival and Charleston Restaurant Week.
Where to stay in Charleston SC?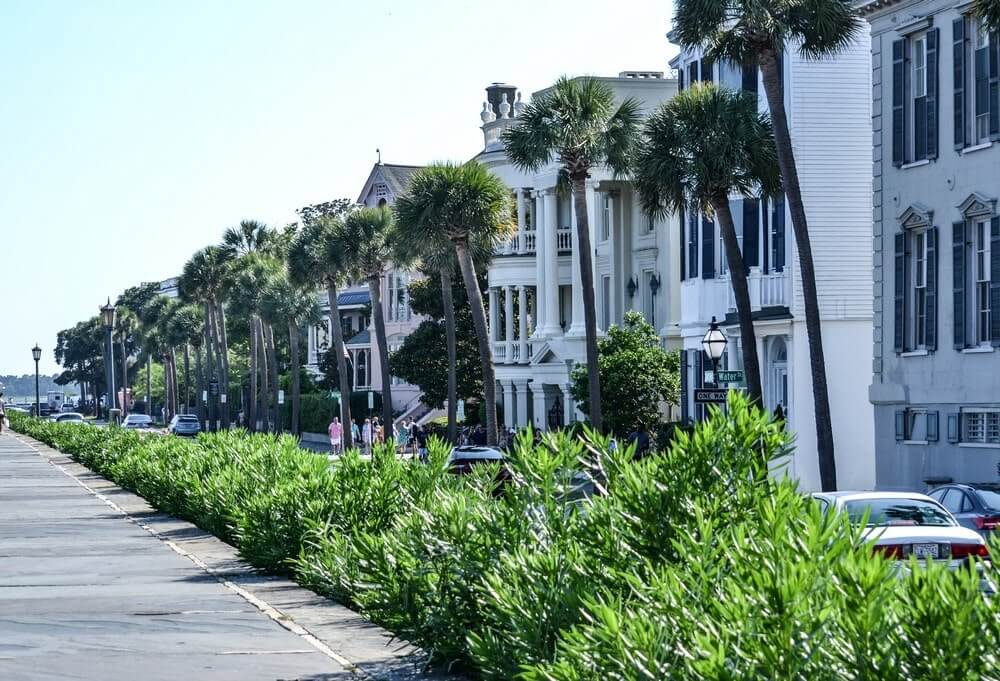 Since you will be in Charleston for just one day, I highly recommend you to stay in the Historic District. A little expensive but very time efficient. Here are some great options.
Find more hotels in Charleston here.
Getting to Charleston SC
You can get to Charleston by flight, train, and car.
If you are flying, check out the complete list of airlines that operate out of Charleston International Airport.
In case you are taking the train, check out the Silver Service/Palmetto trains operated by Amtrak.
If you are driving, then you should be looking at I-26 and US 17.
Getting around Charleston
The best part about this Charleston one day itinerary is that you can literally walk to all the places that I have listed here. Only time when you need a car is if you decide to go to Fort Sumter and need to travel to the ferry boarding points. Or if it is too hot to walk around. Click here to rent a car.
You can also use Charleston's free downtown shuttle service known as DASH to get to major attractions including City Market and Waterfront Park. Download a free printable map here.
Charleston SC Travel Essentials
Loved our Charleston one-day itinerary? Pin it for later!