Last Updated on April 26, 2021 by Soumya
Keen to learn some fun facts about Orlando Florida? Want to dig deeper into the history of "The City Beautiful"? Eager to listen to some amazing Orlando stories and legends?
Well, you are at the right place. We have just the perfect article on interesting Orlando facts waiting for you. Right here.
These are things about Orlando that no one will ever tell you. Yet, knowing them is so much fun!
All of us know that Orlando is the theme park capital of the world. But did you know that Florida's Orlando is one of the top cities for golf? The name Backstreet in Backstreet Boys comes from the city's Backstreet Market? Or the fact that Orlando is home to the world's Largest Entertainment McDonald's?
Here are the top 20 amazing facts about Orlando. Weird, geeky, historical, and hysterical – you will find the entire collection of Orlando facts here.
In a hurry? Pin this for later!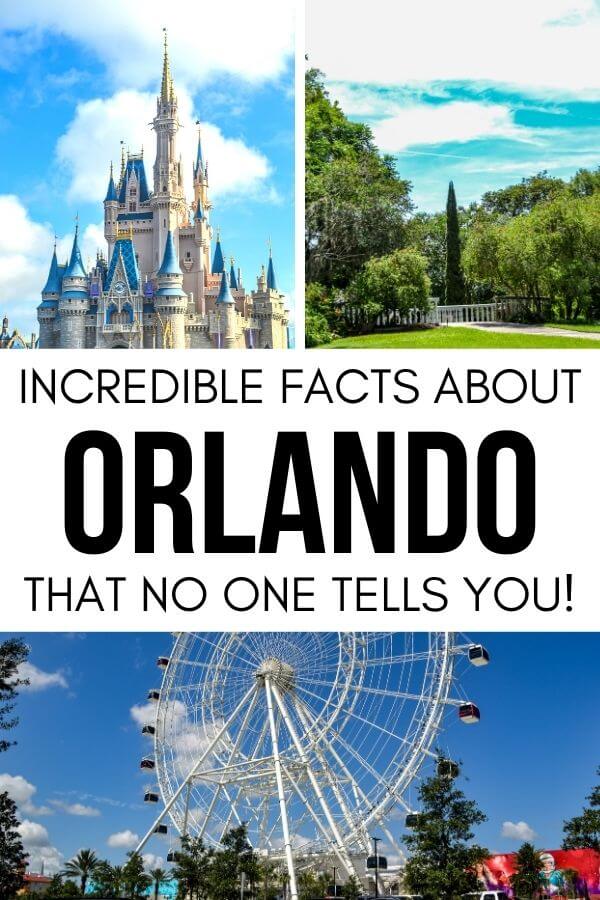 20 Fun facts about Orlando Florida
1. Disney World is not Orlando's first theme park!
Gatorland is! This may come as a surprise but this is one of the lesser-known facts about Orlando.
Gatorland opened way back in 1949 whereas Magic Kingdom, Walt Disney Parks and Resorts' first amusement park, opened much later in 1971.
Then came SeaWorld in 1973, Epcot in 1982, and Hollywood Studios in 1989. Disney's Animal Kingdom was added in 1998.
2. Gatorland is the Alligator Capital of the World
Gatorland in Orlando has earned itself the nickname "Alligator Capital of the World" by virtue of being home to more than 2000 American Alligators.
They have extremely rare varieties too including leucistic and albino alligators. They even have a home for baby gators called the Baby Gator Marsh. Plus, they have crocs – Nile, Cuban, and Saltwater species!
3. Disney World in Orlando is the world's largest Disney Park
With 4 theme parks (Magic Kingdom, Epcot, Hollywood Studios, and Animal Kingdom), 2 water parks, 27 hotels, and multiple golf courses, Walt Disney World in Orlando is the largest Disney park in the world.
The property is spread over 25,000 acres and employs more 75,000 people. It is, in fact, USA's largest single site employer! Wow, that's huge!
4. It is interesting why Walt Disney chose Orlando
He did so because of Orlando's strategic location – right in the middle of 2 major highways – Interstate 4 and Florida Turnpike. Orlando International Airport is not far away either.
Warm and sunny weather and vast open, cheap swamplands added to the appeal!
Perfect spot to woo in the tourists! I think that was super smart.
5. Orlando's first name was Jernigan
Orlando was a small community in 1842 when a farmer from Georgia established a successful farm in the area. His name was Aaron Jernigan and he was Orlando's first permanent settler. And that is how the community came to be called Jernigan.
6. It is hard to say why Orlando was named Orlando later!
There are many theories how Orlando got its current name. Legend has it that the city was named after a brave soldier Orlando Reeves who fought in the Seminole Indian War. Some say he was called Orlando Jennings.
Yet another story tells us that the city was named after Orlando J. Rees, a wealthy plantation owner who lived in the area.
The most interesting theory states that Orlando got its name from the character in Shakespeare's comedy, "As You Like It". The fact that the main street that cuts through the heart of Orlando is named Rosalind (Orlando's lover in the play) further supplements this theory.
7. Orlando got an aspirational nickname in 1908 – The City Beautiful
Before that, the nickname was "The Phenomenal City".
In 1908, the city held a competition among locals for a new nickname. Jesse Branch who had moved in from South Dakota suggested "The City Beautiful" because she was in awe with the city's greenery, fragrant vines, and blooming flowers.
The name struck a chord with the authorities because it matched the City Beautiful Movement that intended to glamorize other American cities. Even though Orlando was not in the list of cities to be beautified, it was an aspiration that many Orlandoans looked up to.
8. Orlando is not just theme parks. It is so much more!
Frankly, we often think of only theme parks (Disney, Universal, Legoland!) when planning our Orlando itinerary. Don't we?
But Orlando is so much more. There are so many fun things to do in Orlando other than theme parks such as going up The Wheel at ICON Park for stunning views, swimming with manatees, taking a wine tour, visiting an art museum, watching the launch of a space shuttle, or simply relaxing in the wide open green spaces.
Here are 21 best things that you can do in Orlando besides theme parks.
9. Backstreet Boys originated in Orlando
The popular American band, Backstreet Boys, was literally born in the backstreets of Orlando Florida. It happened in 1993 when Lou Pearlman decided to name them after Orlando's Backstreet Market, a flea market where the group used to hang out.
Now, that's a really popular fact about Orlando, isn't it?
10. Orlando has more than 100 lakes
And we thought Orlando was only about theme parks!
I had a hard time absorbing this cool fact about Orlando but it is true that the Theme Park Capital of the World has more than 100 lakes! They are all formed from giant sinkholes like the cenotes of Yucatan, Mexico.
Lake Eola, one of the best places to visit in Orlando, is actually a giant sinkhole! Its deepest point measures 80 feet.
11. You can see 5 different kinds of swans in Orlando
While we are at the lakes, let me point out that Lake Eola is home to more than 50 swans of 5 different species. They are whooper, royal mute, Australian black, trumpeter, and black neck.
Apart from riding a swan boat at Lake Eola, you can participate in Orlando's Swan Round-Up where these swans receive their annual check up. Or contribute to the wellbeing of these swans at Swan-A-Thon, a fundraising effort managed by Orlando Community Youth Trust.
Now, that's a fascinating thing about Orlando that I did not know. Did you?
12. Orlando has more than 100 parks
There are more than 100 city parks and community centers in Orlando with nature trails, wide green spaces, sports activities.
Visitors often miss checking out Orlando's serene natural spaces, a far cry from the theme park frenzy of the city. However, it is worthwhile to spend some quality time at some of Orlando's beautiful nature parks – Lake Eola Park, Wekiwa Springs State Park, Lake Louisa State Park to name a few.
I loved my trip to Harry P. Leu Gardens too. It is a beautiful historical park and museum by Lake Rowena filled with tropical flowers and Spanish moss!
13. Orlando has one of the world's largest McDonald's
One of the world's largest McDonald's is located in Orlando Florida. Also known as the Epic McD, the restaurant is spread over 19,000 square feet.
Epic McD opened in 1976 and was renovated in 2016. It features a 30-feet tall image of Ronald McDonald, a huge play area, and over 100 arcade games. Exactly why it is called the Largest Entertainment McDonald's in the world.
Their menu is innovative too and includes pasta and pizza. Even Belgian waffles!
14. World's largest Disney store is in Orlando
The World of Disney Shop is spread over a whopping 56,000 square feet facility and is the largest of its kind in the world. The Disney shop in Shanghai comes a close second with 51,000 square feet.
15. Orlando is a top destination for golf lovers
According to Golf Digest, Orlando Florida is one of the top 20 cities for golf in the USA. With 24 golf courses within the city and 39 more within 20 miles of the city center, this is bound to be true.
Notable golf player Tiger Woods lived a few miles north of Orlando with his wife until 2010 when they divorced.
16. Orlando was once the Citrus Capital of USA
Between 1875 to 1895 was a golden period in Orlando's history. The city became an important hub of Florida's citrus industry, one of the lesser-known facts about Orlando.
The period of prosperity ended with the Great Freeze of 1895 when much of the citrus crop was destroyed. And farmers were forced to move elsewhere or choose other occupations.
Today, if you are looking for a citrusy experience in Orlando, head to The Showcase of Citrus in the rolling hills of Clermont. It is a family-owned citrus estate where you can go citrus-picking, do monster truck tours, or simply relax with a picnic.
17. Orange County was earlier known as Mosquito County!
Yes, that's true.
Orange County of which Orlando is the county seat was previously called "Mosquito County". In fact, the whole eastern belt of Central Florida was known as "Los Musquitos" until 1845 because of copious amounts of mosquitoes in swamps and other water bodies.
The name was changed to Orange County in October 1845 after all the orange and citrus groves in the area.
18. Church Street Station in Orlando is a historic treasure
Also known as Old Orlando Railroad Depot, Church Street Station is a historic train station that was built in 1889. It was operational until 1926.
Now, it is listed on the National Register of Historic Places. Orlando's commuter rail system, Sun Rail, has a stop nearby.
19. Orlando hosts many multicultural festivals every year
They say, "If you wish to travel the world, come to Orlando".
Here, you can enjoy Scottish Highland Games, Dragon Parade, Mardi Gras, EPCOT's International Food & Wine Festival, Puerto Rican Parade, Oktoberfest, and so much more. Check out the festival dates here when planning your Orlando trip.
20. The city demolished its own City Hall. And HOW!
The City of Orlando found an extremely innovative solution to demolish its Old City Hall in 1991.
They planned a controlled implosion for the city hall. And then, in an absolutely thrifty move, they sold the implosion rights to Warner Brothers for $50,000 for their upcoming movie Lethal Weapon 3.
The movie opens with LAPD officers Riggs and Murtaugh barely escaping the explosion (with all its Hollywood effects) after discovering a car full of explosives. Read the complete story here.
Now that is one of the weirdest facts about Orlando I have heard in a while? Do you know more? Tell me!
Loved these fun facts about Orlando? Pin it for later!