Last Updated on March 22, 2021 by Soumya
Come winter and thousands of pink flamingos fly into the creeks and sanctuaries of Mumbai from northwest India, Asia and beyond. The Thane Creek Flamingo Sanctuary is one of their favorite haunts. And the most important one too!
Flamingos come to Thane creek annually to feed on proliferating blue-green algae. They stay for 6-7 months before they fly back to their breeding grounds. Between October – May is a great time to spot flamingos in Mumbai especially at the Thane creek flamingo sanctuary where they number in tens of thousands.
If you are a bird lover, then go ahead and read this Thane flamingo spotting guide which will help you plan a memorable trip to this Mumbai flamingo sanctuary. You will learn all about:
Thane creek flamingo sanctuary and what you can see and do there.
How to book your flamingo boat rides and what to keep in mind before doing so?
Special tips and tricks to make your day absolute fun.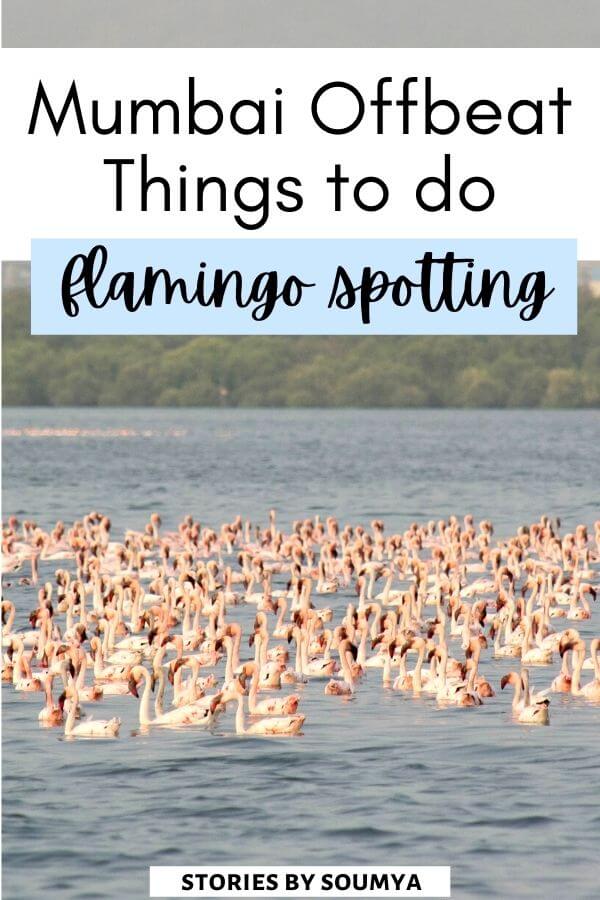 What is Thane creek flamingo sanctuary?
Thane Creek Flamingo Sanctuary, also sometimes referred to as the Airoli Flamingo Sanctuary (because of its location in an area by the same name), is the first flamingo sanctuary in India housed along the western bank of the Thane creek. It encompasses more than 1600 hectares of mudflats, mangroves, and water body between Vashi and Airoli.
The area was declared a flamingo sanctuary in 2015 and is home to substantial bird life – both residential and migratory. Today, Thane creek is one of the best places to spot flamingos in Mumbai – numbering up to thousands in every flock. You can also see pied avocets, black-headed ibis, western reef heron, common sandpiper, intermediate egrets, and plover birds. The mudflats also teem with crab life.
In 2017, the Coastal and Marine Biodiversity Center was established in the area. It has a beautiful museum with interesting displays of marine life. The best part is that the displays also include tactile and audible elements which makes it a wonderful Mumbai destination for families.
You should at least plan half a day at the Flamingo Sanctuary in Thane Creek to enjoy the innumerable things that you can see and do here. Scroll down to find out all that you can do.
Where is Thane flamingo sanctuary located?
Thane Creek Flamingo Sanctuary is located in Airoli, Mumbai right by the side Mulund-Airoli Bridge. When you are on the bridge, you will notice the signboard of a DAV Public School. The museum and the sanctuary are right by the side of the school.
Here is the official address of Thane flamingo sanctuary. Mangrove forest, Coastal marine Biodiversity center, Sector 10, Diva Nagar Rd, Airoli, Navi Mumbai, Maharashtra 400708
Thane flamingos: All about them
Every year Thane creek in Mumbai plays home to two beautiful flamingo species – Greater Flamingo [the bigger species with a pink, black-tipped bill] and Lesser Flamingo [the smaller species with a brown bill]. Lesser flamingos are believed to arrive from Kutch in Gujarat while the Greater variety comes in from Northern and Central Asia, some as far as Siberia and Eurasia.
These flamingos migrate out of their breeding grounds to feed on an annual buffet of blue-green algae at Thane creek every year. The migration starts from October and the birds keep coming till March. March is absolutely the perfect time to see flamingos at Thane creek because bird count is the highest. Beginning of April, the birds start migrating back for their annual breeding cycles. Almost all of them are gone by the end of May.
Related: Mangalajodi Bird Sanctuary in India: A birder's true haven!
Why is Mumbai's flamingo population increasing?
It is strange to note that Mumbai's pollution has actually been a boon for these birds. Recently, flamingo numbers have surged because of increased sewage levels at Thane creek. This has led to a surge in algae growth which keeps attracting more and more flamingos. More pollution -> more algae -> more flamingos.
The situation seems perfect right now but it is hard to say how long this utopia will last. We are at, what The Guardian calls, the perfect levels of pollution. More pollution and entire creek could dry up with no more flamingos to soothe our hearts.
Why do flamingos turn pink?
Young flamingos are usually born white or light gray in color. Once they start feeding on the blue-green algae at swamps or wetlands, they start turning pink. That is because this algae is loaded with beta carotene, a chemical that is reddish orange in color. As the flamingo's digestive system continues to extract this pigment, its new feathers continue turning pink.
You will notice flamingos in various shades of pink at Thane creek. Some of them pure gray too! Remember that they have been here only for a short while. While the crimson ones are probably the oldest ones to fly in.
What can you do at Thane creek flamingo sanctuary?
Even though the name is all about flamingos, you can actually do a lot at the Thane flamingo sanctuary. I have listed them below.
First and foremost, take a boat ride to see flamingos in their natural creek habitat. You will find them in hordes sometimes numbering up to thousands. You will find all details for the booking in the next section.
Bird watch. You will see numerous migratory birds other than the flamingos. Plovers, terns, ducks, black-headed ibis abound.
Visit the Coastal and Marine Biodiversity Museum and learn all about marine life in the creek. Many displays are welcome to touching and hearing which makes it a fantastic place to explore. If you wish to hear the call of the Lesser Flamingo or the singing a blue whale, just press a button and you are done.
The museum also plays an enlightening audio-visual show regularly if you are interested. Your kids will definitely be!
Take a board walk and explore the mangroves, only a 5-minute walk from the museum. Here, you will also see egrets, herons, and sand pipers. Plus, a ton of tiny crabs popping in and out of their crab holes in the mudflats. Just sitting down and watching them is therapy. At the end of the boardwalk is a viewing deck with stunning views of the Airoli bridge and the mangroves.
Quick tip: Directions to the board walk are not very clear. Keep walking until you get to the path that leads to the jetty. Do not take that road. Go a little further and turn right to get to the mangrove board walk.
Visit the blue whale tent and see the bones and skeletal remains of a blue whale. I had never seen anything of the type before and it was huge!
Enjoy a stroll through the gardens and spot various plant species.
Shop at the souvenir stall inside the museum.
Thane creek flamingo sanctuary booking
Before you book your tickets, please note that:
Thane creek flamingo boat rides happen only during high tides. That is because the creek gets filled with water then and boats can go to where the flamingos are feeding/sitting. During low tide, water recedes and boats cannot move.
This also means that at this creek, you will see flamingos wading through water and flying unlike at the Sewri mudflats where you can see these birds walking around or standing.
Ticketing details
I booked my tickets by connecting with the flamingo sanctuary at their official contact number which is +91 9987673737. We connected with them over Whatsapp after which they sent ticket prices as well as the monthly schedule. I selected my preferred date-time (I arrived at this after a couple of iterations because some of the rides were full). Then, I transferred the ticket amount to their official bank account and my seats were confirmed.
There are two kinds of boats at the Thane creek: regular boats that seat 24 passengers and speed boats that seat 7 passengers. You will need to reserve the entire speed boat if you wish to ride in one. Makes sense for a big family. Also, helps to see other migratory birds from close quarters. The ride lasts for an hour.
Flamingo boat rides are priced as below [as of March 2021]
Regular boat ride ticket per person: INR 396 on weekdays | INR 528 on weekends
Speed boat rental: INR 6600+ on weekdays | INR 7800+ on weekends
If you wish to only explore the sanctuary and museum, the fee is INR 50 for adults and INR 25 for students.
Quick tip: The monthly boat schedule is also displayed as the Whatsapp profile pic of the official number. So if you are just curious about dates and times, just go ahead and save the above number and check out their profile picture.
Thane flamingo sanctuary hours
The sanctuary and diversity center are open between 9am – 6pm every day. However, flamingo rides may start much earlier depending upon when high tide occurs in the morning.
Helpful tips to plan your trip
Clean toilets are available inside the museum and they are the only ones in the sanctuary. There are no toilets at the jetty.
Plan in advance and be flexible. It is quite possible that you may not get a booking on your preferred day/time because – 1) there may not be high tides during that time 2) the boat may be full.
Flamingo boat rides also happen on Sundays provided there is a high tide at some point of time. You will also see that some of the days will have no rides because of the absence of high tides.
If you take the boat ride between 9am – 4pm, it will get pretty sunny. Do not forget to carry your sunglasses and water.
If you wish to photograph the flamingos, try to reserve an early morning or late afternoon ride for better lighting conditions.
Carry an id just in case someone asks for it. Nobody checked ours.
Thane creek flamingo sanctuary FAQ
How do I get to Thane creek flamingo sanctuary?
You can get to Thane creek flamingo sanctuary by car or taxi via Eastern Express Highway and Mulund-Airoli Road. If you are taking the train, get down at Airoli Railway Station and take a tuk-tuk from there to the sanctuary which is at a distance of 3.5km (2 miles).
How many flamingo species are found in Thane Creek?
Two flamingo species are found in Thane Creek – the Greater Flamingos and the Lesser Flamingos.
Which is the 1st flamingo sanctuary in India?
Thane Creek Flamingo Sanctuary is the 1st flamingo sanctuary in India. It was established in the year 2015.
What is the best time to visit Thane creek flamingo sanctuary?
The best time to visit Thane creek flamingo sanctuary is between January – April because that is when the flamingo numbers are the highest. If you are keen to photograph the birds, try to book an early morning or late afternoon tour so that lighting is just perfect. The sanctuary is definitely one of the best winter destinations in India.
Loved our Thane creek flamingo sanctuary guide? Pin it for later!