Last Updated on April 6, 2021 by Soumya
On my recent trip to Bhubaneswar with my little one, I decided to explore the TFS Travel Club Lounge at Terminal 1 of Mumbai's Chatrapatti Shivaji International Airport (CSIA). Low frill airlines such as Indigo and Go Air fly from this terminal. The last time I had traveled from this terminal, I had to eat a disappointing blueberry cheesecake. This time I was looking for something better. And I was pleasantly surprised to find an elaborate TFS Travel Club Lounge in this section.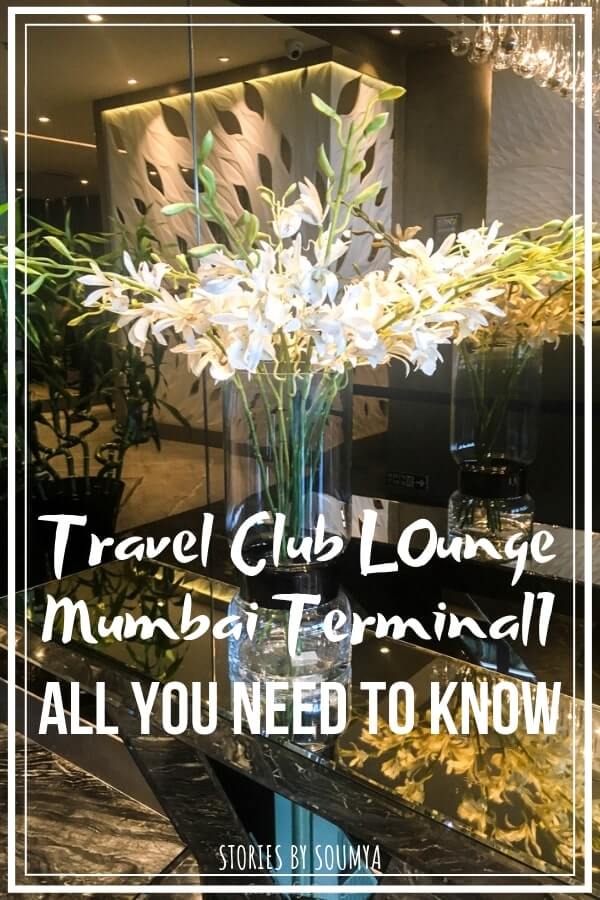 Here's my review of the Travel Club Lounge at Mumbai CSIA Terminal 1.
About TSF Travel Club Lounge
The Travel Club Lounge at Mumbai T1 is operated by TFS (Travel Food Services), a leading F&B operator in India's travel retail segment. TFS has a number of Travel Club Lounges across many Indian airports. Mumbai Domestic & International, Chennai, Kolkata, and Nagpur are a few of those.
Location
At Mumbai's Domestic Airport in Navpada Ville Parle, TFS' Travel Club Lounge is located at Terminal 1C which is the aerobridges section of Terminal 1. It is directly opposite Gate #22 on the first floor. We were lucky to be assigned to Gate #24 this time and that gave us an opportunity to experience the hospitality of this lounge. If you are assigned to one of the ground floor gates (no aerobridge section) at Mumbai T1, then you cannot access the Travel Club Lounge from there.
Access to Travel Club Lounge, Mumbai T1
You can access the Travel Club Lounge at Mumbai T1 with your Priority Pass. As of Jan 2019, Mastercard holders can also access the lounge. Children under 4 are allowed free entry.
You can also pay at the door. The most recent (as on 19th March 2019) walk-in rate for the lounge is INR 950. This price is inclusive of all applicable taxes.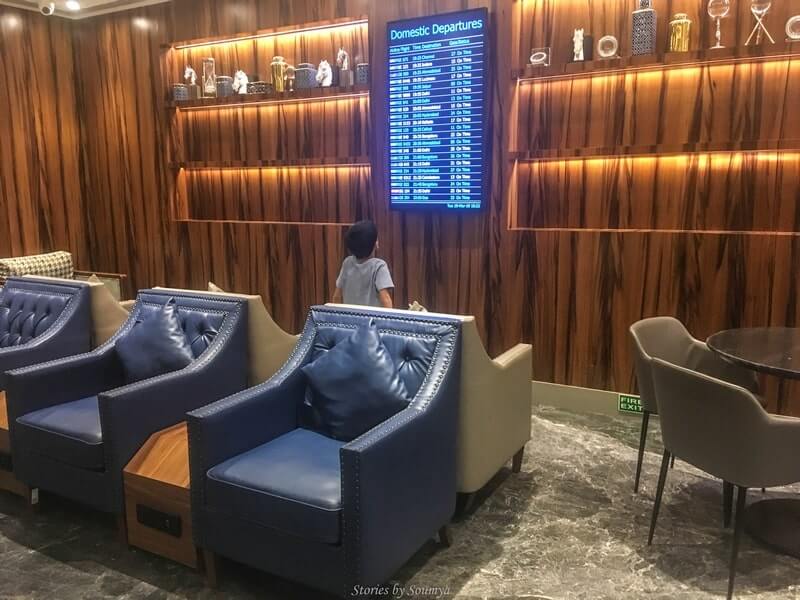 Layout & Decor
Layout
The Travel Club Lounge on T1C is quite spacious. The lounge reception is located right at the entrance on your left. As you enter the lounge, you will see a slightly elevated drinks and dining area in front of you. The bar is right behind it.
On the left is a bigger dining area for travelers, families, and other groups. On the left corner of this dining area, two buffet tables are neatly arranged in an inverted L shape. In front is a salad bar featuring cold items. On the right, is an interesting addition – an Indian Chaat counter. Chaat is a savory snack that is relished at streetside stalls in India. If you wish to feel the pulse of India, you eat Chaat!
Beyond the dining and kitchen areas are located separate washrooms for men and women.
As you enter the lounge, on your left, you will find an open seating area as well as an enclosed space with sofas and lounge chairs that can be easily used for meetings and private discussions.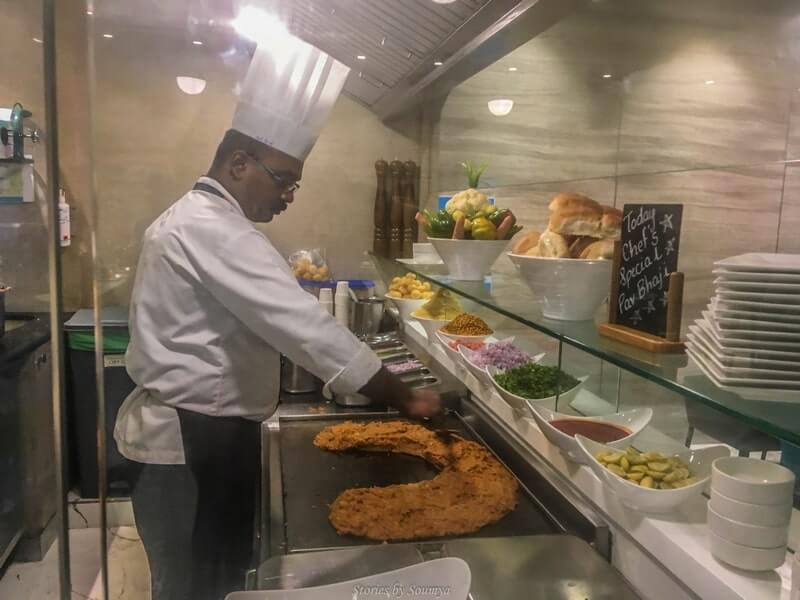 Decor
I especially loved the decor of this place. It is contemporary and smart. Large, white, leaf-patterned panels have been used as separators between sections. You will see more of them on the right.
There is an assortment of chairs including plush sofas, lounge chairs, and bar stools. The ones in the dining area were pretty comfortable. Walls feature a couple of antique clocks. On the wall of the enclosed part of the lounge is an antique representation of the world map.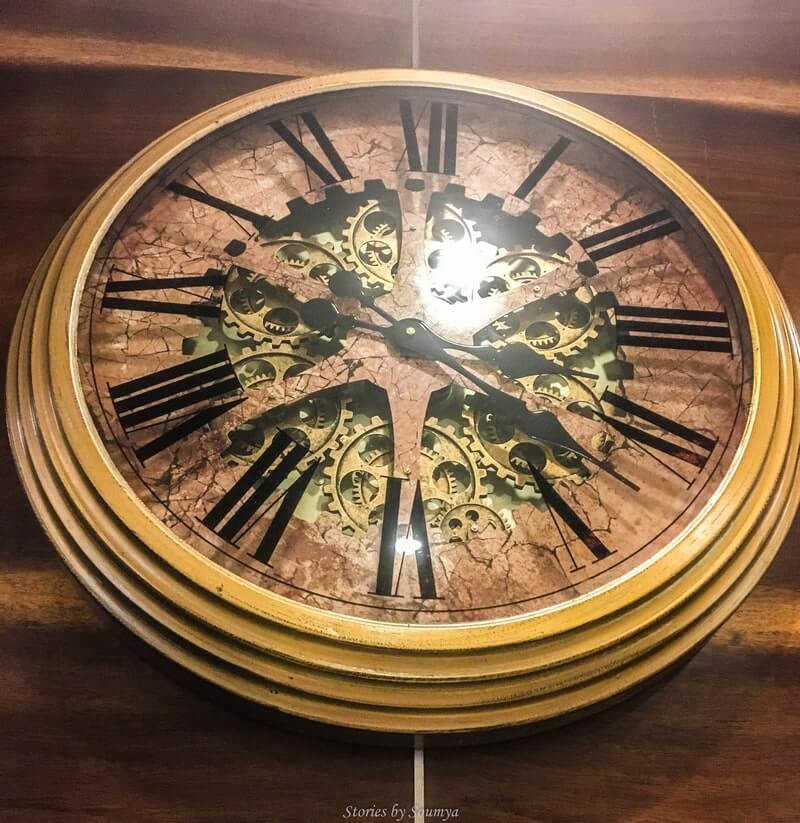 Food & Drinks
We were at the Travel Club Lounge between 3:30 – 4:30 pm on Tuesday, the 19th of March. The food & drinks section is representative of what was available at that time. It may vary between times and between days.
Food
The salad bar featured green salad, fresh fruits, Pita sticks, hummus, and other Middle-Eastern specialties. There was also a hot soup on the counter. I liked the cold counter. The Pita sticks were great and so were the hummus and roasted potatoes.
The buffet was laid around 4 pm and included plenty of hot Indian dishes such as Masala Podi Idlis (my choicest dish there), Upma, Sambar, Bread Chops, and Sabudana Pops. There were also a couple of fusion dishes such as barbequed chicken wings and spicy pasta. Overall, the buffet was okay. None of the dishes really wowed me apart from the Masala Podi Idli and the accompanying coconut chutney.
At the Chaat counter, you will find many chaat varieties such as Papri Chaat and Bhel Puri. There is usually a Chef Special every day and the one on the day of our travel was Pav Bhaji. I did not taste any of the chaats which is why I cannot comment on their qualities.
Have you tasted the Burmese Chaat yet? Locally known as "Thoke", it is quite a popular dish in Myanmar. Read all about it on our article on Myanmar Traditional Food.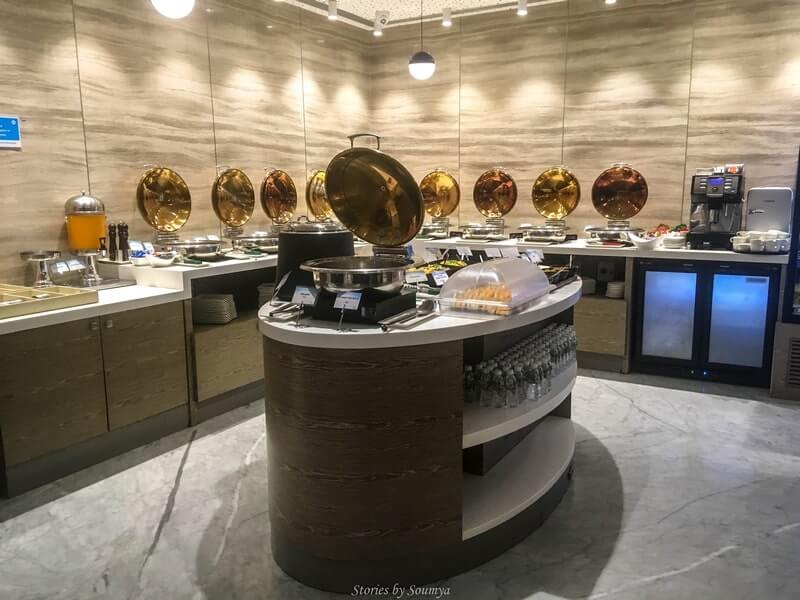 Drinks
And last but not least, we arrive at drinks. The tea and coffee counter is right next to the buffet. At the starting point of the buffet, you will usually spot a couple of juices such as orange and maybe a variant of detox water. Bottled water, juices, and soft drinks are available next to the Coffee counter. The bar is right in front of the entrance. Alcoholic drinks need to be paid for.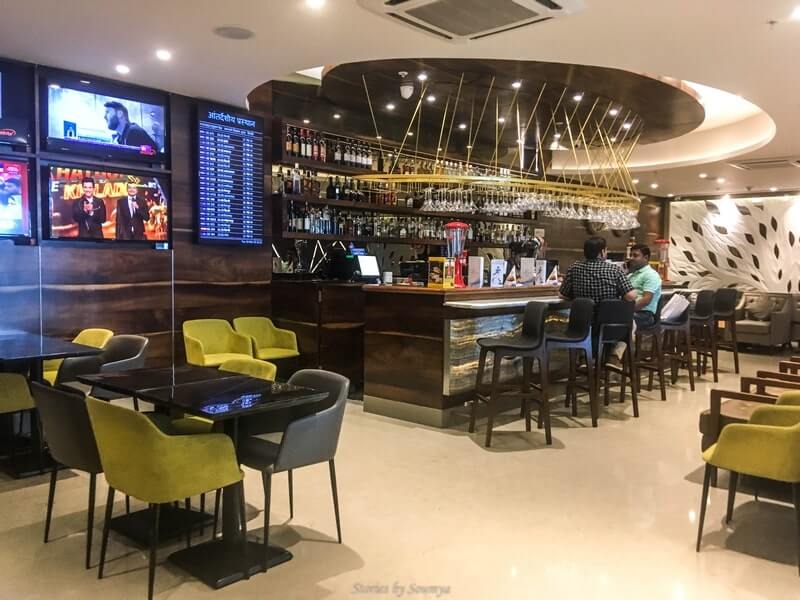 Other Amenities
Toilets are located at the left far end of the lounge, beyond the dining and kitchen area.
Charging points are available at all sofas and dining tables.
WiFi is available.
You also have access to newspapers and magazines. The newspaper stall is located near the wall that features the world map wallpaper.
Flight Information Monitor and Television are available within the premises.
Opening Hours
The lounge is open 24 hours a day. I was here between 3:30 – 4:30 pm on a weekday. And it was not very crowded. That was probably because the lounge is still very new and is located in an area where there aren't too many gates. Let's hope things remain the same for times to come.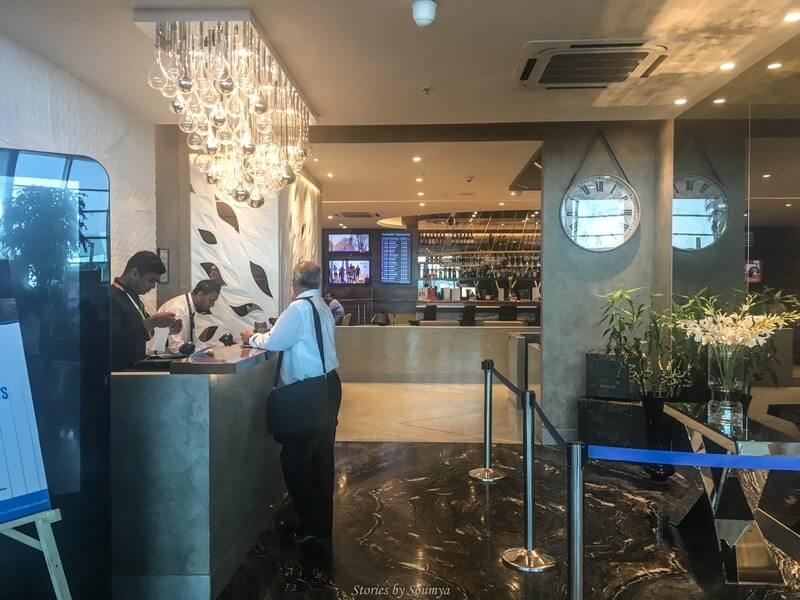 Final Verdict
I would recommend the Travel Club Lounge at Mumbai T1. It is like a breath of fresh air in the otherwise not so interesting part of the airport. Food options at this terminal are scarce. Hence, this lounge provides a welcome change even though the food was not that great at the 4 pm buffet. I would love to try some of the dishes at other times of the day. The Chaat counter is definitely something to look out for. Seating space is also quite huge and hence, the place does not look very crowded at most times. I am definitely going back here the next time I have to board a flight from Terminal 1C.
Did you find our review helpful? Did it help plan your travels any better? What more would you like us to include? Feel free to drop us a line below and we will get back to you.
Planning a trip within India? Why not check out some of our travelogues in India?
And while you are at it, don't forget to follow us on Facebook and Twitter to get regular reviews on hotels, restaurants, and airport lounges from across the world.
Pin It For Later!