Last Updated on August 28, 2022 by Soumya
When we googled "what to eat in Bangkok", we found a hundred different Thai food options and restaurants. Thai street food, exotic food, and fine dining options cropped up all over the place. What nobody told us is that Bangkok was also a haven for international cuisines from across the world.
What better way to experience a world city like Bangkok than by eating around the world here.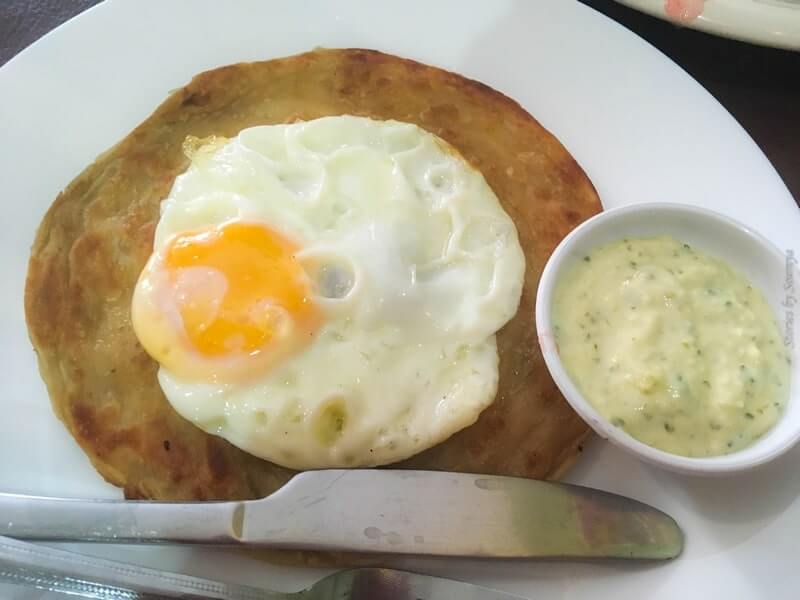 In Bangkok, you can find food from all nooks and corners of the world. And these are not cheap imitations. They are created and curated by the resident immigrant population. So they are authentic. This time when we were in Bangkok we decided not to stick to Thai food alone.
Trust me, we love Thai street food and curries as much as you do. And we sufficiently binged on them. But we tried out other interesting options as well such as Ethiopian, Portuguese, and Lebanese. So in case, you are still reflecting on what to eat in Bangkok or wish to try something other than Thai, I suggest you give our post a read.
In this post, I will tell you what to eat in Bangkok – both Thai and non-Thai.
I have always loved big cities. They provide me with an opportunity to see a variety of people, cultures, and languages. Very importantly, they provide me with chances to try out cuisines from all over the world. That is one of the reasons I love New York City, London, and Paris so much. Closer home, I find that solace in Bangkok. Home to a growing immigrant population, Bangkok is the new hotbed for a number of international cuisines. On this trip, we made it a point to discover some of the popular ones. So, here's a choice of my favorites.
Dig into some delicious hummus and falafels from the Middle East.
I have loved Middle Eastern cuisine ever since I lived in the region in 2010. Personally, I feel it is one of the healthiest cuisines in the world. Stacked with just the right amount of proteins, carbs, and greens, Middle Eastern food can never go wrong. What's better is that this cuisine offers a lot of vegetarian and vegan options to go on your plate.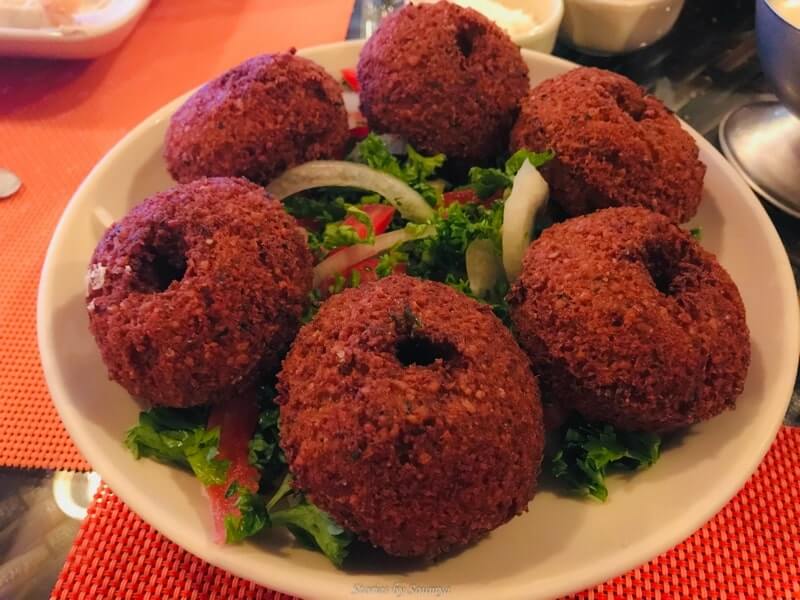 After a good deal of research, we found that Nadimos was a great place to enjoy Lebanese food in Bangkok. They have got two branches in the city and are child-friendly. We loved their Hummus, Falafels, Batata Harra, and Mahalabiya pudding.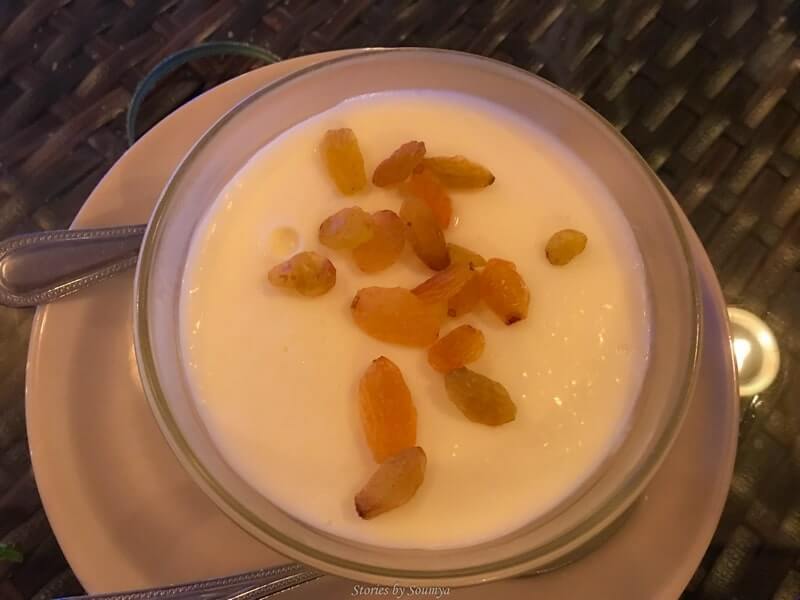 Try Yetsom Beyaynetu from Ethiopia.
Our latest fascination has been the not-so-famous Ethiopian cuisine. We have never been to Ethiopia but have made sure we don't miss out on their delectable dishes wherever they offer some. Their staple is a soft, brown bread called the Injera which is used to scoop out various curries. It also forms the base of the platter like you see in the picture below.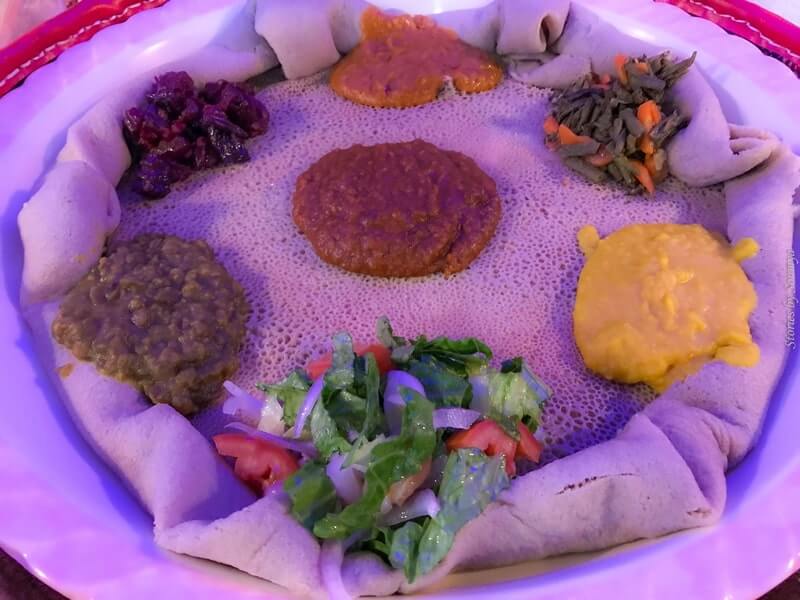 Vegetarian options are numerous in the Ethiopian cuisine and their lentil curries are yummy. They even have an assorted vegetarian platter called the Yetsom Beyaynetu. It can be easily made vegan. Misr Wat and Shiro Wat are the lentil dishes you should definitely try. Doro Wat is their spicy chicken stew which is delicious too. We had some really mouth-watering Ethiopian food at Taye Ethiopian Restaurant located in Sukhumvit, Bangkok.
Do you want to know more about this exotic cuisine? Read through our detailed post on Ethiopian Cultural Food.
Sample a Portuguese Egg Tart.
Pastel de Nata or the Portuguese egg tart has become a symbol of the Portuguese love for good food around the world. If you are traveling to Portugal, you cannot leave the country without having some. But what if we found some in Bangkok? Of course, we had to have them!
We had had our first taste of these tiny, golden beauties in Macau – an erstwhile Portuguese colony. My husband has been a fan ever since. He will go to any lengths to get a taste of Pastel de nata. Our last day in Bangkok, we made a trip to the Siam Mall, went up to their larger-than-life food court and dug into delicious egg tarts. We even got a bag home.
Macau is famous for its Pastel de nata too. Find out where to find the best in our post on the Egg Tart of Macau.
Try the ultra-light Japanese cheesecake.
After being a diehard fan of the New York cheesecake for a very long time, I had not expected any other cheesecake to delight me. That was until I heard of the ultra-light, super-fluffy Japanese cheesecake. If you have seen some of those jiggly cheesecake videos online, then you know what I am talking about.
I chanced upon this exquisite cake in Bangkok and there was no way I was missing it. The cheesecake surpassed all my expectations. It was very soft, moist, and simply melted in my mouth. Highly recommend it to all cake fans out there.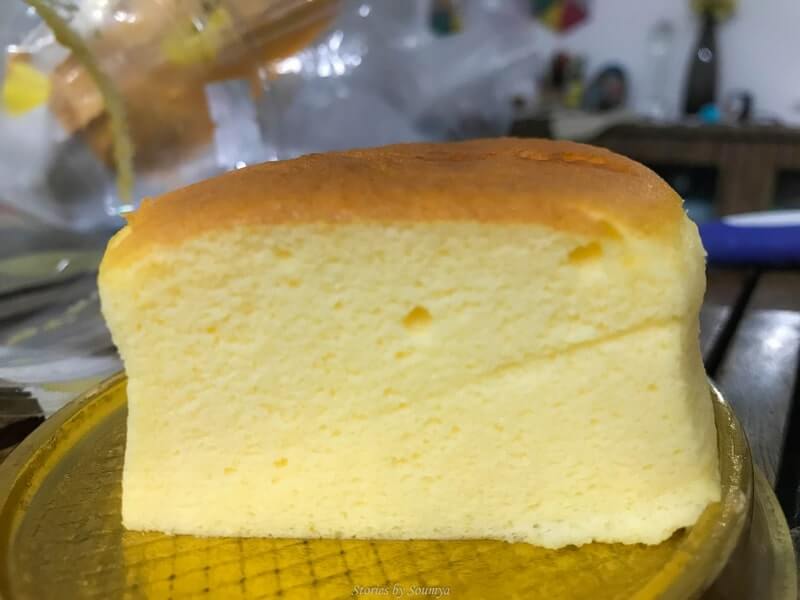 Siam Mall in Bangkok has an outlet of Bread Talk which serves amazing Japanese cheesecakes, all packed and ready-to-go. They also have other Japanese specialties such as snow rolls if you are looking for variety.
And, of course, try all the Thai specialties.
Thai curries and soups
I have a special bond with Thai curries. The harmonious fusion of curry paste, coconut milk, and herbs gives these dishes an amazing aroma and a rich taste. Thai green curry is definitely one of my favorites. I can order it anywhere in Bangkok and never be disappointed. Your list on "what to eat in Bangkok" should definitely have these curries in them. And what's better is you can actually take a Thai cooking class in Bangkok! Isn't that delicious?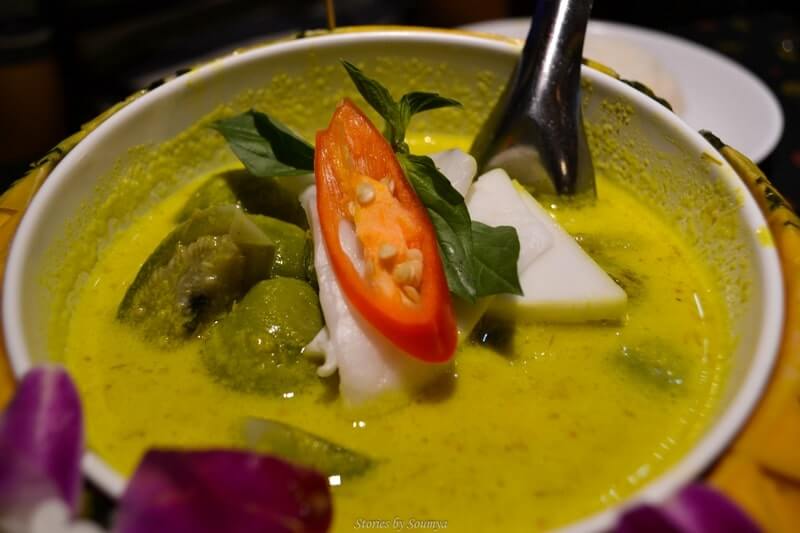 However, this time I was enamored not by the green curry but by the Tom Yum soup. We actually had it at a very local restaurant somewhere near King Power MahaNakhon and I think that was what made all the difference: the authenticity. The restaurant was a small shack with only local faces. There was sort of an English menu but we could point to what we wanted to eat. A delectable bowl of Shrimp Tom Yum was served to us and we finished it all.
Thai Street Food
Bangkok is famous for its street food scene. If you are still debating on what to eat in Bangkok, then make a trip to any of the local markets in and around the city. March to the umpteen number of street food vendors there and sample hundreds of eatables.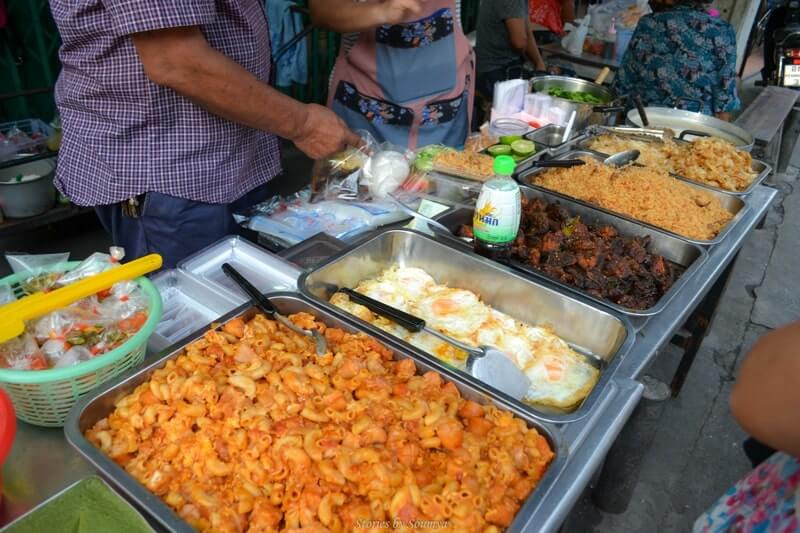 Thai street food can never go wrong. Starting with fresh fruits, coconut ice creams to grilled seafood and deep-fried insects, street food vendors can offer you lots. Most of them are happy to let you sample their food. And then you can buy whatever you like best.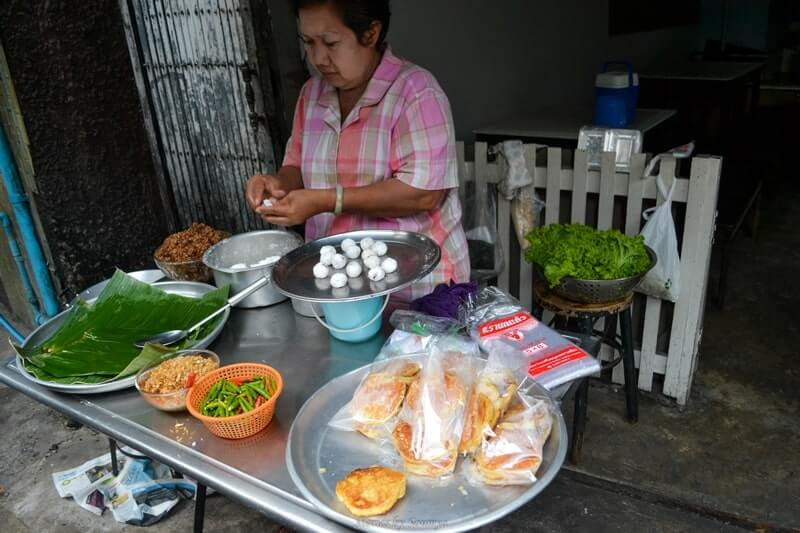 Interested in exploring local markets in Bangkok? Read through our post on the best markets to visit in Bangkok as recommended by top travel bloggers.
Exotic fruits
If you are planning to stay healthy in Bangkok, you will find lots of fruits and veggies to help you achieve your goal. You should definitely try out some of the more exotic, tropical fruits available at the local markets. Few examples are the durian, rambutan, mangosteen, longan, and the Thai mango.
Apparently, the best place to try out fresh durian is the Or Tor Kor market right next to the Chatuchak Weekend Market. Walking around in Bangkok can get hot. Sipping on fruit juices is an excellent idea to stay hydrated.
If after all this food, you are yearning for some good coffee and cake, try out some of these amazing cafes in Bangkok. I am sure you will not be disappointed.
Well, that brings me to an end of this Bangkok food guide.
Bangkok is one of the most vibrant and culturally rich cities in Southeast Asia. So, there's no doubt that you will always something to eat here even if you are not a fan of Thai food.
Are you still wondering what to eat in Bangkok? Or looking for a healthy combination of Thai and International cuisines? Interested to try out some lesser-known cuisine from across the seas? Don't worry. We have you covered.
If you think we missed some of your favorite food in Bangkok, then drop us a line below and let's get the conversation going.
And while you are at it, don't forget to follow us on Facebook to get regular updates on some of the most marvellous foodie destinations across the world.
Pin It For Later!