Last Updated on May 29, 2020 by Soumya
Umswai Valley in the Karbi Anglong plateau in Assam is one of the most unique and offbeat places to visit near Guwahati. Due to lack of accessibility and a general lack of awareness, Umswai Valley has remained off the tourist radar for quite some time now. And so has the indigenous culture of the local tribes that inhabit the Umswai villages. On my recent trip to Assam, I was all excited to find out about this hidden gem of India.
Innovative cooking practices, exclusive architectural styles, colorful festivals, and lots of mysterious history make Umswai Valley a great destination for all kinds of travelers. No doubt, it was one of my favorite places to visit near Guwahati during my 10-day trip as an Ambassador of Bodoland and nearby areas in Assam.
Please note: This post may contain affiliate links which means I may earn a commission if you make a purchase by clicking a link on this post. This will be at no additional cost to you. Affiliate links help me keep this website up and running. Thanks for your support!
And here are 8 reasons why I think you should visit Umswai Valley near Guwahati.
Umswai Valley comprises of many small villages. Shikdamakha, Bormarjong, Amsai, Langarkhon, and Maulen to name a few. These villages are inhabited by a set of indigenous hill tribes called the Tiwas, often referred to as Lalungs by historians. Apart from being home to an exclusive tribal culture, Umswai Valley also possesses extraordinary natural beauty. This makes Umswai a great travel destination and one of the must-visit ones on your Assam trip.
Here are 8 reasons why I find Umswai Valley so special. If you are a nature lover, culture freak, or a foodie – the valley will not disappoint you.
1. Be awestruck by the natural beauty
Umswai Valley is located in the picturesque Karbi-Anglong plateau of Assam. The hills are covered with both semi-evergreen and deciduous forests. Numerous rivers and streams flow through them. Wildflowers grow out of nowhere. And the mountains are covered with an ethereal layer of mist throughout the year. All of this makes the Umswai Valley and the journey to Umswai from Guwahati exceedingly photogenic.
2. Experience the local culture in the villages of Umswai Valley
If you are a culture addict like me, you will definitely want to visit the villages of Umswai valley for the abundance of cultural tidbits. As is the case with any land inhabited by indigenous tribes with a long history, the land of Tiwas is filled with age-old traditions and intriguing lore.
Here are some interesting facets of Tiwa culture that you should look out for while visiting this unique place near Guwahati.
i. The ambilineal descent of Tiwas
Many tribes in northeast India follow a matrilineal family system. I was expecting a similar composition among the Tiwas. However, the descent in Umswai Valley was surprisingly ambilineal – a mix of matriarchy and patriarchy. Even though matriarchy still tops the charts, people are increasingly moving toward an equally-distributed society. Maybe the patriarchy in surrounding villages is having a big impact on this move.
ii. The ubiquity of bamboo in local life
Bamboo is very commonly used in the daily life of Tiwas. A couple of instances that really engrossed me were the use of bamboo in cooking and in the construction of windchime gates.
Everything in a Tiwa household including chicken, rice, and tea is cooked inside bamboo tubes. The tubes are grilled over a fire while the food roasts inside. This imparts a distinct smoky flavor to the food. You can also drink your tea or rice beer in a tumbler made of bamboo. Innovative, isn't it?
Another interesting thing to notice is the bamboo gate at the entrance of every Tiwa household. Tall bamboo sticks are clustered together to give the gate the appearance of a windchime. As you slit open the sticks and enter the house, the gate creates a sound signaling the arrival of a guest. (Scroll below to find my Instagram post on the windchime gates with more details.)
iii. Tiwa religion and Christianity
Tiwas worship local deities and ancestors. There are some striking similarities between the Tiwa traditional religion and Hinduism. However, of late many Tiwas have converted into Christianity. Shikdamakha is a completely Christian village now while the others retain their traditional faith.
Obviously, this meant more variety on my trip. I spotted a beautiful church in Shikdamakha. And I also saw the imposing monoliths atop a hill in Amswai Pinung, a village that still follows the traditional Tiwa faith. It is amazing how much diversity the villagers of a small place like the Umswai Valley can offer. Yet, how peacefully they can exist!
iv. Attractive Tiwa costumes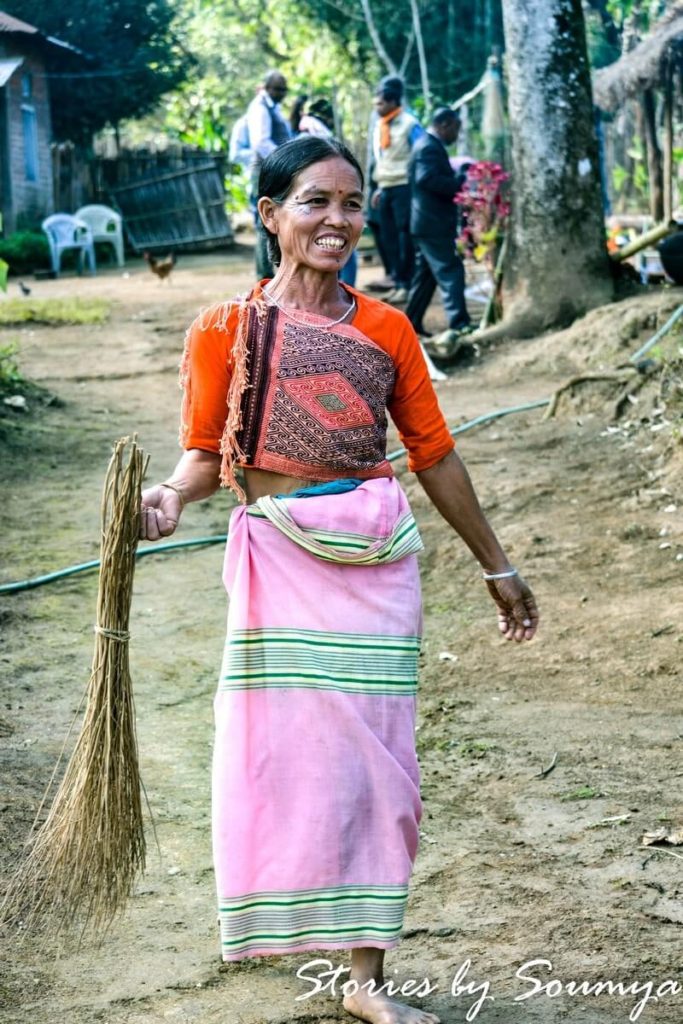 Another distinctive feature of the Tiwa community is its attractive costume. You can see women draped in a single piece Kashong for the lower body and a Phaskai for the upper. Men usually wear a traditional outfit called the Thenash during festivals. These clothes are woven out of silk and cotton.
The Kashong and Phaskai are quite different from the Dokhona of the Bodo tribes that I saw earlier on my trip. And that is exactly why it is so fascinating to learn about the tribes of northeastern India. Subtle differences! Meaningful inspirations!
Apart from all the above, the Tiwas also follow an innovative procedure for making rice beer. And they celebrate multiple festivals every year. So much so that the Umswai Valley is actually referred to as the Land of Festivals in Assam. Scroll below to learn more reasons to visit the Umswai Valley.
3. Learn about the history of the Tiwa monoliths
This was my favorite bit about visiting the land of Tiwas. A unique history and an exclusive collection of monoliths.
On the top of a small hill in Amswai Pinung, there is a spot that contains more than 2000 rock monoliths. Each of these monoliths is a set of 2 stone slabs – one base and one body. The Tiwas plant one set every year to honor their ancestors. According to local belief, this ensures a disease-free and prosperous Tiwa kingdom.
This practice has been going on since the time of erstwhile Gobha kings of the kingdom. And since there are more than 2000 monoliths now, people believe that the Tiwa kingdom is more than 2000 years old. That is a long history to be proud of!
4. Listen to mysterious stories and engaging folklore
Another interesting reason to visit the Umswai Valley is to listen to engrossing folklore from times immemorial. Take the case of the tall tree for example.
After checking out the Tiwa monoliths, we were happy to be taken to a really tall tree in the woods. This was apparently the site for human sacrifice in olden days. Our visit was accompanied by several intriguing tales from the medieval and ancient eras. The tree and its surroundings look sinister enough for the story to be true.
5. Enjoy the food and hospitality of friendly locals
The Tiwas are a friendly lot. They will always welcome you with smiles in their homes. And serve you the most unique Tiwa food cooked in bamboo pipes. Look out for the refreshing smoky flavor in their food items.
Locals eat rice, vegetables, chicken, and pork. Silkworms are considered a delicacy. At Bormarjong, we had lots of rice cakes, chicken, and green tea that had been cooked in bamboo. For vegetarians, there were beans, green leafy vegetables, squash, and banana flower.
6. Celebrate the many festivals of Umswai Valley
Umswai Valley is the land of many festivals. If you plan your trip right, then you may be able to catch one of these colorful displays of prosperity and happiness.
When I visited, there were no festivals, unfortunately. However, the villagers treated me with an exclusive display of their process of rice storing. It was so unique and innovative. A number of such displays happen during the festivals. I connected with my friends at the Root Bridge Foundation to get you this list of some of the major Tiwa festivities worth seeing.
Some major Tiwa festivals.
Langkhon Puja celebrated in the month of October is one of the main pre-harvest festivals of the Umswai Valley.
Sokra Misawa celebrated in the month of March is a springtime dance festival of the Tiwas.
Wanchuwa Festival celebrated during the months of May-June marks a good harvest. It involves many interesting rituals, colorful dances, and eccentric facial makeup. For more pictures, check out this article on The Hindu.
Yangli Puja is another major festival connected with agriculture and harvest. It is celebrated once every 3 years during the months of April and May.
A stark difference that I noticed between the celebrations of the Tiwa and those of the Bodo communities was the absence of women in Tiwa dances. Tiwa women cannot participate in any of the dances during these festivals. But Bodo women happily dance to the tunes of Bagurumba, their traditional dance form.
7. Try some freshly-brewed rice beer
Rice beer is the traditional alcoholic beverage of the Tiwa tribe. It is locally known as "Zu". The Bodos also have their own version as you will see in my post on Bodoland and the Bodo tribe. They call it the "Jumai".
The best part about being in the Umswai Valley is that you can experience traditional brewing in a local home. Rice is fermented for a couple of days by using a herbal yeast culture. This yeast contains around 6-7 kinds of herbs. After fermentation is done, beer is retrieved in various stages. And the first-stage beer is the most potent.
8. Visit some of the cleanest villages in India – only a stone's throw away from Guwahati
And last but not least, you should visit Umswai Valley to see some of the cleanest villages in India. Shikdamakha is one of the cleanest villages in the whole of India followed closely by Bormarjong.
Their cleanliness campaign is a community effort rather than a government mandate. That is why you will see bamboo wastebaskets, woven by the villagers themselves, all over the place. Nobody litters here. Every week, these villages have a community cleaning drive where everyone participates. And they follow a plastic-free life! How amazing and inspiring these simple villagers can be! While the whole world is reeling under a severe plastic crisis and bearing the brunt of global warming, Umswai Valley has taken a step ahead to show us the right direction.
Practical Information for visiting Umswai Valley from Guwahati
The best part about visiting Umswai Valley is that it can be easily done as a day trip from Guwahati. You can leave early in the morning from Guwahati and depart from Umswai before dusk settles in.
The only requirement is to have an experienced driver with you who knows how to navigate the hilly roads. Because unlike the more popular tourist destination Diphu in Karbi Anglong which is well connected with Guwahati via trains, Umswai Valley only has precarious roads to tread on.
How to get to Umswai Valley from Guwahati?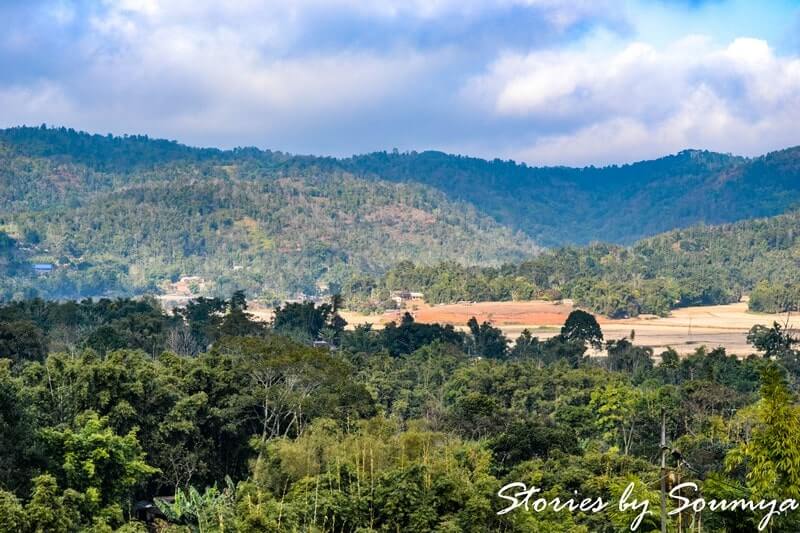 The best way to get to Umswai Valley is by car. A car drive takes around 3 hours and you can stop for refreshments on the way. Again, I stress the need for an experienced driver because the hilly roads can get really narrow at times. Don't drive if you are not acquainted with the place.
Midway between Guwahati and Umswai is Nellie – a spot of immense historical significance. It is home to a terrible bloodbath that happened on the 18th of February, 1983. This was called the Nellie Massacre and involved the killing of nearly 2000 (this is the official number) illegal immigrants in Assam. Or so they were known!
Best time to visit Umswai Valley from Guwahati
The valley experiences cool weather throughout the year because of its location in the middle of hills. Summer (April-October) can be a little sultry and temperatures can go as high as 30°C (86°F). Winter (November-March) is cold and dry with temperatures dipping below 5°C (41°F). Carry a jacket if you are visiting in winter.
If you are looking to catch some of the exotic Tiwa festivals, then have a look at my section on Umswai Valley Festivals and plan accordingly.
Accommodation options in Umswai Valley
What if you want to stay overnight at Umswai Valley? Unfortunately, accommodation is not available in Umswai at the moment. You can pitch your own tent or stay at a villager's home. Pretty friendly people. But it is always advisable to contact the Root Bridge Foundation first.
Additionally, Root Bridge is working together with the villagers to build homestays for tourists. This is part of the Umswai Valley Eco-Tourism program through which authorities are trying to make some of the most remote villages in India accessible to the common tourist.
On my trip to Shikdamakha, I met up with a lady and her daughter who are trying to convert their house into a beautiful homestay. The garden surrounding their home was as pretty as a picture. They are also building new toilets for their guests. Now, that would be a great place to live in for a few days.
However, these homestays are not ready yet (as of January 2020). We expect them to be ready by November 2020. For updates and bookings, please contact the organizers of the Root Bridge Foundation here.
Related read: How eco-tourism has changed the tiny village of Banteay Chhmar in Cambodia.
Or have a base in Guwahati instead and visit Umswai on a day trip.
The best option, for now, is to stay in Guwahati and make a day trip to Umswai Valley – one of the closest places to visit near Guwahati. Depending on your budget and requirements, you can choose between any of the following options to stay in Guwahati.
Other helpful tips to visit Umswai Valley from Guwahati
Tourism in Umswai Valley is still very nascent. Please do not expect fancy eat-outs or elaborate facilities when you get here.
There is one public toilet near the local shops but it only caters to men. You can use the toilets in the homes of locals but they can be rudimentary. There is a private Don Bosco school in Shikdhamaka which has toilets, apparently. Toilets at the Cafe Coffee Day and the Milkman shop on the highway just before you get into the hills can also be used for the purpose.
Be aware and respectful of local traditions and norms. Please do not impose your views and ideas on the locals during your visit.
Finally, an end to an amazing day trip from Guwahati!
After reading through our detailed guide, do you agree that Umswai Valley is one of the most unique places to visit near Guwahati? Also one of the most offbeat ones, isn't it?
I am really thankful to the team at Bodoland Ambassadors, Bodoland Tourism, and Awesome Assam who provided me with this amazing opportunity to visit the Umswai Valley. I would not have known of it otherwise. And now that I know of it, I hope that my guide inspires many more tourists to visit the villages going forward.
So, do you want to plan a trip to the Umswai Valley? Or recommend it to your friends who are traveling to Assam in India? Let us know if you need any more information. We would love to help you out. And it would be great if you could spread the word about this hidden gem in India.
Loved our post on why Usmai Valley is one of the most unique places to visit near Guwahati? Pin it here!