Last Updated on November 13, 2021 by Soumya
If someone asked me what was that one thing in Saputara that they should not miss, I would immediately reply, "Saputara Ropeway"! Apart from taking a day trip to the gorgeous waterfalls of Gira Dodh, of course.
There are so many amazing things to do in Saputara. Riding the Saputara Ropeway or Pushpak Ropeway is definitely one of them. In fact, it was a highlight of my 3-day Saputara itinerary.
Located right next to the sunset point, the cable car in Saputara makes for an interesting place to get a bird's eye view of Gujarat's only hill station. Take a ride right after monsoons and you will definitely fall in love with the verdant view of the Sahyadris from here.
In this ultimate travel guide to riding the Saputara Ropeway, I list everything you need to plan a trip here including how to get here, opening hours, and admission charges.
Saputara Ropeway: An introduction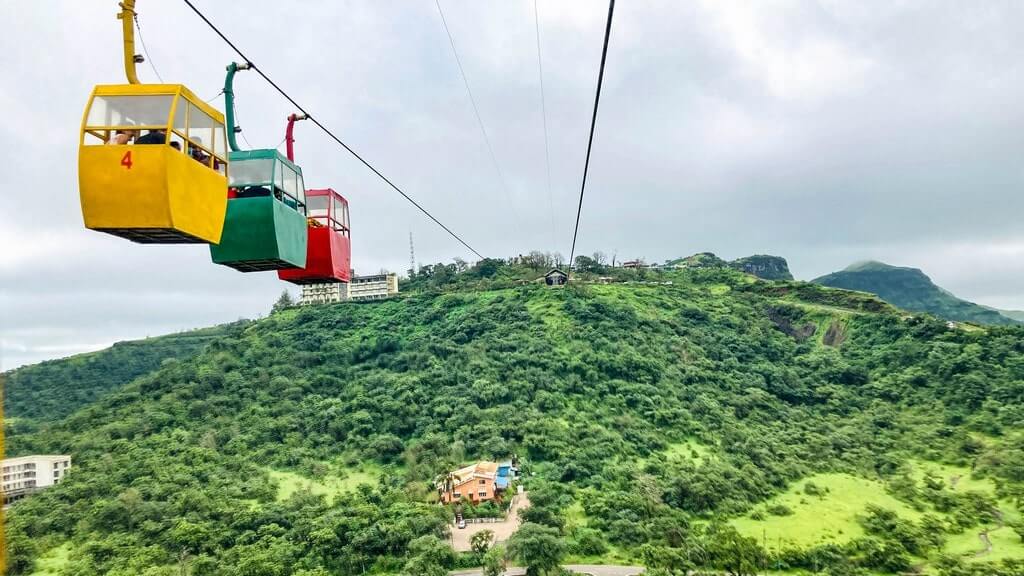 Officially known as Pushpak Ropeway, Saputara's cable car ride is the hill station's most iconic attraction. It was built in the late 1900s and has since been entertaining tourists with an adventurous ride over the Sahyadris.
The ride takes you from the Sunset Point in Saputara to the Sunrise Point. It is a short ride of 5-6 minutes each way and gives you stunning views of the Saputara Lake on one side and winding Sahyadri roads on the other.
The ride is especially rewarding right after monsoons when the hills are verdant and green, there is a low mist in the air, and the fragrance of wildflowers spreads through the hills. Riding the ropeway and having a bowl of hot Maggi or a cup of Chai at the end of it is pure bliss.
Pushpak Ropeway in Saputara is one of India's most scenic cable car rides. If the Girnar Ropeway at Champaner-Pavagadh is one of Gujarat's steepest, Pushpak in Saputara is one of its prettiest.
Looking for more things to do in Saputara? Check out our ultimate Saputara travel guide.
Where is the ropeway located in Saputara?
The ropeway is located near Table Point or Sunset Point in Saputara. While climbing up to Table Point, you will notice the entrance to the ropeway ride on your left.
It is easy to get here by car/private taxi. If you are riding on a bus, you need to ask your driver to park at the bottom of the hill and climb the rest of the way. The climb is steep but not very difficult. Takes 5-10 minutes if you have good knees.
What to do at Saputara Ropeway?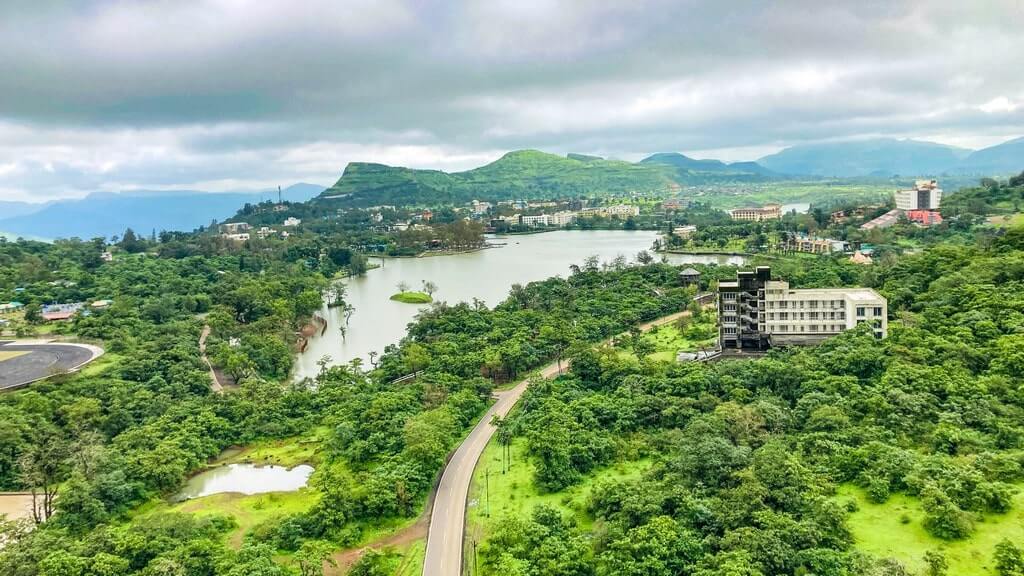 Ride the cable car, of course
When visiting Saputara, riding the ropeway should be one of the must-do things on your bucket list. The ride not only gives you a panoramic view of the city (lake, hills, and the urban center) but also adds a little thrill to your Saputara itinerary.
There are 3 sets of cable cars; each set having 3 cars. The cars are painted red, yellow, and green and look like floating confetti in the sky. The cars are small and can accommodate up to 4 people.
The ride takes about 5-6 minutes each way. At the middle of the ride, you will notice that the car stops for a couple of minutes and sways freely in the air. Don't worry if this happens because this is usually part of the ride and done so that you can enjoy the scenery surrounding you.
From here, you can see sheep and cows grazing below you. Be sure to notice the yellow Swaminarayan Temple far away in the distance.
Need another item for your Saputara bucket list? Add the stunning Gira Falls to it.
Take a short trek to view Governor's Hill
Once you arrive at Sunrise Point, you can walk around the area. Or take a small hike to your left to get a good view of the scenic Governor's Hill. It is a small but picturesque hill that is often missed by travelers but is well worth a photograph.
Make sure you head to the walkway behind the shops to get some cool pictures of the valley fragrant with wild flowers.
Enjoy snacks and games at Sunrise Point
At the Sunrise Point, you will find a number of tea and snack joints. Maggi, boiled corn, tea and coffee are popular among tourists here.
You can also rent a decorated bicycle and go around the area. These cycles can seat two people and are similar to the ones that you find at Saputara Lake.
Practical information for riding Saputara Ropeway
Saputara Ropeway timings
Pushpak Ropeway in Saputara is open between 9 am – 7 pm with one hour of lunch break between 1 – 2 pm. Even though the official opening hours begin at 9 am, the ropeway started functioning only around 9:45 am on the day we visited.
Saputara Ropeway ticket price
Admission ticket to Saputara Ropeway costs INR 77 ($1) for one ride both ways [prices valid as on September 2021]. Kids above 3 years of age have to pay the same amount.
Please carry sufficient cash to pay for your tickets. They don't accept cards.
Alternately, you can pay for your tickets via an UPI app such as GPay or Paytm. However, beware that not many mobile networks work in Saputara especially not in the hills. Airtel is the only one that sort of worked in Saputara.
Duration of ropeway ride
Saputara ropeway ride lasts 5-6 minutes each way which means you can finish the entire ride in less than 15 minutes. However, those 15 minutes above the verdant green valleys of the Sahyadris are totally worth it.
Loved our Saputara Ropeway guide? Pin it for later!