Last Updated on December 29, 2020 by Soumya
Have you ridden a cable car before? If yes, then you probably know the excitement that is associated with the ride – especially when there are kids and kids-at-heart involved. If not, I suggest you do one whenever possible. It is one of the most exhilarating yet comforting rides that you can experience. We generally do cable cars whenever possible. And the Phu Quoc cable car is one of the most picturesque I have ever ridden. Since it is also the longest in the world, it is definitely worth making a trip to.
Busy now? Pin our post and read it later!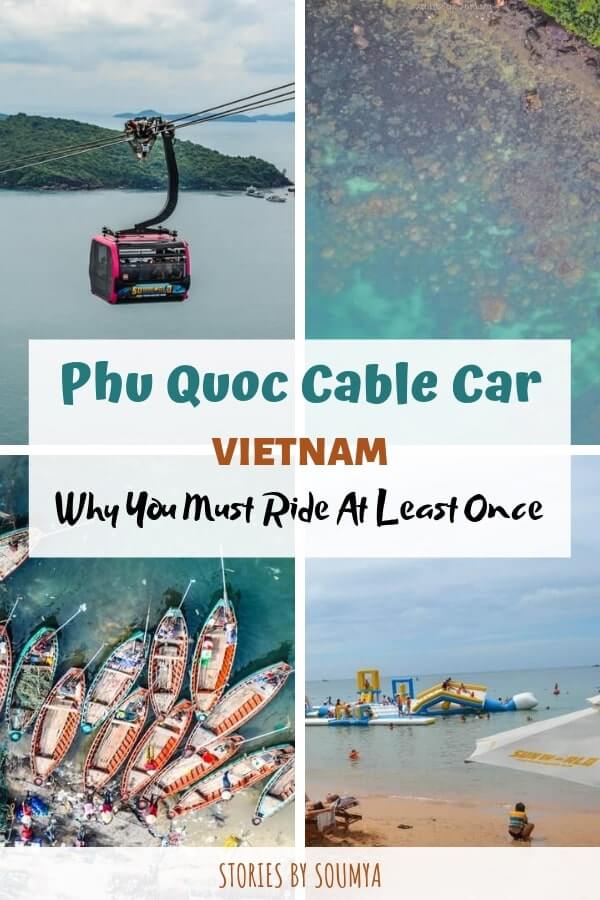 Phu Quoc cable car ultimate guide
Phu Quoc Cable Car Facts
The Phu Quoc cable car is an over-the-sea cable car route that connects the An Thoi town in Phu Quoc with Hon Thom Island down south. Hon Thom is also known as the Pineapple island which is why the cable car is referred to as the Pineapple Island Cable Car many-a-time.
The cable car was officially opened to the public in February 2018. It is part of the Sun Group which has been involved in tourism projects across Vietnam like the Sun World Danang Wonders. Phu Quoc cable car is located in the southernmost tip of Vietnam and connects two scenic islands of the An Thoi archipelago.
Why ride the Phu Quoc Cable Car?
You should ride it because it is one of the longest cable cars in the world right now and gives you 30 minutes of pure bliss over the ocean. Also, it ends at a white sand beach that is the ideal destination to soak up some sun.
I think the highest selling point of the cable car at this point in time is the stunning 360-degree view that it provides of the An Thoi Archipelago, also called the paradise islets of Phu Quoc. The archipelago consists of 8 major tropical islands. Hon Thom is one of them. These islands also form a part of the Kien Giang – a UNESCO-recognized biosphere reserve. Kien Giang province is located in the Mekong Delta of southern Vietnam.
The beauty of these islands is unparalleled. They appear like small mounds of green moss on the already greenish-blue water of the ocean. The water is so clear you can see the ocean bed beneath and a coral reef all over it. Fishing villages and fish farms dot the islands all the way to the end. I fell in love with the pretty and colorful fishing boats many of which had dropped their anchor for the day. The coast looked like a medley of colorful confetti. A dream destination for photographers.
Spending some time in the Mekong Delta too? Click here to read all about my stay in Can Tho and the Ben Tre Mekong Delta tour.
Here are some of the pictures that we took during our cable car ride to and from Hon Thom.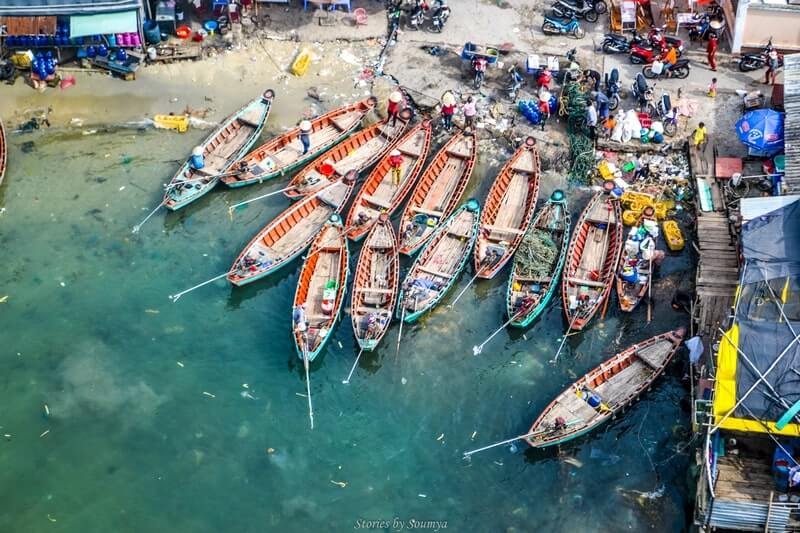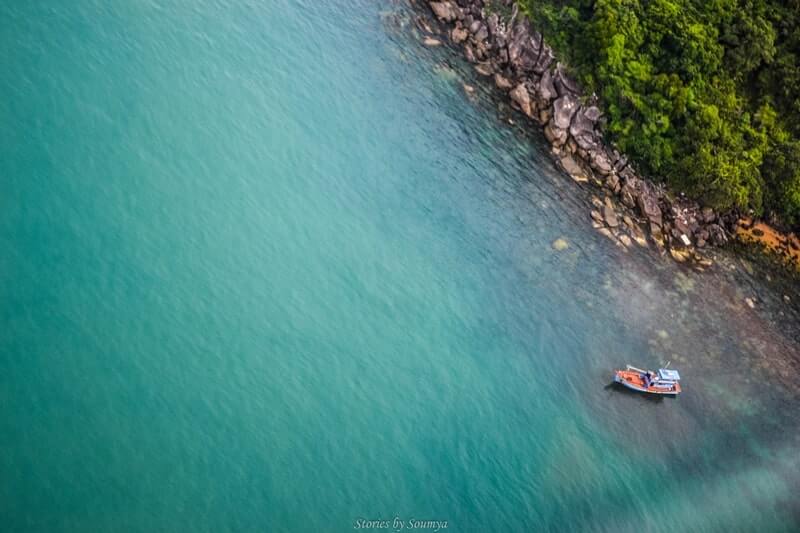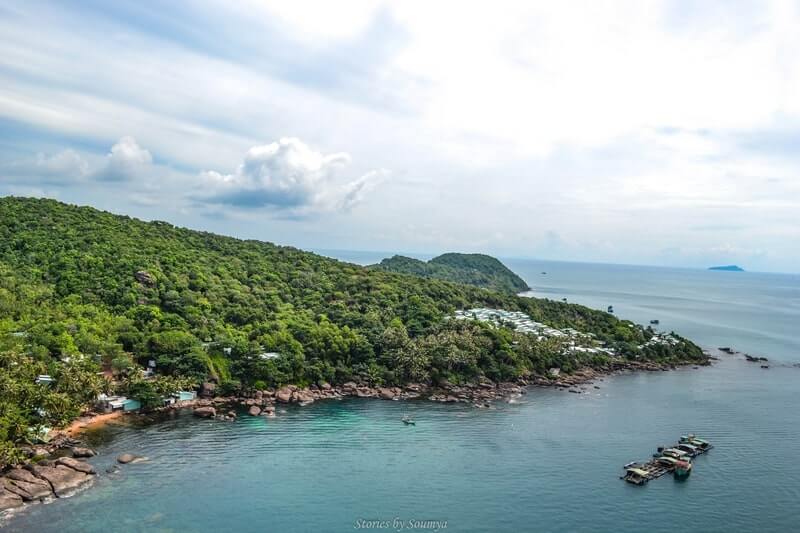 What's inside the cable car?
As you step inside the cable car, you will notice wooden benches on three sides. There are 70 cars and each can carry about 30 passengers. Honestly, I feel 30 would be a crowd for those cars. It would be impossible to get good pictures without falling on each other. 10 seems more like a decent number. When we arrived around noon, there was no crowd and we got one car to ourselves – just the three of us.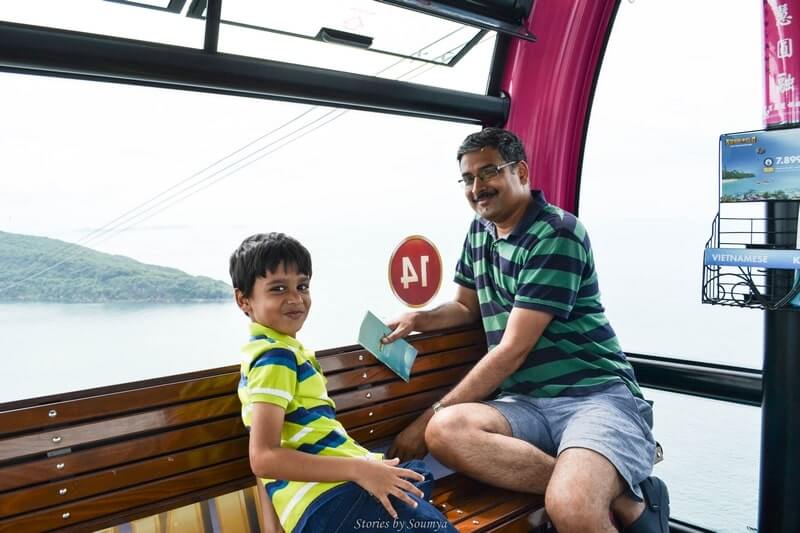 The windows are clear and pretty neat. But they are not great for getting good pictures because they reflect light. Alternately, there is some space between the windows and the roof of the car or between the doors and you can get good shots by pointing your camera through these openings. Not the most ideal situation but it worked for us.
Inside the cable car, you may find guides in English/Vietnamese/Chinese/Russian. Don't expect all of them to be there. Chances are high that the only language you speak will be the only language that is not there! English guides weren't available in our booth. I don't think we missed out on anything though without the guides.
How long does the ride last?
The cable car ride is almost 8 km long. This makes it the longest ride in the world. The ride lasts about 15 minutes each way and includes small rises and falls. Your car may swing a little as well but is promised to be completely safe owing to its 3S gondola technology. I am scared of heights and I don't do roller coasters. But this was pleasant.
Our car actually stopped midway for a couple of minutes with all of us hanging over the ocean. Do not freak out if that happens. Apparently, it is pretty normal and gives you more time to appreciate the beauty around. Only, you will not be informed about it beforehand!!
What are the opening hours?
Phu Quoc cable car is open between 7:30 am to 5:30 pm every day with a lunch break between 12 – 1:30 pm. Please note that no cable cars ply during this time. You will not be able to get to and from Hon Thom during these 1.5 hours. I guess the idea is to get people to spend time in Hon Thom and enjoy lunch here. But the area is still developing and there aren't too many restaurants around. Keep reading to find out what we ate.
You might also be interested in
9 Amazing Things To Do on Phu Quoc Island
How To Spend a Day in Can Tho on The Mekong Delta
Taking a Mekong Delta Tour in Ben Tre
What can you do on Hon Thom island?
Once you arrive at the Hon Thom cable car station (your destination), you will need to board a golf cart that takes you straight to the Trao beach one of the prettiest beaches on Phu Quoc island. It is a white sand beach and definitely very pretty. There was an inflatable play area on the water where kids and adults can have a good time. And there was a Bali swing! Perfect place to unwind and soak up some sun.
There are not many eating places around. We ate at a buffet place right next to the beach and the choices were good – not too many if you are a vegetarian/vegan. Their "pho" was great. Buffet prices were VND 200,000 ($8) for adults and VND 100,000 ($4) for kids. There are toilets and changing rooms at the beach as well as at the Hon Thom station. The station also has a souvenir shop if you wish to pick up some stuff on your way back.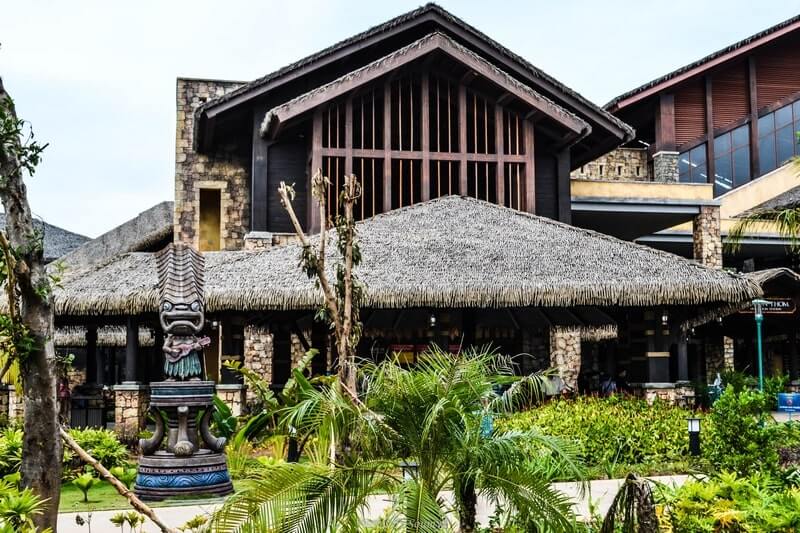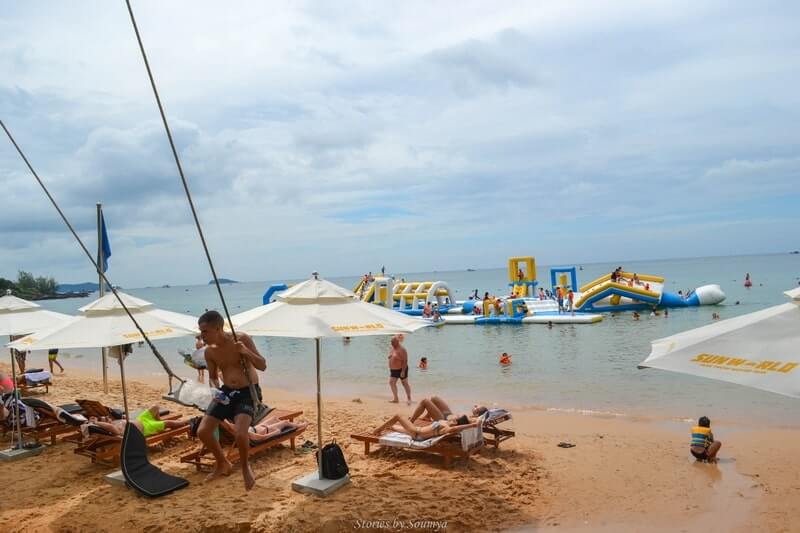 Where are the tickets and the toilets?
The ticket counter is on your left as you enter the An Thoi station. Once you get your tickets you can directly go to the queuing area where someone will check your ticket, tear it apart, and give you a piece to retain. Please make sure you carefully keep this part with you. You will not be allowed on your return journey if you don't have it.
We almost lost ours and were taken to a different queue for further investigation! I finally retrieved the missing part from somewhere deep down in my bag. And that saved us some precious time.
Price Drop Alert!!!
According to a recent press release by the Sun World Group,
Tickets are priced as below:
1. Adults and children taller than 1.3 m: VND 500,000 ($22) VND 150,000 ($6.5)
2. Children between 1 – 1.3 m: VND 350,000 ($15) VND 100,000 ($4)
3. Children shorter than 1 m: Free
These were the discounted rates that we purchased our tickets at during Christmas/New Year holidays. Seems like the rates are here to stay for some time, at least for 2019. Sun Group keeps on having such promotions. Do keep an eye for such offers.
Toilets are equally important to me on every trip. That is why I always tend to make a mental note of where they are located and then convey it to my readers. I was glad to notice that there were toilets both at the departure and arrival stations. They were extremely clean and well maintained.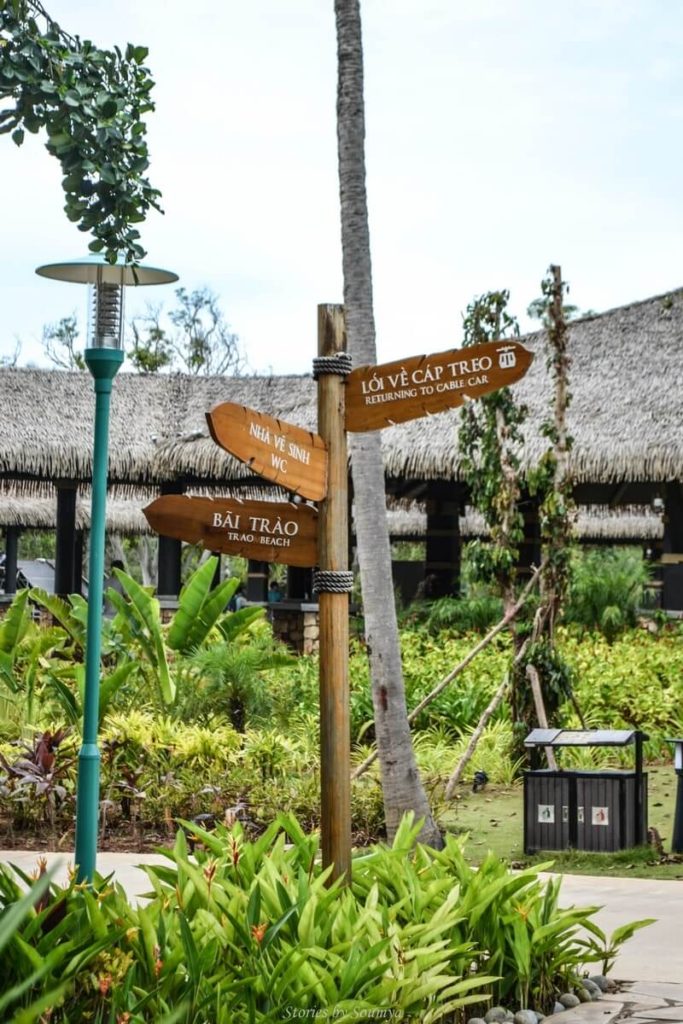 How to get to the Phu Quoc Cable Car?
There are three different ways to get to the Phu Quoc cable car station in An Thoi. You can either get a complimentary ride on the Sun Group shuttle bus or hire a private taxi or bike. The shuttle bus service is available at fixed times of the day and I believe they have stops at all major hotels in the Phu Quoc city center. Your hotel will be able to give you more details. If you want to be flexible with your time, you can hire a taxi (VND 300,000 one way) or a motorbike (VND 150,000 for 24 hours).
Looking for places to stay in Phu Quoc? Check out our guide on the 5 Best Resorts in Phu Quoc – Recommended by Travelers.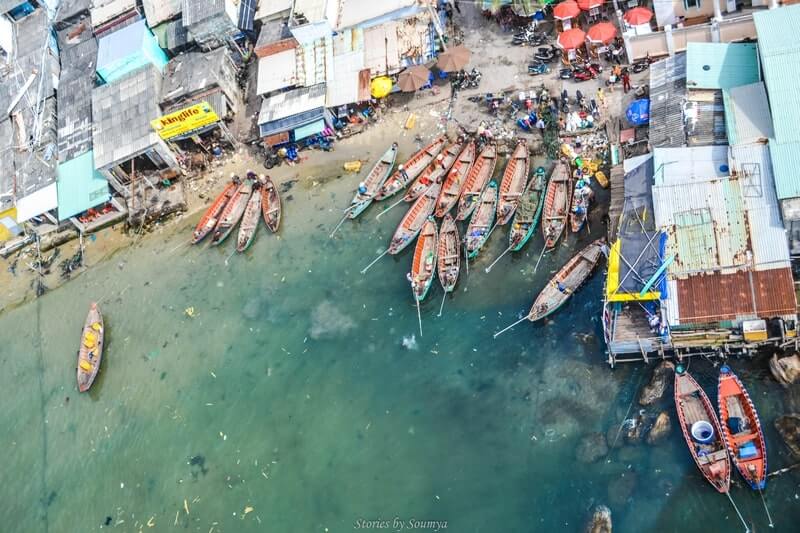 Final Verdict
So, this was how our Phu Quoc cable ride went. Many facilities are still in the process of being set up and everything may not be A-class at this moment but the trip over the ocean is definitely something to be experienced.
A 15-minute (total of 30 to and fro) ride high above clear turquoise waters with tropical islands scattered here and there is a memory to be cherished forever. The white sand beach at the end is also worth a mention. But make sure you get here early – can get pretty crowded.
If you are looking for some great pictures with the islands of the An Thoi archipelago and the pretty fishing boats or seeking the sheer pleasure of being high up in the air for 15 whole minutes and having a beautiful world underneath you, then you must make this trip.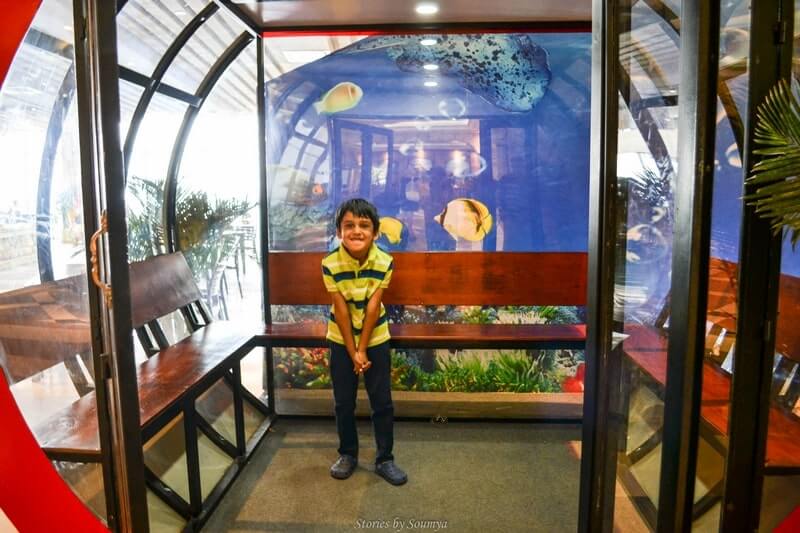 Did you enjoy your virtual ride on the Phu Quoc cable car with us? Will you ride it the next time you are on this pretty island in Vietnam? Do let us know in the comments below and we will get back to you.
And while you are at it, don't forget to follow us on Facebook and Twitter to get regular updates on unique experiences from across the world.
More Phu Quoc & South Vietnam Resources
Do you love our guide to riding the Phu Quoc Cable Car? Why not pin it!