Last Updated on March 31, 2021 by Soumya
If you are in Bhubaneswar, then it is a great idea to visit the Diamond Triangle of Odisha which was once the seat of ancient Buddhist learning in eastern India. This ensemble includes three remarkable Buddhist sites – Lalitgiri, Udayagiri, and Ratnagiri in Odisha.
I have always been fascinated by these 3 ancient cities. Being a local, I have stolen every possible opportunity to visit the ruined stupas and monastery of Ratnagiri Odisha – one of the most well-excavated sites in the Diamond Triangle.
So, here's my complete guide to visiting Ratnagiri in Jajpur, Odisha. Here, you will learn.
All about things to see and do in Ratnagiri including what to see at the famous Ratnagiri monastery.
How to plan a day trip here from Bhubaneswar and how to make the most of your time.
What not to miss and all the unique aspects of Ratnagiri Odisha.
Please note: This post may contain affiliate links which means I may earn a commission if you make a purchase by clicking a link on this post. This will be at no additional cost to you. Affiliate links help me keep this website up and running. Thanks for your support!
History of Ratnagiri Odisha
Ratnagiri is an ancient Buddhist heritage site located in Jajpur Odisha. Historians believe that the city was established in the 5th century under the reign of Gupta kings.
Eventually, Ratnagiri in Odisha became home to one of the largest Buddhist monasteries in India. In other words, this was Odisha's very own Nalanda University. Large number of Buddhist scholars from all over the world came to study at Ratnagiri.
It is also believed that Odisha's Ratnagiri was an important pilgrimage site and an easily accessible one especially for pilgrims from South East Asia. The huge number of votive stupas (more on that below) discovered here stands testimony to that. Historians also believe that art freely made its way between Ratnagiri and Indonesia, Cambodia, and Sri Lanka. This deduction is based on similar Buddha statues and heads discovered at all of these places.
At one time, Ratnagiri was an important center for Mahayana Buddhism. Many sculptures present here show Mahayana influences. Later, Ratnagiri turned into the birthplace of a tantric form of Buddhism known as Vajrayana – evidences of which can be seen in the sculptures.
Ratnagiri Odisha flourished between the 5th and 12th centuries. It started to decline in the 13th century and was completely gone by the 16th. Around the same time that Buddhism disappeared from Odisha.
Lookin for other interesting day trips from Bhubaneswar? Try Mangalajodi Bird Sanctuary.
What to see at Ratnagiri Odisha?
The archaeological site at Ratnagiri Odisha can be broadly divided into two parts: the ruins and the museum. The ancient city was located on the top of a flat hill. According to a note on the site, this was done on purpose so that monks had a calm and peaceful atmosphere to practice their studies and meditate.
As you climb up towards the hill containing the ruins, you will notice an enclosure with hundreds of votive stupas. Beyond that there are the monasteries and the main shrine. The museum is nearby and you can approach through a separate gate. Come, let's take a tour.
Ratnagiri University or Ratnagiri Monastery
The main attraction of the historical ruins at Ratnagiri Jajpur is the huge Ratnagiri university or monastery that once housed hundreds of devout Buddhist monks.
Well, actually if you dig deeper you realize that there are actually 2 monasteries in Ratnagiri. One big and one small. They are right by the side of each other. However, the popularity of the bigger one kind of camouflages the smaller one. If you are interested to see both, just step out of Monastery 1, turn to your right, and head towards the smaller Monastery 2.
Ratnagiri Monastery 1 – The central attraction
The bigger monastery #1 is definitely the most important attraction in Ratnagiri. Its principal entrance, main shrine, and a shrine façade that stands within the courtyard are all worth seeing.
Outside the monastery
If you have seen pictures of Ratnagiri, you will be able to recognize the main entrance gate, an elaborately carved doorway that has come to be named "The most beautiful monastery entrance in India". There are three layers to it – an innermost layer of floral vines, a middle layer of carved lotus petals, and an outer layer of plants and flowers.
You will also see a number of sculptures of Bodhisattvas and their female counterparts right outside the entrance. This is a good place to click those amazing pictures that you have been vying for.
Inside the monastery
The monastery follows the same pattern as the other Buddhist monasteries in Odisha's Diamond Triangle and has a large central courtyard (also the prayer hall) surrounded by monk rooms, verandah, and a main shrine.
There are 24 monk cells on the ground floor and there is evidence that there were at least two floors here. I believe that to be true because in both Udayagiri and Lalitgiri, you will find stairs that take you up to a higher floor – stairs you can still climb today.
The main shrine houses a huge statue of Buddha in the seated position flanked by the images of two Boddhisatvas, Padmapani and Vajrapani. The doorway to the shrine is elaborately carved.
Inside the courtyard on your left, you will also see a carved façade (with 7 gates) that stands a little out of the place in the entire ensemble. Apparently, this is the entrance to another shrine but it is hard to place where exactly this piece belonged. Nonetheless, this façade serves as a great photo booth!
Related: Explore the monastery and museum of Lalitgiri Odisha
Ratnagiri Monastery 2
Right next to monastery #1 is another smaller and less popular monastery. A small path separates the two. The ruins of the second one are more rudimentary and it is difficult to figure out the monk cells here. However, the main shrine remains and inside you can see a big standing statue of Buddha.
Maha Stupa of Ratnagiri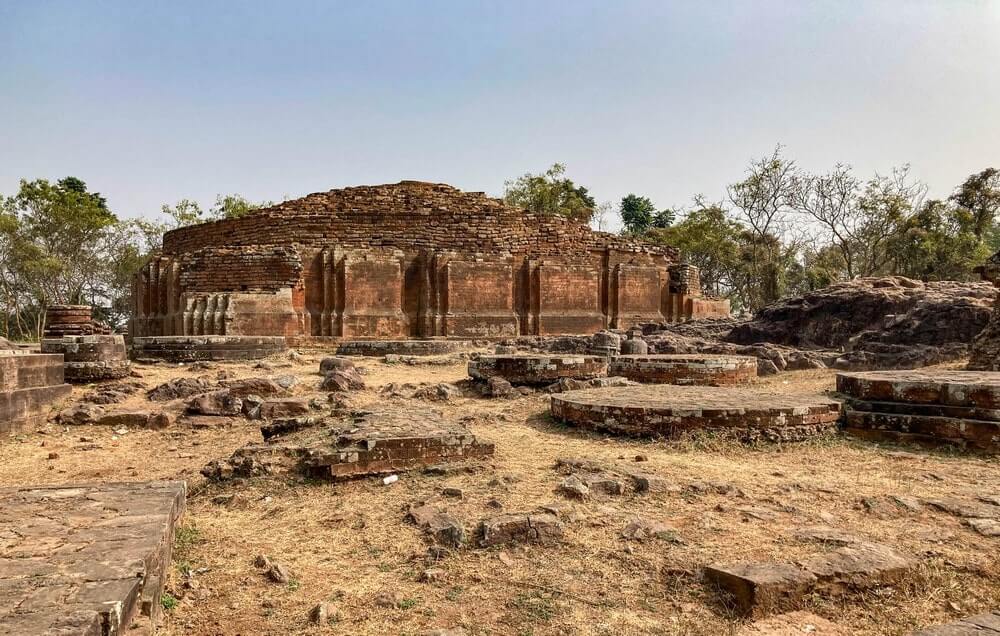 Right in front of the monasteries, on the top of a small hillock (easy to climb) stands the Maha Stupa of Ratnagiri. This main stupa was built in the 9th century and stands 17 feet tall now.
At Ratnagiri, you will see a large number of small and medium-sized stupas surrounding the main stupa or lying scattered here and there. The smaller ones are known as votive stupas – offered by devotees for fulfillment of wishes. The medium ones are called commemorative stupas – created in the memory of monks with their relics.
More than 700 small stupas were excavated at Ratnagiri. And like we discussed earlier, this discovery points to the importance of Ratnagiri as a Buddhist pilgrimage site.
Excavators also found terracotta seals here which helped them identify the site as Ratnagiri.
Helps to know
If you are visiting Ratnagiri between 11 am – 4 pm, carry water, sunscreen, and hat because it gets really hot here. Even in winters!
Must-see attractions at Ratnagiri – The main entrance gate of monastery 1, the main shrine, and the main stupa.
Archaeological Museum of Ratnagiri
Apart from the ruined stupas and university of Ratnagiri, I loved visiting the Archaeological Museum of Ratnagiri. It is an absolute treasure trove of historical artefacts excavated in the area and gives you deep insights into the evolution of Buddhism in Odisha.
The museum has 4 display rooms (called galleries) and a long, elevated corridor which has some interesting exhibits too. At the beginning of the corridor, on your right, you will find a panel showing the evolution of Odia script right from the times of Ashokan Brahmi in 3rd century BC. And at the end of the corridor, in the verandah at the back, is a panel that takes you through the rise and fall of Buddhism in India and Odisha.
The 4 galleries are filled with ancient artifacts. These include small votive stupas, sculptures made of stone and bronze, pottery, plates, and seals. You will find statues of Buddha and Boddhisatvas in various postures in all the galleries.
Helps to know:
The museum is well-lighted and ventilated. Even if there is a power outage (there was one short one when we visited), you will be able to see the displays properly.
Photography is permitted at the Ratnagiri Museum.
Tickets to Ratnagiri Jajpur Odisha
Tickets to the archaeological site cost INR 25 for citizens of India, BIMSTEC countries, and SAARC countries. Foreigners need to pay INR 300 (approx. USD 4). Plus, there is a camera charge of INR 25 (approx USD 0.35). Children below 15 years of age enter for free.
Tickets to the Ratnagiri Museum are very cheap at INR 5 for both citizens and foreigners. In a post-COVID scenario (early 2021), the museum was only accepting online ticket purchases. So, make sure you have an active internet connection when you get here.
Ratnagiri Odisha opening hours
The museum is closed on Fridays. On other days, it remains open from 9am to 5pm. Opening hours for the excavated site at Ratnagiri are the same.
Best time to visit
Since all of the ruins are out in the open, I would recommend you to visit Ratnagiri Odisha during the winter months of November – February. The weather is pleasant and it is an amazing time to hop between the 3 sites of the Diamond Triangle without feeling the heat.
How to get to Ratnagiri in Jajpur, Odisha?
The distance between Ratnagiri and Bhubaneswar is less than 100 km (62 miles). This means that Ratnagiri can be easily visited as a day trip from Bhubaneswar which I highly recommend. Since Bhubaneswar is the capital of Odisha, you will find better accommodation options here. Click here to find the best hotels in Bhubaneswar.
The easiest and most convenient way to travel from Bhubaneswar to Ratnagiri is by car/private cab. You can easily hire an Ola outstation cab for a day trip to the Diamond Triangle. Or ask your hotel to arrange for a cab and driver. The journey takes around 2 hours 30 minutes.
You can also take the train from Bhubaneswar to Jajpur-Keonjhar Road station. And then take a cab from there to Ratnagiri. Clearly not the easiest way but it is doable.
Loved our Ratnagiri Odisha travel guide? Pin it for later!