Last Updated on August 7, 2019 by Soumya
Boteco is Mumbai's first Brazilian restaurant and probably the only authentic one till date. In the past few months, I have been on the lookout for authentic International cuisines in India. Boteco in BKC, Mumbai provided me just the opportunity. Earlier, it was quite difficult to locate genuine international food in Mumbai. Inevitably, it turned out to be an Indianized version. However, lately, Mumbai has started hosting really great, sometimes quite affordable, international dining places. I feel happy to be part of this movement and do a tiny bit to help spread awareness about these places.
Boteco Restaurant in Mumbai is one such spot. Boteco is co-owned by Chef Guto Souza who was born in a small town called Minas Gerais in Brazil. The thought of having some genuine Brazilian food curated by someone born in Brazil was just too hard to resist. I had not located South American food in Mumbai yet and I was not willing to let go of this opportunity. Later I learned that Boteco has another restaurant in Pune. In fact, Pune was the first Boteco in India. Here are the details of my experience at Boteco Mumbai.
Ambiance of Boteco
I caught up on a bit of culture – my favorite thing in this world – as soon as I entered the restaurant in Bandra Kurla Complex, Mumbai. The entrance to the restaurant is lined with black and white tiles in a repeated wavy pattern. These tiles, called the Portuguese Pavement or Calcada Portuguesa, are an extremely common feature of sidewalks in Portuguese cities. Their use started in Lisbon and quickly spread to Portuguese colonies as well – the Senado Square in Macau, the Paulista Avenue in  São Paulo, and various promenades in Rio de Janeiro. Finding a Portuguese cultural icon right here in Mumbai melted my heart.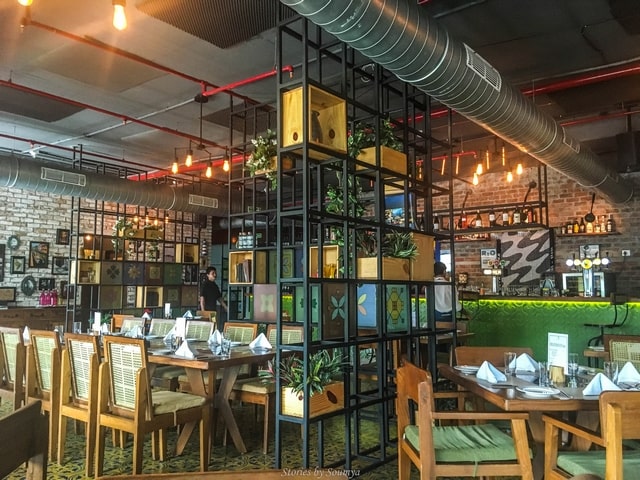 The ambiance inside Boteco Mumbai was unusually vibrant keeping up with the Brazilian culture. Pictures of various Brazilian cities and football players adorn the walls. Partitions between tables are stacked with flower pots and colorful vases. The chairs are old-school and give you a laidback feeling as soon you as you get to your table. Napkins are white and the cutlery is simple and elegant. In the picture above, you will see a bit of the Portuguese Pavement on the wall as well.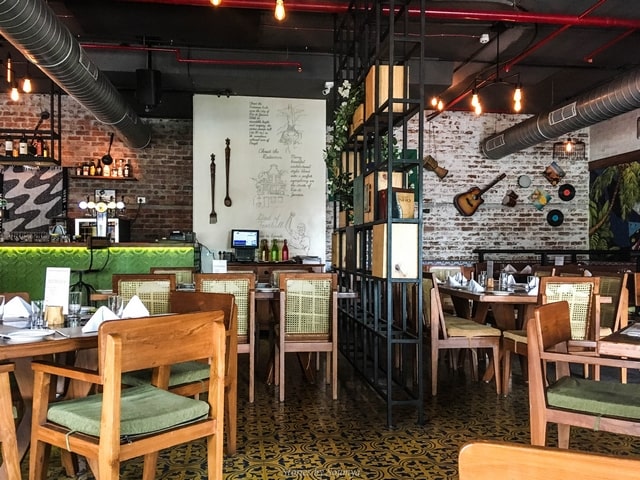 Here's what we ordered at Boteco Mumbai.
We wanted to enjoy the Brazilian fare to the fullest. So, we started with a couple of starters, went on to mains, and wrapped it up with some desserts. Brazilians use the dendê oil made from palm fruit for their cooking. Most of the dishes that we ordered had been cooked in dendê oil. The oil had no special smell or flavor and blended in seamlessly with the food. So, here's what we ordered from Boteco's menu in Bandra, Mumbai.
Entradas or The Starters
Acarajé da Bahia
Acarajé is a famous snack common in Brazil and countries of West Africa. It is especially popular in the northeastern state of Bahia in Brazil, hence the name. The dish consists of mashed black-eyed beans rolled into balls and deep fried with a shrimp in the center. It was more like India's Vada, albeit a little heavier. The dish was beautifully presented and tasted good.
Porcini Mushroom Soup
My 5-year-old loves soups. And what better than a creamy mushroom soup to suit his palate. Made from porcini mushrooms, the soup was delicious. It was served with slices of bread similar to the ones we got in our mains. Overall, a fulfilling dish for kids and adults alike.
Principais or The Mains
We ordered a couple of items on the mains – a chicken dish and a vegetarian one. Both of them were quite delicious. The portions were sufficient for one. In fact, the vegetarian curry could actually be shared by two with another portion of rice. Let me take you through each of them individually.
Bobo de Frango da Bahia – Non-vegetarian
Bobo means stew, Frango is chicken, and Bahia that means "bay" is a state in Brazil. This dish included grilled chicken in a creamy sauce and was served on a bed of deep-fried cassava and baby tomatoes. Mildly sauteed onions, garlic and a bunch of greens adorned the top. The chicken was extremely moist and well-done and just melted in my mouth. However, the showstoppers in this dish were the deep-fried cassava cubes that had an amazing crunch and a delectable texture to them. The onions were a great addition and did their part in adding a bit of crunch and lots of taste.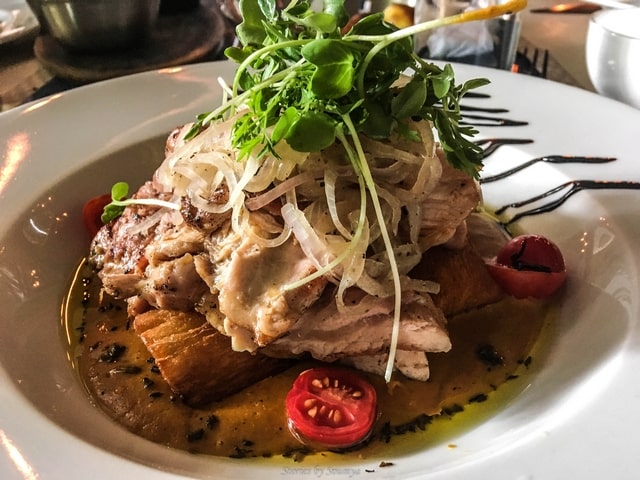 The dish was accompanied by slices of bread – a picture of which you can see below. We especially loved the one with garlic and rosemary in it – the one in the middle.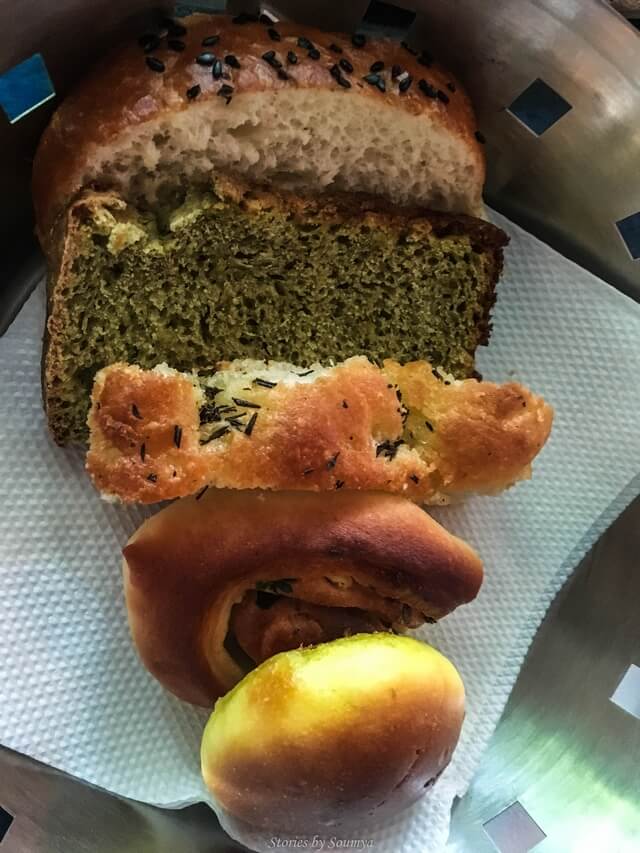 Curry Baiano – Vegetarian
This is a mildly spiced curry, again from the state of Bahia, with vegetables, potato, and cottage cheese (paneer).  An innovation to serve the vegetarian palate in India. It is served with a portion of rice. Bahia is a coastal state in Brazil and hence, completely justifies the use of coconut milk in the curry. The dish was quite similar to a veggie version of the Thai curry. This can be quite appetizing to people from coastal states of India. And as Odias, we thoroughly enjoyed it.
Brazilian cuisine is often considered to be a meat lover's delight and rightfully so. But Boteco has a number of vegetarian options on the menu which makes it a good place for vegetarians to eat out. According to Chef Souzo himself, they have adapted to the Indian way of eating and incorporated things like paneer to make vegetarian-friendly dishes.
Sobremesas or The Desserts
We decided to finish off our Brazilian experience with an order of desserts. We went for the Brazilian Quindim and a Seasonal Cheesecake.
Quindim
The Quindim is a Brazilian baked custard made with egg yolks, shredded coconut, and coconut milk. It is intensely coconutty which is why it appeals to the taste buds of people who are fans of coconuts in their desserts. The Boteco Quindim was just perfectly done and very well presented. My husband loved it.
Quindim is said to have originated from Portuguese desserts and pastries which quite frequently use egg yolks. The Portuguese egg tart is a famous example. If you are looking for a Quindim Recipe, click here.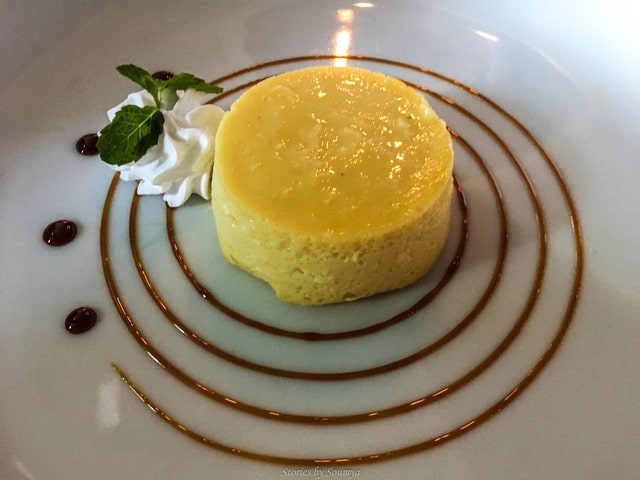 Cheesecake
We also went for the more predictable cheesecake served with seasonal fruit jam. My kid and I love cheesecakes and we are big fans of the New York version. So, we were quite looking forward to it. It turned out to be delish.
Boteco Mumbai also serves all its customers with a tiny appetizer as soon as you sit down. It consists of a fried, cottage cheese ball and some carrot soup. Quite the gentlemanly way of impressing their customers.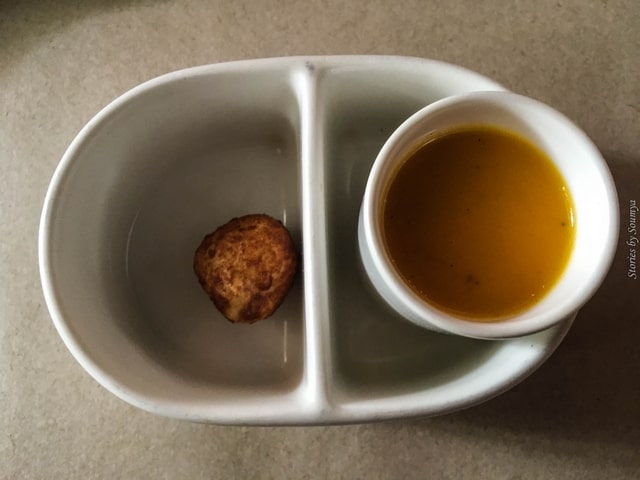 Service at Boteco Mumbai
The service at Boteco restaurant in BKC was fast and friendly. The staff is courteous and quite helpful when it comes to ordering your dishes. I would have loved a little on the Brazilian background of the dishes. But I guess, that's just me being a greedy culture buff! 🙂
Helps To Know
Boteco is a good option for vegetarians. 
My favorite dishes at Boteco Mumbai – Bobo de Frango da Bahia (non-veg mains) and Quindim (dessert)
Opening Hours – Noon to 1 am
Boteco is not open to kids below 12 years of age on Fridays and Saturdays after 7 pm. 
Happy Hours – 3:30 pm to 7 pm
Approximate cost – INR 2500 for two
Home Delivery, Full Bar, and Valet parking available
Final Verdict on Boteco Mumbai
We had a very satisfying experience at Boteco Mumbai. I was especially charged up by the vibrant Brazilian atmosphere and the team's attention to detail when it came to cooking tasty Brazilian food.
Boteco at BKC, Mumbai is no doubt a non-vegetarian's paradise but it is a very good option for vegetarians as well. If you are a vegetarian, let that not stop you from exploring you this exotic cuisine. Especially when there are so many yummy options on the menu. We are definitely looking to go back there again and try some more from the kitchen.
Check out Boteco on Facebook and Zomato!
NOTE: This is not a sponsored post and I paid for my lunch at Boteco Mumbai. My review and opinions are based on the dishes I tried here, all of which are listed above.
---
Like our post on Boteco Mumbai? Pin It!