Last Updated on July 15, 2020 by Soumya
Mumbai which has always been a hub for traditional Indian cuisine, especially Western Indian, is now starting to open up to international food. A number of restaurants serving authentic international cuisines (and no, I am not talking about our much-loved Indian Chinese) are cropping all over. As a foodie, I cannot help myself but go check out many of these, sometimes multiple times. And that has led to the creation of this enviable list of the "Best Restaurants in Mumbai serving Authentic International Food".
Want to come back to the Best Restaurants in Mumbai later? Pin our post here.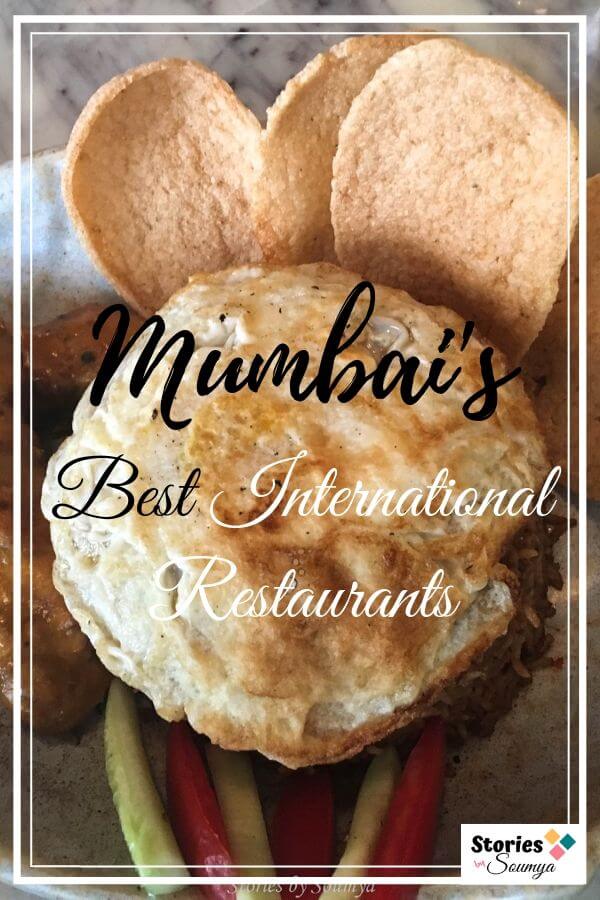 Let's have a look at the best restaurants in Mumbai that dish up exotic international food.
Please note that I have personally tried and tasted the food at all of these restaurants. And they match or almost match the food that I have had in these countries during my travels or in really authentic, immigrant communities in bigger cities. Hence, the guarantee of authenticity!
All our eat-outs are extensively researched by my foodie husband. So we usually eat at places that have already had good reviews and glowing references. But that does not stop us from trying out lesser-known joints with a strong loyal base of customers.
So, this is actually a list of the best of the best restaurants in Mumbai that specialize in Authentic International Fare. Let's dig in.
Bayroute – Arabic and Meditteranean Food | My favorite place in Mumbai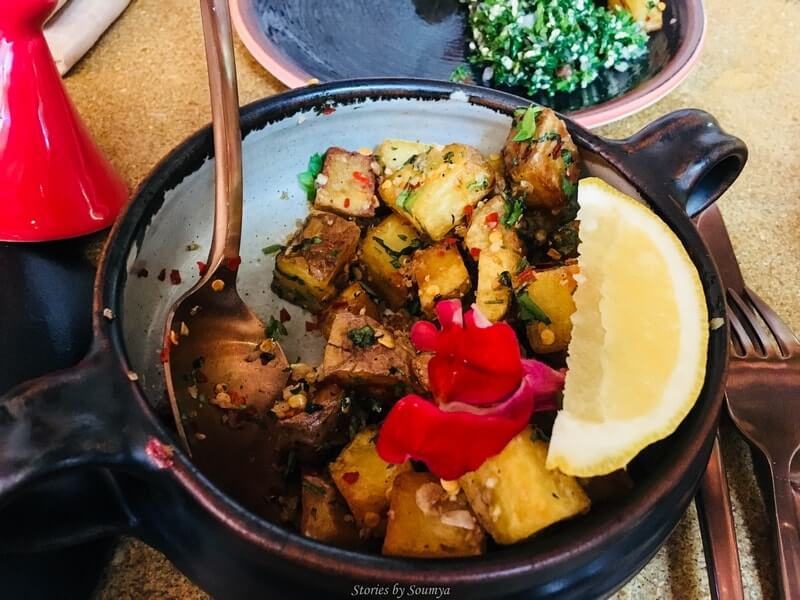 Bayroute is probably my dream-come-true in Mumbai. After having lived in the Middle East for two food-filled years, we had been craving for authentic Arabic food in Mumbai. And frankly, that falafel and shawarma stall in one of those funky Mumbai malls tells far from the truth.
If you want to taste some real Arabic food, you have to come to Bayroute. It is one of the best in town. And the most wonderful part is they do not just have the typical Middle-Eastern dishes, they are loaded with lesser-known, delectable options.
My all-time favorite is their Koshari (Egypt's national dish) which our entire family relishes. The Hummus, Muhammara, and Batata Harra are lip-smacking good. And so are the desserts.
I have been to Bayroute so many times ever since they opened. I think it deserves a separate review post (coming up soon). Plus, Bayroute restaurants are extremely Instagrammable. Decorative mirrors, Arabic lamps, and wall plates adorn the interiors. The dominant color is pale pink. You just cannot stop clicking.
Bayroute Tidbits
Location: 5 outlets at Cuffe Parade, Powai, Juhu, BKC, and Lower Parel
Must-try dishes: Koshari, Black Hummus, Batata Harra, Muhammara, Lotus Extravaganza, and their soft, warm bread
Vegetarian and vegan-friendly
Cost for 2: ₹3000
Get a reservation before you go to avoid waiting.
Maharsh – Ethiopian Food| Discover a hidden cuisine in Mumbai
Unfortunately, Maharsh has closed its doors. It was one of my favorite places in Mumbai. Sob Sob!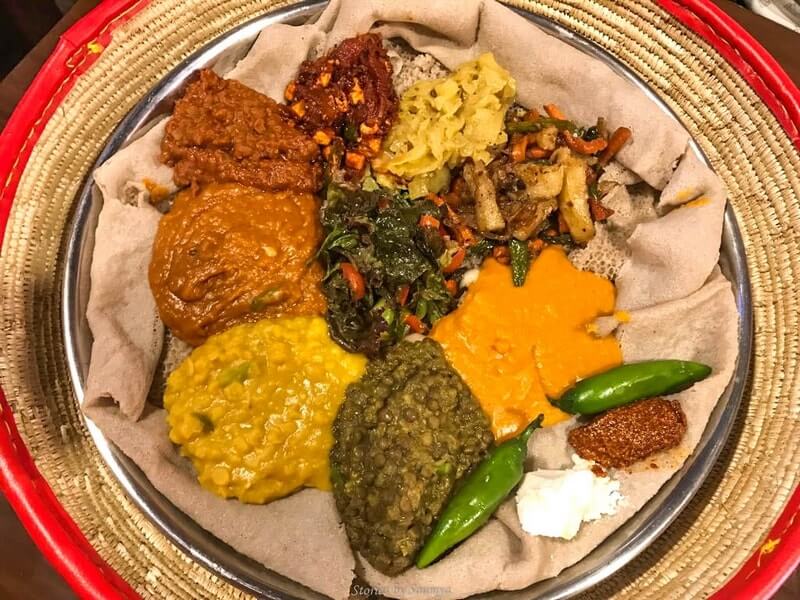 This is one of the newest additions in town and already a favorite. K and I are big fans of Ethiopian traditional food and have eaten it across the world even though we have never been to Ethiopia (on our list for sure!).
My first tryst with Ethiopian was in New York City after which I have not been able to let go. Ethiopian cuisine is that hidden gem which if you taste once will never be able to let go.
We were more than thrilled to see this quaint, little Abyssinian-looking place open up in Juhu, Mumbai – Maharsh Ethiopian Cafe & Bites. It is a small, comfy place run by a family that has lived and traded in Ethiopia and Djibouti. So, you know they are doing their dishes right.
Maharsh is a vegetarian restaurant and their Vegetarian Messob (platter) is delicious. I have always loved Ethiopian lentils and Maharsh does a great job at them. Of special mention is their Senafich sauce which we loved.
Maharsh Tidbits
Location: Juhu
Busy days: Weekends
Must-try dishes: Yemeser Wot, Alicha Missir Wot, Diblik Atklit, Senafich
Only vegetarian
Cost for 2: ₹1500
For details on dishes, etiquette, decor, and getting there, please read my complete review of Maharsh Ethiopian Cafe & Bites.
Nara Thai – Thai Food | Of great food and service
Thai food is K's favorite and he claims to be a connoisseur of green and red curries. So, you know you are talking to an expert here! We love Nara because it is one of the best restaurants in Mumbai serving Thai food.
Nara Thai has an amazing variety of Thai specialties and if you compare them with the real flavors of Thailand, they are quite the same. I am especially impressed by the fact that they do not restrict themselves to popular curries.
Rather, they have a wide swathe of dishes incorporating pandan and banana leaves, lotus stems, and vermicelli salads. They have some really interesting desserts – Sakoo Piek, Thai tea pannacotta, and mango & sticky rice. I would love to see more of Bua Lois, puddings, and sticky rice variants in the future.
We have tried their BKC outlet and have never had any issue with the service and cleanliness. Nara is always my go-to place when I am craving some good Thai food.
Nara Thai Tidbits
Location: 2 outlets at BKC and Colaba
Must-try dishes – Gai Hor Bai Toel, Gai Phad Kraprao, Som Tom, Tom Ka, Kang Kiew Wan (Green Curry)
Vegetarian-friendly
Cost for 2: ₹2000
Burma Burma – Burmese Food | A delectable neighboring cuisine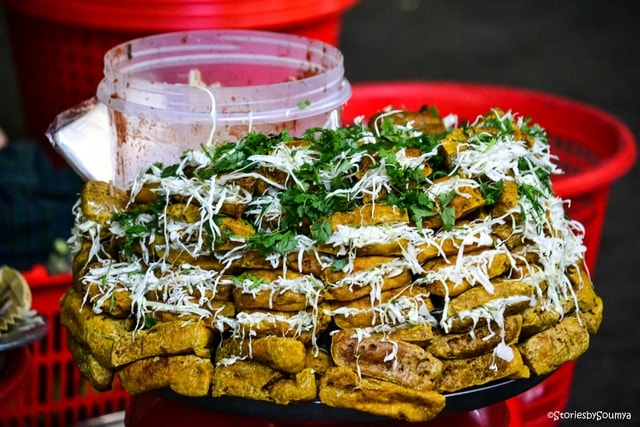 This is yet another place in Mumbai that I have come to love. Burma Burma is one of the best restaurants in Mumbai to serve some really authentic Burmese traditional food. And it has been around for quite some time now. Not necessarily the new face in Mumbai.
I made my first debut at Burma Burma in 2014. Truth be told, I did not appreciate what I was eating then. We ordered for their uber-famous Khow Suey. Fast forward into 2017 when I made my first trip to Myanmar. And tasted some of the country's original salads and curries. I wanted to try out Burma Burma again.
This time we tried to seek out the lesser-known gems. Samosa Thoke and Laphet Thoke were first to be ordered. Followed by Mohinga – the national dish of Myanmar and sticky rice with tofu. And, we absolutely loved them.
Burma Burma Tidbits
Location: Fort
Must-try dishes – Samosa Salad, Tea Leaf Salad, Mohinga
Only vegetarian
Cost for 2: ₹1500
Lovely interiors decorated with handmade Pathein umbrellas – a must-buy Myanmar souvenir. Also, check out interesting facts and tips for your trip to Burma on their washroom walls.
Boteco – Brazilian Food | Of great steaks and coastal curries
Well, I had never expected to see Brazilian food in Mumbai. Boteco Mumbai clearly is the icing on Mumbai's international food scene. It is also one of the best restaurants in Bandra.
Boteco is owned by Chef Guto Souza from Brazil and has some delectable eating options as well as finely-chosen, vibrant interiors.
My favorite part is seeing the black and white pavements here – a unique symbol of Portuguese culture and colonial ties. Apart from trying the food of course. Boteco Mumbai serves amazing steak.
However, I am not a big steak fan. So, we ordered something more mainstream from coastal Brazil. Their curries with coconut in them! I loved the main dish of Bobo de Frango de Bahia – a chicken dish in a creamy sauce and a dessert called Quindim – Brazilian baked custard.
Boteco Tidbits
Location: BKC
Must-try dishes – Bobo de Frango de Bahia, Quindim, and definitely their steaks
Vegetarian-friendly
Cost for 2: ₹2000
Must-see – Their Portuguese Pavement which is a quintessential symbol of Portugal across the world.
Read my complete review of Boteco Mumbai for other exciting details.
Yauatcha – Cantonese Food | Try Cantonese instead of Chinese
Looking for a place to try out some modern Cantonese food, then come to Yauatcha. Yes, you heard it right! This place offers Cantonese cuisine, one of the 8 culinary traditions of Chinese cuisine.
They have an extensive menu which features a number of steamed dumpling options – both veg and non-veg. We loved their Asparagus & water chestnut dumplings and Chicken & prawn Shui Mai. Cheung funs or rice noodle rolls are also loved. The Three style mushroom Cheung Fun is an all-time favorite among loyal customers.
Yauatcha also offers a journey through an exotic east Asian tea trail. You can pick and choose a tea of your choice (Geisha, Strawberry & Champagne, and Green Puerh Leaf) if you snack here between 4 – 7 pm.
Yauatcha Tidbits
Location: BKC
Must-try dishes – Definitely their dumplings and Cheung Funs. Plus their exotic collection of tea.
Vegetarian-friendly
Cost for 2: ₹3000
Chili's – Tex Mex Food | Yummy cheese and Mexican
If you are looking for some really good Tex Mex food in Mumbai, head to Chili's American Grill & Bar – one of the best affordable restaurants in Mumbai.
A good two years in the United States and my recent rant about my time in the Yucatan peninsula in Mexico will tell you how big a fan I am of Mexican food. Chili's gives you a true flavor of the Tex Mex cuisine with its heavy emphasis on cheese.
Chili's Tidbits
Location: 5 locations in Mumbai – Powai, Kurla, Lower Parel, Vashi, and Malad West
Must-try dishes – Tableside Guacamole, Classic Nachos, & Tortilla Crusted Chicken
Vegetarian-friendly
Cost for 2: ₹2500
Mamagoto – Fusion Asian Food | An unusual addition to our list of best restaurants in Mumbai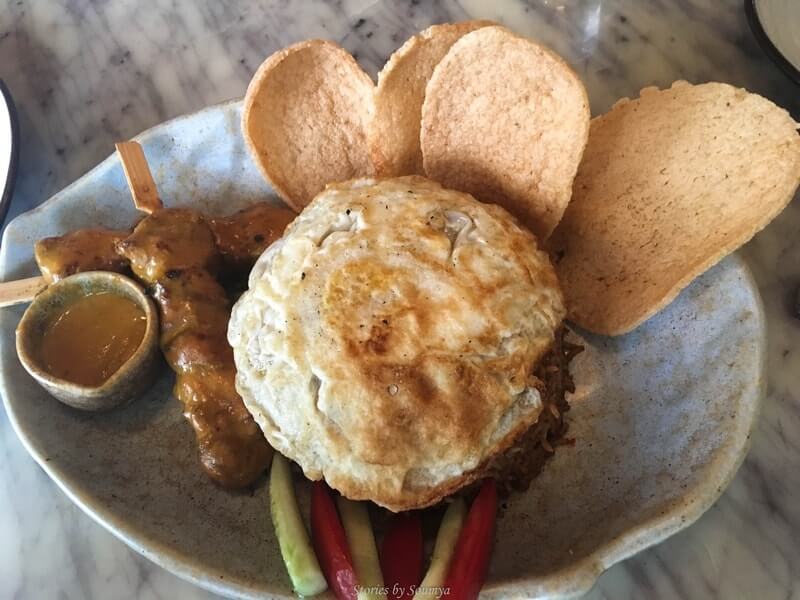 Mamagoto on Hill Road in Bandra is one of the best restaurants in Mumbai for some fusion Asian food. They claim to be inspired by street hawkers from east and southeast Asian cities and they have done a pretty good job at that.
Mamagoto literally means "play with food" in Japanese. They are not necessarily authentic but more like a quirky, innovative place with Asian street food as their inspiration base.
The reason I have Mamagoto on my list here is that despite being an excellent innovator, Mamagoto allows you to get a taste of the real street food of Asia. Innovations are all built on this very strong foundation. We loved their Basil Cups with Chicken, Panang Curry Bowl, and Mamagoto Goreng.
Mamagoto's Tidbits
Location: Hill Road, Bandra
Must-try dishes – Basil Cups, Panang Curry, & Goreng
Vegetarian-friendly
Cost for 2: ₹2000
These are our top picks for the best restaurants in Mumbai for international food.
We love to explore around the world and as well as in our backyard. And while snooping around, we found some of the best restaurants in Mumbai that will give you an authentic international flavor. If you know of some more, drop us a line below and we will make sure we try it out.
Love food? Keen to try out new cuisines? Check out our food section for more tips and ideas on how to find the best food while traveling.
Did you love our post on Best Restaurants in Mumbai? Why not pin it??