Last Updated on February 26, 2020 by Soumya
Update: Maharsh is permanently closed now. There are no other Ethiopian restaurants in Mumbai as far as we are aware. We will update if and when we find another great one.
Disclaimer: This is not a sponsored post. I paid for my meals at Maharsh and the views expressed in this post are completely my own.
K and I had been craving for Ethiopian food in Mumbai ever since we got back from the USA. Ethiopian cuisine had been our best culinary discovery in the States. After having our first Injera in New York City, we have always been on the lookout for this delicious cuisine from East Africa. Were we happy when we found that Mumbai had got its first Ethiopian restaurant? Boy, we were thrilled!
Of course, we got a reservation at Maharsh at the first instance possible and rushed to Juhu for our first Ethiopian meal in India.
Read my post on Ethiopian cultural food and find out all the places we have tried it so far.
Here's my experience at Mumbai's first Ethiopian Restaurant – Maharsh Ethiopian Cafe & Bites
Maharsh – Ethiopian Cafe & Bites is Mumbai's first Ethiopian restaurant. It is the brainchild of an Indian family that migrated to Djibouti long time ago. You will probably find one of the owners in the restaurant when you visit and they will be happy to give you the history and how it all ended up in Maharsh.
Maharsh is a vegetarian restaurant. Let me get that out at the beginning. Ethiopian food is rich in animal proteins. However, most people do not know that it is even richer in vegetarian variants. That is why it makes so much sense to have a veggie Ethiopian restaurant in the heart of the city.
A brief introduction to Ethiopian food
For the uninitiated, let me begin with a small introduction to Ethiopian food.
An Ethiopian meal is served on a platter and is commonly eaten with hands from a shared plate. The main constituent is a brown-colored, soft bread (almost like the Indian Dosa but not quite) called the Injera. The Injera is spread on the plate and various dips, stews, and salads are laid over it.
Ethiopian stews are called Wots and can be made with meat or vegetables. Stir-fried vegetables or meat, usually in a spicy sauce, are called Tibs. A common spice used in Ethiopian cooking is the berbere spice.
The Injera serves multiple purposes – it works as the plate, the spoon to scoop up dips, and the bread of course! You are expected to rip off a piece of the communal Injera, scoop up a bit of the sauce, fold it into a parcel, and put it into your mouth. Lip-smacking delicious! You can also have a supply of Injera on the side and use that as bread.
There are tonnes of similarities between Indian and Ethiopian foods. Take the case of dipping the bread into the stew for example. A friend of mine pointed out that this could have been related to the influx of Ethiopians to India in the 7th century. That got me searching about Habshis or Siddis of India – an isolated tribe confined to western India. Even though I could not really find a connection for food, I stumbled upon this interesting BBC article on the Siddis of India. Do give it a read.
With this primer, let's head out to explore Maharsh's Ethiopian fare.
Ambiance of Maharsh
Much like other Ethiopian eateries around the world, Maharsh sports a traditional Abyssinian look. The walls are painted to represent a half-done muddy household. Ethiopian rugs and wicker baskets adorn a good part of the interiors.
There are wooden tables and stools for you to sit and eat on. However, the place is not big and can feel cramped during peak hours. We were here very early for Sunday lunch and it was pretty peaceful.
People had not started trickling in and I had a good chat with the owner about his time in Djibouti, his businesses in eastern Africa, and his daughter's decision to come back and offer the people of Mumbai a taste of authentic Ethiopian food. That was how Maharsh came into being and I could not be happier about it.
Here's what we ordered
The real joy of eating Ethiopian food is by ordering it on a communal platter and eating from the same plate. That is why Maharsh has family style Messobs (something similar to the Indian Thali but shared by all on the table). However, if you are not comfortable sharing, you can order ala carte or even better get a dedicated Messob for yourself. On a Messob at Maharsh, you will get Injera and a number of vegetarian dishes to go with it. You can choose the number of dishes to suit your needs.
We ordered for a Messob for 3 people with a combination of 8 veg portions. And here's how it looked. Isn't that plate gorgeous?
What's on our plate?
We are big fans of Ethiopian lentils. So, on our plate, we have Yemeser Wot (lentils cooked in Berbere sauce), Ater Kik (split peas cooked in a blend of spices), Kay Missir Wot (red lentils cooked in Berbere sauce), Alicha Missir Wot (brown lentils cooked in onion and garlic), Tofu Tibs (tofu sauteed with onion, garlic, and herbs), Teqel Gomen (cabbage, carrots, and potatoes), Diblik Atklit (beans, potatoes, and carrots), Shiro Wot (powdered peas cooked in Ethiopian spices), salad, cream, stuffed green peppers, and Senafich (Ethiopian mustard sauce).
The Senafich sauce was a big find for us at Maharsh. We had not tasted it at any of the earlier Ethiopian restaurants. Senafich definitely gives you a strong, mustardy kick. We hail from the eastern part of India where fish in mustard sauce is a delicacy. This was bound to impress us. +1 to Maharsh just for the Senafich! 🙂
If you order one of their bigger platters, you will be served with coffee and popcorn at the end of the meal. I did not really understand the Ethiopian connection with popcorn but my kid enjoyed it while I enjoyed the famed Ethiopian coffee. So, it was a pleasant bonus.
Service
We were the only ones in Maharsh on an early Sunday afternoon. The waiter was all ears to us and service was pretty fast. However, Friday, Saturday, and Sunday evenings are crowded. Make sure you reserve a table before going here. You can call on the numbers listed on their official website.
You can also have a good view of the kitchen through the glass windows. Things are pretty sanitized here.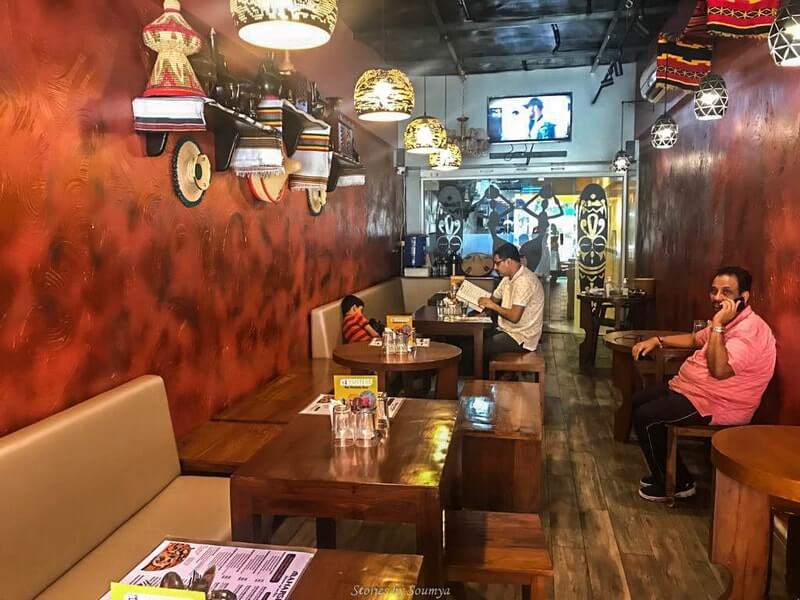 Helps to know
Even though Ethiopian cuisine is rich in meat, Maharsh is a vegetarian restaurant. And trust me, Ethiopian veg dishes are worth trying, again and again.
Get a reservation ahead of time, especially during the weekends.
The day we went to Maharsh (Sunday, 16th June 2019) was the last day for the older menu. A new menu was being introduced after that. There are a number of non-Ethiopian items on that menu. This is probably a move by the management to get more of the usual customers in. But I do hope they maintain the standards of their Ethiopian dishes.
Maharsh is located on the Juhu Tara Road in Mumbai. The Juhu Tara Road Bridge near SNDT was recently closed for structural repairs. Remember to factor this in your plan for Maharsh.
The final verdict on the first Ethiopian restaurant of Mumbai
I loved the food at Maharsh. I am a big fan of Ethiopian vegetarian dishes. A good Missir Wot and a some delicious Shiro Wot can lift my mood on any gloomy day. Maharsh's team did complete justice to the flavors of Ethiopia. Their Wots are absolutely delectable and I would definitely visit here again to satisfy my cravings for Ethiopian cultural food.
If you are a newbie, Maharsh is a great way to get initiated into the Ethiopian food fan club. If you are a veteran, I am sure you will find Maharsh an authentic experience. And don't forget to try that Senafich!
Looking for other restaurants in Mumbai that serve authentic international cuisines? Have a look at our section on Mumbai restaurants.
Loved our post on Maharsh Ethiopian Restaurant in Mumbai? Why not pin it?