Last Updated on September 4, 2020 by Soumya
When I was writing about my experience of the Mekong Delta boat tour and scanning through the images of Vietnam, I was captivated by many of the pictures that I took on my trip there. Most of them spoke tonnes about life along the Mekong river in Vietnam. A few of them stayed etched in my memory even though I could not find any place to fit them in that blog post.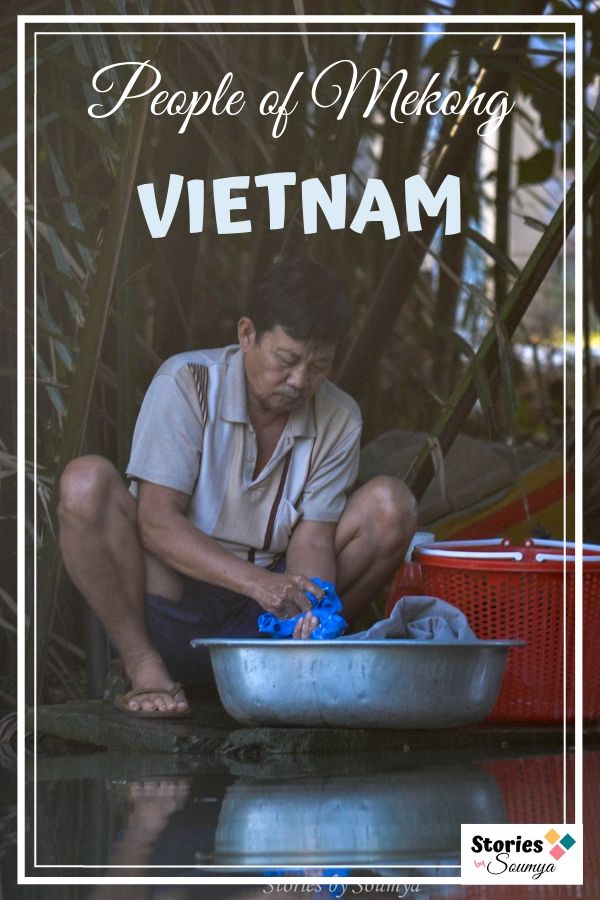 That was when the seeds for this very post were sown. I realized that I had experienced so much of Vietnam during my stay there. The hustle & bustle of every day, the food, the music, the warmth of people and their smiles and life, in general, made me want to go back. So, I decided to put together an exclusive post celebrating the "People of the Mekong for whom the river exists and who exist for the river". 
Disclaimer: This represents only the Mekong Delta in Vietnam and not the entire river of Mekong.
Let's take a ride along the Mekong river in Vietnam and see how life looks from here.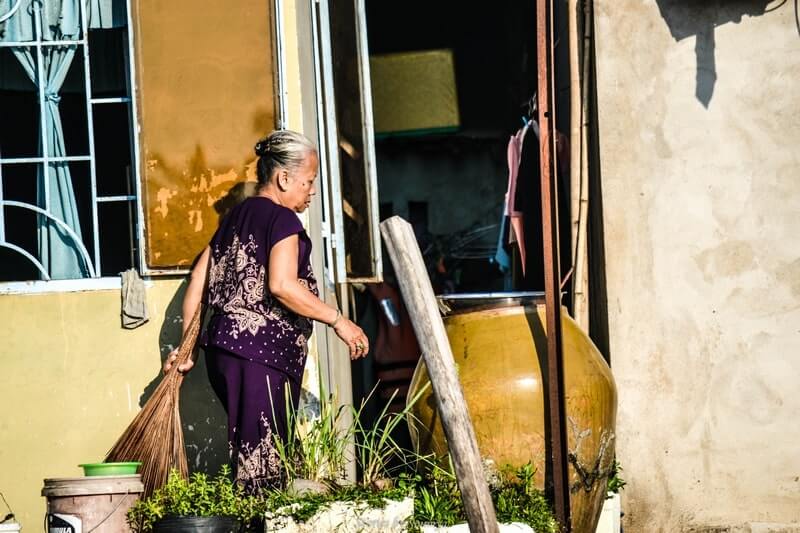 When I started off, I presumed that putting the various things that I saw under different buckets would be easy. But it was far from that. The Mekong Delta is not only a biological treasure trove, it is a cultural one as well. A number of different communities call it home and even though the river has lashed out at them at multiple points, they still love it.
The Mekong has not only added functional value in the lives of its people, it has also given rise to cultural variations. And these variations are beautifully intertwined at a number of different points resulting in a mindboggling confluence. Here's a small attempt to try and separate out those networks and bring to you the many facets of life in the Mekong Delta.
Fishing is very important.
Let's get the most important things done first. River and sea are synonymous with fishing. And if it is a fecund delta teeming with edible fish, then there are no second thoughts.
Fishing is crucial for people inhabiting the Mekong Delta. Many people here live on fishing boats in order to make the most of their day. We observed a number of fishermen laying their nets for the day. Some of them were neck deep in water trying to take out the fish caught in the traps. If you look closely, you will be able to see different kinds of fish-traps as well. Some of them are buried deep in water. Some are pretty visible to naked eyes. Luckily, we caught up with a boat ferrying fish-traps to the market and this is how it looked.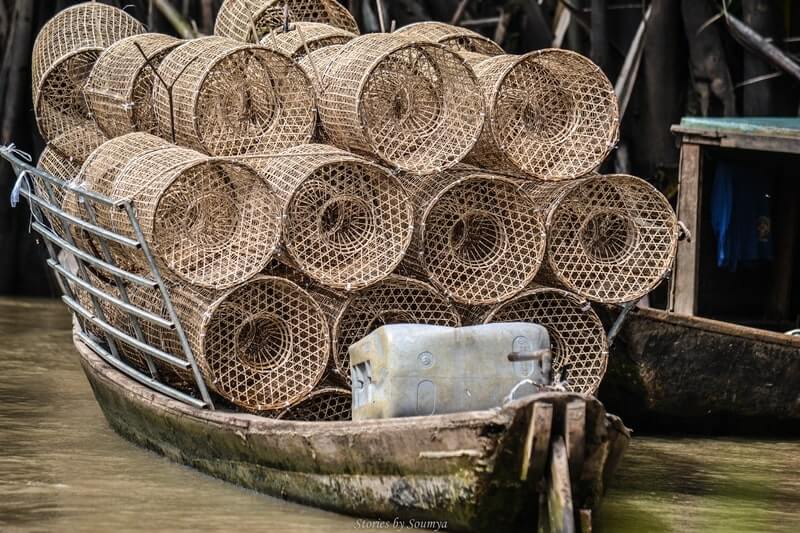 People love their bowl of "Pho".
My first trip to Vietnam was in 2009. The husband and I had gorged on some delicious bowls of Pho back then. I had fond memories of the "Pho" ever since. So, this time I wanted to make sure I had a bowl everywhere I went in Vietnam. And I kept the promise.
The "Pho" is an extremely popular noodle-soup that originated in Vietnam in the 20th century. Its main constituents are rice noodles and meat which can be either chicken or beef. Vegetables, spring onions, fried shallots, and spices are added to give the pho a distinctive flavor. You can find many variations of the soup across the length of the country which means that the pho you get in North Vietnam won't be the same as in the south. The Mekong Delta has its own yummy variation too.
This dish is easily available everywhere. And the best part about it is that it is extremely healthy for you. It is non-spicy and contains a bit of all essential nutrients. It is light on the stomach and gives you an adequate amount of water which we often miss on our trips. I think having pho once a day is a great idea to stay healthy while traveling in Vietnam.
Recommended: 10 Ultimate dishes from the Vietnamese Cuisine that you should try on your trip to Vietnam
In order to get a slice of life along the Mekong river, we visited a rice noodle factory as well. It was interesting to see the making of the noodles right from scratch. You can also get a hands-on experience on how to lay the noodles out to dry. It was a fun experience especially for my son.
Coconut is ubiquitous.
Coconut water is an extremely popular drink on the Mekong. Shredded coconut and coconut milk are generously used in curries and soups. We were lucky to visit a coconut plantation on our boat trip in Ben Tre. Apart from having tonnes of coconut trees, the garden had hundreds of coconuts lying on a small stream in the premises (picture below). Upon inquiring further, we came to know that these coconuts were being processed for germination. Leaving them immersed in water for a few days lets shoots to sprout up after which each of them can be sold in the market to grow into individual coconut trees.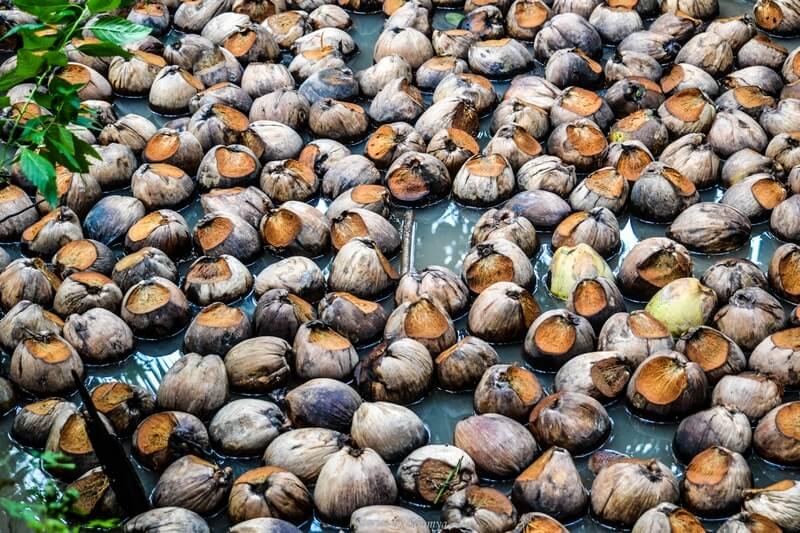 Coconut is used for many other things apart from being used in cooking and providing a much-needed energy drink here. For example, below you will see pictures of a sweetened coconut strip that is relished as a between-meal snack here. Coconut candies are quite popular too. For a tour of the coconut candy factory in Ben Tre, click here.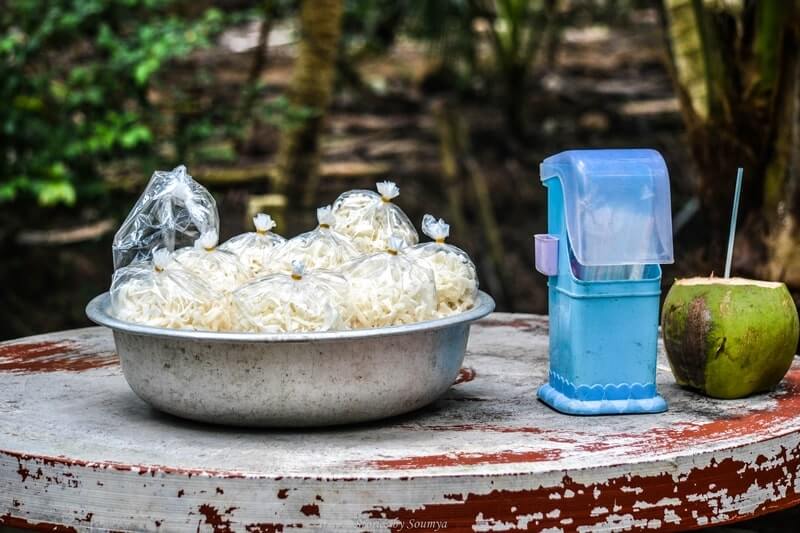 Floating markets are the hub of all morning activity.
If you are in any Mekong town for a couple of days, you will very often get a suggestion to spend your morning at a nearby floating market. And why not? All the morning activity in Mekong Delta is at its floating markets.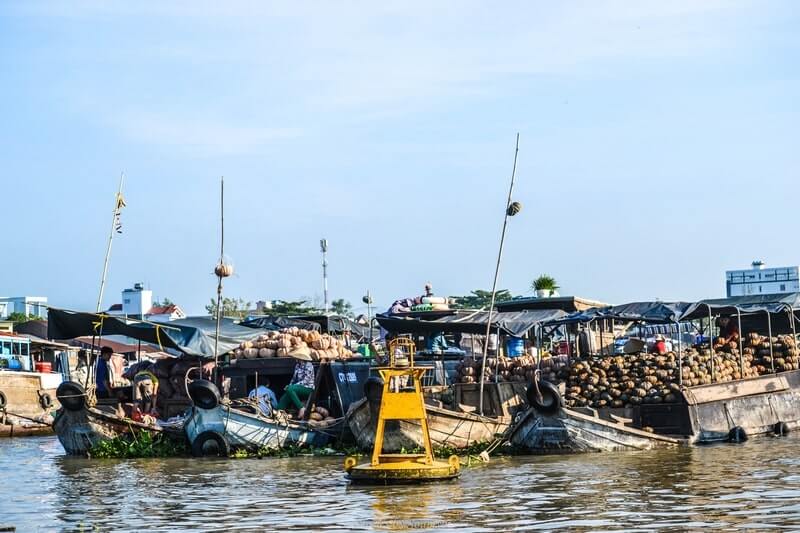 A floating market is one where vendors sell their goods on boats. Floating markets have formed an important part in the lives of people who have lived around water especially in southern Asia. All towns on the Mekong Delta have their own floating markets. Some of them are within the town while others may be a little far away. It is not unusual to see a lot of tourists around these markets, sometimes far too many. But it is worth the visit to get a glimpse of life here.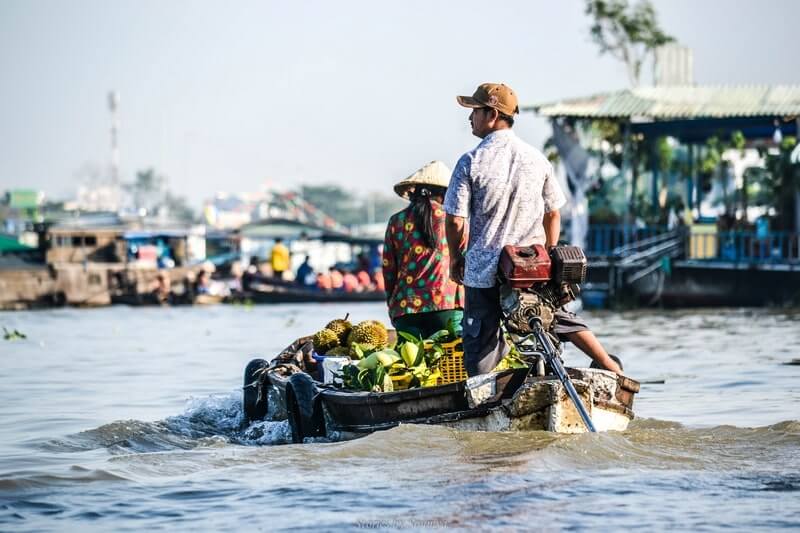 The markets are most active in the mornings when vendors gather to peddle their fresh produce for the best prices. Some of them begin as early as 4 in the morning. We visited the Cai Rang Floating Market in Can Tho. Energy levels in these markets are infectious. And so are the smiles.
People of Mekong love their coffee cold.
Coffee is an extremely popular drink on the Mekong and in Vietnam as a whole. You will find it everywhere starting from posh cafes to smaller shacks and floating markets on the river.
The Vietnamese have a unique way of preparing their coffee. It is obligatory to add sweetened condensed milk to black coffee before you can drink it here. The result is a glass of sweet, creamy coffee that can either make or break your day depending on your preferences. On the Mekong, we noticed that it is mandatory to have ice, and lots of it, in the coffee too. I enjoyed this coffee. Perfectly suits the taste buds of someone who has always loved iced coffee with milk.
Boats are multipurpose.
It goes without saying that boats play a very important role in the lives of people that live along rivers. The Mekong is no different. Hundreds of boats line the banks of the chocolate-colored Mekong. They are of various shapes and sizes.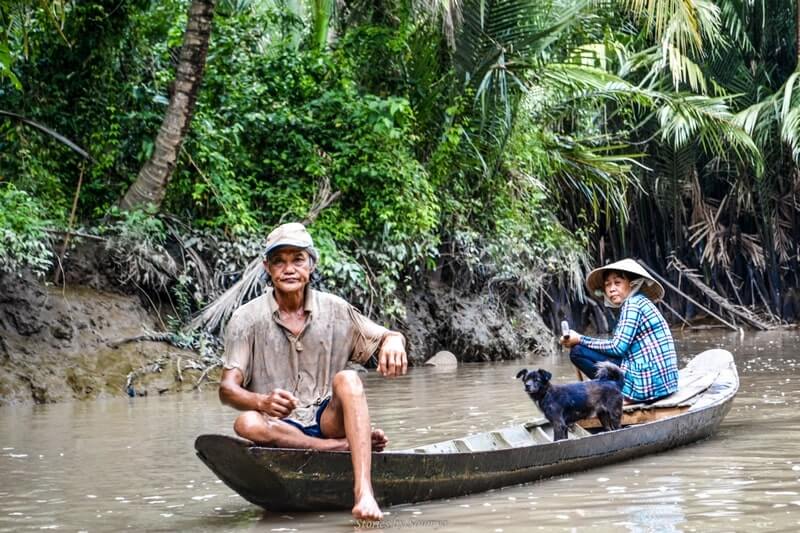 Boats are used for many different purposes. We saw the usual big and small boats that were used for fishing. Apart from that, boats were used as homes for fishermen and their families. Huge vessels were used to ferry construction material along the river. And smaller ones were used for selling fresh fruits and vegetables in their floating markets.
Above, you will see a bigger fishing boat which has two prominent eyes in the front painted on a face of red and yellow. We noticed this face quite often on the boats of Mekong, even on the smaller ones. For starters, it reminded us of Lord Jagannath of Puri in India. Intrigued, we asked our guide to explain. Apparently, painting of eyes is an important ritual here. And there are multiple explanations behind the origin of such a practice. Many seafarers believe that boats need eyes in order to avoid getting lost in the sea. Eyes are also helpful in scaring away sea monsters. Believed to have started sometime in the middle ages, the practice still goes on.
Recommended: How to take a Mekong delta tour in Vietnam
People indulge in music and art.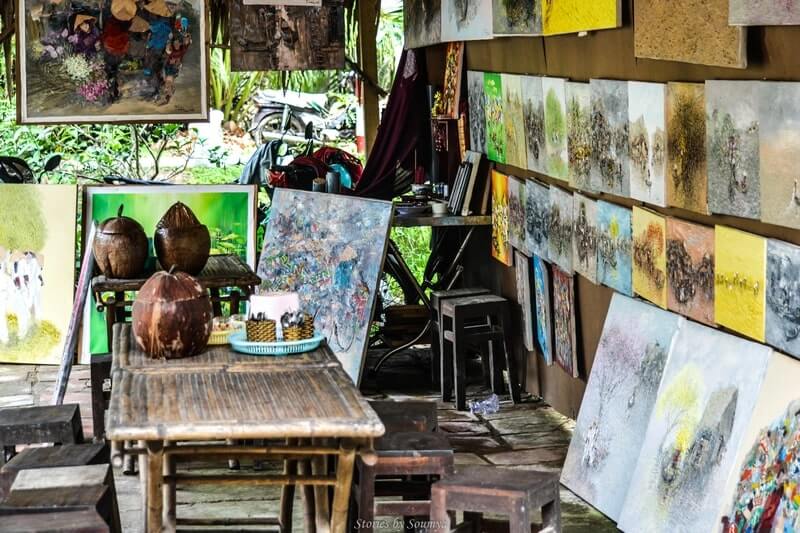 Apart from being a major source of income of various communities that depend on the river for their livelihood, the Mekong has also been a constant source of artistic inspiration. It is the source of some of the most beautiful souvenirs of Vietnam.
Musical genres and instruments, influenced by the slow, sluggish pace of the river, have originated in the delta. A modern version of folk opera called the Cai Luong has also taken birth here. Everyone agrees that life along the Mekong River would not have been the same without the cultural bounties that the stream has showered on them.
Homes and interesting facts about them.
I have a separate section on homes here because we found the houses along the Mekong river fascinating. Apart from the very mobile ones on boats, we saw a number of different houses such as row houses in the narrow alleys of Ben Tre, riverfront villas in Can Tho, and stilt-houses on the water literally everywhere on the Mekong.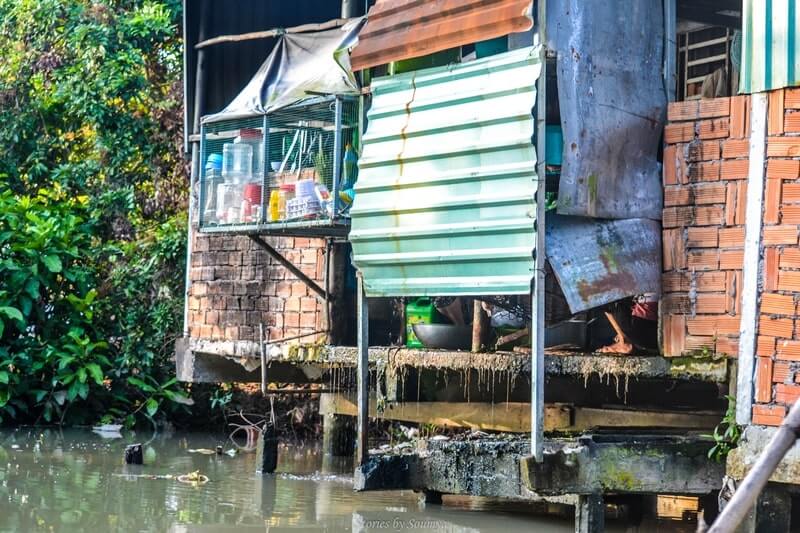 I did some reading to find that the Vietnamese usually have an odd number of rooms in their homes. Even numbers are considered unlucky. Furthermore, we noticed that many homes had private cemeteries in their backyards. Vietnam, as a country, boasts of some really pretty and opulent cemeteries. So, finding homes that hosted tombs of their dead family members was quite an interesting diversion.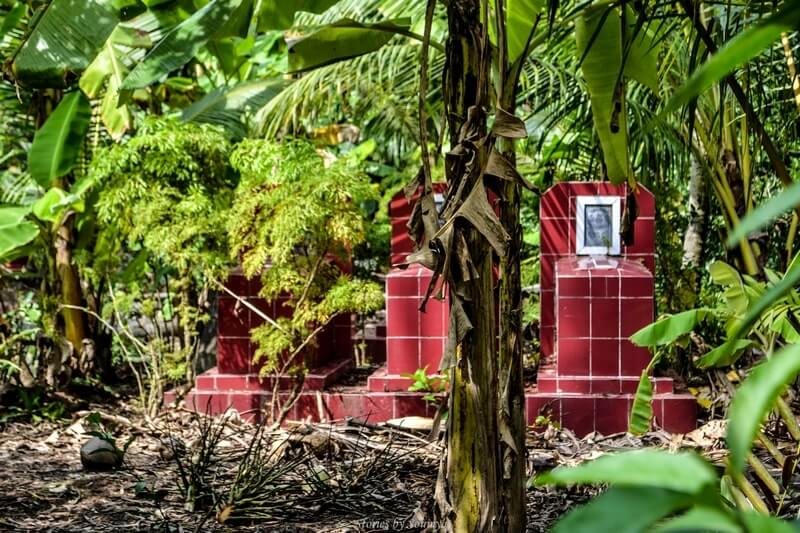 Life along the Mekong river in Vietnam is slow but that does not make it any less happening. They have some of the tastiest and the healthiest Vietnamese food in the world. Farming and fishing are two important sources of income. And people express their emotions through various forms of art.
The Mekong River has been the biggest giver and taker in the region. This has made the people of the Mekong resilient to both internal and external sources of disruption. Yet, their hospitality is incomparable.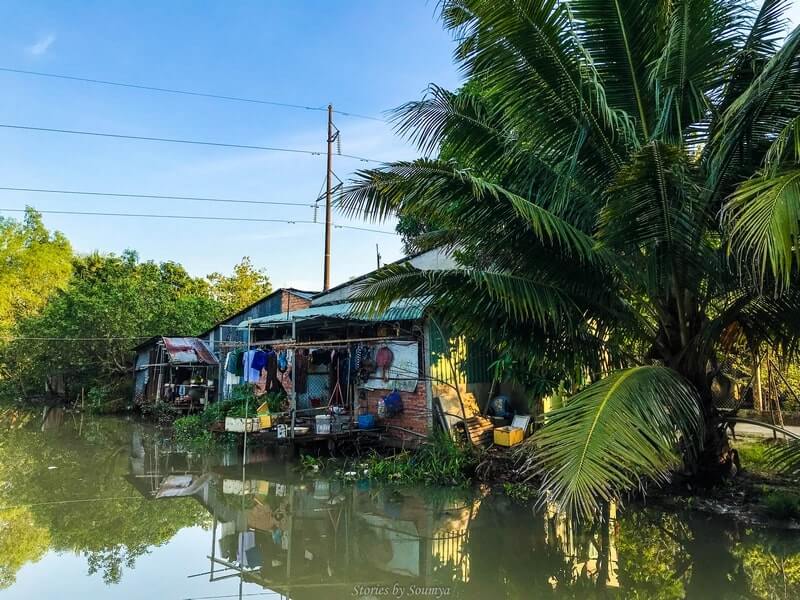 You must have heard tonnes about the hospitality of the people of South East Asia. And Vietnam could not be any different. People in Vietnam are some of the most amiable people I have ever met during my travels across the world. They exude unimaginable warmth and kindness. They will always welcome you with a smile. You will hardly ever notice a grimace.
Have you ever taken a trip to experience life along the Mekong river? How did you feel when you were there? Please feel free to drop me a comment below and let's get the conversation going.
Pin It For Later!