Last Updated on September 28, 2019 by Soumya
After a refreshing few days of exploring the Mekong river in Ben Tre, we decided to move south to another city on the delta – Can Tho. Can Tho is the fourth largest city in Vietnam and famous for its very active floating markets. The Cai Rang floating market is one of the largest and the most popular. A number of tourists make a stop here. So, we decided to make one too.
We stayed for a day in Can Tho. We made an early morning trip to the Cai Rang floating market which has been recognized as an intangible cultural heritage site by the Vietnamese government. Apart from that, we checked out an interesting rice noodle factory along the canals, walked the streets of Can Tho, and explored its many beauties.
Let's a take a trip to the Cai Rang floating market and find out what else we can see in Can Tho in a day.
Cai Rang Floating Market – Vietnam's National Heritage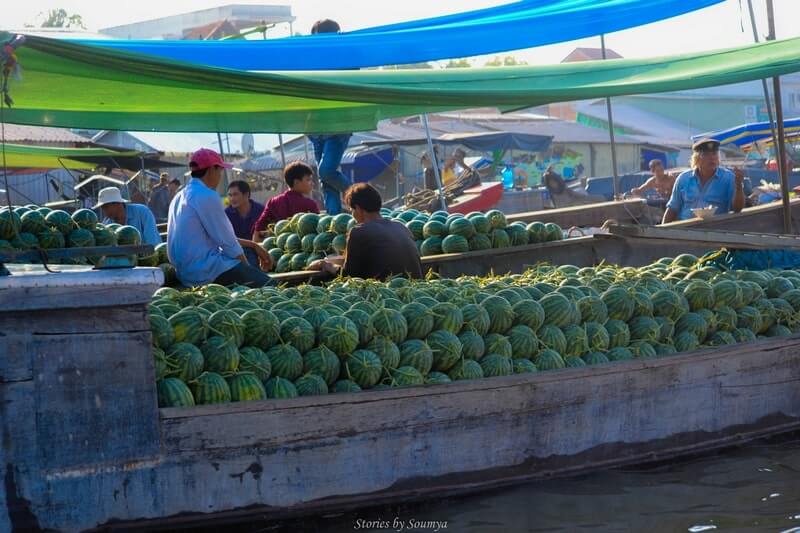 The easiest way to get to Cai Rang is to take a Can Tho river tour. You can take a guided one or book a private boat and do it on your own. We opted for the second. We were up quite early, negotiated with a middleman for a tour of the floating market and noodle factory, and got into a boat with a helmsman who spoke little English. The round trip to the floating market and rice noodle factory cost us $30. We spent about 3 hours on the boat and made two stops at the market – while going and coming back.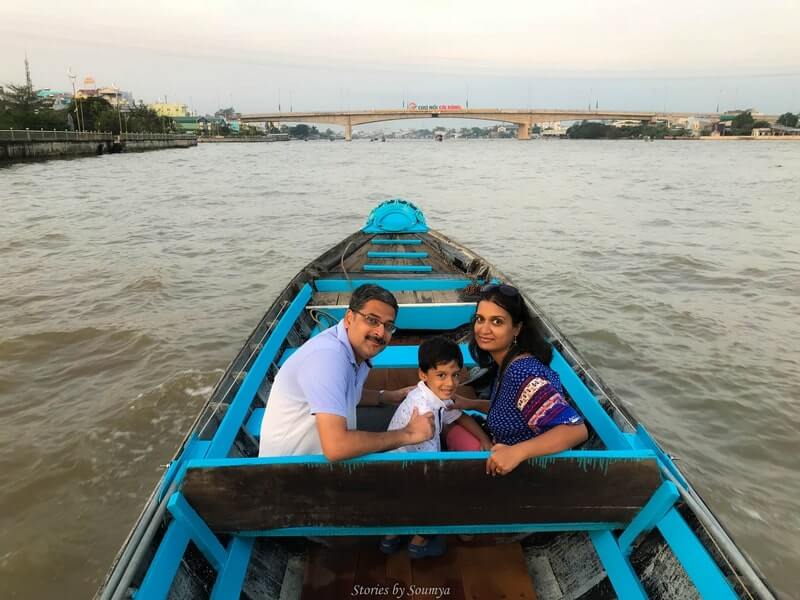 We got to watch the sunrise as we made our way towards Can Tho's biggest floating market. Cai Rang was bubbling with energy. It was, literally, a spectacle on water. We saw different sections for fruits and vegetables. Wholesalers were loading their produce on to the smaller boats of retailers. Buyers were haggling over prices. Vendors were selling coconut water, soft drinks, and Vietnamese cold coffee. The "pho" stall was doing brisk business. And an old man was trying to peddle off lottery tickets. All at 6 am in the morning.
Only thing I missed was having a drone to capture some beautiful aerial pictures of the Cai Rang floating market. Floating markets are the prettiest when photographed from above. So, if you are looking for some Instaworthy pictures of the market, consider getting a drone.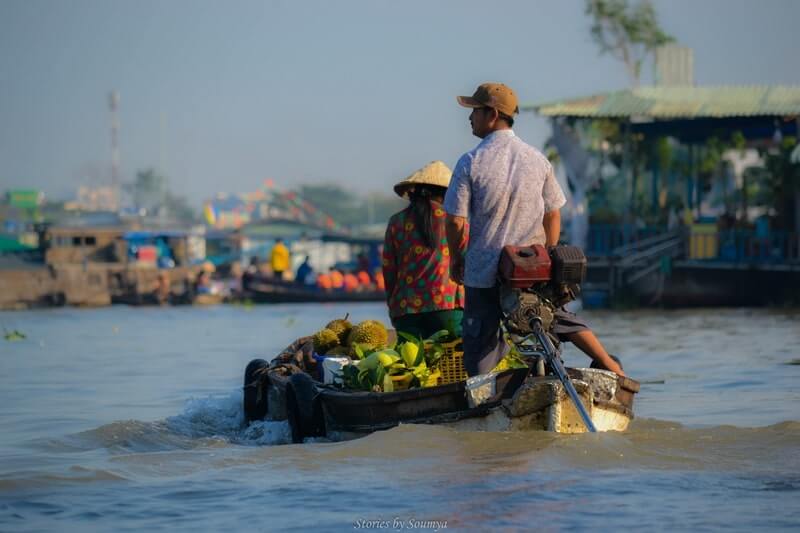 South East Asia is a great destination for floating markets. Bangkok houses some of the prettiest ones. Read through our post on the best markets to visit in Bangkok to find out what should be on your itinerary.
Stop at a rice noodle factory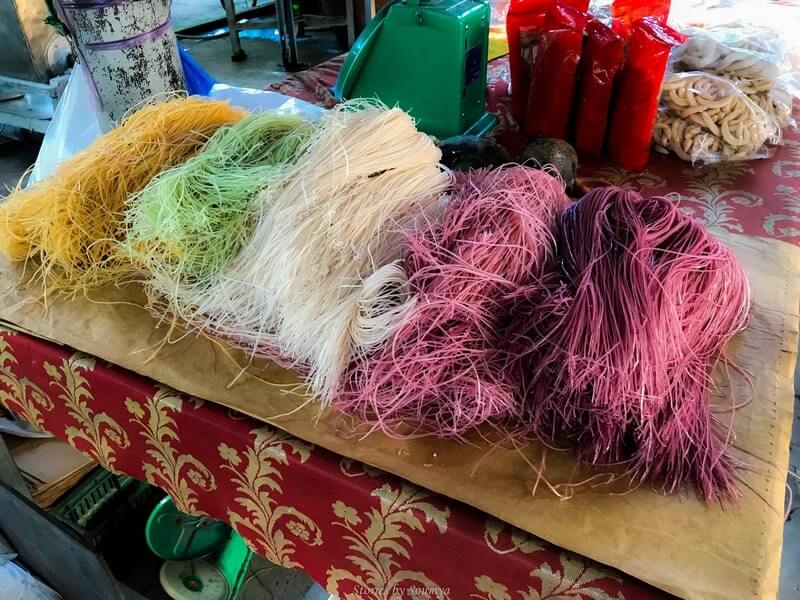 A stop at one of the many rice noodle factories is a must-do when you are in Can Tho. Rice noodles are one of my favorites when I am tripping in the SE. I also bring back huge packs home. However, I had no idea about the effort that went into the making of these stringy delicacies.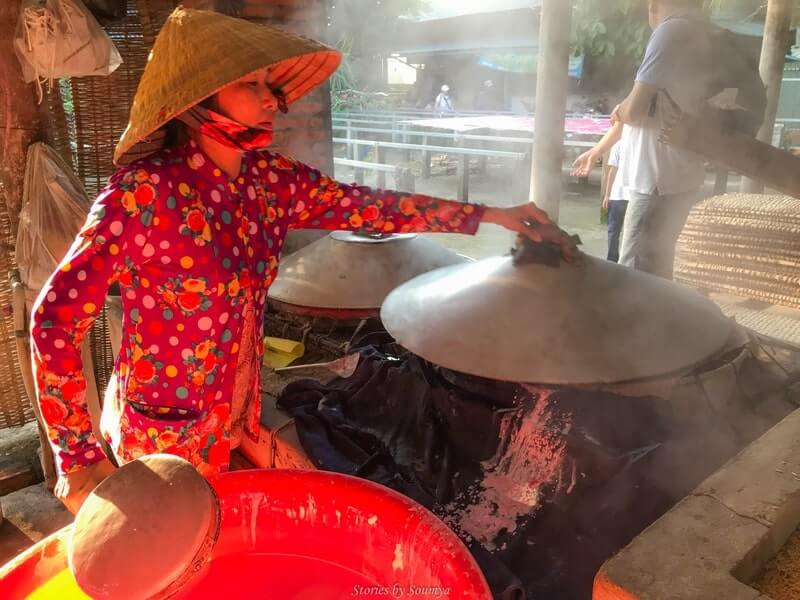 The entire process is pretty elaborate and time-consuming. Rice papers are first made out of a thin batter (natural colors may be added), dried, and put through a machine to generate noodles. Noodles are dried again before being packaged and sold.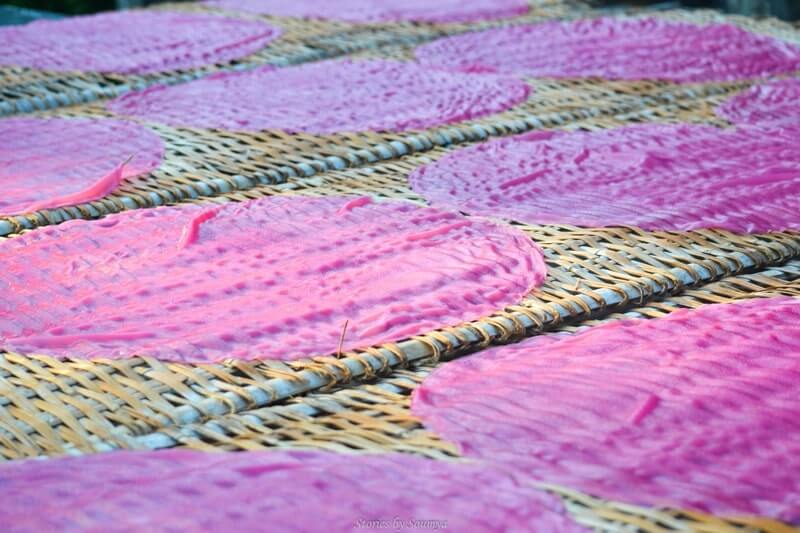 You can be part of the noodle-making process by helping workers put out the rice papers to dry. Each factory has its own shop where you can purchase your own packet of noodly bliss after taking the tour.
Coconut candy factories and mat-weaving workshops are also key employers on the Mekong. If you wish to visit one, read through our post on the Mekong Delta Tour in Ben Tre, Vietnam.
Glide through narrow canals of Can Tho and watch life on the Mekong
If you are on the boat and in no rush to get to the airport, I suggest you spend some time wading through the narrow canals of Can Tho. The helmsman will probably do some on his own but you can prod him to go a little deeper.
Spending quality time in the canals is a great way to watch people go about their daily lives. A number of people live on the river and use the water for their day-to-day activities. The Mekong has been a giver and taker of life for centuries. Life on the Mekong is interesting to learn about. I am sure you won't be bored. Winter is a good time to do take a trip of the canals. Months of December and January are especially favorable because of lower temperatures and a drier atmosphere. Click here to check out a list of other great places to visit in January.
Enjoy the street food
Life in SE Asia is incomplete without its delicious street food. Can Tho has a vibrant street food culture and it is not just restricted to its night markets. After finishing up with our boat trip to the Cai Rang floating market, we headed straight for some food. That was when noticed this vendor selling all kinds of rice cakes and pancakes for breakfast/brunch (picture above).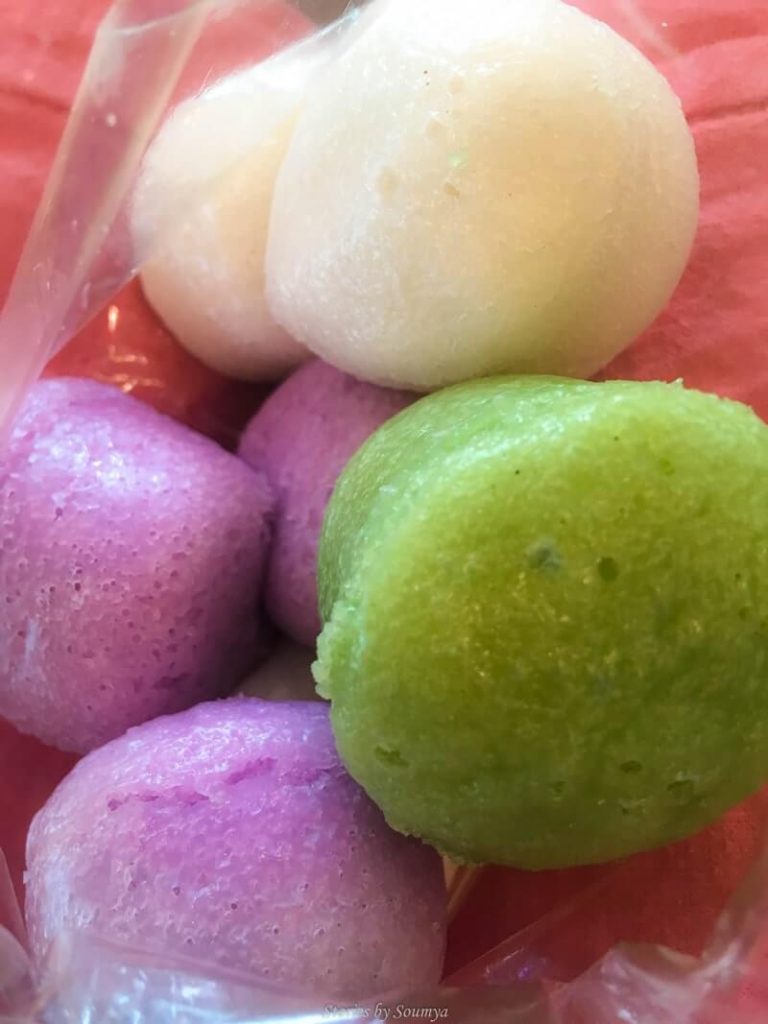 For some reason, I picked up this packet of beautifully-colored rice muffins. I later found out that they were steamed rice cakes or Banh Bo Hap in Vietnamese. They were soft and wonderfully spongy. They had the sweet flavor of coconut milk. Banh Bo Hap is one of the many delicious desserts in Vietnam that you have to try. I am so happy I discovered it on the streets of Can Tho.
If you are a foodie like me, you will also enjoy reading about street food in Myanmar or how to eat around the world in Bangkok.
Visit a pagoda in the city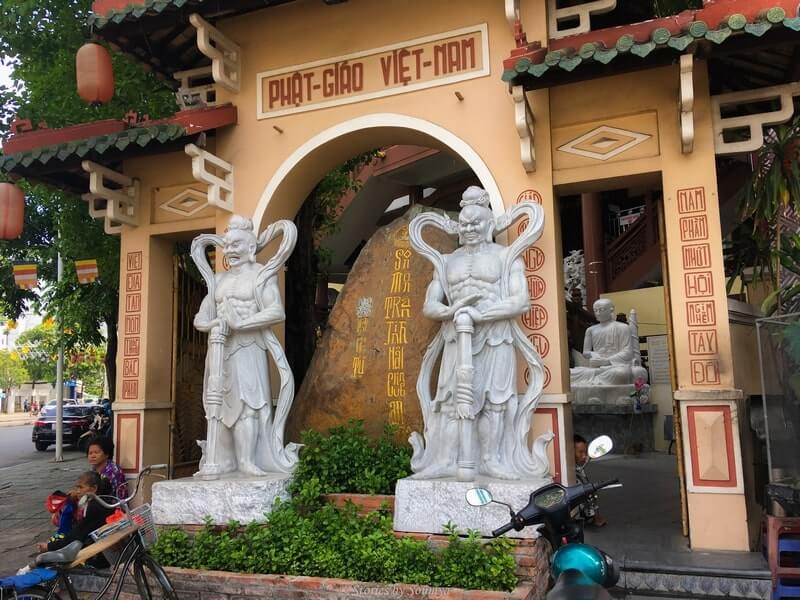 Can Tho is home to a number of beautiful pagodas. Ong Pagoda, Quang Duc Pagoda, and Phat Hoc are some of the more famous ones. We visited the Phat Hoc pagoda located on the Hoa Binh Avenue. Phat Hoc is an unusual-looking pagoda. It is five-storey tall and looks more like a traditional Vietnamese hotel rather than a place of worship.
Planning a trip to Vietnam? Have a look at this Vietnam travel guide.
Try some delicious mock meat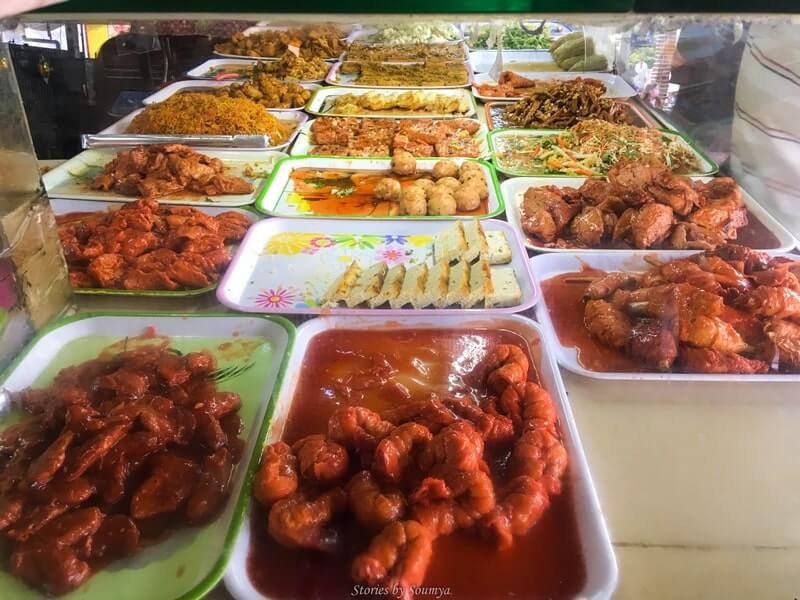 Mock meat is available in plenty in Can Tho. If you are a vegetarian, then you should have it easy here. I love the real meat but I have been a fan of the mock ones too. Additionally, I love Vietnam because it always welcomes me with a bowl of Pho: their national dish. Pho with mock meat was a welcome addition to the list of our favorite Vietnamese dishes.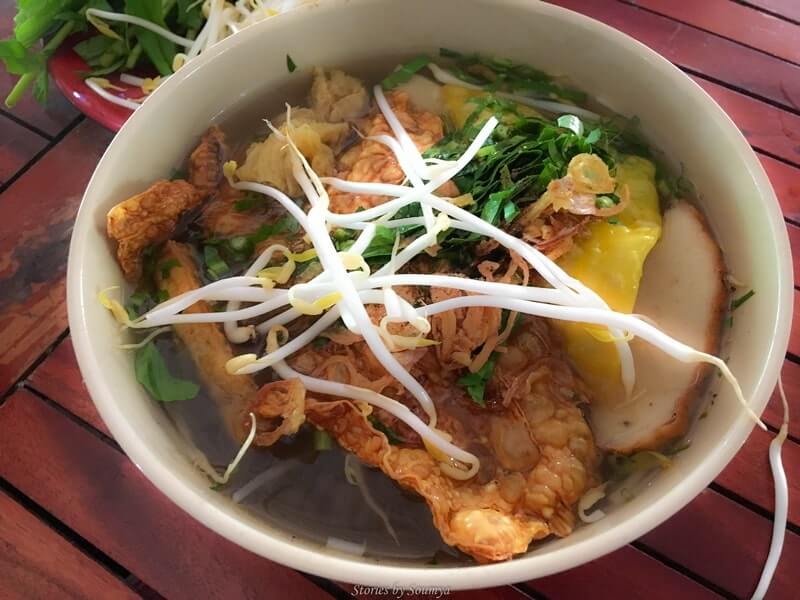 In Can Tho, we tried out a very popular vegetarian restaurant – Quan Com Chay. Chay in Vietnamese means vegetarian. Quan Com Chay had an amazing spread of dishes and there were tonnes of mock meats to try from. We had our lovable Pho, a simplified version of Sichuan hot pot, noodles, and summer rolls for dinner here.
Walk the riverfront and try some cheap shopping
Can Tho is one of the largest cities in Vietnam with a population of more than 1.5 million. No doubt, it has some great places for cheap shopping. Packaged food, exotic fruits, bamboo souvenirs, a variety of clothes, and much more are available at reasonable prices.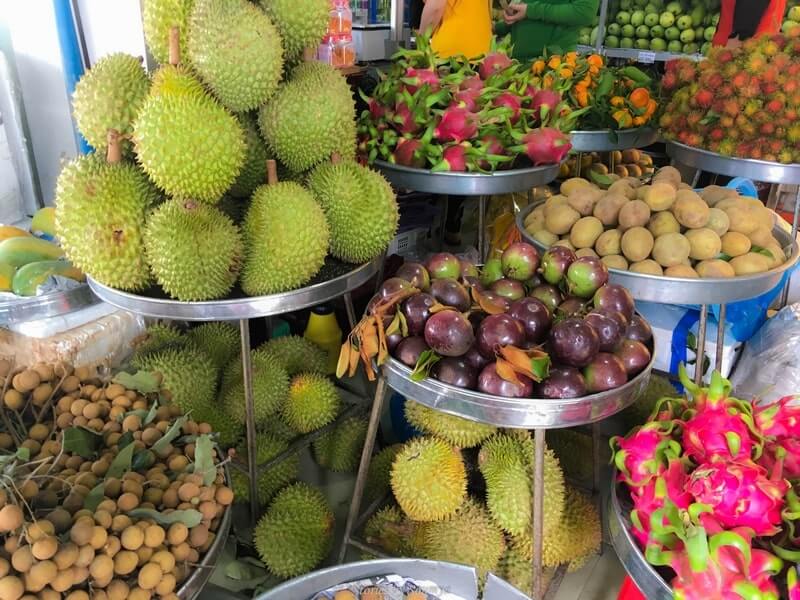 Take a stroll down the riverfront. Watch lots of tourists ferrying to the floating markets. Haggle for a t-shirt that you would purchase for double the cost in your own city. Get lost in the narrow lanes of Can Tho. Try a snack or two from locals selling them. See a smile spread on their lips. Come back home satisfied.
How to get to Can Tho?
Getting to Can Tho from Ho Chi Minh City is not very difficult. You can either hire a taxi or take a bus. Taxis can cost between $100-120. The bus is a cheaper option though I would not say the most comfortable.
Buses for Can Tho leave Saigon every hour of the day. Phuong Trang (Futabus) is one of their largest bus companies. The journey can take anywhere between 4-5 hours and costs not more than $8. We were in Ben Tre before traveling to Can Tho. So we took a Futabus from My Tho to Can Tho. They are not the most comfortable buses I have ridden in. The seats are not upright and you will have to almost lie down for most of your journey. It is okay if you are sleeping but not when you are awake and wish to sit up.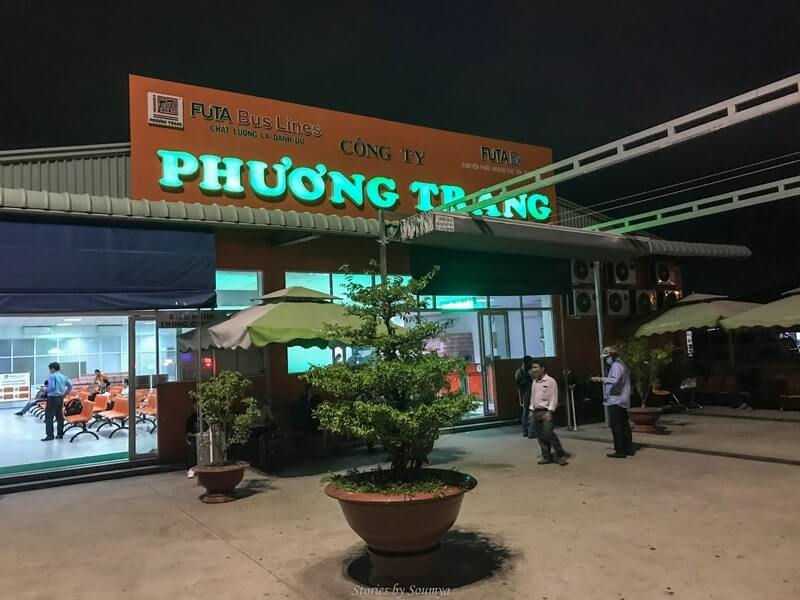 Our journey from My Tho to the Futabus stop in Can Tho lasted 2 hours and cost us $5 each. The bus stop in Can Tho is outside the city. So after you arrive here, you will be transferred to your hotel or nearest stop to it in a van. The process is pretty much organized. After getting off your bus, speak to one of the desk managers and they will let you know which van you need to get into. There are toilets at the stop in case you need to use them.
Where to stay in Can Tho?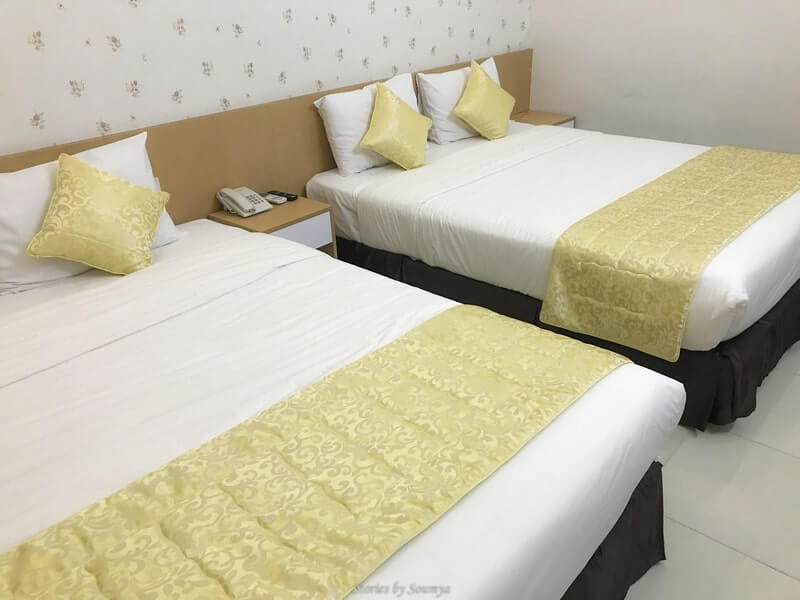 We stayed for a night at a budget hotel called the Ruby Can Tho. The room was sparkly clean with very pretty wallpaper. Our room had a beautiful balcony. The hotel does not have an elevator and we were on the 4th floor (including the ground floor). That implies a bit of walking upstairs. You can get help to carry your luggage though.
————————————————————————————————————————————————
We had an amazing time in Can Tho. I felt a single day was a little less to explore such a vibrant city. I would consider going for a minimum of 3 days the next time I am there.
Have you visited the Cai Rang floating market in Can Tho? What else did you see in the city? Did you try some of the amazing street food here? Do let us know in the comments below and let's get the conversation going.
And while you are at it, don't forget to follow us on Facebook to get regular updates on culturally-ric destinations across the world.
Pin It For Later!