Last Updated on November 8, 2022 by Soumya
Are you traveling to Selcuk, Turkey to see the ancient city of Ephesus? Looking to spend a day here but wondering what to do in Selcuk apart from the ruins? Or maybe you are confused between spending a night in Selcuk or Izmir?
These are some of the questions that plagued me when I was planning my itinerary for Turkey. Now that I am back from my trip to Selcuk and Ephesus, I know exactly what to tell you.
Selcuk, in Western Turkey, is so much more than just the ruins of Ephesus. Of course, the ruins are a big thing and one of Turkey's most popular attractions. But Selcuk is home to many more historic sites such as the Temple of Artemis, the House of Virgin Mary, and even a castle that is a hidden gem. With so many amazing things to see in Selcuk, I am sure you'll find your hands full.
In this detailed Selcuk travel guide, I talk about 18 best things to do in Selcuk, best tours, where to stay, and eat. In case I have missed your favorite Selcuk activity, let me know and I will be happy to check it out on my next trip.
Quick links to visit Selcuk
To help you quickly plan your Selcuk trip, here's a compact list of the best things to do and places to stay. Do have a look at our interactive map to access directions to all Selcuk attractions.
Top things to do
Best tours
Best hotels
18 Best things to do in Selcuk, Turkey
Visit the ancient city of Ephesus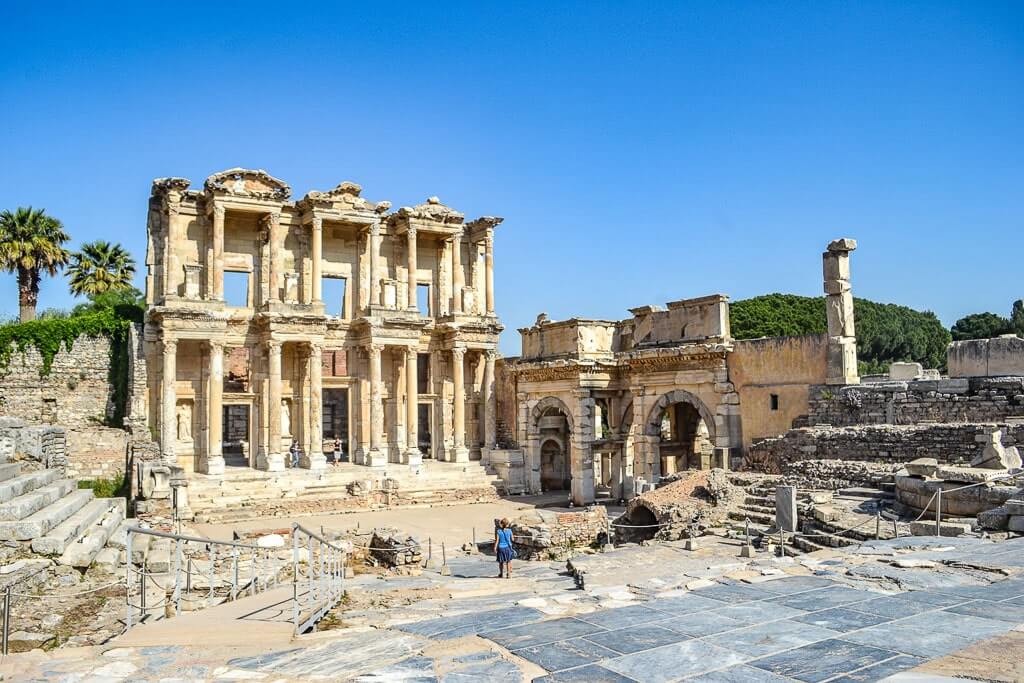 Of course, the best thing to do in Selcuk is to visit the ancient city of Ephesus. In fact, Ephesus is the main reason why most people come to Selcuk. Therefore, the age-old Graeco-Roman ruins of Ephesus are a must-have on every Selcuk itinerary.
The city of Ephesus dates back to 4th century BC when it was founded as an ancient Greek settlement. Most buildings that you see today were built during the Pax Romana period between 27 BCE – 180 CE.
This UNESCO world heritage site is home to several magnificent monuments including the Library of Celsus (one of the largest Roman libraries that once housed 12,000 books and manuscripts), the Terrace Houses, Temple of Hadrian, and two impressive amphitheaters called the Great Theater and the Odeon.
Needless to say, there are a ton of interesting things to see and do in Ephesus. Whether you are a history buff or not, you'll will love visiting Ephesus and reliving the Roman life for a little while.
Please note: This post may contain affiliate links which means I may earn a commission if you make a purchase by clicking a link on this post. This will be at no additional cost to you. Affiliate links help me keep this website up and running. Thanks for your support!
Getting from Selcuk to Ephesus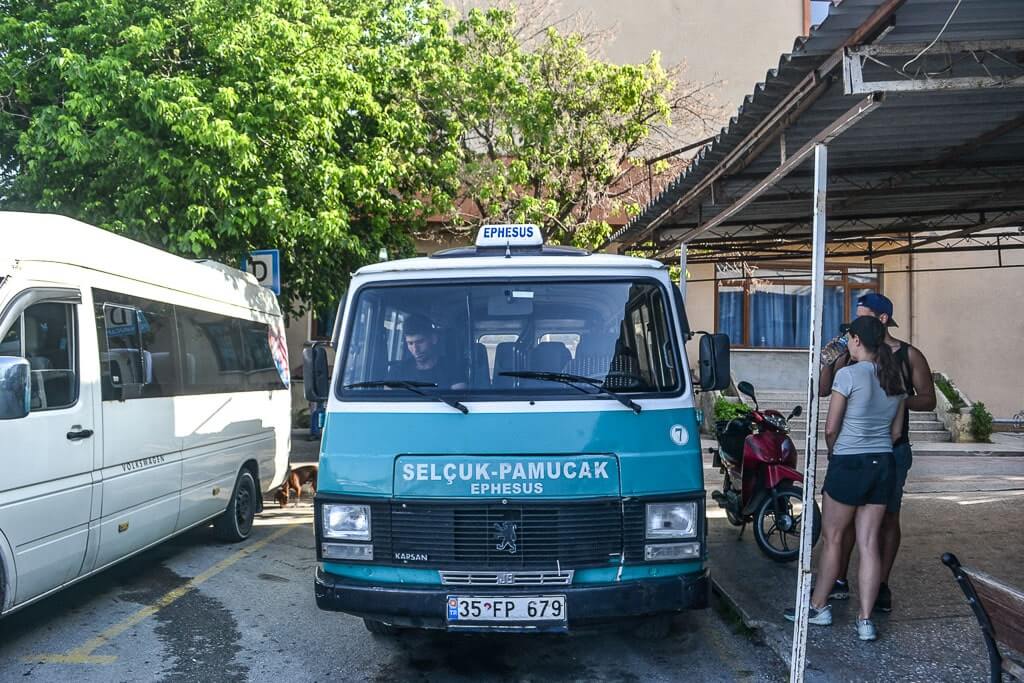 Getting from Selcuk to Ephesus is easy by minivan or dolmus. Teal colored minivans run frequently from Selcuk Otogar to Ephesus Ancient City. They will drop you at the lower gate of the ruins.
You can enter the ruins from the lower gate or ride a horse carriage and go to the upper gate. They usually charge 180 TL one way and 200 TL for return.
I prefer the lower gate because the Library of Celsus is closer to it and tour groups usually enter from the upper one. So, the upper one is definitely more crowded.
You can also join a highly recommended guided tour like the ones I have suggested below and stop worrying about the logistics.
Best Selcuk to Ephesus tours
This full-day, small-group excursion to Ephesus from Selcuk includes an immersive tour of the Ephesus ruins as well as stops at the House of Virgin Mary, Temple of Artemis, and the Isa Bey Mosque. Guests absolutely love the guide and the amount of knowledge that he shares with them. No doubt, this tour has 134 5-star reviews and a Viator Badge of Excellence.
Step into the majestic Terrace Houses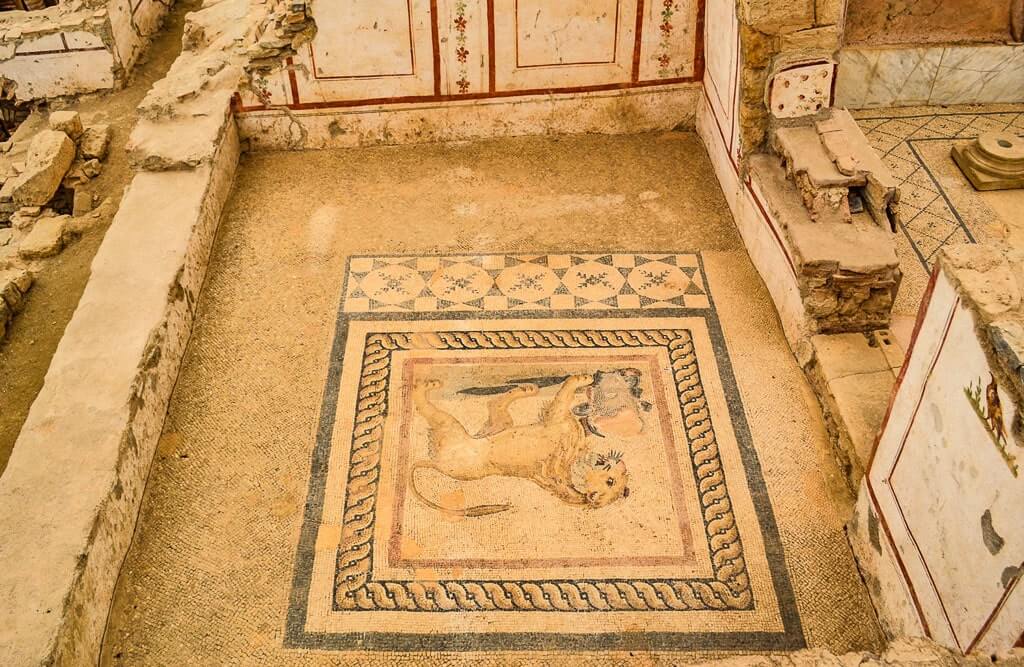 The Terrace Houses of Ephesus are one of the best things to see in Selcuk. They are located within the Ephesus archaeological complex but need a separate entrance fee. That's why, a lot of visitors tend to skip it. But trust me, spending some extra Turkish Liras here is absolutely worth it.
The Terrace Houses, that stand on Curetes Street, are luxurious mansions from the Roman times. Terrace House 2, which needs separate admission, was a 2-storey complex that once housed 6 residential units. The complex featured a peristyle courtyard, richly-decorated reception halls, and simply-furnished kitchens and toilets.
Perhaps, the most fascinating bit about Ephesus' terrace houses are its vibrantly-adorned walls and colorful mosaic floors. Drawings and graffiti depicting animals, humans, gladiators, mythological creatures, and caricatures give us a deeper insights into the lives of Eastern Romans.
Pro tip: You can easily combine the Terrace Houses with your visit to Ephesus Ancient City. Try and schedule your Terrace House visit around midday because the houses are covered and you'll have some shade. Plus, the Terrace Houses are never crowded and noon is possibly the most crowded time everywhere else at Ephesus ruins.
If you are looking for a guided tour of the houses, here's a good private excursion that takes you to the Terrace Houses, the ruins, Virgin Mary's House, and St. John's Basilica. The tour includes pick up from your Selcuk hotel.
Explore the Ephesus Museum in Selcuk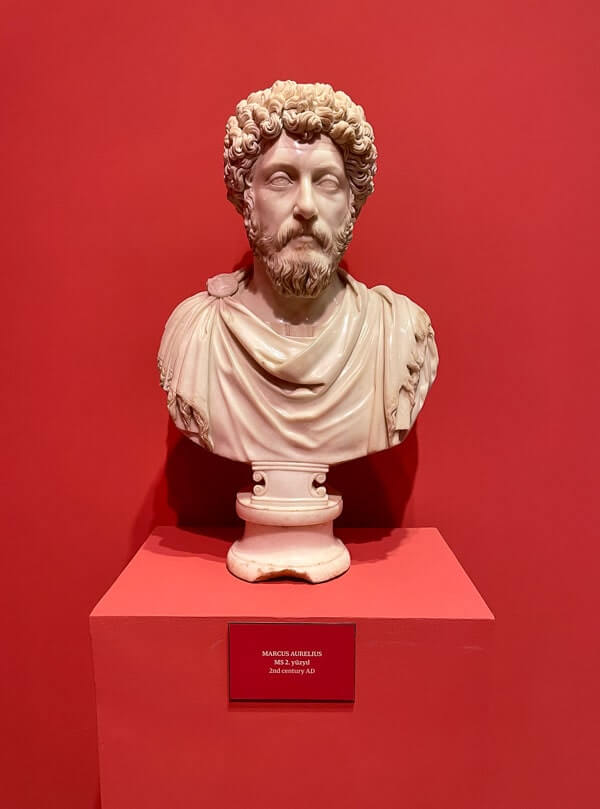 One of the best places to visit in Selcuk is the Archaeological Museum of Ephesus. The museum is stacked with more than 64,000 artifacts that display several stages in Anatolian history.
Highlights at the museum include remnants from the Cukurici Mound, one of the earliest prehistoric settlements in the region, figure of Artemis, and finds from St. John's Basilica and Ayasuluk Fortress.
It is easy to get to the museum from Selcuk town. You just need to walk 5 minutes to the west of Selcuk Otogar. Find the directions in my interactive map below.
The interesting bit is that because the museum is not located at the site of the Ephesus ruins, many people don't include it in their Ephesus itinerary. Therefore, it still remains more of a Selcuk hidden gem.
The museum is open from 8:00am – 8:00pm in summer (April – October) and 8:30am – 5:30pm in winter (November – March). Admission cost 40 TL at the time of visiting. Entry to the museum is complementary if you have the Aegean or Turkey Museum Pass. You can also buy a combined ticket to the museum, Ephesus ruins, Terrace Houses, and St. John's Basilica.
Check out the Temple of Artemis
When in Selcuk, do visit the ruins of the Temple of Artemis, one of the 7 wonders of the ancient world. We all know that 6 of the 7 ancient wonders no longer exist – Pyramid of Giza is the only one that survives. However, Selcuk is the one of the few places where you can still see the ruins of one of the remaining 6 and imagine how it looked.
The Artemision was a magnificent Greek temple dedicated to Artemis, a local form of Roman Goddess Diana. Artemis was the Goddess of Fertility. Her cult in Ephesus was strongly influenced by a local deity called Cybele. That's why the version of Artemis that you'll find in Ephesus is covered all over by eggs, a symbol of fertility.
The Temple of Artemis was first built in the 8th century BCE. The Greek temple was built somewhere around 560 BCE. It was made entirely of marble and had 127 columns. The sheer size and beauty of the temple, enhanced by its location by the sea, mesmerized everyone who saw it. The fame of Artemision grew and it came to be known as one of the ancient world wonders.
The temple was destroyed and rebuilt several times later. In an interesting turn of events, the temple was burned down in 356 BCE, the very year that Alexander The Great was born. Apparently, Artemis was too busy with Alexander's birth to care about her own temple.
The ruins of the temple are open throughout the day and free to visit. Not much remains though – only a few broken columns but lots to imagine.
Visit the House of Virgin Mary
Selcuk, Turkey has grown to become one of the most visited Christian pilgrimage sites in the world. That is because, it is home to two very important religious sites in the history of Christianity – the House of Virgin Mary and the Basilica of St. John.
The House of Virgin Mary or Meryem Ana Evi is a small stone house (now a shrine) located on a hill called Mt. Koressos. It is believed that Mary spent the last days of her life in this house in Selcuk. Today, it is an important pilgrimage spot in the Christian world. Several popes including Paul VI and John Paul II have visited this place.
The house is at a distance of 5 miles (8km) from Selcuk City Center. There is no public transport to get there. You'll need to rent a car, hire a taxi, or join a tour to visit the House of Virgin Mary.
Pay your respects at St. John's Basilica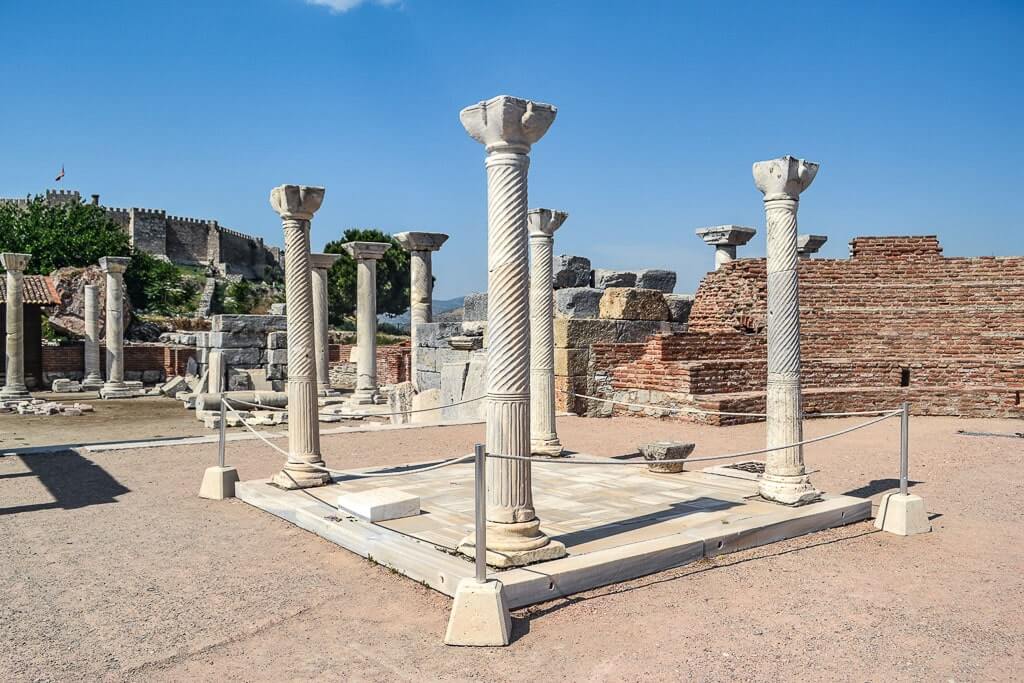 It is believed that St. John the Apostle fled Roman persecution in the 1st century and came to Ephesus where he spent the last years of his life. During his exile, he wrote the Gospel here, eventually died and was buried on the Ayasuluk Hill. Hundreds of years later, Emperor Justinian constructed a huge basilica over the grave of St. John. This is St. John's Basilica on Ayusuluk Hill.
The basilica is mostly in ruins today. However, you can still make out the remains of the baptistery and the treasury. At many places, you will find attractive mosaic patterns covering the floor. The highlight of the basilica is of course, the tomb of St. John which is still visible with its marble encasement and four supporting columns.
The ruins are open to visiting from 8:00am – 7:30pm in summer and 8:30am – 5:30am in winter. Admission fee is 40 TL. Entrance is included in the Aegean/Turkey Museum Pass.
Check out the Grotto of Seven Sleepers
Another interesting place to visit in Selcuk is the Grotto of Seven Sleepers.
If you have heard of the famous legend of the Seven Sleepers, quite popular in both Christian and Islamic history, you'll know that this is about 7 young boys who went to sleep in a cave fearing Roman persecution and emerged 300 years later.
There are many theories as to where this cave was. One theory states that this is just round the corner from the Ephesus Archaeological Site. And that means it can be easily visited on a day tour of Selcuk and Ephesus.
Join this highly-rated guided tour which is the only one that includes the Seven Sleepers Grotto. Even if it says pick-up from Kusadasi on the top, they do pick up from Selcuk hotels too. You'll find Selcuk hotels in their departure list.
If you wish to do a DIY tour, then that is possible too. As I was coming out of the lower gate of Ephesus Ancient City, I noticed a signboard near the Ephesus bus stop that mentioned the Cave of the Seven Sleepers. There were horse-carts available there who take you to the cave for a charge of 180 TL. If you wish to return, they charge 200 TL.
Visit the monumental Belevi Mausoleum
Belevi Mausoleum is an ancient tomb of epic proportions from the Hellenistic era. In fact, it is so big that it is the second largest ancient mausoleum in Anatolia. The first largest is the Mausoleum of Halicarnassus (ruins in Bodrum) which was another one of the 7 wonders of the ancient world.
The tomb was built around 300 BCE as a burial place for Lysimachus, one of the successors of Alexander the Great. Today, only the ruins remain. You can still see the huge stone pyramid that would have once housed the sarcophagus – reminded me of the Mayan pyramids near Cancun in Mexico.
Many artifacts recovered from the Belevi Mausoleum are now on display at Ephesus Museum in Selcuk. Look out for lion-griffin statues, vases, and the Belevi sarcophagus on your museum tour.
Explore Seljuk architecture at the Mosque of Isa Bey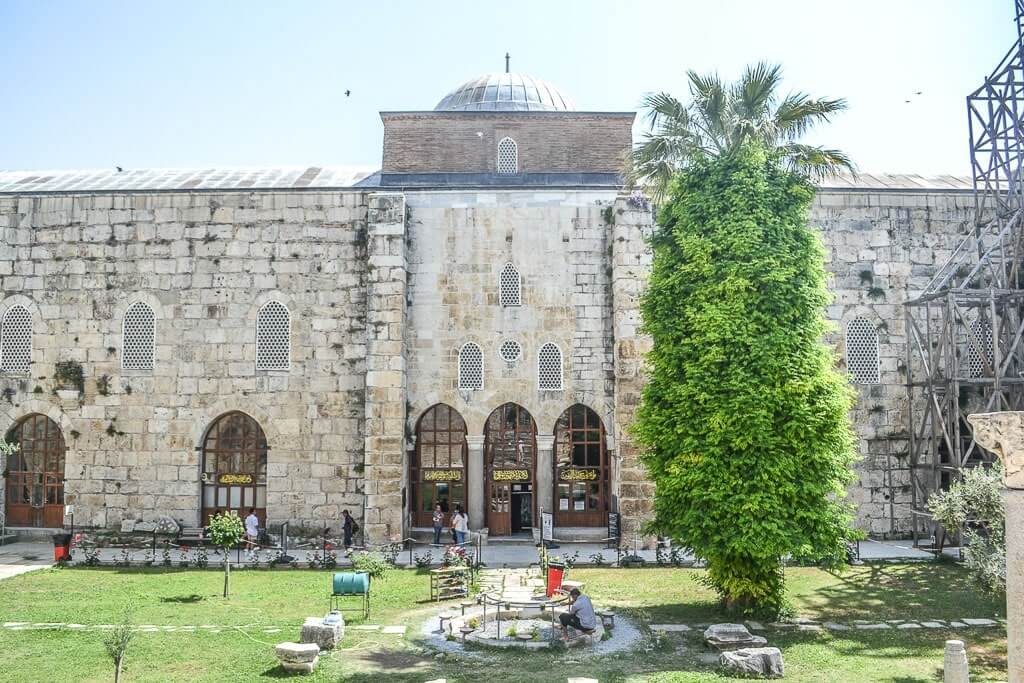 If you are thinking Selcuk in Turkey is all about ancient Greek and Roman architecture, then you are wrong. One of the best Selcuk attractions is the Mosque of Isa Bey with its unique Seljuk-style architecture.
The Isa Bey Mosque was built in late 14th century and is said to have been inspired by the Great Mosque of Damascus in Syria. It features high walls of limestone and marble, a wide open courtyard, and a long and narrow prayer hall. The mosque's tall and narrow dimensions are uniquely Seljuk and differentiate it from other mosques in Turkey.
Isa Bey Mosque is open to visitors throughout the day except during prayer times. Please take care to dress respectfully. Long cover ups and scarfs are available for women at the entrance if you need one.
Scale the Ayasuluk Castle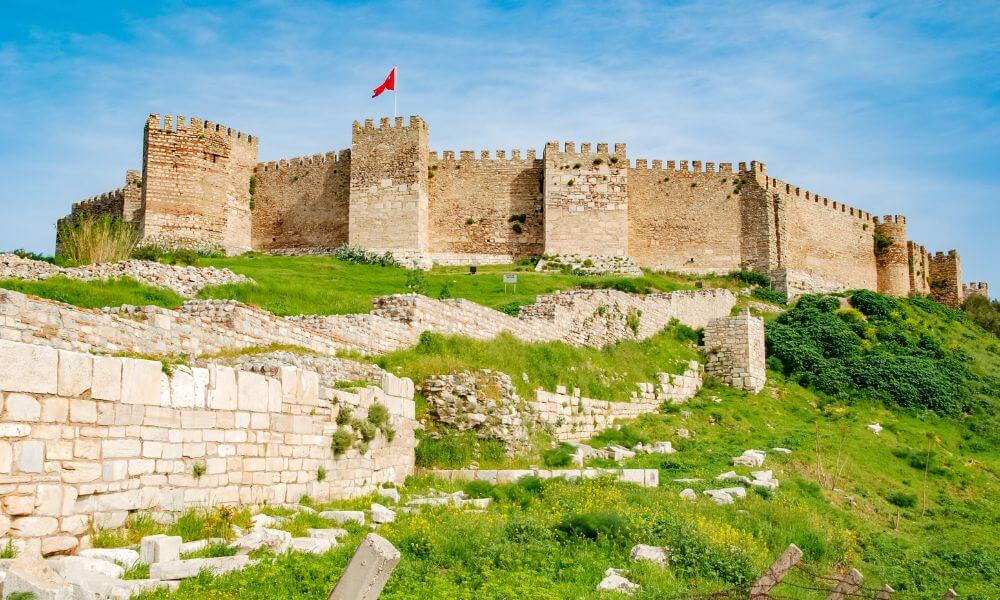 Not very far away from the Isa Bey Mosque and the Basilica of St. John is the Selcuk Castle or Ayasuluk Castle.
The castle dates back to the Byzantine era when it was built with stones from Greek and Roman ruins. After that, it came under Ottoman occupation.
Today, nothing more than the wall ramparts remain. Yet, this is the most peaceful place in Selcuk and the best place to catch some gorgeous views of Selcuk town. You can also spot the Efes ruins and Temple of Artemis in the distance.
Enjoy your time at Adaland Aquapark
If you are visiting Selcuk in summer, spend some fun time with family and friends at Adaland Aquapark. It is one of Turkey's biggest waterparks and full of fun rides and exciting activities. There are jacuzzi pools, lazy rivers, rafting rivers, dolphin shows, trampolines, and a ton of other stuff at Adaland. It is just the perfect place to cool down and enjoy yourself in the Selcuk heat.
Join an adventure tour in Selcuk
I am not much of an adventure person but I have heard really good things about the adventure tours listed below. So, if you love adventure and are looking to do something fun in Selcuk, here are your choices.
Try some kunafe at Gaziantepli Baklavalari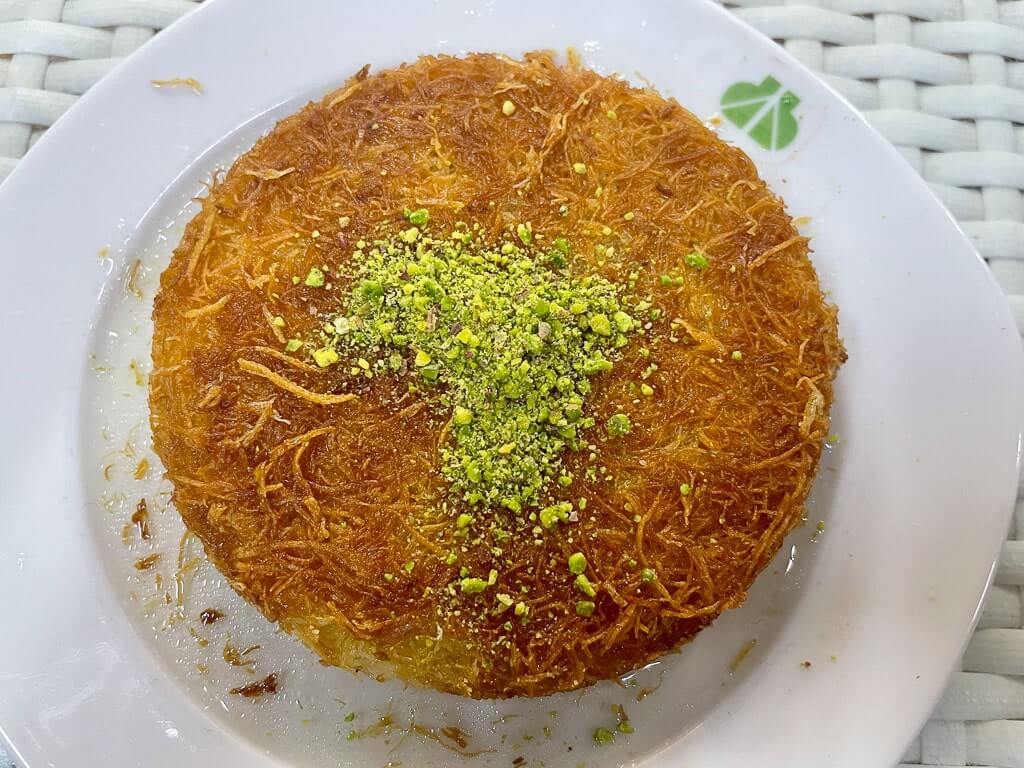 I am a big fan of Turkish desserts and there was no way I would miss the authentic kunafe at Gaziantepli Baklavari, one of Selcuk's best dessert places.
The southwestern city of Gaziantep in Turkey is famous for its delicious desserts especially their baklava, katmer, and kunafe. Trying kunafe at a pastry shop named after Gaziantep seemed like the best thing to do in Selcuk. And trust me, I did not regret my decision.
The shop owner prepared fresh kunafe for us (gets done in 10 minutes) and we relished every bite of it. If you are a fan of Turkish/Middle Eastern desserts, then you have to try the kunafe and baklava at this place in Selcuk.
Roam the streets of Selcuk and spot some storks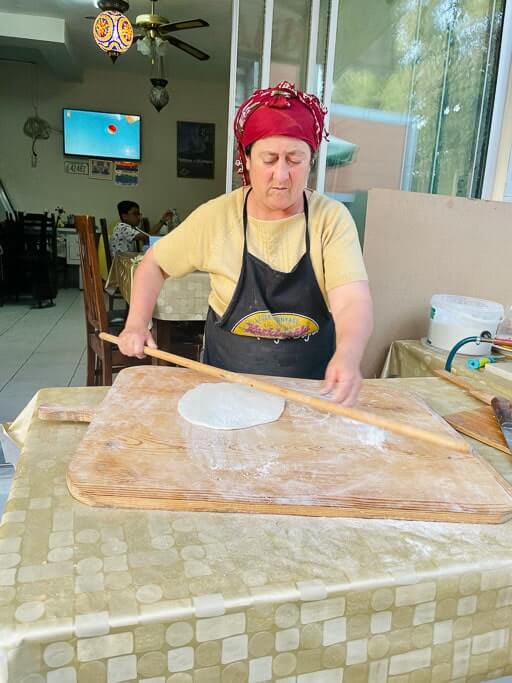 Perhaps the most interesting thing to do in Selcuk is to roam the streets and stumble upon hidden gems.
There is nothing more joyful than finding a small shack that makes your favorite gozlemes, a green park filled with laughing and playing children, and a lane full of orange laden trees. Ambling through the streets of Selcuk gives you these simple pleasures and so much more.
If you are visiting Selcuk between March – July, you'll also be able to spot the famous white storks or Selcuk storks as they are often called. We saw a couple of them resting in their stick nest on a tall electric pole. Apparently, the favorite nesting spot of Selcuk storks is on top of the ruins of the Roman aqueduct in Selcuk.
Hit the beach at Pamucak
Located just 10 minutes away from Selcuk City Center, Pamucak is just the perfect beach getaway from all the Greek and Roman history of Ephesus. You can get to the beach on one of Selcuk's minibuses headed towards Kusadasi. Be sure to ask the driver before you board.
Most of Pamucak beach is public even though there are a couple of big resort complexes on one side. Be sure to pack your swimming gear and lots of sunscreen for an amazing day at the beach in Selcuk.
Best day trips from Selcuk, Turkey
Take a day trip to Pamukkale and Hierapolis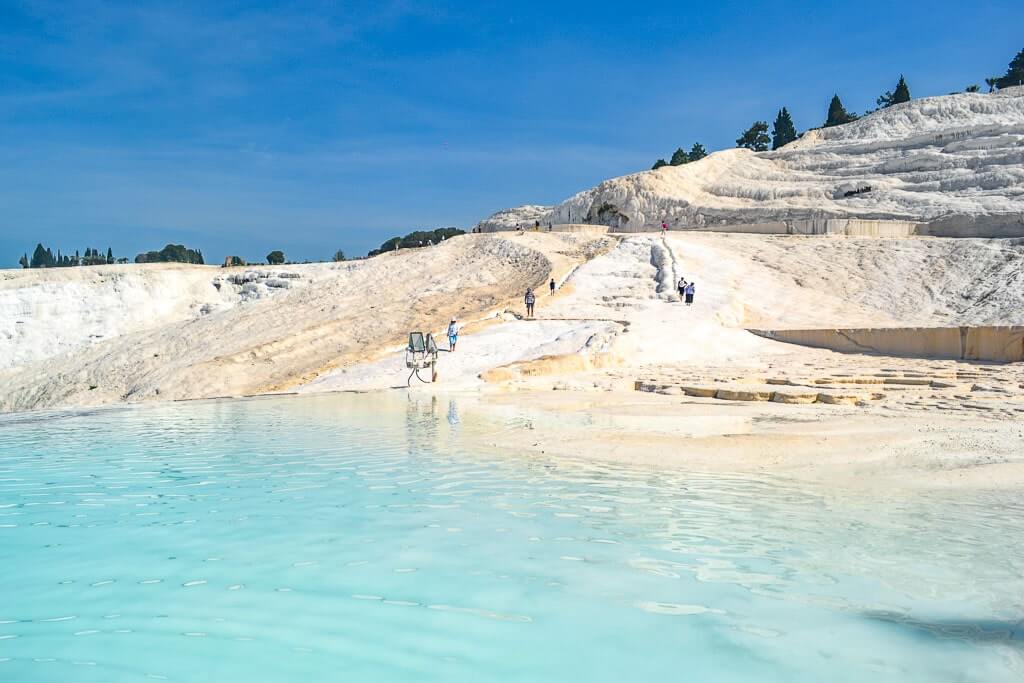 You'll be thrilled to know that the thermal pools of Pamukkale and the ancient city of Hierapolis are not very far away from Selcuk. In fact, a Pammukale day tour is one of the most popular things to do in Selcuk.
The name Pamukkale literally translates to Cotton Castle in Turkish. And that is exactly how the surreal landscape of Pamukkale looks like. A 200m high, travertine cliff dotted with bluish pools filled with mineral-rich water – it is almost as if someone has left out humongous chunks of cotton to dry.
On top of the cliff, you'll find the ancient city of Hierapolis which was founded as a spa town because of its proximity to Pamukkale's thermal pools. The ancient theater and ruins of Hierapolis are absolutely worth seeing. Pamukkale and Hierapolis were added to the UNESCO World Heritage List in 1998.
If you are visiting Selcuk and wish to see Pamukkale-Hierapolis, joining this guided tour is the most efficient way to do it. You can also spend a day in Denizli and spend longer at Pamukkale and see all the wonderful sights that this UNESCO site has to offer.
Head to the quaint village of Sirince
Not very far away from Selcuk lies the quaint, Greek village of Sirince. This cute, little town is perfectly picturesque with its cobbled streets, red-roofed houses, and bougainvillea-laden walls.
Sirince's houses are especially remarkable because of their two-story architecture, whitewashed walls, and wooden French windows. They reminded me of my holiday in Safranbolu, an Ottoman heritage town in Eastern Turkey and a perfectly hidden gem.
Come to Sirince for a leisurely stroll through the pedestrian-friendly village center, appreciate Sirince's unique architecture, sit down for a meal of locally sourced food, or shop for souvenirs at Sirince Bazaar. Sirince is famous for its wine and olive oil.
The best part about Sirince is that it is located just 5 miles (8km) from Selcuk city center and is super easy and quick to get to. You'll find minivans headed to Sirince at Selcuk bus stand (Otogar – find directions here). The drive takes about 15 minutes.
You can also join a full-day tour like this one which includes Sirince Village, Ephesus ruins, and the Temple of Artemis. If you are looking for a dedicated Sirince village excursion, try this 2-hour tour from Selcuk.
Visit Alacati on a day trip
If you are up for a longer drive, I highly recommend driving to Alacati, another beautiful Greek town on Turkey's Aegean Coast.
Walking down the charming streets of Alacati was one of my favorite things to do in Turkey. The town is filled with old stone mansions lining narrow, cobbled lanes. Alcove windows and bougainvillea-draped walls give Alacati the feel of Mediterranean.
Add to that some yummy Aegean cuisine, lots of beaches, and perfectly-located stone windmills – and you have just the perfect day trip from Selcuk.
To be able to do a day trip from Selcuk to Alacati, you'll need to rent a car or hire a taxi. The drive takes about 1.5 hours, one way. Public transport can take you longer than 3 hours because, you'll first need to get to Izmir and then take a bus from there. I would not recommend doing that.
Interactive map of Selcuk attractions
Where to stay in Selcuk?
Selcuk has many amazing hotels for every budget. I think it is ideal to stay in Selcuk city center which is close to the bus station, if you are planning to use the public transport much.
We stayed at the cozy and comfortable Nicea Hotel (Agoda | Booking) which was just 5 minutes away from Selcuk Otogar, 5 mins from Ephesus Museum, and 15 mins from the Temple of Artemis. Our room was huge (we booked one with a double bed + an extra single bed) and had a balcony that overlooked the streets of Selcuk. Breakfast was decent and the staff was extremely friendly. The only issue is they do not have a lift but they'll help you carry the luggage. I absolutely loved the Nicea Hotel (in fact, it was one of my best stay experiences in all of Turkey) and highly recommend it to anyone who is looking for nice, budget accommodation in Selcuk.
Another place that we loved and wanted to stay in was Hotel Mary's House (Agoda | Booking). Guests love their hospitality and their decor and designs are mind-blowing. It is one of Selcuk's best rated hotels and decently priced.
If you are looking for something more luxurious, try Akanthus Hotel (Agoda | Booking). It has some of the best rooms in Selcuk, an amazing breakfast spread, and an outdoor pool to chill in Selcuk's hot weather.
If you use Booking.com, always remember to book your hotel before entering Turkey. Booking does not work in the country. You can always use Agoda or Expedia though or ask someone outside of Turkey to book for you.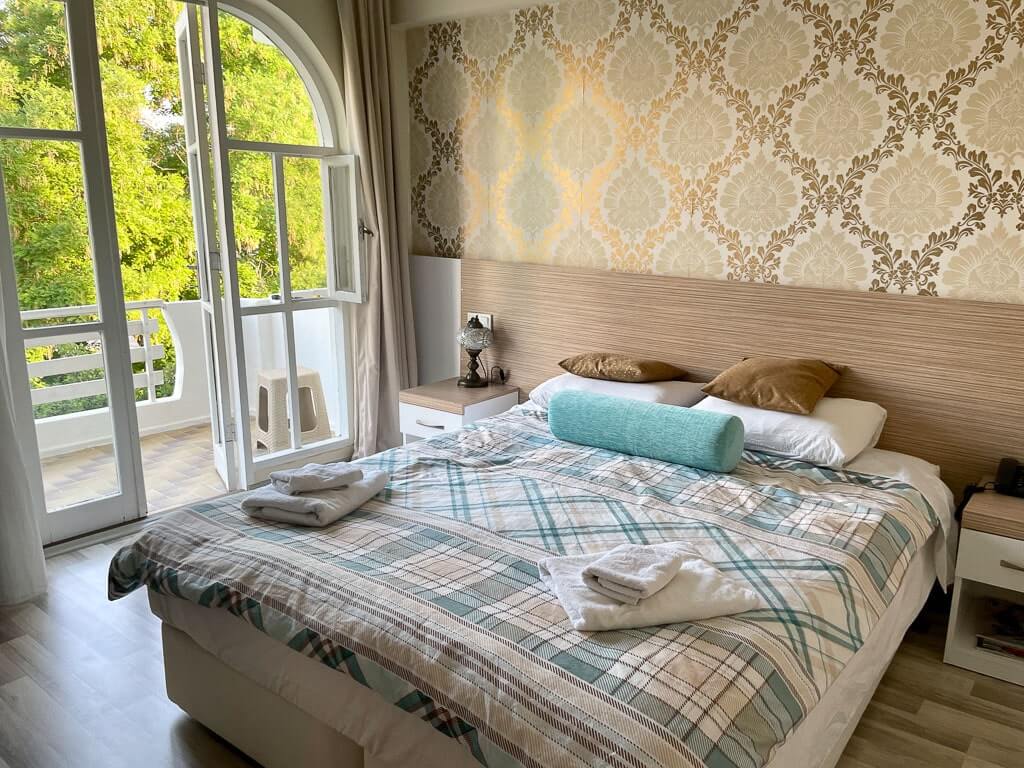 Practical information for visiting Selcuk
Best time to visit Selcuk
The best time to visit Selcuk is in spring (April & May) and fall (September & October). Weather is perfect for outdoor excursions and it is a great time to be out exploring ruins and ancient cities. Both Selcuk and Ephesus are not very crowded during this time, thus making it easier to get good deals on accommodation and tours.
Summer, on the other hand, can be brutally hot and sunny in Selcuk. Be sure to carry your hat, sunglasses, and sunscreen if you are visiting in summer. Winters are rainy and humid especially December and January. So, that's not a great time to go.
Getting to Selcuk
The closest airport to Selcuk is at Izmir. It is called the Adnan Menderes Airport. Find a list of all airlines that operate out of Izmir Airport here.
From the airport, you can take a train to Selcuk from the train station located right outside the airport. You can take the Izban (Izmir suburban) train from Adnan Menderes Airport to Selcuk via Tepekoy. You'll need to change trains at Tepekoy – the second train from Tepekoy to Selcuk departs from just across the platform that you arrive at. The train journey is one ticket and takes about an hour. We bought the tickets at the Adnan Menderes Airport train station.
You can also take a dolmus from Izmir city to Selcuk. Or ride the Havas bus from the airport to Kusadasi via Selcuk.
Getting around Selcuk
The best way to get around Selcuk attractions is to take the dolmus or minivan from Selcuk Otogar. Minivans run regularly to Ephesus, Pamucak, and Sirince.
For attractions closer to Selcuk City Center, such as the Ephesus Museum, Artemis Temple, St. John's Basilica, and Isa Bey Mosque, you can just walk. Selcuk is a walkable town especially around the city center and bus stop. That means you can comfortably stroll around the city, walk to restaurants, and even go to the main bus station on foot.
If you wish to visit Pamukkale-Hierapolis, getting a guided tour like this one is the best. The House of Virgin Mary is also a little too far from the city center. It is best to rent a car or join a guided tour.
Is Selcuk worth visiting?
Yes, Selcuk in Turkey is absolutely worth visiting not just for its proximity to the ruins of Ephesus ancient city but also because Selcuk is home to the ruins of the Temple of Artemis, the House of Virgin Mary, St. John's Basilica where John, the Apostle is entombed, and Isa Bey Mosque that is exemplary of Seljuk architecture.
Loved our Selcuk Turkey travel guide? Pin it for later!