Last Updated on July 7, 2022 by Soumya
Riding a hot air balloon in Cappadocia Turkey is a unique travel experience. It is something that figures in every travel bucket list as it did in mine, for a long time. Finally when the chance came, I was thrilled to go ballooning in Cappadocia.
Only, it would not be as simple as I had imagined! Numerous calls, 5 bookings, and multiple headaches later, I was nowhere close to getting on a Cappadocia hot air balloon.
I finally managed to get on one on the last morning of my 3 days in Cappadocia but not without my share of the good, the bad, and the ugly. In this post, I share my experience for your benefit – things that can go wrong and how you can be prepared.
Hot air ballooning is one of the best things to do in Cappadocia. Nothing can beat the magic of soaring high over fairy chimneys in the mystical landscape of Cappadocia while fellow balloons dot the sky like confetti. However, no one tells us that weather can play spoilsport, balloons can break, prices can soar sky high – all of which, I realized on my last trip, are an integral part of the ballooning experience.
So, here's a guide that'll tell you ALL you need to know before booking your balloon ride in Cappadocia, what to expect once you book, and some costly mistakes you can avoid.
Cappadocia balloon ride – what can go wrong?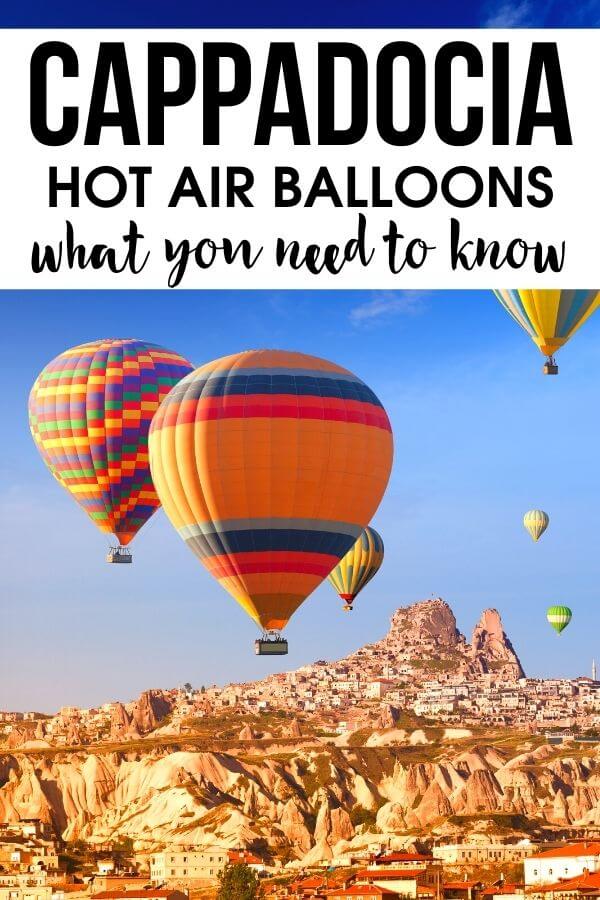 Please note: This post may contain affiliate links which means I may earn a commission if you make a purchase by clicking a link on this post. This will be at no additional cost to you. Affiliate links help me keep this website up and running. Thanks for your support!
1. Your flight may be cancelled due to weather.
Once you book your hot air balloon ride, there's no guarantee that your balloon will fly. If the weather is bad i.e. the wind is stronger than 10 kilometers per hour, balloons will not fly. A good place to check for wind speed is Wind Finder. It can give you a good idea upto 10 days ahead.
The Turkish Civil Aviation Authority reserves the rights to cancel all flights. Once the decision is made, no balloon company can fly. Decisions can come the previous evening or right before you board your balloon!
You can check for the decision on the official website here. If the flags are green, balloons fly. If the flags are red, they don't. But honestly, we found that sometimes this page was not correct either. You always should check with your balloon operator.
In a given year, up to 150 days (worst case scenario) may see cancellations due to adverse weather conditions, sometimes for multiple days together. For instance, in 2018, hot air balloon rides were suspended for 3 consecutive days in October due to strong winds blowing through the area.
But mostly, cancellations happen on approx. 80-100 days in a year. On an average, balloons fly for 260-280 days in a year in Cappadocia.
In any case, if your Cappadocia balloon ride is cancelled, you'll receive a complete refund of all your money.
But getting a ride on another balloon the next day is a completely different ball game. If your balloon operator has space, they'll offer you tickets for the next day or the day after. If they don't, you'll be left to fend for yourself!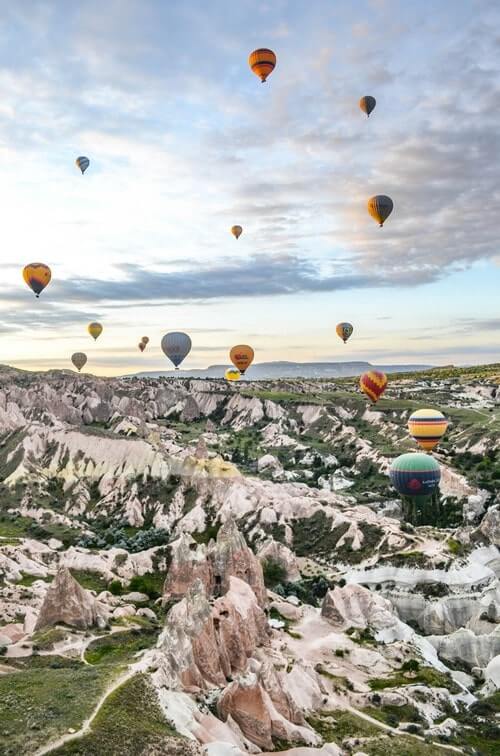 2. Your hotel may not be willing/able to help.
Yes, you heard that right. Once your hot air balloon ride is cancelled, your hotel may not be able to (or will not be willing to) help. They'll just call a couple of companies that they work with, quote you exorbitant prices, and be done. At least, that is what happened with us at Design Cappadocia. If you've had a different experience, do let me know in the comments below.
Some of the hotels take cancellations as a way to make some quick money. Do not depend on your hotel to get you the best rates for the next day or guarantee you a slot on the next available flight. Sometimes, they don't have the information or the connections and sometimes they are just not interested if you aren't paying them big bucks.
In short, be prepared to look elsewhere. Check out balloon rides on GetYourGuide and Viator, ask in the local shops that sell tours in Cappadocia, and get in touch with travel agents through emails/phone numbers. I found this very helpful comparison guide of ballooning companies on Captivating Cappadocia. It has the email addresses and phone numbers of every ballooning company out there. We found that Whatsapp worked best for getting in touch with these people.
Also, check my section on Cappadocia ballooning tips for the contact details of a travel agent we used to get our tickets, very last minute.
3. Providers may be overbooked. But they'll not tell you until the very last minute.
Once your first ride gets cancelled, hot air balloon spaces for the next 2 – 3 days can get filled up pretty quickly. However, this is not always correctly reflected on online platforms, at least not for all vendors.
Vendors, I spoke to, told me they were not able to keep up with increased demand and simultaneous updating of online data! They just did not have the time on busy days. So, you may still see availability on GetYourGuide or Viator when actually the balloons are all full.
So, what happens is you'll end up booking a balloon ride online on GYG or Viator, get a confirmation, but ultimately realize that there's no space on your preferred date. It happened to us, not once but twice. Read all about the headache it caused in my personal experience section.
4. You may find yourself haggling for prices in the black market.
Unfortunately, that's sad truth about flying on a hot air balloon in Cappadocia. If the flights get cancelled on any day, the rates for the next couple of days soar! Sometimes, by more than 50%! Just the usual economics of demand versus supply. It might be hard trying to fit something within budget once your first flight gets cancelled.
A smart way to avoid such a scenario (something we did not do and regretted later) is to book two balloon rides before arriving in Cappadocia. The first on Day 1 and the second on Day 2 or 3 with flexible cancellation policies.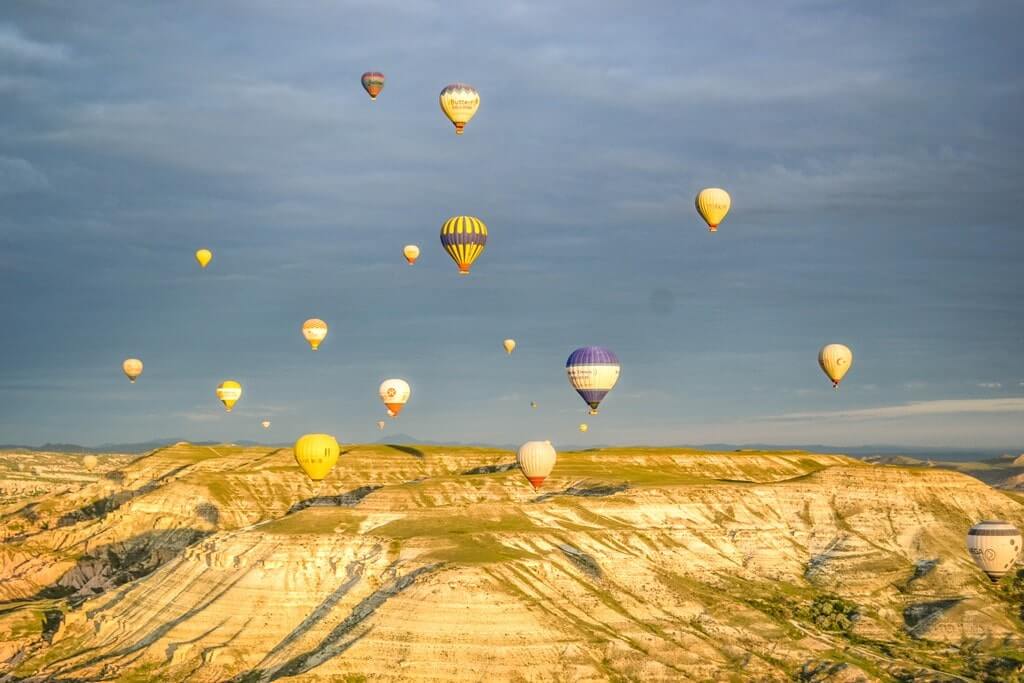 Multiple balloon cancellations in Cappadocia – My experience
First cancellation – bad weather
We arrived in Goreme on a Sunday night and learned from our hotel that our balloon flight scheduled for Day 1 morning had been cancelled. There was wind and a little bit of rain.
Since we were staying in Cappadocia for 3 days, we were hopeful of getting on another one in the next 2 days. Without worrying, we did the Green Tour on Day 1.
Because we had booked the balloon ride through our hotel, Design Cappadocia, we asked them to look for space for us on Day 2 which was Tuesday. The hotel management did not appear very helpful and interested.
Instead, they stated, quite nonchalantly, that because of high demand, prices would shoot up and they will need to procure tickets in the black market! We had paid €180 to get on our first balloon which was a 16-passenger basket. Now, they were telling us that we would have to pay €220+ to get a space on a 28-passenger one. That is $230 per person. Since we are a family of 3, it would mean shelling out precious $690!
We were aghast! We still asked them to look for cheaper options while we started doing our own research too.
Second cancellation – broken balloons
We decided to look online and that's when we found space on this hot air balloon ride for Day 3. The price was $200 per person. We went ahead and booked it immediately and got a confirmation. The booking happened on Day 1.
On Day 2, at 7pm in the evening, the vendor messaged us that two of their balloons were broken (because of faulty landing) and they would not be flying the next day!!! They offered to accommodate us on their balloons on Day 4 but that could not happen because we were leaving on Day 3.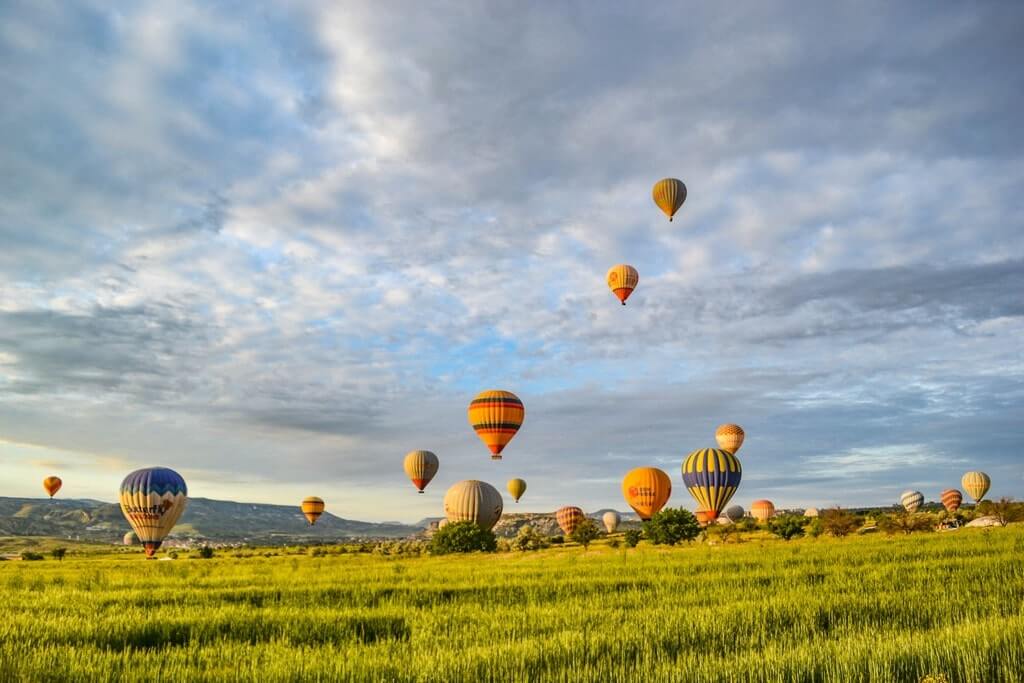 Third cancellation – unavailability of space
The news led to a scramble for tours and available spaces. If we could not do the balloon on Day 3, then we would have to miss it. We had about 10 hours to get a spot.
It was a DO or DIE situation for us! And we did not want to give up because it was going to be my 9-year-old's first balloon experience and he was so excited.
Getting a spot got even more difficult for us because there were 3 of us. Had it been just 1 or 2 people, it would have been far more easier.
But then we saw two openings for Day 3 and booked the first one immediately. After getting a confirmation, I texted the vendor immediately on Whatsapp and he texted back saying there was no space!!!!!!!!!!!!!! Why were they showing up on Viator then!!!!
The vendor was not even ready to cancel our booking!!! And we could not cancel because it was less than 24 hours before our ride. After a long heated discussion, the guy finally cancelled.
Another booking got rejected due to unavailability of space. At this point in time, my husband and I had lost all patience and were contemplating giving up on the ballooning idea.
All's well that ends well.
That's when God decided to help us.
One of the vendors, who we had been in touch with on Whatsapp, told us he could ask among his contacts. This was Ahmet Bostanci from Tubos Travel. (Check the tips section for his contact details).
He looked around and found us 3 spaces at €190 ($200) each at the very last moment when we had lost all hope. It was a 20-passenger basket and we were more than happy. At about 11pm in the night, we finally made the payment and got the receipt from Ahmet.
The next morning, Rainbow Balloons picked us up on time and took us on the best ride ever – a hot air balloon over the surreal landscape of Cappadocia.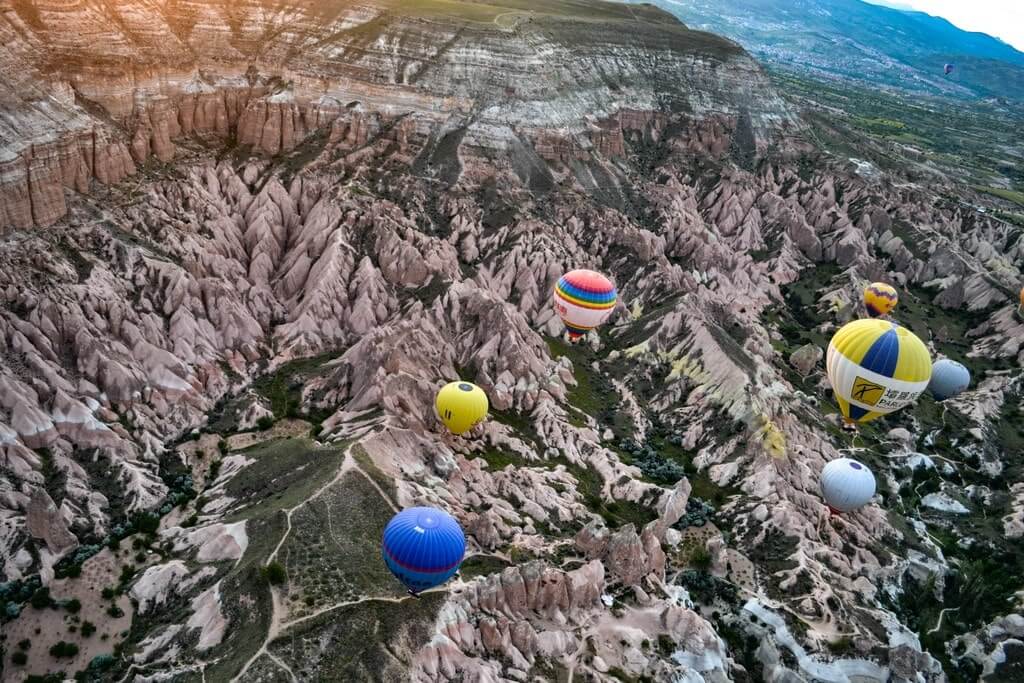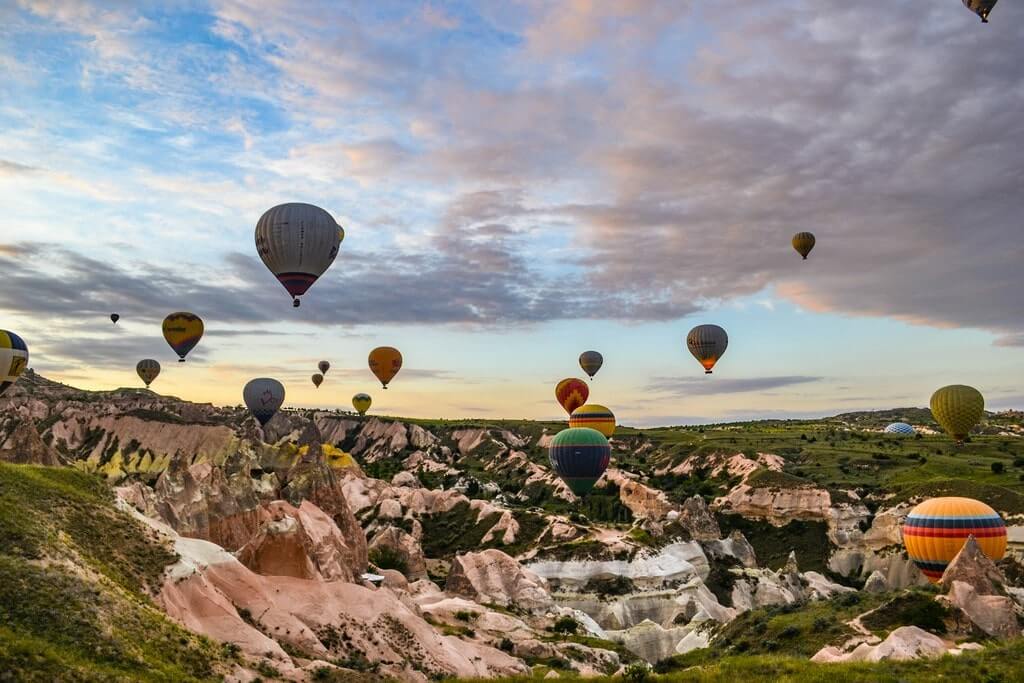 Best tips for a seamless ballooning experience
Plan for a longer stay in Cappadocia if you want to ride a hot air balloon. Planning for at least 3 days in Cappadocia or more is ideal if you really want to get on a balloon.
Keep an eye on wind speeds before your arrival and before you are scheduled to fly. You can check it on the Wind Finder website here.
Prices shoot up significantly if flights are cancelled on any one day. You may have to pay significantly higher than your budget, sometimes even twice the price.
Do not depend solely on your hotel if your balloon ride gets cancelled. Check online for balloon tours on GetYourGuide and Viator and reach out to multiple vendors listed here. Or get in touch with Ahmet Bostanci from Tubos Travel (email: [email protected], mobile: +90 544 674 42 28) who finally got us on a hot air balloon in Cappadocia.
Book your balloon ride on Day 1 and another on Day 3 (with flexible cancellation) as a back-up just in case the first one gets cancelled.
And last but not the least, Cappadocia is not only about balloons even though they are famous for it. There are so many other wonderful things to do in Cappadocia which often get overlooked in our scramble for balloons. Explore underground cities, visit rock-cut churches adorned with mind-blowing frescoes, and hike through Cappadocia's picturesque valleys.
Best time for hot air ballooning in Cappadocia
The best time for hot air ballooning in Cappadocia, Turkey is between May – November with July – September being the best months to fly. Wind speeds are lower, chance of precipitation is almost zero, and the skies are sunny and bright for you to get a good look at the landscape.
However, remember that these are also the busiest months. So in case your flight gets cancelled, finding another ride will be tough. Not impossible though. Now that you have read our guide, so you'll know how to deal with balloon cancellations in Cappadocia. Don't you?
March and April are the windiest months of all. So, I would avoid those if possible.
December – February can get really cold with constant snow especially in Jan and Feb. It is a great time to go up in the hot air balloon and get a bird's eye view of a snowy Cappadocia but that's also when the most cancellations happen, owing to weather. If you are traveling to Cappadocia for the first time, I would suggest picking a month that has better weather.
Cappadocia hot air balloon price
Prices of hot air balloon rides in Cappadocia, Turkey depend on 3 things – the season, the category, and how close you are booking to the flying date.
If you look at the best time section above, you'll realize that prices will be very high between July – September and quite low between December – February. On an average, hot air balloon prices in Cappadocia fluctuate between €140 – €220 ($157 – $232). But I have heard people have flown at €60 in the winters! And that's a great deal.
Prices also vary depending on the flight category you choose. Standard flights are the lowest priced because of bigger basket sizes (20 – 28 passengers) and flight time of 45 – 60 minutes. Comfort flights are the next category with up to 16 passengers in a basket. Some vendors also have a deluxe option which is a smaller basket size and 90 minutes of flight time.
And last of all, if you book closer to the flying date, then balloon prices will be higher than if you book months ahead. Most hotels don't charge you or ask for an advance when you book your balloon ride through them. So, you can actually go ahead and book in advance.
Quick facts about Cappadocia hot air balloons
Cappadocia is the only place in the world where more than 100 hot air balloons fly every morning, carrying close to 2000 passengers. It is the only place where balloons are allowed to descend pretty low to the ground because of the absence of wildlife. That makes Cappadocia one of the most popular hot air ballooning destinations in the world.
Riding the balloon in Cappadocia does not come cheap. It is, in fact, one of the most expensive places to fly in a hot air balloon. Places like Teotihuacan in Mexico, Luxor in Egypt, and Bagan in Myanmar are much cheaper.
Hot air balloons in Cappadocia can go up to 3000 feet above ground. The maximum height is capped at 6000 feet by Turkish Civil Aviation. However, I would like to point out that very high does not always mean very good. Experienced pilots will actually take you lower and closer to the rock formations so that you can see the nuances of Cappadocia's landscape from closer quarters.
If weather permits, balloons fly every day of the year in Cappadocia. However, weather-related cancellations do happen. On an average, balloons fly for about 280 days in a year. Maximum cancellations happen between December – April.
The duration of flights is anywhere between 45 – 90 minutes.
Take off sites usually vary. Balloon companies may change their take off points depending on wind direction and speed. In case you are planning for a photo shoot, be sure to find out which direction the balloons are going.
Frequently asked questions
Is hot air balloon in Cappadocia worth it?
Yes, a hot air balloon in Cappadocia is absolutely worth it. As you ride a balloon over the strange martian landscape of Cappadocia, you'll see rocky cones and fairy chimneys come to life in the golden glow of the rising sun and hundred other balloons strewn like confetti across the sky. This is an utterly magical experience and totally worth your time and money.
How much does a hot air balloon ride in Cappadocia cost?
A hot air balloon ride in Cappadocia costs between €140 – €220 ($157 – $232) depending on the season and the category that you are flying in.
Does Cappadocia always have hot air balloons?
Yes, Cappadocia always has hot air balloons. Balloons fly every day in every season in Cappadocia unless the weather gets too windy, rainy, or snowy. Cancellations are highest between December – April.
Do hot air balloons fly every day in Cappadocia?
Even though hot air balloons are scheduled to fly every day in Cappadocia, they may not fly because of weather. If the wind speed is greater than 10 kilometers per hour, balloons don't fly in Cappadocia.
What time do you the balloons fly in Cappadocia?
Balloons fly early in the morning in Cappadocia around sunrise, between 5:00 – 5:30am. There are two morning flights – one set of balloons takes off just before sunrise and another takes off right after sunrise.
Do you tip after a hot air balloon ride?
Yes, you do tip after a hot air balloon ride in Cappadocia. After the ride is done, the balloon team will offer you wine/champagne and put up a tip box. A tip of 50 TL – 100 TL ($3 – $6) per person is considered a good amount.
Explore more of Cappadocia

Read our posts on
Best things to do in Cappadocia | From riding hot air balloons to crawling through subterranean settlements, there are lots of interesting

things to do in Cappadocia, Turkey

.
Cappadocia itinerary | Wondering how many days to spend in Cappadocia? Check out itineraries for 2, 3, and 4 days and find your best fit.
Best Cappadocia tours | Grab our list of the 13 most amazing tours in Cappadocia that are totally worth your money and time.
Cappadocia Green Tour | Signed up for a Green Tour? Find out all you need to know about the tour (itinerary, price, time)

here

.
Loved this unusual guide for Cappadocia hot air balloons? Pin it for later!