Last Updated on March 8, 2022 by Soumya
Are you planning for that much-awaited safari trip to Tadoba Tiger Reserve? And looking for the best Tadoba resorts? Well, you are in luck because here is an absolutely amazing jungle resort in the area that you are going to love – Tadoba Jungle Camp.
Located within the forests, very close to the Irai reservoir, is the eco-conscious, plush resort of Tadoba Jungle Camp. With a strong focus on sustainability and local community, this Tadoba wildlife resort is the perfect stay not just for the luxury-seeker but also for the conscious traveler.
Below you will find my completely honest review of Tadoba Jungle Camp and why I loved it. Do not forget to look at the last section where I lay out the 5 best things about this place. And why you should not miss any of them!
Tadoba Jungle Camp: One of the best Tadoba resorts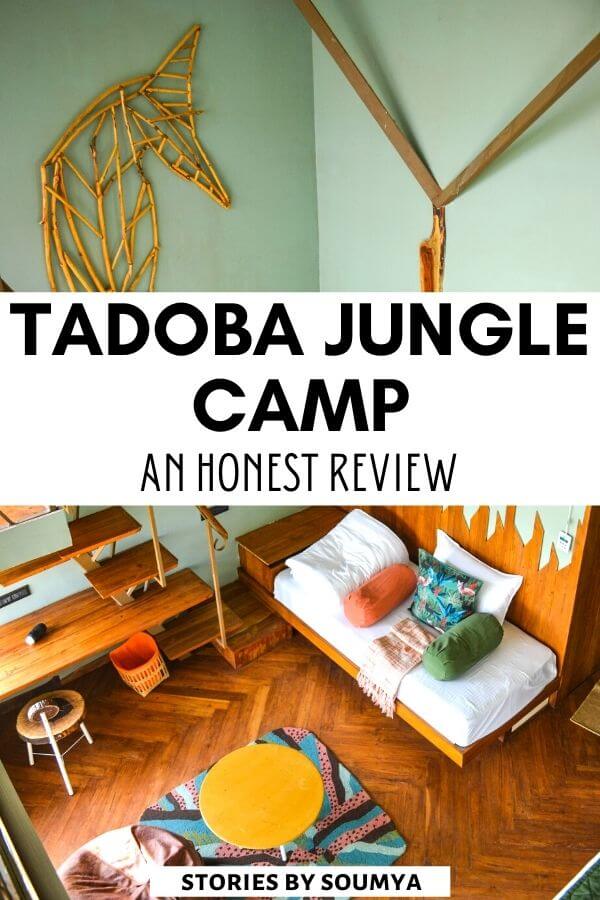 Please note: This post may contain affiliate links which means I may earn a commission if you make a purchase by clicking a link on this post. This will be at no additional cost to you. Affiliate links help me keep this website up and running. Thanks for your support!
Introduction to Tadoba Jungle Camp
Tadoba Jungle Camp is a luxury eco resort located right next to the Irai reservoir in the buffer zone of Tadoba National Park. It is a new resort that was slated to open in early 2020 until COVID-19 foiled all plans. The resort finally opened to the public in November 2020.
The hotel has a strong focus on wildlife conservation and giving back to the local community thus making it a sustainable addition to your Tadoba itinerary.
Exclusive and decidedly plush, Tadoba Jungle Camp makes for a wonderful jungle getaway for both nature enthusiasts and leisure travelers.
Rooms or Cottages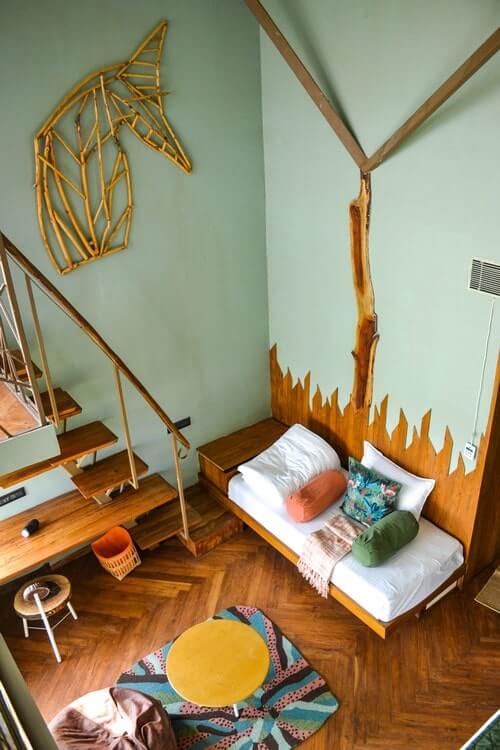 Tadoba Jungle Camp has 12 cottages located on an elevated platform that kind of simulates being-on-the-top-of-a-machan feeling. Each cottage is named after a wild animal found in Tadoba National Park. Inside you will find wooden and bamboo decor related to the same animal. This gives every cottage a unique character.
Special features of each cottage:
A cozy loft where you can seat yourself and watch wildlife (we actually saw wild boars) and/or enjoy a sunset.
A uniquely-crafted balcony that allows you to take in some sun while enjoying gorgeous views over the Irai reservoir.
2 bathrooms that allow guests to get ready in peace especially for morning safaris.
2 single beds and 1 king bed that can easily accommodate 4 adults and 1 child.
Earthy colors and décor that will make you feel close to the wild.
Location
This luxury resort is located in the pristine environs of Tadoba National Park, only a few kilometers away from the Moharli Gate. It is right next to the Irai reservoir which makes the environs extremely scenic.
It takes just 10 minutes to drive to the Moharli Gate from here in case you are planning to book a Tadoba jungle safari at Moharli core. Takes 15 minutes to the buffer gates of Agarzari and Dewada. And about 30 minutes to get to the Padmapur check post.
Need some help with safari booking? Check out this step-by-step guide on how to easily book a Tadoba jungle safari online.
My cottage at Tadoba Jungle Camp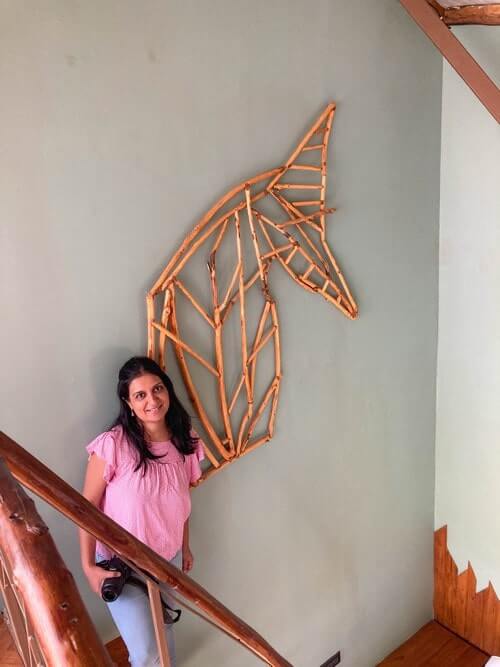 My family and I absolutely loved our cottage at Tadoba Jungle Camp. It was called Fox Land and had fox footsteps leading up to it.
Inside, the cottage was spacious and had a staircase leading up to the loft. Both our loft and balcony overlooked the brown grasslands and a stunning Irai lake. We could actually watch the sun go down right from our balcony. What a surreal moment!
Also read: My honest review of Kanha Jungle Camp Resort.
Special experiences at Tadoba Jungle Camp
Apart from enjoying your comfortable eco-cottage and good food, you can also have some special experiences at Tadoba Jungle Camp unlike at other resorts.
Here are some of the activities that you can supplement your safaris with.
Nature trails: If you wish to take a walking tour through Tadoba jungles, here's your chance. You get to walk anywhere between 1-7 kms in the buffer zone on a fixed track while enjoying the rustic nature and occasional call of birds. The resort will make sure you are accompanied by a naturalist who is a treasure trove of information. We did the Tadoba nature walk and were absolutely thrilled by how much we learned.
Boating on the Irai Lake: Experience a fabulous boating trip on the Irai reservoir and get to see numerous migratory birds (especially between November – February). The best time for boating, in my opinion, is right before sunset so that you can watch the sun going down behind the hills.
Village visit: You can take a small tour of the nearby village, Sitarampeth and meet some of the locals and hear tiger tales from them. Talk to the management at the resort to arrange for one. Most employees at the resort are also from the same village.
Cycling: Take a cycling trip of the lush green forests around the resort with an expert tour guide.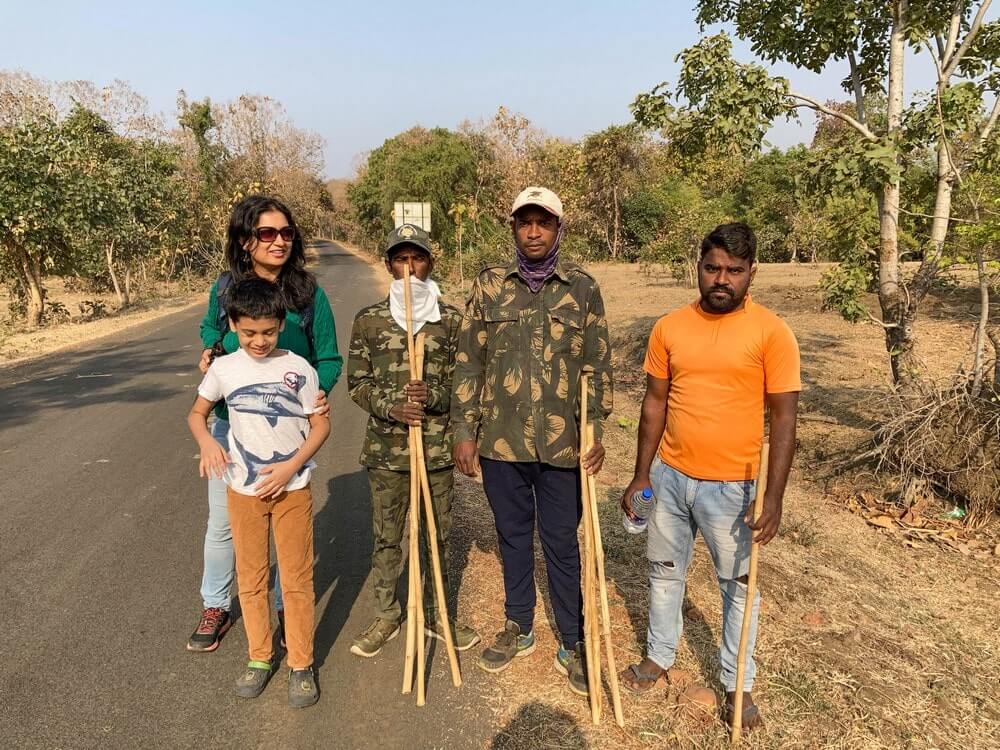 Frequently asked questions (FAQ)
What are some of the property amenities at Tadoba Jungle Camp?
Property amenities at Tadoba Jungle Camp include 12 elevated luxury cottages that give you a true safari experience, a traditional dining room that serves amazing food, a machan that gives you stunning views of the grasslands and Irai reservoir, and a telescope to enable you to look up at the starry skies.
Some of the facilities that are still under construction (as of Feb 2021) are 2 swimming pools (one for kids) and one audio-visual room cum library where you will learn more about the history, flora and fauna of Tadoba.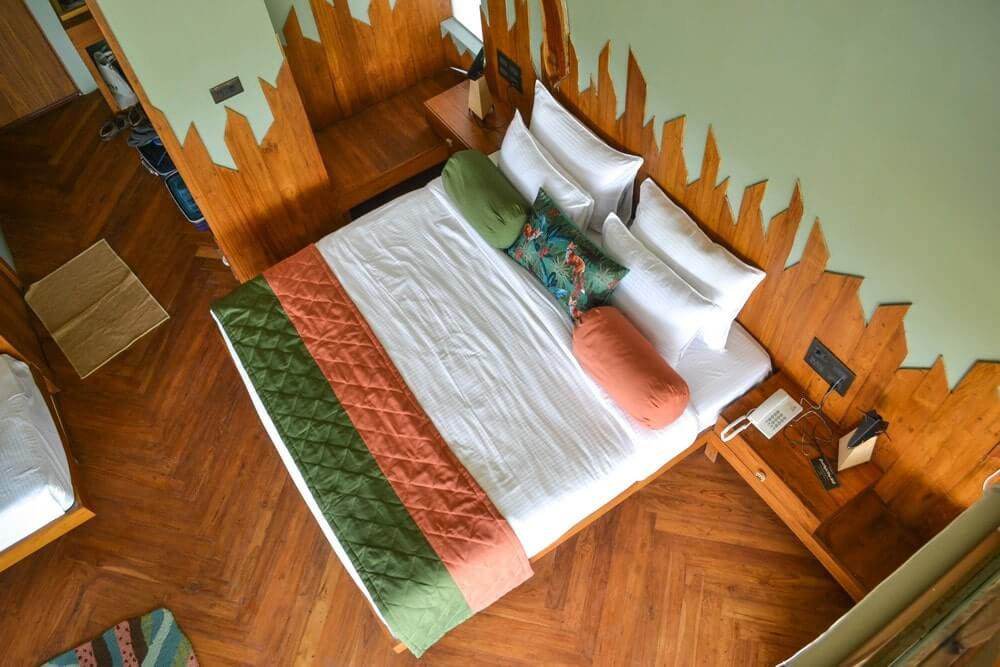 Which room amenities are available at Tadoba Jungle Camp?
Every cottage has one king bed and two single beds, two bathrooms (the main one equipped with a shower area and geyser), a balcony with a seating area, and a comfortable loft (that has one single bed). Every cottage is equipped with organic toiletries, a tea-coffee unit, and indigenous wildlife décor.
There wasn't a minibar when I went but the management is getting one for every cottage. There are no TVs at Tadoba Jungle Camp keeping in mind the proximity of the resort to the forest and their policy of not disturbing animals in the wild.
What food & drink options are available at Tadoba Jungle Camp?
At Tadoba Jungle Camp, you will get breakfast [8 – 10am], lunch [12:30 – 2:30pm], high tea [6 – 7pm], and dinner [8 – 10pm]. If you are going on a morning Tadoba safari, then you will be given a picnic breakfast box in lieu of the usual breakfast. Read below to find what each meal contains.
Breakfast usually consists of puri-sabji, poha, sabudana khichdi, fresh fruits. You can order whatever you want.
The picnic breakfast box usually contains cheese sandwiches, boiled egg, stuffed paratha, fruit juice, and water.
Lunch is buffet with rice, chapati, daal, pasta/noodles, many vegetarian and a couple of non-veg mains. There are salads, papads, soups to start with and a dessert to end.
At high-tea, you get tea/coffee/warm milk with biscuits/cookies and vegetable fritters.
Dinner is again buffet with a similar layout as lunch. There are salads, mains, and a dessert.
No hard drinks are served at the resort because Tadoba is located in the "dry district' of Chandrapur. Guests cannot carry their own liquor either.
Food at Tadoba Jungle Camp is amazing. No arguments about that!
Is parking available at Tadoba Jungle Camp?
Yes, free parking is available at the resort.
Are there opportunities to exercise at Tadoba Jungle Camp?
There is no gym here but there are several opportunities to exercise at Tadoba Jungle Camp. You can take an early morning nature walk (can go up to 7 km) with experienced guides. Or simply go for a jog/stroll in the tree-laden environs of the resort. They have a huge garden and a swimming pool too.
Does Tadoba Jungle Camp have an airport shuttle?
Tadoba Jungle Camp does not have a dedicated airport shuttle. But you can request them for an airport pick up which they will be happy to provide you for an extra charge.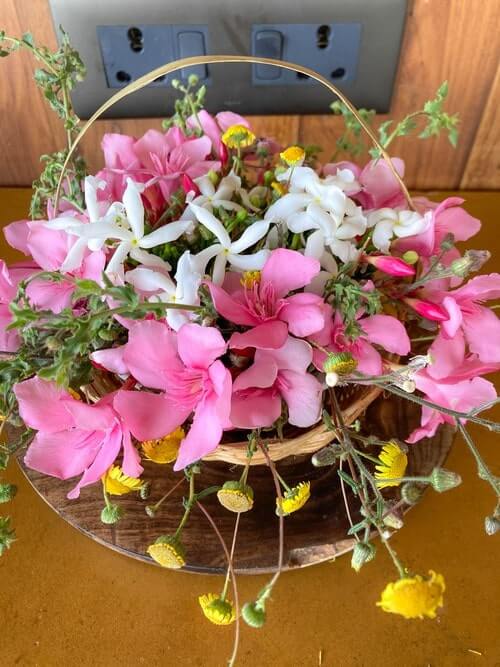 Are any cleaning services offered at Tadoba Jungle Camp?
Yes, Tadoba Jungle Camp offers laundry and dry cleaning services to its guests.
Are pets allowed at Tadoba Jungle Camp?
No, pets are not allowed at Tadoba Jungle Camp. This is simply because having animals of any kind inside the resort may attract other wild animals from the forest which can make your stay risky.
Is Tadoba Jungle Camp accessible?
Yes, Tadoba Jungle Camp is very accessible. It is located pretty close to the popular Moharli Gate. A car drive takes about 10 minutes and the scenery is gorgeous. If you wish to get to the buffer zones of Agarzari and Dewada, the drive will take 15 minutes. Plus, it is just 30 minutes away from the Padmapur entry gate to the Tadoba-Andhari Tiger Reserve.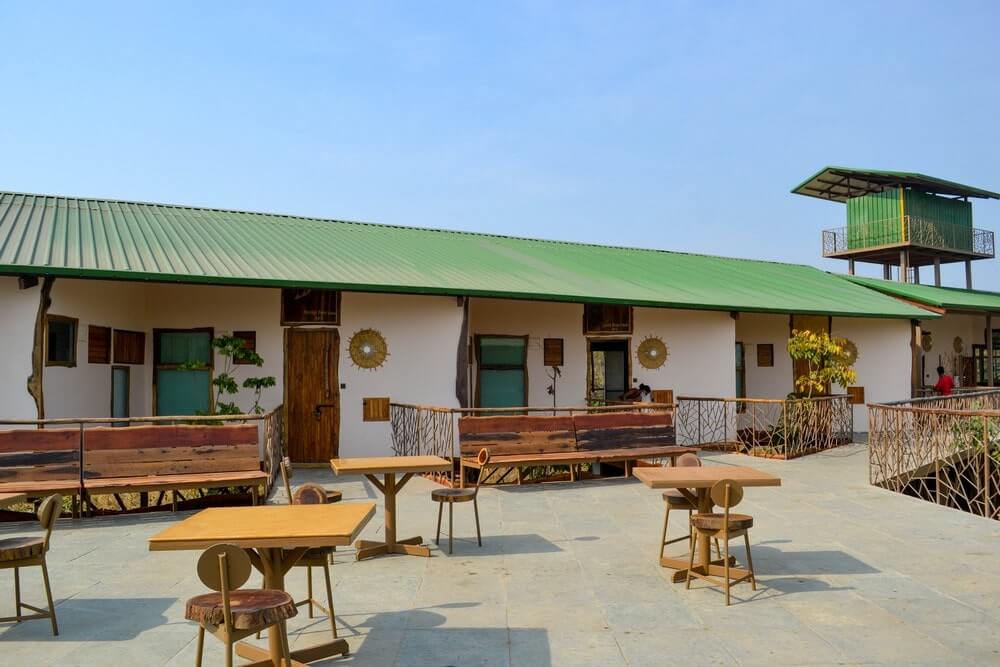 What type of room can I book at Tadoba Jungle Camp?
You can book a luxury safari cottage at Tadoba Jungle Camp. There are 12 luxury cottages here that are provide you with a deep-in-the-jungle experience. They are spacious and can accommodate up to 4-5 guests at the same time.
How much does it cost to stay at Tadoba Jungle Camp?
Tadoba Jungle Camp is a luxury resort located deep inside the Tadoba jungles with a stunning view of the Irai reservoir. You can check out the prices on their official website here.
What are the check-in and check-out times at Tadoba Jungle Camp?
Check-in and check-out times at Tadoba Jungle Camp are 1:30 pm and 11:30 am respectively.
Final verdict: Is Tadoba Jungle Camp worth it?
Absolutely yes! Here are the 5 special things about Tadoba Jungle Camp that I totally loved and you'll too.
Uniquely designed eco-cottages: Everything about the cottages is unique, eco-friendly and takes into consideration the habitat of wild animals. 2 things that really impressed me here were: the lack of TVs (in respect of the wild) and 2 bathrooms (in respect of the guests).
Delicious food: Food at the resort is tasty. If possible, request for these dishes – Saoji Chicken, Bharwa Tamatar (stuffed tomatoes), and Gajar ka Halwa. I am still drooling over them!
Special experiences: I especially enjoyed the boat ride and nature walk.
Excellent service: The staff at Tadoba Jungle Camp is friendly and courteous. If you need anything, just ask.
Involved management: This was a big selling point for me. The very fact that the place is managed by wildlife enthusiast Himanshu Bagde, The Tiger Man is testimony to the fact. Sit down for a chat with Himanshu and he will regale you with hundreds of stories from the wild.
Disclaimer: Please note that my stay at Tadoba Jungle Camp was sponsored but opinions expressed in this post are solely my own.