Last Updated on March 14, 2021 by Soumya
I know it is that time of the year when spring is starting to show its pretty colors. Greens, reds, pinks, and purples are starting to pop out everywhere. Cherry blossom trees around the world are starting to bloom. In a few days time, they will be covered in a melange of white and pink. And in less than a month, these flowers will be all over the ground making it look like a beautiful pink carpet.
It makes me nostalgic of those two days that I spent in Washington DC. We were there to view the gorgeous cherry blossoms. We had made a nearly last-minute trip from North Carolina to take in the beauty of cherry blossoms in Washington DC. And what a pretty sight that was!
Please note that the National Park Service is discouraging visits to the Washington DC Tidal Basin this year in order to reduce the chances of COVID-19 spread. Refer to NPS guidelines before planning your trip. Or take a cherry blossom virtual tour.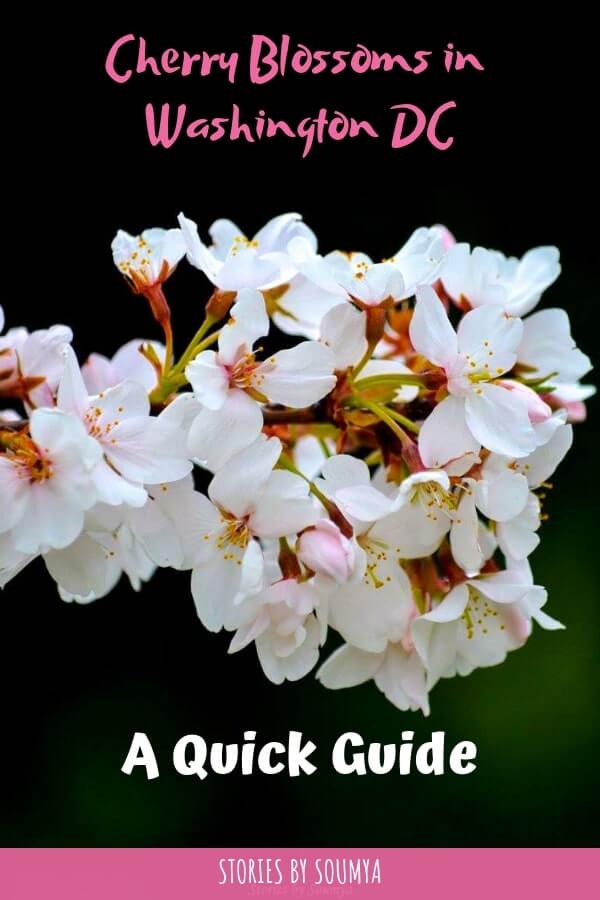 Cherry blossoms in Washington DC were magical!
Peak bloom of DC cherry blossoms is forecasted between April 2 -5, 2021.
As the cherry blossom fever continues to catch up, I am inspired to look at my pictures again and write down this post – "A Quick & Easy Guide to Watching Cherry Blossoms in Washington DC". Here are a few pictures and tips. I hope this will inspire many of you to make a trip to the US Capital and spend a few days with these famed flowers.
Washington DC is one of those places that you cannot afford to miss. And if you get to see cherry blossoms on this trip – even better!
There are many other places in the world where you could see cherry blossoms. The Sakura season in Japan is especially popular. Cherry blossoms in Melbourne Australia, several parts of the UK, and a few other countries in Asia are also starting to get a lot of tourists.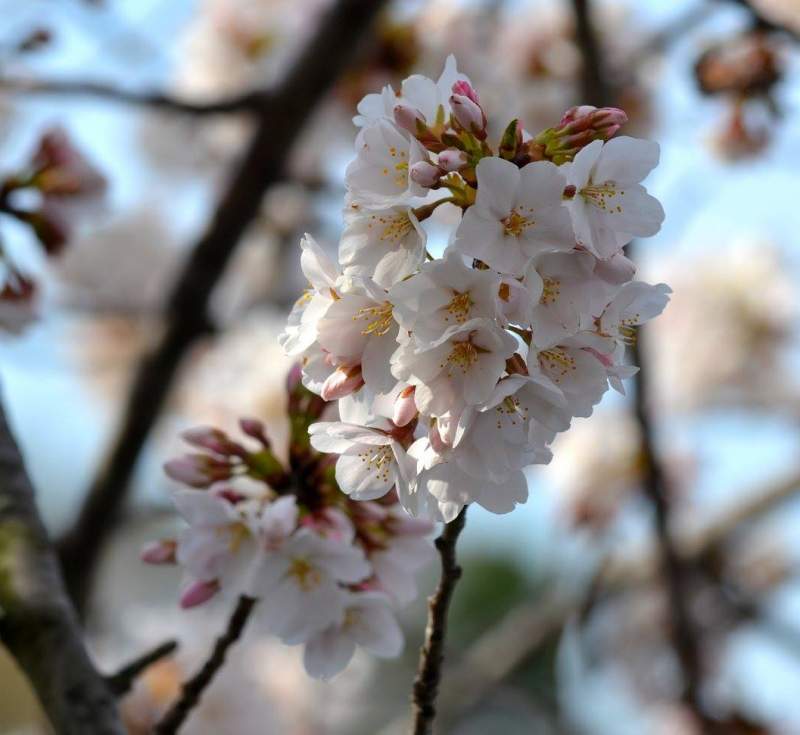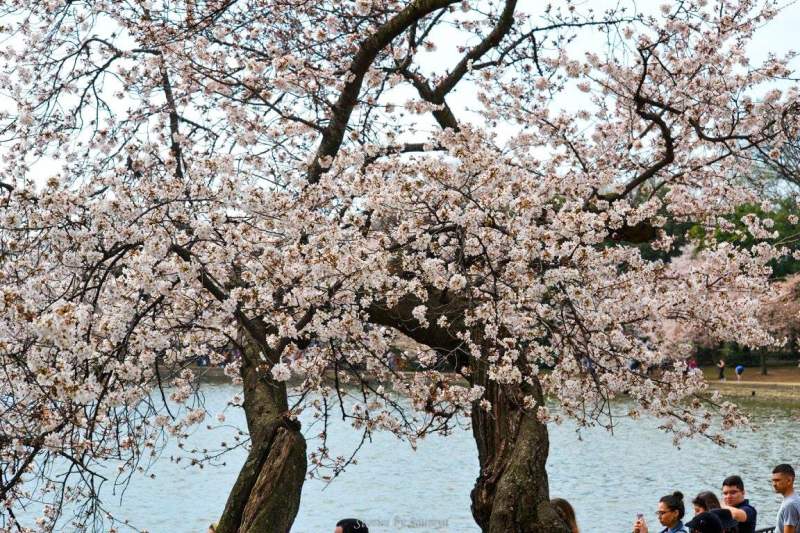 Cherry blossoms in the US: Where did they come from?
Cherry blossoms came to the United States from Japan in the year 1912. These exquisite flowers have been part of Japanese life and culture for ages. Blooming of the flowers is referred to as "Sakura" and their viewing is called "Hanami" in the Japanese language. It is quite a big deal in the home country with lots of events and festivities surrounding the arrival of the flowers. In the year 1912, cherry blossom trees were offered by the People of Japan to the People of the US as a token of friendship.
Technically, cherry blossom trees had surfaced even earlier through the efforts of Mrs. Eliza Ruhamah Scidmore and Mr. David Fairchild, a food explorer. NPS has an article on the history of cherry trees if you are keen. And you can read Mr. Fairchild's story in detail here. Yet, their planting had never taken off in a big way.
It finally happened in March 1912 when 3020 cherry trees arrived in Washington DC from Yokohama in Japan. Most of these trees were planted around the Tidal Basin. The number and variety of trees have grown since then. And their hanami has assumed large proportions. Now, the US celebrates the National Cherry Blossom Festival every year to mark the beginning of the friendship between the two nations. Thousands throng the capital during the four weeks that the festival lasts.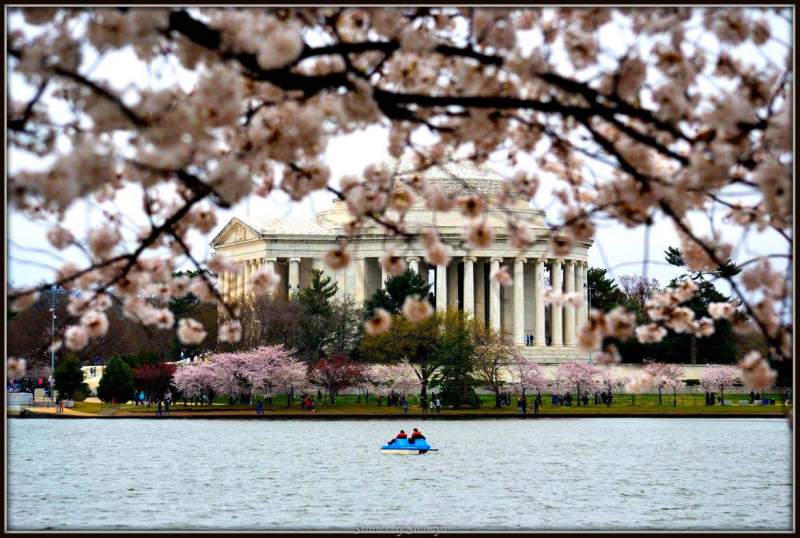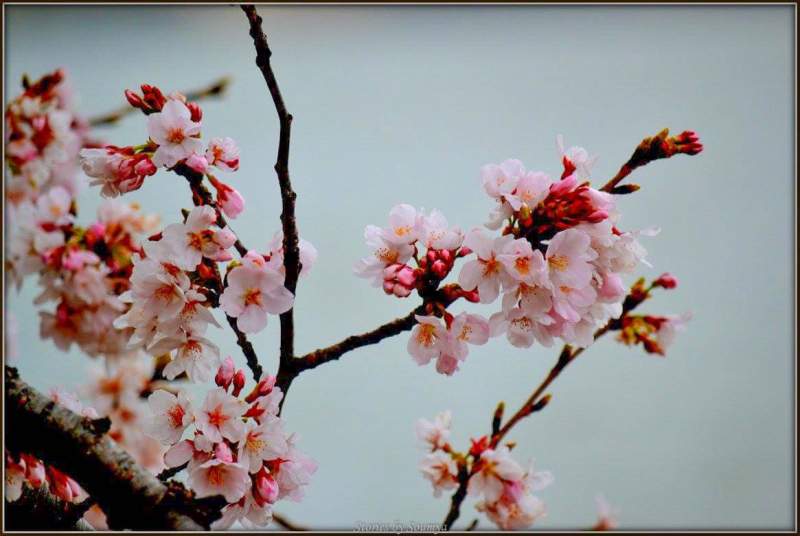 Where can you see cherry blossoms in Washington DC?
Even though there are multiple locations to view cherry blossoms in Washington DC, the Tidal Basin is the most preferred one. This is because a majority of the trees are located near this water reservoir. Additionally, the Jefferson Memorial sits right across the water and provides brilliant photo opportunities.
Other locations include near the Jefferson Memorial, FD Roosevelt Memorial, Martin Luther King Memorial. Further away, you will find cherry blossoms at National Arboretum, Stanton Park, and East Potomac Park. If you can't make it to the DC area, visit Arlington in Virginia or Bethesda in Maryland to spot the beautiful cherry trees there.
Find an exhaustive list of places to photograph the blossoms here plus some gorgeous pictures.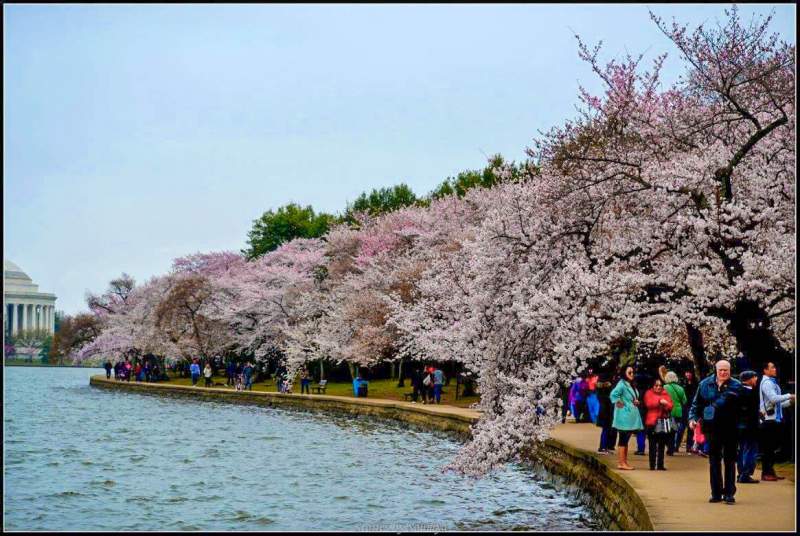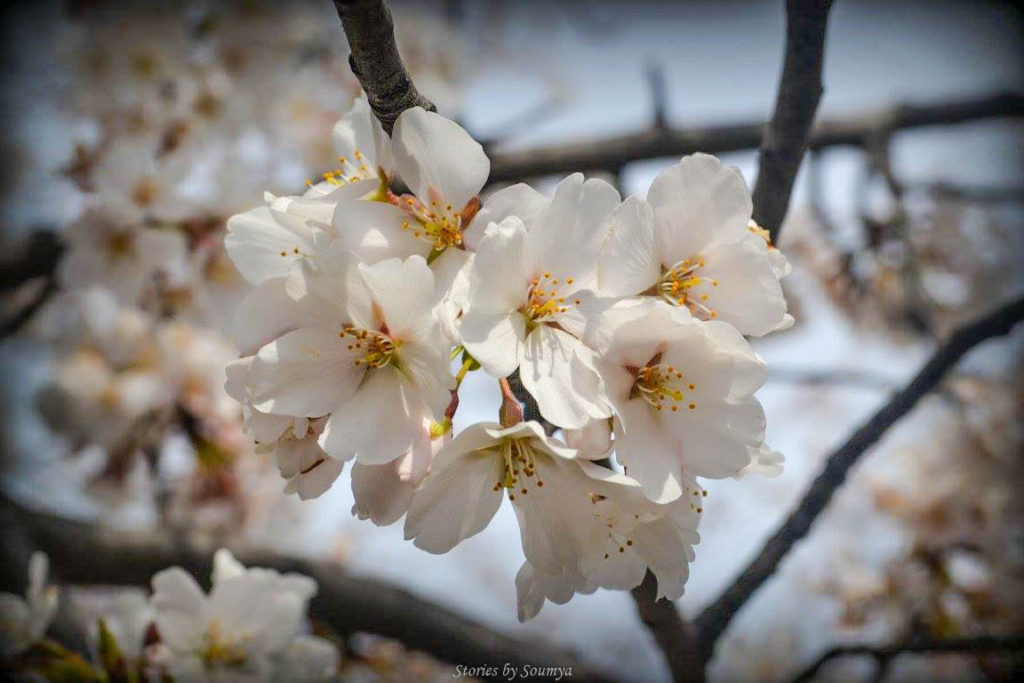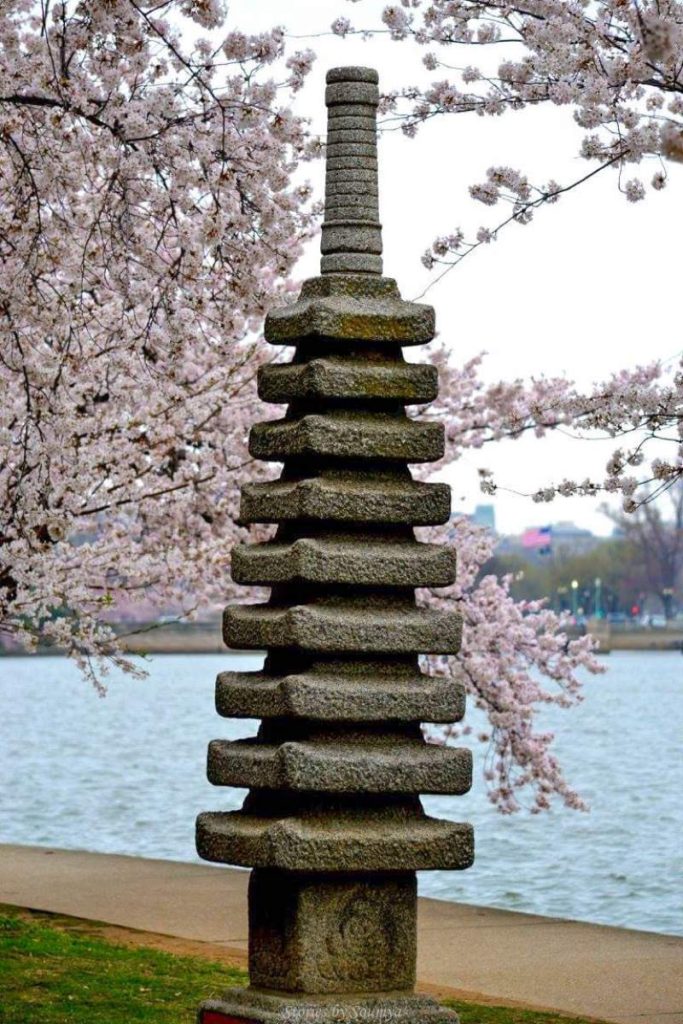 Resources to help you plan and time your trip.
Planning goes a long way in helping you get the best of the cherry blossom spectacle anywhere else in the world. TIMING IS CRUCIAL. The peak blooming period is spread only over a few days. If you arrive a day early or late, you may only catch a bit of the elegant display. That is why it is important to plan for cherry blossoms and after that, be flexible in your travel plans.
It is easy to refer to the internet for planning. And it is easier to get bogged down by information overload. We referred to a number of websites when planning for our trip to see cherry blossoms in Washington DC. But there were two sites that stood out of the crowd. They were the most helpful and met all our needs for planning our perfectly-timed trip.
The US National Park Service (NPS) has a whole section dedicated to the National Cherry Blossom Festival. Here, you can find tonnes of information about expected blooming dates, tours, types of cherry trees, events and activities. Under the sub-section called Bloom Watch, you can see details on peak bloom and blooming periods including a table on how the blossoms have panned out over the last 15 years. This site gives you an approximate idea of when you should be traveling.
Washington DC Cherry Blossom Watch is another website that gives a lot of visual information about the blooming of the cherry trees. Here, you will find regular updates along with pictures from the trees at the tidal basin. They usually put up forecasts from NPS and Washington Post's Capital Weather Gang under their section on Peak Bloom Forecasts. Their pictures are worth a thousand views. You can follow them on Instagram to keep track of how the flowers progress from buds to peak blooms as well as get some useful photography tips. This site helped fine-tune our travel dates. As we kept getting regular updates on how the flowers were doing, we were able to pin down a convenient date for our travel.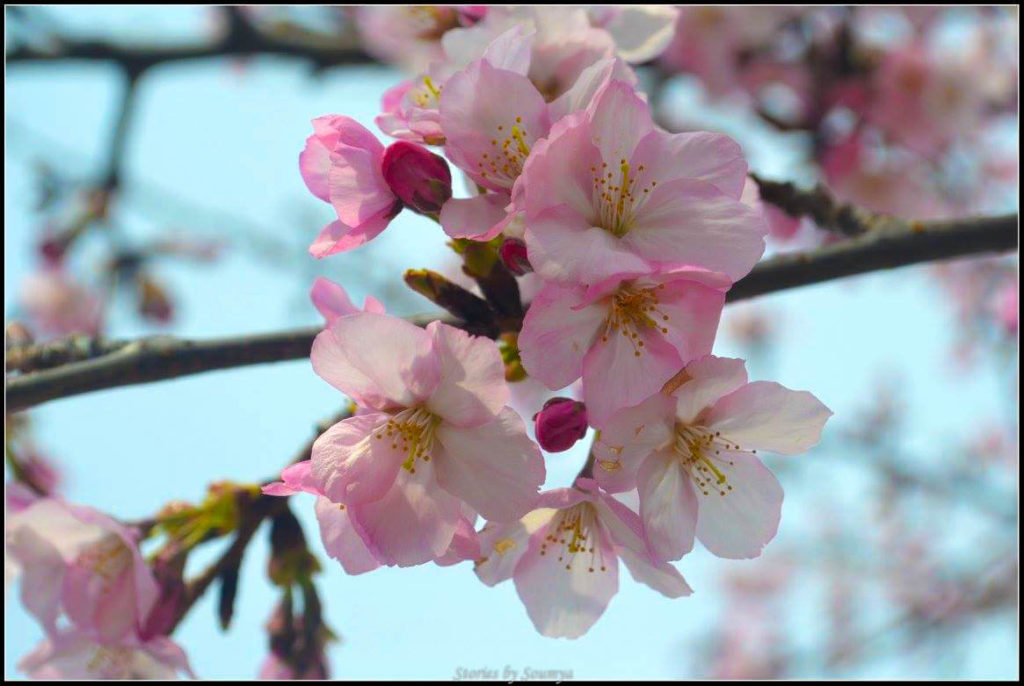 Here are a few tips to make the most of your cherry blossom trip.
Cherry blossoms are a representation of pure beauty. They are delicate. They are pristine. And they create an unbelievable aura of positivity all around. No doubt, they are so much sought after. Seeing the cherry blossoms in Washington DC in full bloom was a one-of-kind experience for me as it was for many others. Obviously, you don't want it to go wrong. Here are a few tips to help make the most of your trip.
Tips and Tricks
Go and see the flowers at multiple times of the day. And go on multiple days if possible. You never know when you can catch a moment alone at your favorite spot. Or a floret in full bloom. Goes without saying that it is best to stay somewhere close by so that you can cut down on travel.
Get there early in the morning to avoid the crowds. Yes, this works here too!
Visit multiple locations and check out different kinds of cherry trees. There are many varieties and subtle differences if you are looking to build a pretty portfolio.
Carry a jacket to keep warm. Since it is spring, the weather can get cold at times. On our trip, it was insanely windy and cold on the second day while perfectly bright and hot on the first. The flowers were prettier on the second day. So, you don't want to miss that.
Follow a photography blog or read up a bit on how to take good pictures of the pristine, pink and white blossoms before you arrive here.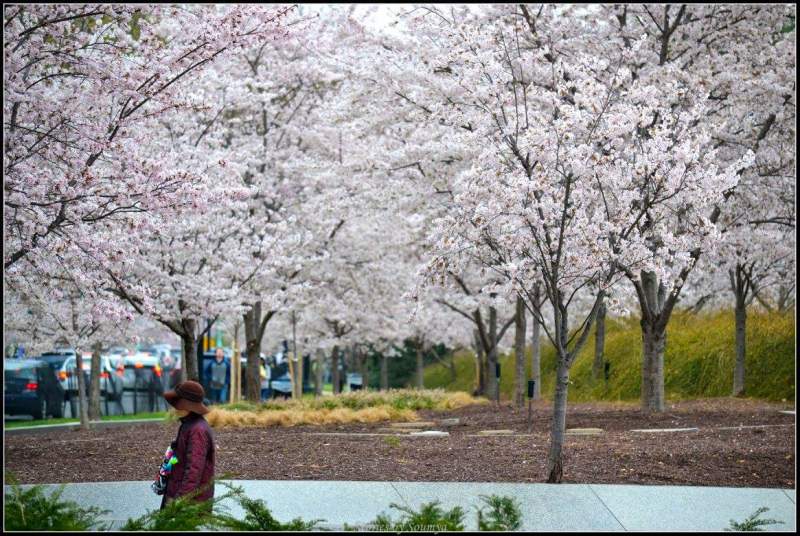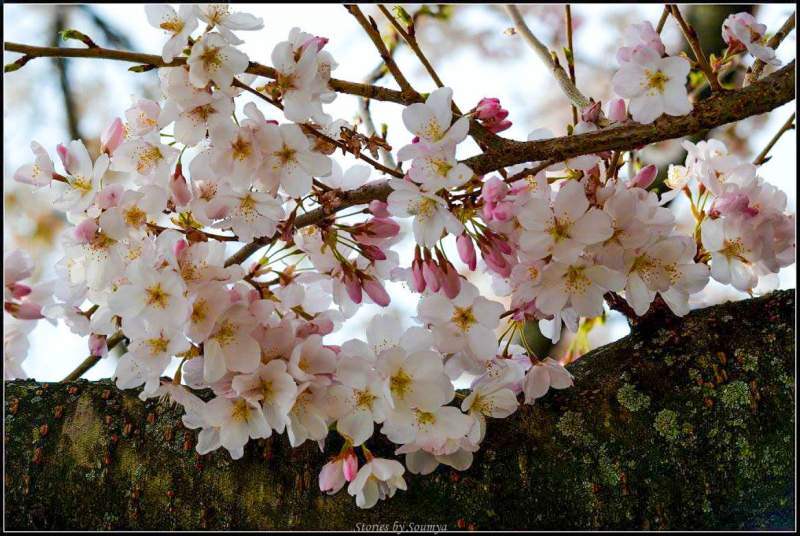 So, do you think you will make that trip to see cherry blossoms in Washington DC this year? Are you keen on seeing and learning more about these delicately beautiful flowers? Are you planning on seeing them somewhere else? Do let us know in the comments below and let's get the conversation going.
And while you are at it, don't forget to follow us on Facebook and Twitter to get regular updates on unique experiences from across the world.
Do you love flowers? Then, maybe you will enjoy reading this post on the Yodpiman Flower Market in Bangkok.
Pin It For Later!