Last Updated on November 8, 2022 by Soumya
Traveling to Safranbolu and wondering what to do? Looking for the best things to do in Safranbolu, Turkey? Interested to visit the top Safranbolu attractions? Don't worry, we have you covered.
Safranbolu is one Turkey's hidden gems and an unusual place to add to your Turkish itinerary. If you are still on the fence about visiting Safranbolu, let me first assure you that a trip here is going to be absolutely worth it. This historic town may not have not have the glitz and glam of Istanbul or the epic landscapes of Cappadocia but it has an old-world charm that no other city in Turkey can match.
Beautiful Ottoman mansions, a thriving medieval bazaar, unique architecture, friendly locals, and picture perfect vistas make Safranbolu one of the best places to visit in Turkey. Whether you are a history buff, a nature lover, or a foodie, Safranbolu has something for everyone. With so many amazing things to do in Safranbolu, there is never a dull moment in this city.
In this ultimate travel guide to Safranbolu, I list down everything you need to plan a trip to this beautiful Turkish town including a list of the most epic places to visit in Safranbolu, best time to visit, best places to stay, where to eat, and lots of travel tips. In case I have missed your favorite Safranbolu attraction, let me know in the comments below. And I'll be sure to check it out on my next trip.
---
Please note: This post may contain affiliate links which means I may earn a commission if you make a purchase by clicking a link on this post. This will be at no additional cost to you. Affiliate links help me keep this website up and running. Thanks for your support!
Planning your Safranbolu trip last minute?
If you are booking your trip to Safranbolu last minute, don't worry. We have you covered. Here are some of the best tours, hotels, and travel tips.
Top Experiences and Tours in Safranbolu
Top Hotels in Safranbolu
Where to eat in Safranbolu
Best things to do in Safranbolu, Turkey
Marvel at Safranbolu's Ottoman architecture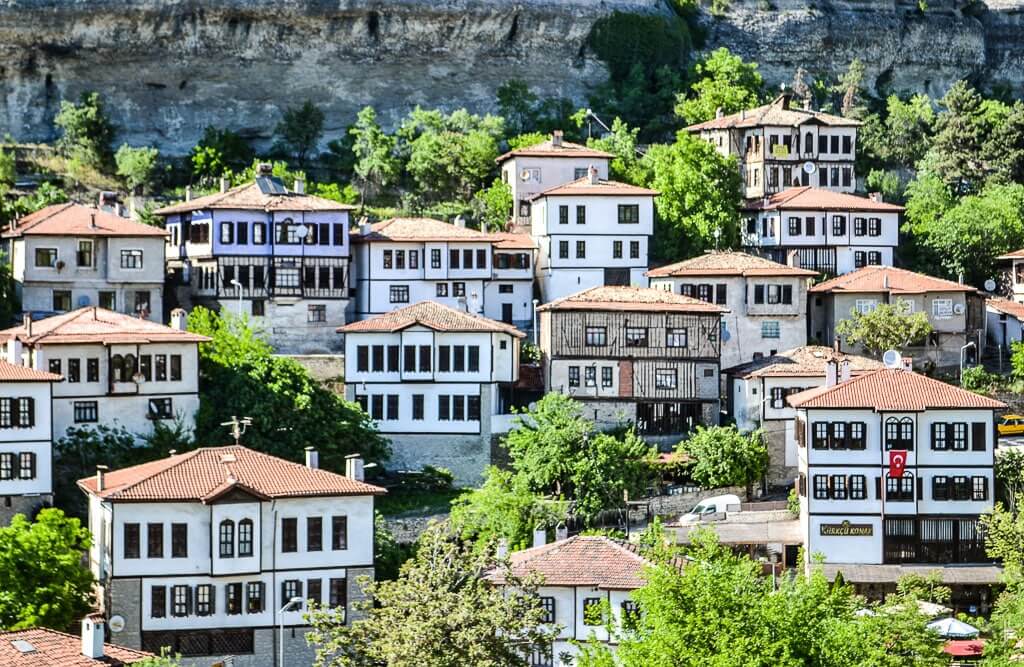 One of the most unmissable things to do in Safranbolu is to check out the amazing Ottoman architecture that makes this place a UNESCO World Heritage Site.
Traditional Safranbolu houses are a must-see when visiting here. With their unique timbered frames, these houses are a wonderful representation of traditional Ottoman architecture from the medieval times when Safranbolu was an important stop on the Silk Road.
A Safranbolu house usually has 3 floors (built of stone and wood) with separate areas for work and family (called harem). Woodwork in these houses is especially remarkable.
The city has more than 2000 traditional Turkish houses. 800 of these are protected by the government. Cobbled streets, old mosques, a Turkish hammam, and medieval marketplaces add to the city's old-world Turkish charm. If you are keen to see how a typical Ottoman city from the 17th century looked like, head to Safranbolu in Turkey.
Visit the house museum of Kaymakamlar Evi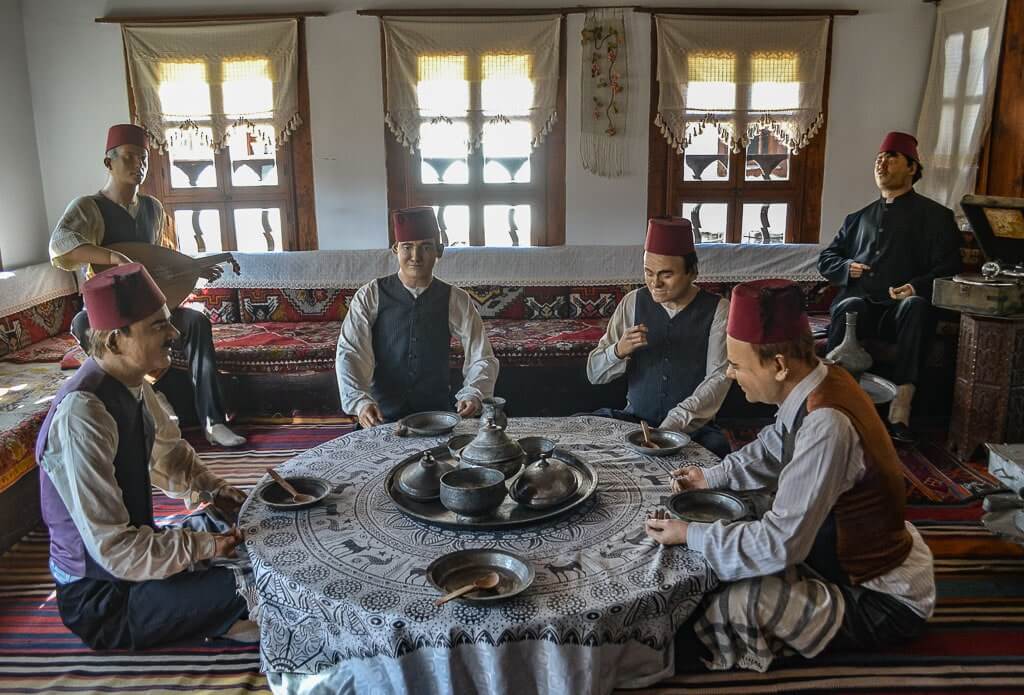 If you are interested in stepping inside an Ottoman mansion, head to Kaymakamlar Evi or the House of the Governor.
The historic house is now a museum that displays Ottoman life and culture from the 19th – 20th centuries. This was the home of a rich merchant family headed by Haji Mehmet Efendi in Safranbolu and features several rooms including a kitchen, toilets, a hall, and a harem or private area. Every room has a small description for your reference.
Few rooms feature mannequins showcasing wedding rituals and social functions. Honestly, some of these mannequins look a little weird. Some of them are outright ghastly! Probably, because they are really old. But they do a good job of displaying old Turkish life.
Entrance to the Kaymakamlar Evi house museum is 15 TL, with 50% discount for kids.
Hike your way to the Kent Museum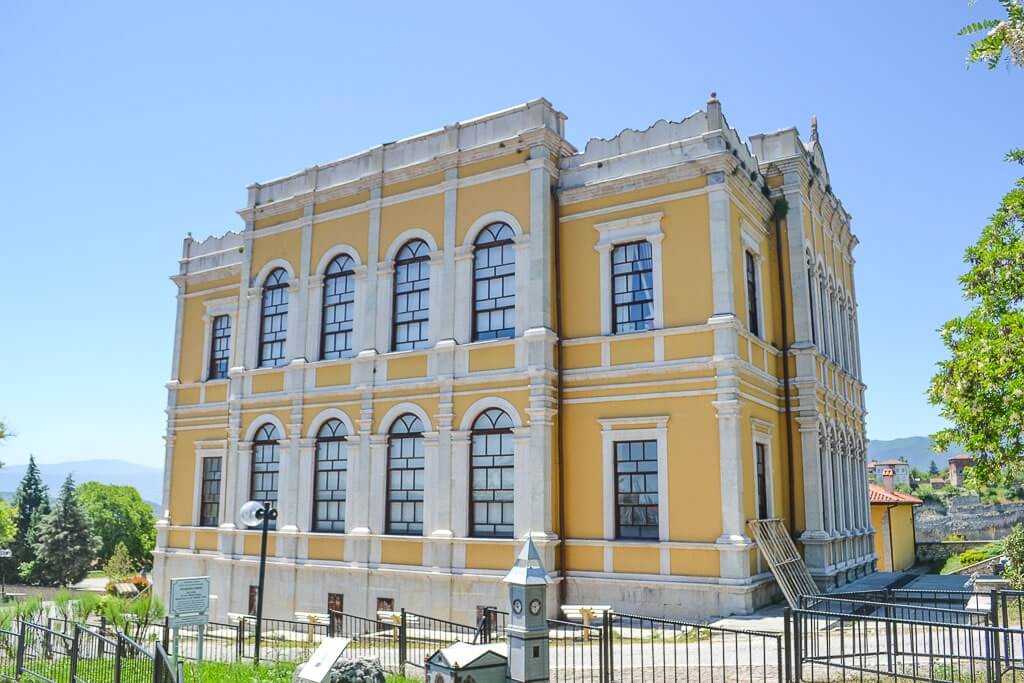 One of the most interesting places to visit in Safranbolu, Turkey is the Kent Museum or the City History Museum.
The museum is housed in a former government building that was built in 1904. It is spread over 3 floors. The first floor features photos and finds relating to the history of Safranbolu. On the second floor, you'll find traditional clothes, coins, and archaeological artifacts. In the basement, there are representations of Turkish stores where you can see how medieval tailors, woodworkers, pharmacies, and sweetmeat sellers worked in the region.
Located atop a hill overlooking the city of Safranbolu, the museum also provides stunning views over the valley studded with timbered Turkish mansions. It requires a bit of a hike to get here, though.
Safranbolu's City History Museum is closed on Mondays. On all other days, it is open from 9:00am – 5:30pm.
See Safranbolu's miniature clock towers
Another fascinating thing to see in Safranbolu is its collection of miniature clock towers dating back to the Ottoman era. You'll find these clock towers in an open-air museum right beside the Kent Museum. The collection is also called the Anatolia Miniature Clock Towers Museum.
The miniature clock towers were built in 1901 to mark the 25th anniversary of the rule of Sultan Abdul Hamid II. Apparently, he was fascinated by clock towers and decided to built one (or many) in each Ottoman city.
It is enthralling to see tiny replicas of clock towers from various cities in Turkey at one place. You'll see towers from Izmir, Edirne, Istanbul, Bursa, and more. There 15 towers in all – so, it is not a huge place and you can see everything in less than 30 minutes. If you are traveling to Safranbolu with kids, then this place is surely going to excite them.
Stroll through the historic market place of Safranbolu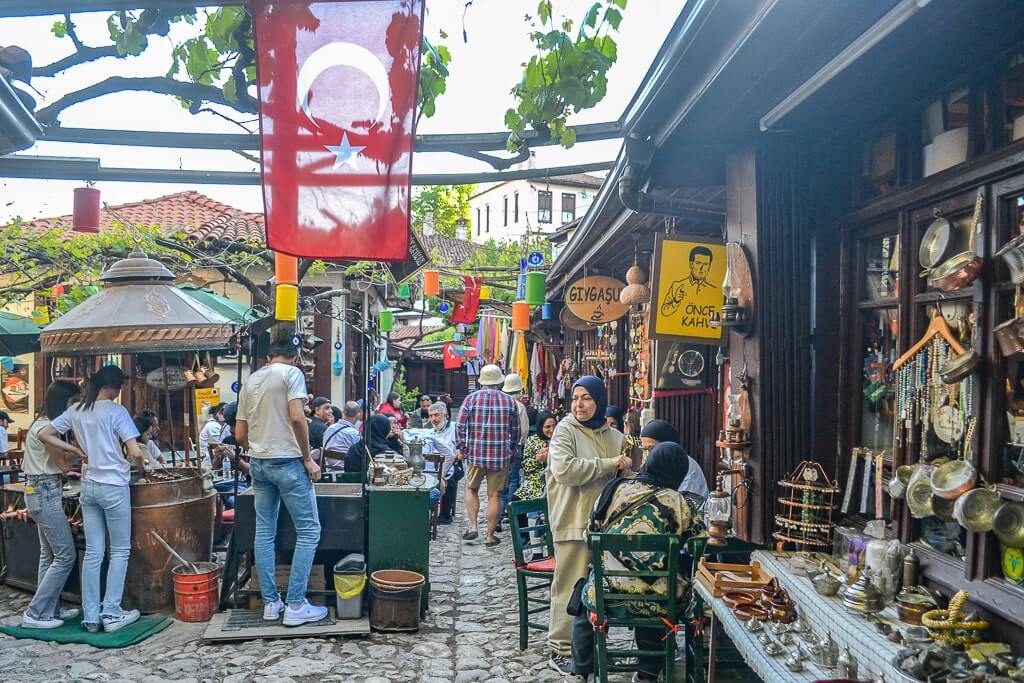 The Old Bazaar is one of Safranbolu's best attractions and an absolute must-visit. Walking through the narrow alleys and checking out local shops will transport you back to the olden times.
You'll find shops selling everything from copper utensils and glass bottles to Turkish coffee and saffron-flavored lokum. Many other attractions in Safranbolu such as the Kaymakamlar Evi Museum, Cinci Hamam, the Cinci Han caravanserai, and Mehmet Pasa Mosque are located nearby.
Step into the majestic Koprulu Mehmet Pasa Mosque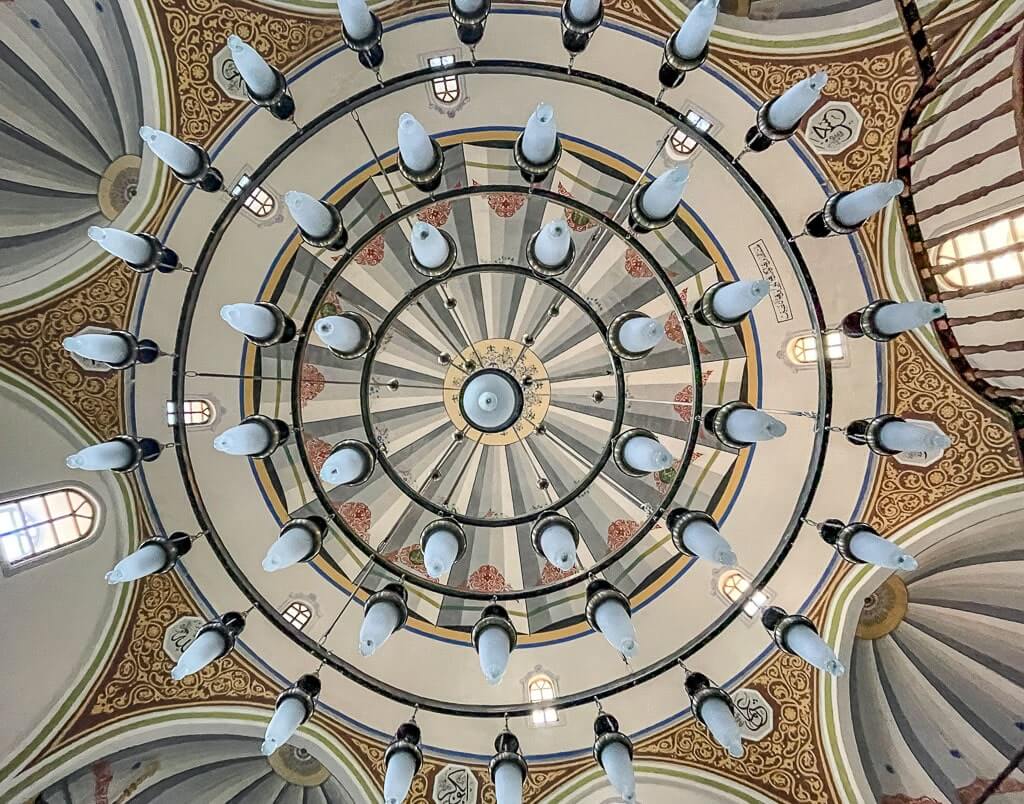 The historic city of Safranbolu has several beautiful mosques with tall minarets that tower over old Turkish mansions. One of the most iconic ones is the Koprulu Mehmet Pasa Mosque.
The Koprulu Mehmet Pasa Mosque is a traditional Ottoman mosque with a towering stone facade and beautiful interiors. Be sure to look up to catch some interesting designs and patterns.
Located in the historic marketplace, this mosque was built in the 18th century by Izzet Mehmet Pasha, a high-ranking official in the Ottoman Empire. The mosque now forms part of the world heritage ensemble of Safranbolu.
Get scrubbed at Cinci Hamam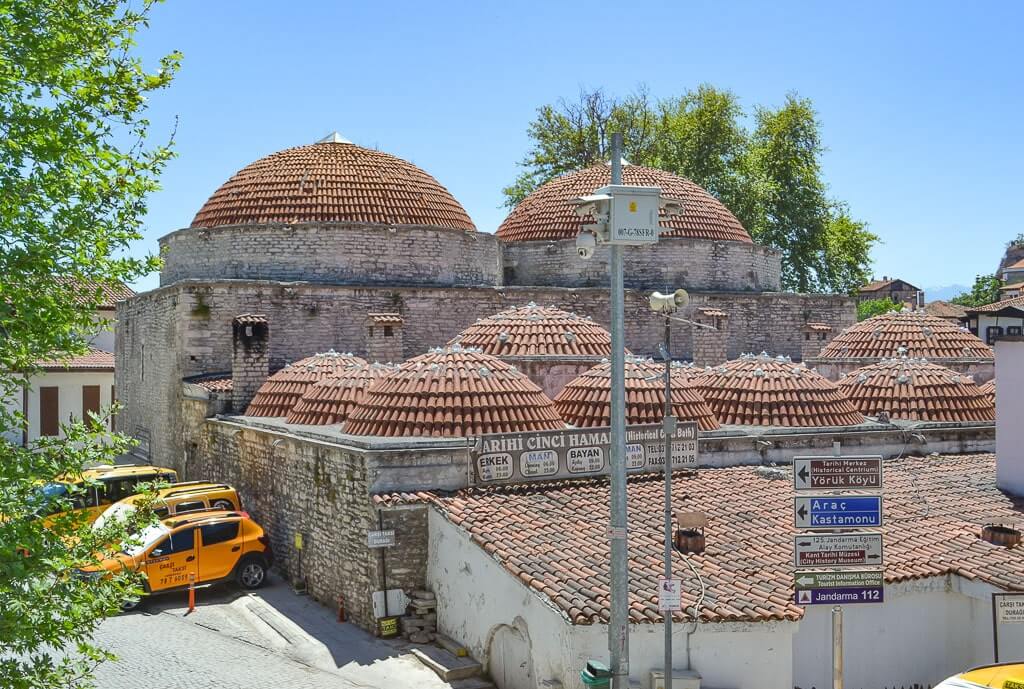 If you love a good Turkish bath, I highly recommend heading to Cinci Hamam in the historic center. Like everything else in the city, this place has also been around since the Silk Road days and seen many tired travelers looking for a relaxing scrub.
The charges for a scrub and soap massage are around 200 TL per person for an hour. The bathhouse as well as the changing rooms are pretty clean.
Remember that Turkish baths are intimate experiences. If you are a newbie, I recommend this hammam guide to get some feelers on how the experience is going to be.
Visit the Cinci Han caravanserai
Caravanserais of Turkey have long been famous as important pitstops for traders on the Silk Road. They were essential stops for food and lodging for weary travelers.
The Cinci Han in Safranbolu was one of the main caravanserais in Turkey. Karabaszade Huseyin Efendi commissioned the caravanserai (Han in local language) in 1645 and it was used till as late as the 20th century.
Today, you can walk into the medieval inn and check out the rooms and a wide open courtyard. See an ancient water pumping mechanism and check out a model of the old caravanserai. There is a small coffee museum inside the premises where they tell you about different kinds of coffee. You can taste them later as well as enjoy a meal at their in-house restaurant.
I also found out that you can book rooms at the caravanserai and stay there for the night. Wouldn't that be one of the best things to do in Safranbolu? Unfortunately, these rooms aren't available online and you can only book once you get there. You can still check for reviews here on TripAdvisor when planning your Safranbolu trip.
Check out stunning views from the Hidirlik Hill
Since the city of Safranbolu in Turkey is located in the middle of hills and plateaus, there are several places where you can get gorgeous views of the historic town dotted with timbered mansions. One such place is the Hidirlik Hilltop.
After a short hike up the Hidirlik Hill, you'll get to a garden on the top where you can just relax amidst the views or have a cup of tea and soak in the beauty of the surroundings. In any case, the real winner here are the stunning views of Safranbolu that will totally blow you away. It is one of the best places to click lots of photographs in Safranbolu.
Attend a saffron festival in Safranbolu, Turkey
The city of Safranbolu gets its name from saffron, grown natively in the region. Locally, saffron has always been used as a dye in Turkish carpets, caftans, and silk dresses. It is also an important coloring and flavoring agent in Turkish delights, desserts such as firin sutlac, and handmade soaps.
No doubt, saffron is celebrated in Safranbolu like no other spice in Turkey. If you are a fan, be sure to attend the Saffron Harvest festival that happens in late October – early November. The city also plays host to the International Golden Saffron Film Festival every year.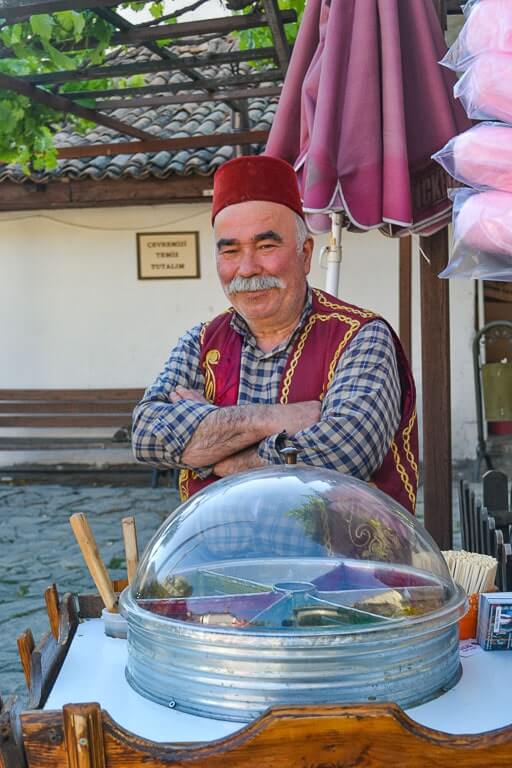 Taste saffron tea or coffee!
How about trying some saffron tea? Or saffron coffee? Well, if you are in the city of saffron, having tea/coffee flavored with saffron is a must-do.
An authentic place to try saffron tea and coffee in Safranbolu is Boncuk Arasta Kahvesi, a coffee shop that has been around since 1661.
Taste banduma, a local delicacy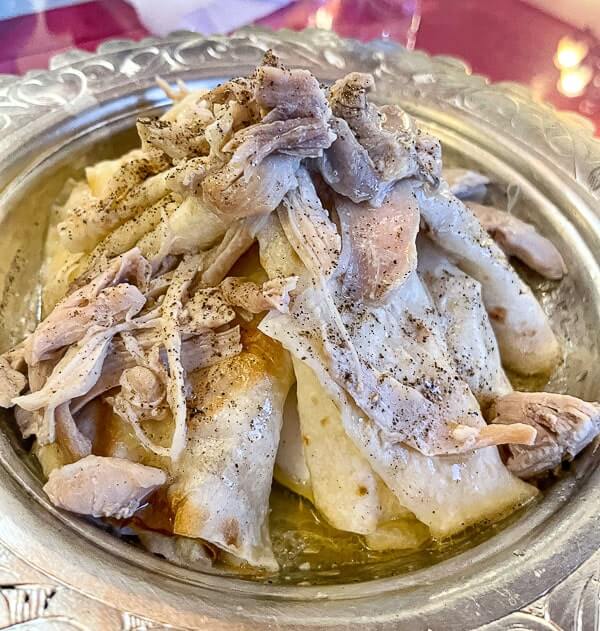 If you are a foodie and would love to eat authentic Turkish food from the Black Sea region, try a plate of banduma.
Banduma is a local dish, made of chicken, powdered walnut, and phyllo dough. It is rich, buttery, and almost melts in your mouth. For me, the taste of banduma was heavenly. It soon became one of my favorite Turkish dishes.
Banduma is a dish for special occasions such as weddings and birthdays. Therefore, not many restaurants will have it on their menu everyday. If you find it on the menu, be sure to order at least one plate.
We had the best banduma at Zencefil Yorecel Lezzetler, a family restaurant serving local delicacies. They also have a number of vegetarian options on their menu.
Eat at Hanim Sultan Cafe
One of the best places to eat in Safranbolu, Hanim Sultan Cafe is run by 3 women who have been delighting tourists with their cooking skills for years.
Their platters, which usually include a dumpling dish, pilaf rice, beans, and stuffed grape leaves, are extremely popular among tourists and locals. Do not forget to try zerde, a traditional, milk-free rice pudding that contains a generous amount of saffron.
Stay in an Ottoman mansion
Safranbolu is known for its well-preserved Ottoman mansions. And to stay in one of them is an experience of a lifetime. If you have loved staying in a cave hotel in Cappadocia, I am sure you'll enjoy staying in an Ottoman house.
We stayed at Camlica Konagi for a couple of nights and totally loved our stay. It is a cozy Turkish house with the most friendly host. She is an amazing cook who prepares the best Turkish breakfast every morning and is extremely attentive to your needs. You can have your breakfast in a garden full of roses. And a short walk will take you to the historic center. Camlica Konagi is just the perfect place to stay in Safranbolu.
Another popular mansion-hotel is Peri Konak which has some amazing reviews on Agoda here. We would have stayed at Peri Konak but it was a little too expensive for our dates. Seyir Konak Otel is yet another great option to experience traditional Turkish living.
Purchase some unique Turkish souvenirs
Don't leave Safranbolu without purchasing some unique saffron-infused Turkish souvenirs. You will get everything with a dash of saffron here including Turkish delights and handmade soaps. If you love the mild flavor of saffron, then you have to shop in Safranbolu.
Eski Carsi or the restored Ottoman market is the best place to buy your souvenirs in Safranbolu. Also the best place to enjoy some Turkish coffee or saffron tea.
See the best of Safranbolu on a guided tour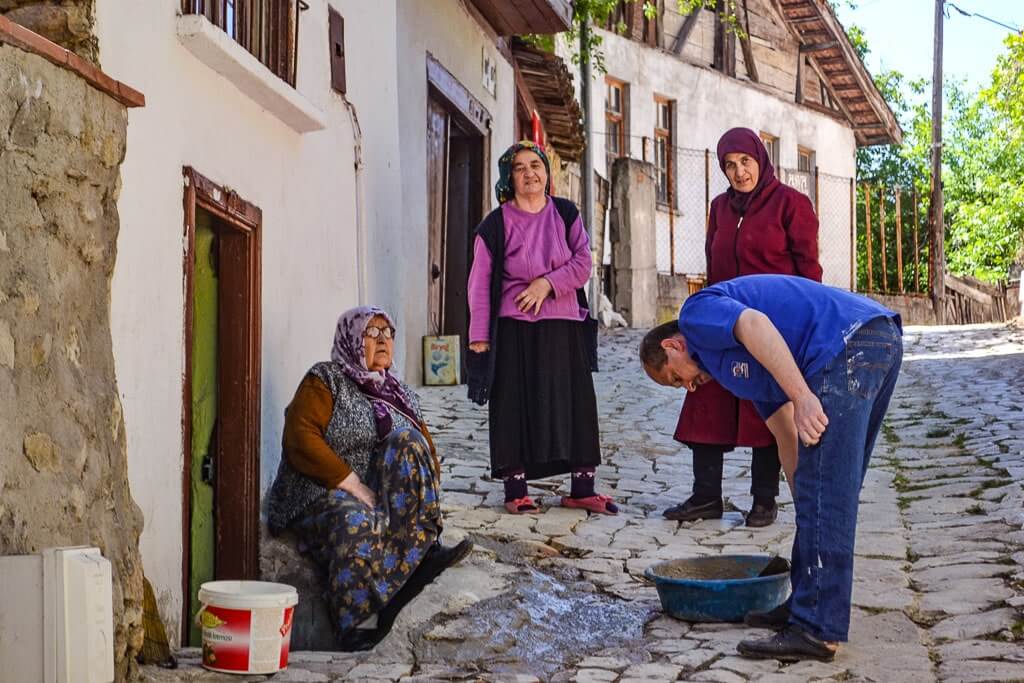 If you are strapped for time, I highly recommend taking a guided tour of Safranbolu. A full-day excursion like this one will show you all the highlights of Safranbolu including the historic center, Kaymakamlar Evi, the Turkish Bath, Bulak Cave, Yoruk Village, and the Incekaya Aqueduct.
At less than $100 per person, this Safranbolu tour is good value for money. It also includes hotel pick up and drop.
Best things to do near Safranbolu, Turkey
Apart from so many fun things to do in Safranbolu, there is a lot of stuff to see near the city. The Incekaya Aqueduct and the amazing stalactites and stalagmites in the Bulak Caves are some of Safranbolu's other unmissable attractions.
An easy way to see these places near Safranbolu is by hiring a cab for the day and clubbing all of them together. For example, you can easily do Bulak Caves, Crystal Terrace, Upside-Down House, and the aqueduct in one day. We hired a cab to see these attractions in a day and that cost us around €20 (350TL to be precise). Since the Turkish Lira is extremely volatile these days, expect huge differences in rates.
If you have one more day in Safranbolu, head to Kastamonu to dig into some more of Ottoman history.
Hike through the majestic Bulak Caves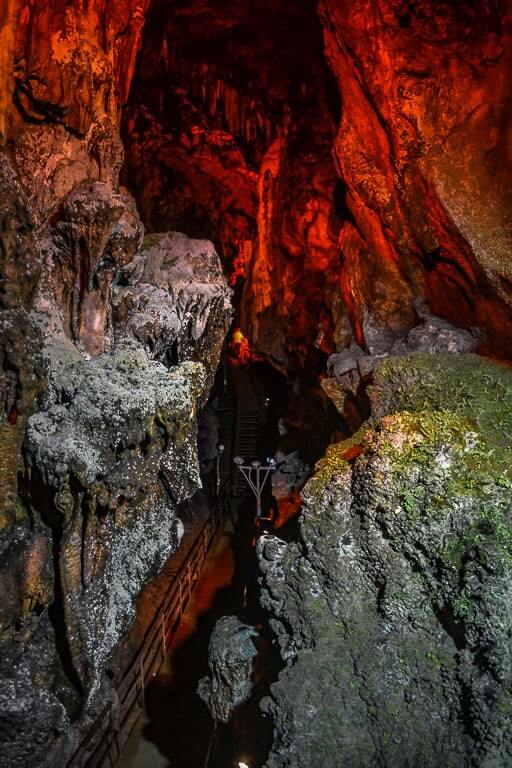 Not everything is historical in Safranbolu, Turkey. There is also a lot of nature waiting to be explored. One of my favorite places was the massive cave system of Bulak.
One of the largest caves in Turkey, Bulak is filled with beautiful stalactites and stalagmites. They give rise to unique formations which are interesting to explore.
You'll need to climb a flight of 50 stairs to get to the Bulak Caves. Inside the cavern, you'll have to access different sections by stairs and through tunnels. The formations get prettier as you get deeper into the caves. The Bulak Cave tour is an exciting thing to do in Safranbolu.
Entrance tickets to Bulak Caves are cheap – just 10 TL. There is a small refreshment stall midway through the climb. It serves good tea and juice.
Be sure to wear good walking/climbing shoes for the Bulak Cave tour. Also, remember to carry a thin jacket because the temperatures inside the cave can be much lower than the temperature outside.
See the Incekaya Aqueduct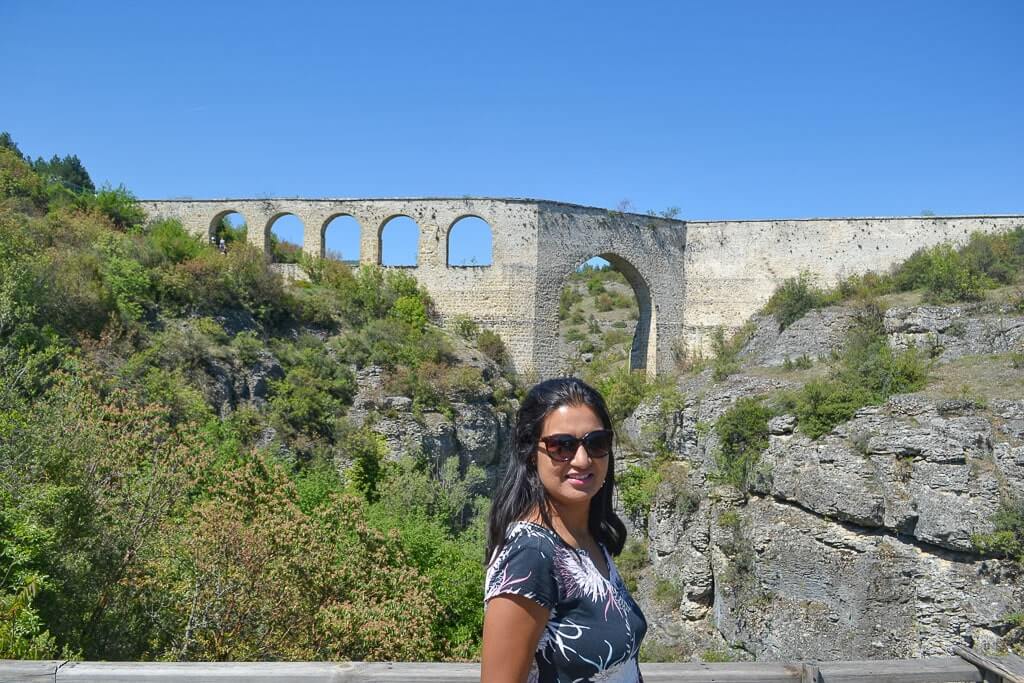 Aqueducts are fascinating architectural pieces. Tall, long, and sturdy – they are definitely unique creations of man. Incekaya Aqueduct near Safranbolu is no different.
Constructed in the 18th century, the Incekaya Aqueduct is 116 meters long and has 6 arches. It is named after the Incekaya village nearby and was once used to power the pools, fountains, and baths in Safranbolu.
Today, Incekaya Aqueduct is one of the most visited places near Safranbolu, especially for locals. Several other attractions such as the Crystal Terrace, an upside-down house, and facilities for ziplining have come up nearby.
Entrance to the aqueduct was only 7 TL when we last visited.
Walk on the Crystal Terrace in Tokatli Canyon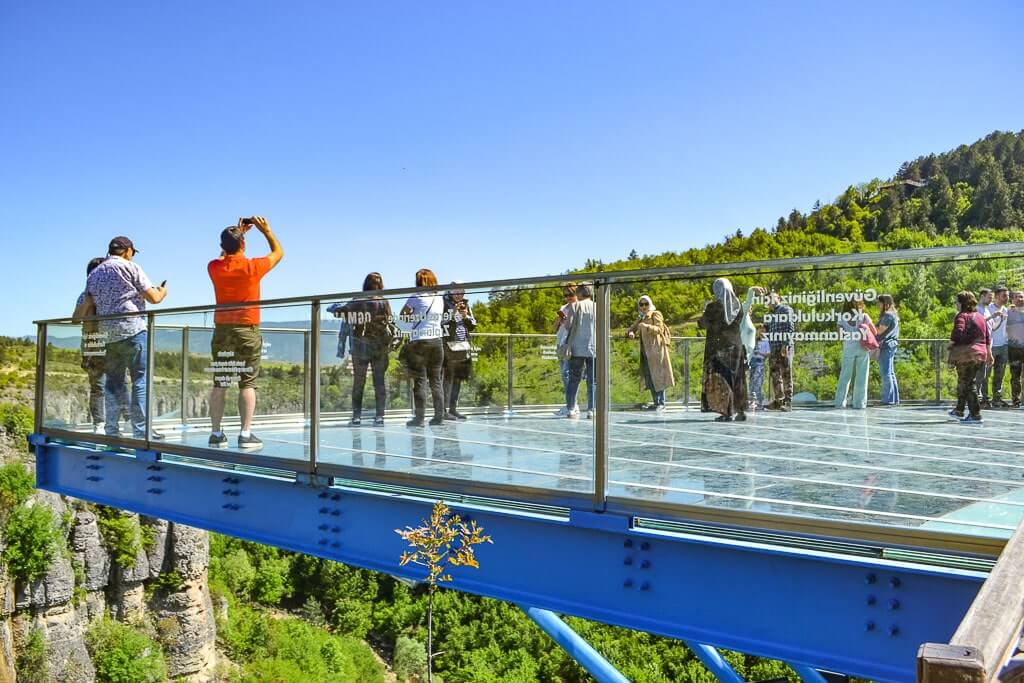 If you are visiting Incekaya Aqueduct, then don't miss the Crystal Terrace located right next to it.
Locally known as the Kristal Teras, this is a glass promenade jutting out of a hill with nothing but the canyon deep down below. This was pretty similar to the Mahanakhon Skywalk in Bangkok. If you are scared of heights, walking on the Crystal Terrace may be a little uncomfortable for you.
The views of Tokatli Canyon from the Crystal Terrace are absolutely breathtaking. The ziplining station, right next to the terrace, is a perfect stop for adrenalin junkies.
We absolutely loved the Crystal Terrace except for the fact that the floor was not really clean. Tourists walk around in dirty shoes which makes the terrace floor dusty, thus minimizing what you can see below.
Get topsy-turvy at the Upside-Down House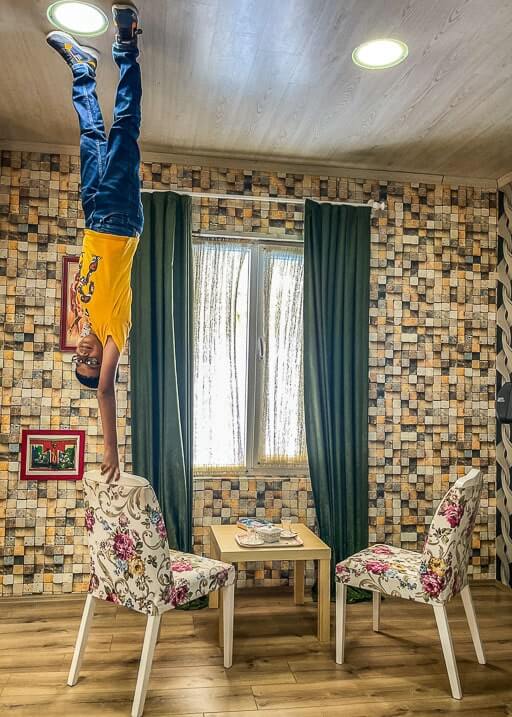 You'll not find the Upside-Down house in any online travel guide for Safranbolu except this one. I could not even locate it on Google Maps. Only the locals know of it. And that's a big reason why most visitors do not have it on their Safranbolu bucket list.
Trust me, this house is a fun addition to your Safranbolu itinerary, especially if you are traveling with your family. It is located near the Incekaya Aqueduct and you can walk between the two spots. It is a fun place to spend 30 mins – 1 hour imagining an upside-down world and clicking weird photos.
If you are hiring a taxi for the day, the driver will know exactly where to take you if you ask him for the Upside-Down house.
Explore a mini Safranbolu at Yoruk Village
If you'd like to see a smaller version of Safranbolu, head to Yoruk village. Yoruk is just 8 miles (12km) from Safranbolu and is almost like a tiny model of the UNESCO city.
With 93 historic monuments and more than 600 years of history, Yoruk makes for the perfect historic getaway from Safranbolu. The highlight of Yoruk is a 450-year-old mansion called the Onbasigil House which is often referred to as the "Laundry House".
Visit the beautiful town of Kastamonu
If you'd love to see more Ottoman houses, I recommend heading to the town of Kastamonu. Located 1.5 hours to the east of Safranbolu, Kastamonu is filled with Ottoman-era houses that are more than 400 years old.
The highlights of Kastamonu include the historic center that is filled with timbered mansions from the Ottoman times and beautiful mosques and a castle that offers splendid views of the town and the countryside.
Interactive map of Safranbolu attractions
Best places to stay in Safranbolu Turkey
The best places to stay in Safranbolu, Turkey are of course, the restored Ottoman mansions that now function as cozy hotels and bed-n-breakfasts. Staying in one gives you an opportunity to experience the true culture of Safranbolu and see how Turkish traders and merchants lived in the 18th century.
My favorite place to stay in Safranbolu was Camlica Konagi which was a few minutes away from the historic center. Located in the middle of sprawling rose-filled garden, Camlica Konagi is a renovated Turkish mansion-hotel run by a local family. We soon became friends with the host, a young woman who cooked the most delicious breakfast. The rooms were sparkly clean and had everything we needed – all at a very affordable price. If I visit Safranbolu again, I am definitely staying at Camlica Konagi.
Two other amazing mansion-hotels that caught my eye while planning the Safranbolu trip were Peri Konak and Seyir Konak Otel. Both have amazing reviews.
Yet another great idea might be to stay in the refurbished caravanserai hotel, Cinci Han, for a feel of the ancient inns of the Silk Road. However, this place is not available for booking online. You can only book once you get there. But read the reviews on Tripadvisor here before you go.
If you are looking for a luxurious stay in Safranbolu, then Hilton Garden Inn might just be the best fit. They have an amazing pool and some of the best facilities in the region.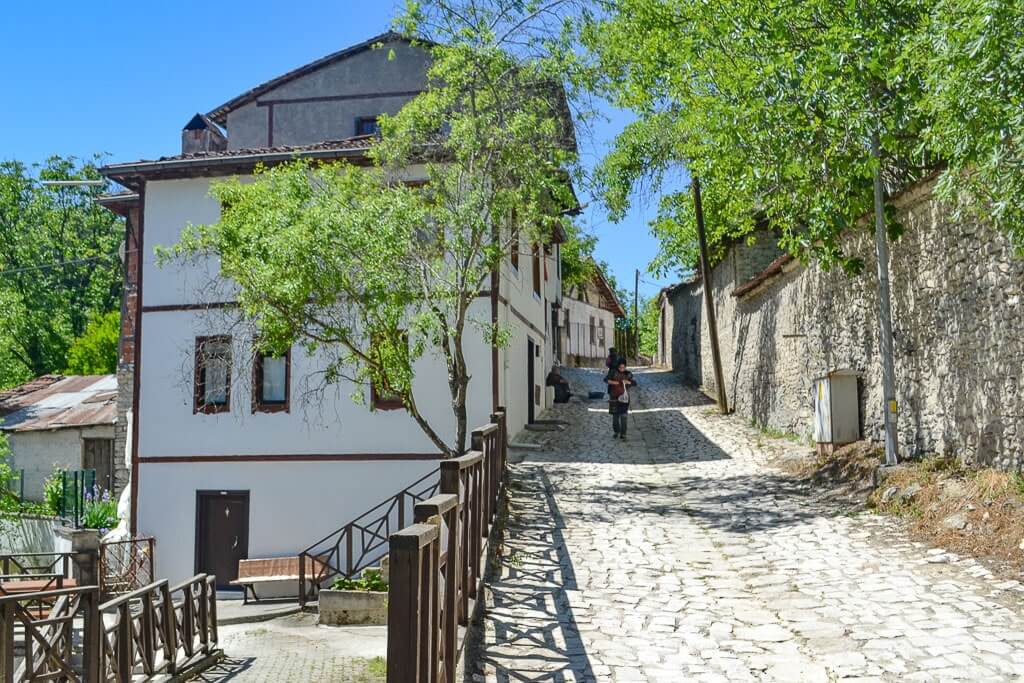 Practical information for visiting Safranbolu Turkey
Best time to visit Safranbolu
Safranbolu is located in north Turkey, very close to the Black Sea. It is also a hilly town. All of this makes Safranbolu's climate mild and sometimes, really cold. Temperatures rarely go above 75°F (25°C) except in the summer months of July and August. Winters can be cold, chilly, and rainy. Therefore, the best time to visit Safranbolu is in late spring, summer, and early fall.
In fact, the months of April – June and September – October are the best to travel to Safranbolu Turkey. The weather is just perfect to sightsee, take day trips, and stroll through the historic town and marketplace.
How to get to Safranbolu?
The best way to get to Safranbolu is by taking a bus from Ankara. The journey takes around 3 hours and includes one toilet break in between.
The bus will drop you at the Safranbolu bus station in the new town. From there, you can take a taxi to the old town – should cost between 40 – 50 TL. Taxis usually run by the meter here.
We rode a Kamil Koc bus between Ankara and Safranbolu and it was a pleasant ride. In fact, during our 10 days in Turkey, we rode Kamil Koc buses several times and totally loved our journeys. The buses are clean and on time. Seats are equipped with basic entertainment systems (carry your own headphones). A small snack and drink is also included in your bus ticket.
You can book your Kamil Koc tickets either on the Flixbus website here or on the Obilet website here. Obilet is an online booking platform (and a really fast growing one at that!) for bus tickets, flights, hotels, rental cars, and ferry rides in Turkey.
How to get around Safranbolu?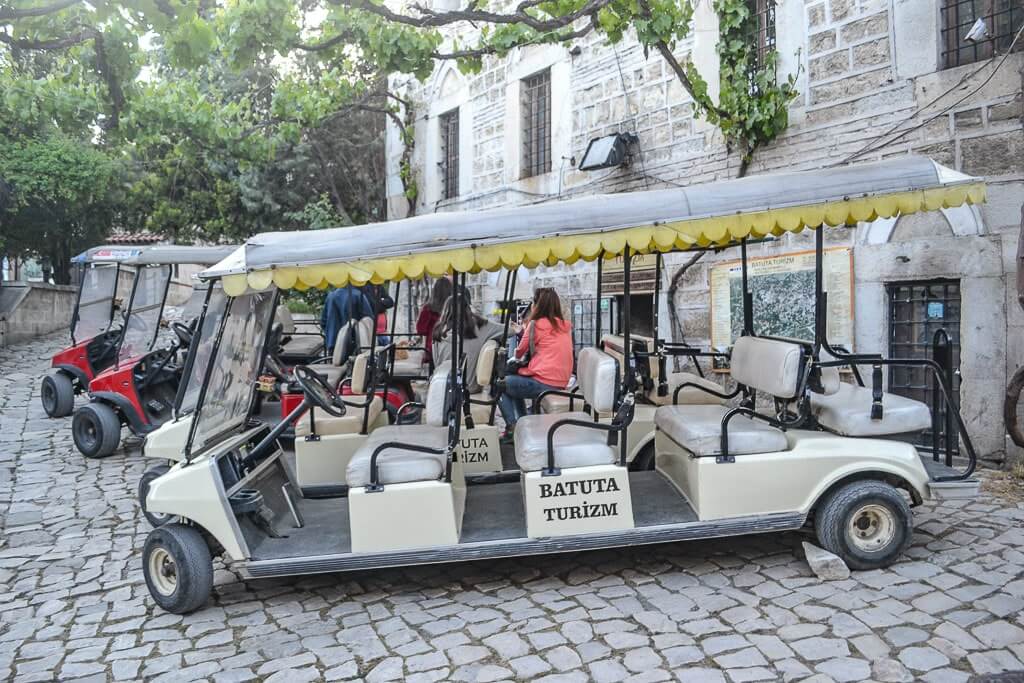 The best way to get around Safranbolu's historic center is by walking. The city center is extremely compact and easy to explore on foot. Many Safranbolu attractions are located in and around the old marketplace, as you can see in the interactive map above.
The city is a little hilly, though. I highly recommend packing a good pair of walking shoes for your Safranbolu trip. If you have trouble walking/climbing, there's an option of hiring a golf cart like the one shown in the picture. You can find them right next to the Cinci Hamam.
For day trips to Bulak Caves, Incekaya Aqueduct, or Yoruk Village, you'll need to hire a taxi. Taxis are also available near the Cinci Hamam. We hired a taxi for the entire day at 350 TL (€20 at the time).
Safranbolu Turkey Travel FAQ
Is Safranbolu worth visiting?
Safranbolu, with its unique Ottoman architecture, stunning mosques, a medieval marketplace, and a long history of saffron, is absolutely worth visiting. It is one of Turkey's best kept secrets and has a beautiful historic center that is listed as a UNESCO World Heritage Site.
What is Safranbolu known for?
Safranbolu is known for its 2000+ Turkish mansions that display a distinctive architectural style from the Ottoman times. These mansions give us a special peek into old Turkish life and culture of more than 300 years ago.
Loved this Safranbolu things to do guide? Pin it for later!