Last Updated on June 5, 2019 by Soumya
In November 2017, Or Tor Kor Market in Bangkok was voted as the 4th Best Fresh Market in the world by CNN Travel. It was described as immaculate, brightly lit, and a storehouse of exotic fruits and tropical delicacies. This time when we were in Bangkok, Or Tor Kor beckoned to us like never before and we could not resist the temptation. So here's a quick review of what I saw there.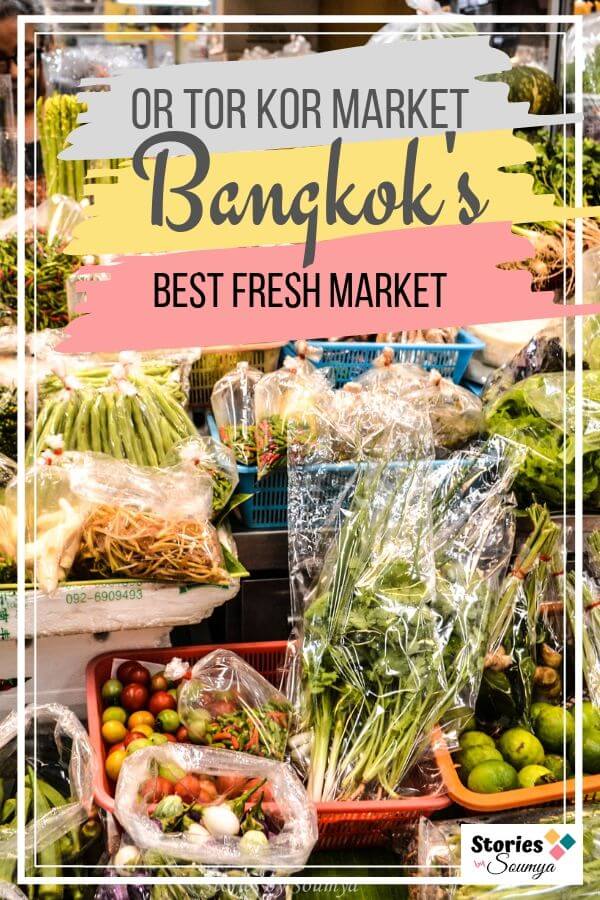 Colorful, Lively, Exotic, and Neat – these were the words that came to my mind when I first stepped into Or Tor Kor Market in Bangkok. Located a stone's throw away from the famous Chatuchak Weekend Market, Or Tor Kor does not see many tourists. It is usually frequented by upper-class Bangkok residents because of its higher prices and superior quality products. That does not make it inaccessible to tourists. It just makes it more off-beat and authentic. Whether you want to make some fresh purchases, amble down the aisles, or simply people-watch – Or Tor Kor won't disappoint you!
Want to visit some more exciting markets in and around Bangkok? Click here to read.
Here's my miniguide on what you can expect to see at the Or Tor Kor Market in Bangkok.
Or Tor Kor is mostly a food market. However, you can still see a bit of other stuff such as kitchen supplies and clothes in the side-aisles. The center is primarily dedicated to food. Among food items, you can find fresh fruits and vegetables, uber-fresh seafood, packaged and processed items, and some exotic really stuff. Let's take a picture tour of what you will see here.
Fresh Food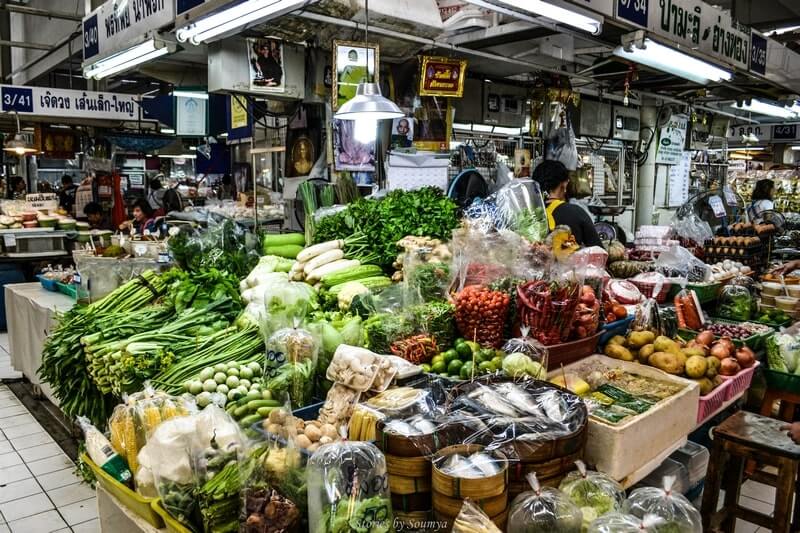 Or Tor Kor Market in Bangkok is filled with tonnes of greens. Vegetable vendors are usually found on one side of the market whereas fruit vendors are scattered all over the place. You can get almost anything that you need to cook up an appetizing Thai dish.
An interesting section is that of fresh seafood. You can find the best quality seafood here – right from the sea into your lap. I have heard that the prices at Or Tor Kor are higher than those in the rest of Bangkok but that is in part because of the superior quality. Even if you are not buying, I would recommend taking a walk down the fresh food aisles just to get a feel of the scale and the energy of the section.
Cooked Food Section
If you are not planning to cook yet want to enjoy a wholesome meal, then Or Tor Kor is the place for you. Cooked food is available in plenty in the market. Many of the stores serve customers with the snacks of their liking in small plastic packets. You can carry them to one of the benches placed in the center and enjoy your meal there.
At the far end of the market, is also a food court where you can find umpteen options to satisfy your hunger pangs. Ask for/ Point out to whatever you want to dig into, pay for them, and enjoy your meal at a table.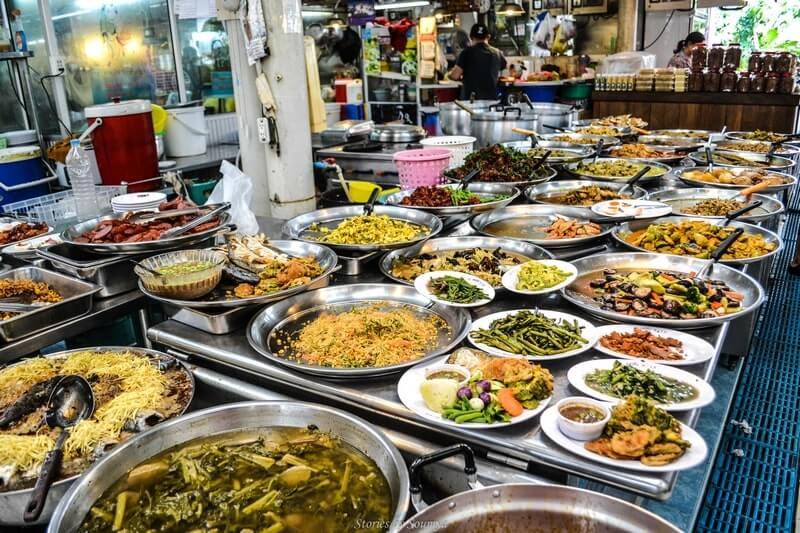 Don't worry if you are craving for that small dessert at the end of your meal. Or Tor Kor has amazing Thai dessert options too. My husband's favorite is Bua Loi which is basically a concoction of colorful, glutinous rice balls floating in a sea of sweetened coconut milk. It is often eaten warm and is considered to be soul food by locals. It is a great dish to share with your family. Kids enjoy picking out and trying balls of their favorite colors. In the picture below, you will see a collection of rice balls and Thai jellos.
Looking forward to eating the best food in Bangkok? Click here to find out what you should eat here.
Packaged Food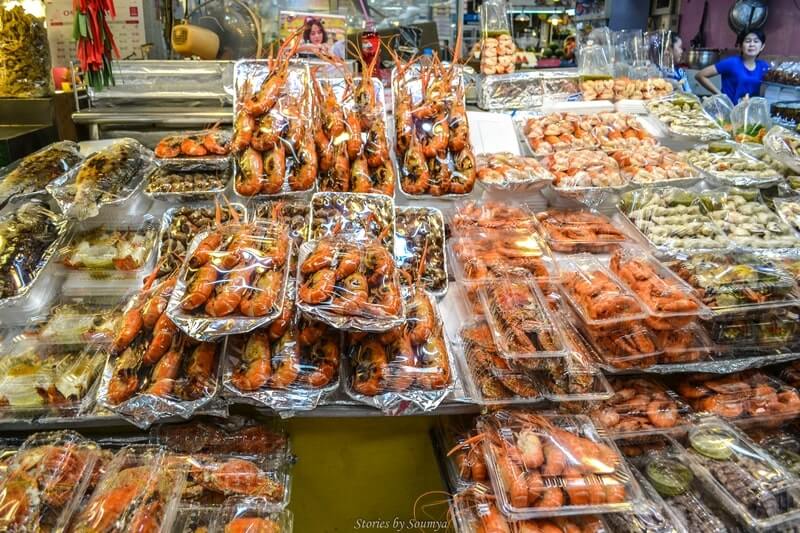 Tonnes of packaged food are available at Or Tor Kor. If you are in Bangkok only for a little while and wish to carry home some delicious souvenirs, then this is the perfect place to shop for them. A lot of them are dry and are easy to carry. Some of them can be wet such as marinated lobsters/shrimps. They are meant to be consumed within the same day or two. Good to take home and cook your own Thai meal.
At some of the stores, you can also find abundant Thai nam phrik pastes or sauces. They can be conveniently packed for you to carry home.
Exotic Options
Apart from the regular stuff, Or Tor Kor Market in Bangkok also hosts plenty of exotic tropical and non-tropical fruits. Thai mangoes, longans, rose apples, mangosteens, and rambutans are available in plenty. Apparently, it is quite a popular place to dig into some exotic Durian – the fruit with a distinct odor. I had my first taste of Durian here. Definitely not my type because the smell was a little too strong for me. But I enjoyed the rambutans and rose apples.
I also noticed these boxes of really cute white strawberries at a stall in Or Tor Kor. My first tete-a-tete with the White Jewel. They had been sourced from Japan and cost a bomb. I had to satisfy myself with only a picture.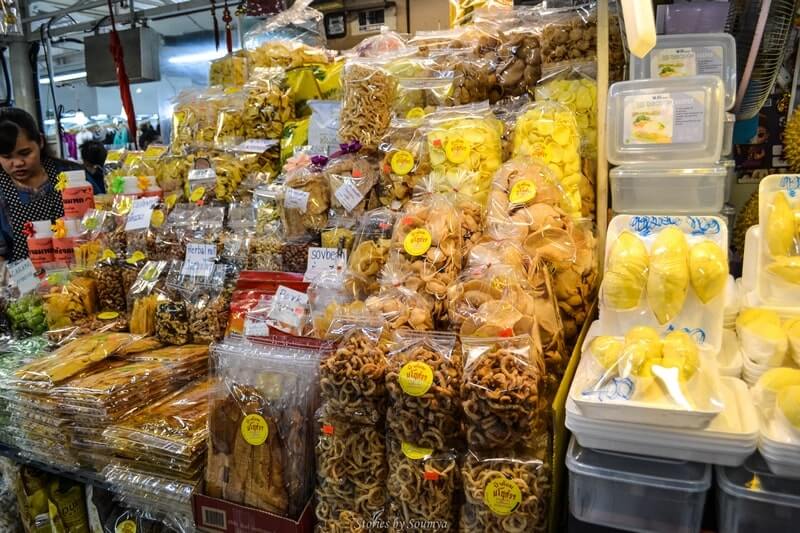 Logistics for Or Tor Kor
The market is open between 6 am – 8 pm every day. It is located at Kamphaengphet Road right opposite Chatuchak Weekend Market. You can take the MRT and get off at the Kamphaengphet station in order to get to Or Tor Kor. Alternately, you can walk from the Chatuchak Weekend Market. Paid toilets are available in a smaller building right outside the farthest end of the Or Tor Kor main building.
The Or Tor Kor Market in Bangkok is every food lover's paradise. And the best part is it is located at walking distance from the very happening Chatuchak Weekend Market which is always on every tourist's itinerary.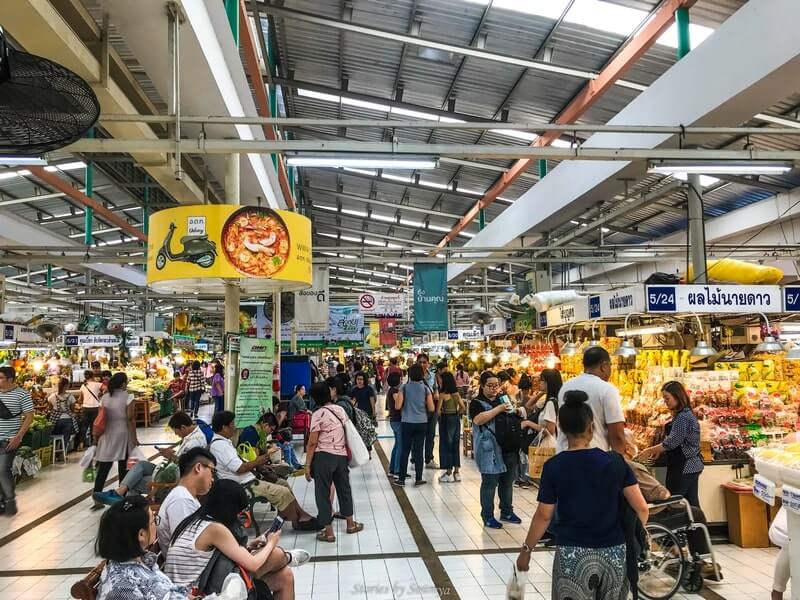 I had a great time exploring the Or Tor Kor Market in Bangkok. We were here to bring back some Thai food souvenirs and we had an amazing time shopping for them. We ended up buying rambutans, avocados from New Zealand, durian, and rose apples. I would love to go back to Bangkok one day, buy fresh stuff from Or Tor Kor, and cook a complete Thai meal out of them. What a happy thought that is!
If you wish to read about Yodpiman – a fragrant flower market in Bangkok, click here.
Have you ever been to Or Tor Kor? If so, how did you like it? Feel free to drop me a line below and let's get the conversation going.
Pin It For Later!