Last Updated on September 11, 2023 by Soumya
This was our day for the markets of Bangkok and we decided to make our first visit to the Yodpiman Flower Market.
A trip to the flower market can never go wrong. Flowers are the most beautiful things on earth. And a market that housed tonnes of them would surely be the prettiest thing. So off we went.
When we arrived here in the wee hours of the morning, we were greeted by not only the freshness of flowers all around but also the regular hustle and bustle of any Asian market.
Vendors were up about, arranging their flowers in the best possible manner, chatting up with friends, and figuring out a way to sell more.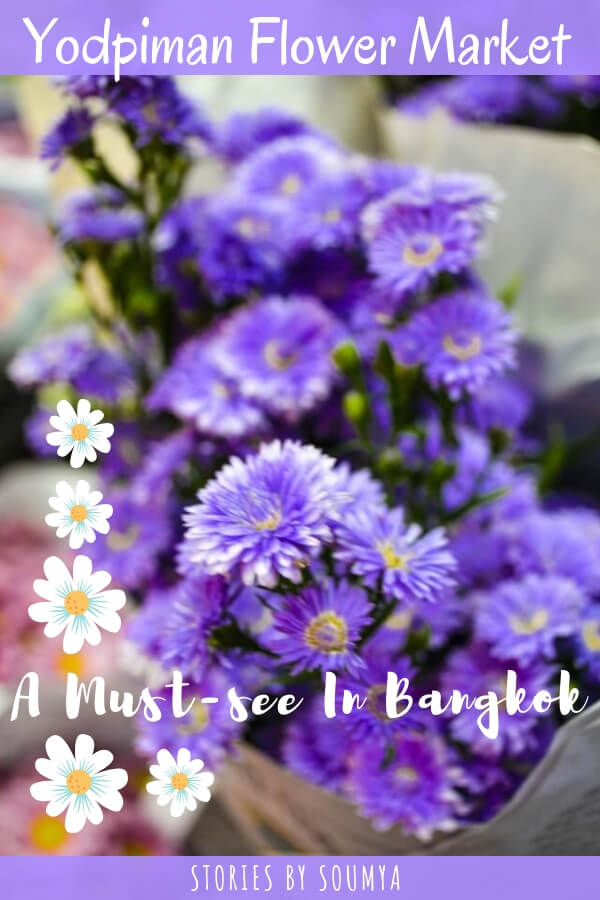 What to see at Yodpiman Flower Market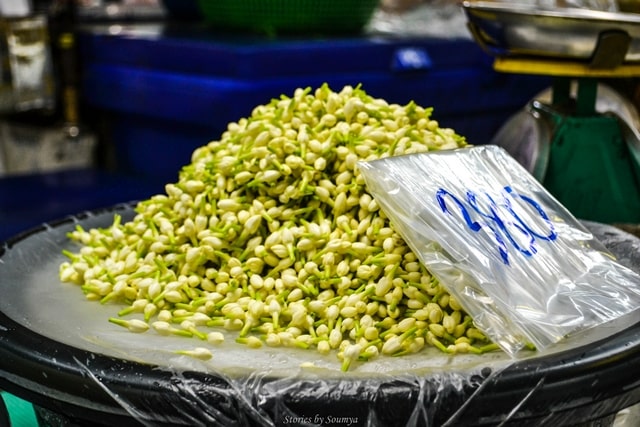 Flowers and more flowers
Obviously, we saw flowers of many different kinds. Orchids of various colors are prominent as are some of the more tropical flowers such as marigolds, jasmines, plumerias, globe amaranths, and tropical daisies.
We did not see too many roses. They were few and far in between. The market was mostly colored in hues of orange and yellow by tonnes of marigold all around.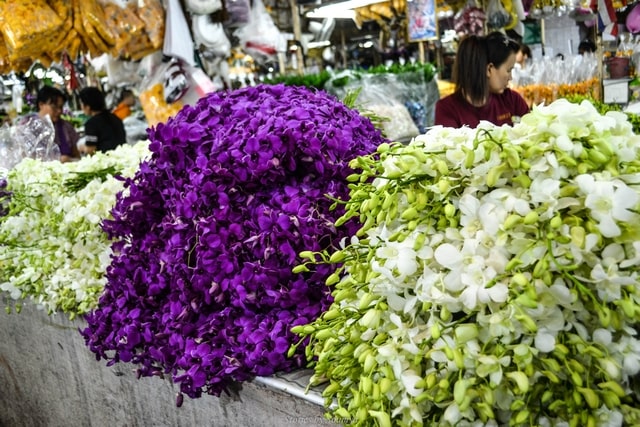 Flowers are sold quite cheap here because it is a wholesale market.
I could not believe my eyes when I picked up a bunch of fresh orchids for only 10 Thai Baht (0.3$). So, if you are thinking about dazzling your better half with an enviable bouquet, then why not do it from here?
Ornate flower arrangements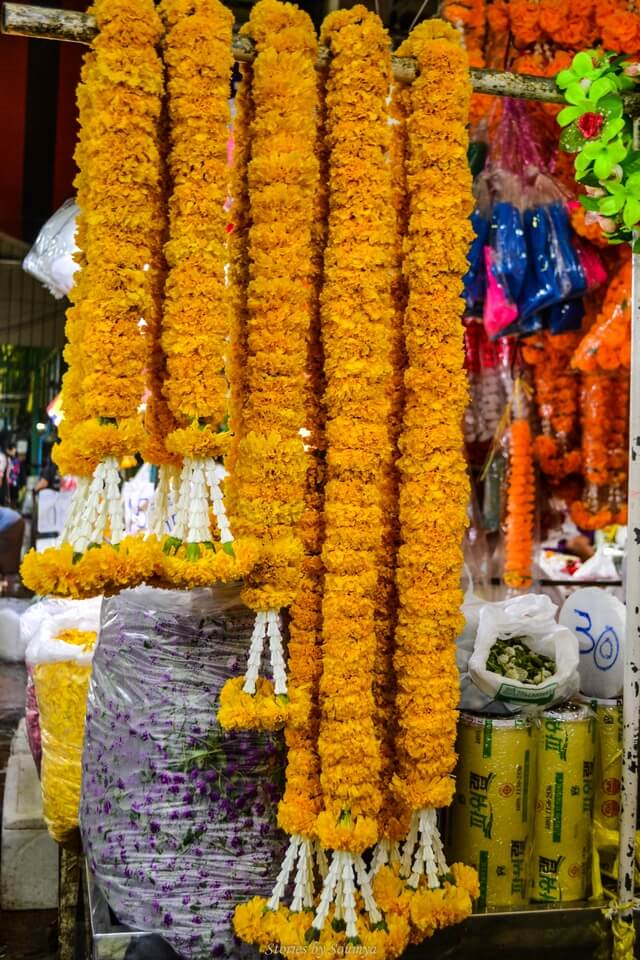 Another attractive aspect of the Yodpiman flower market in Bangkok is that you get to see a number of pretty flower arrangements at the shops.
Vendors carve these beautiful pieces out of the blossoms and sell them for a slightly higher rate. Most of these are offered for worship, as far as I can tell.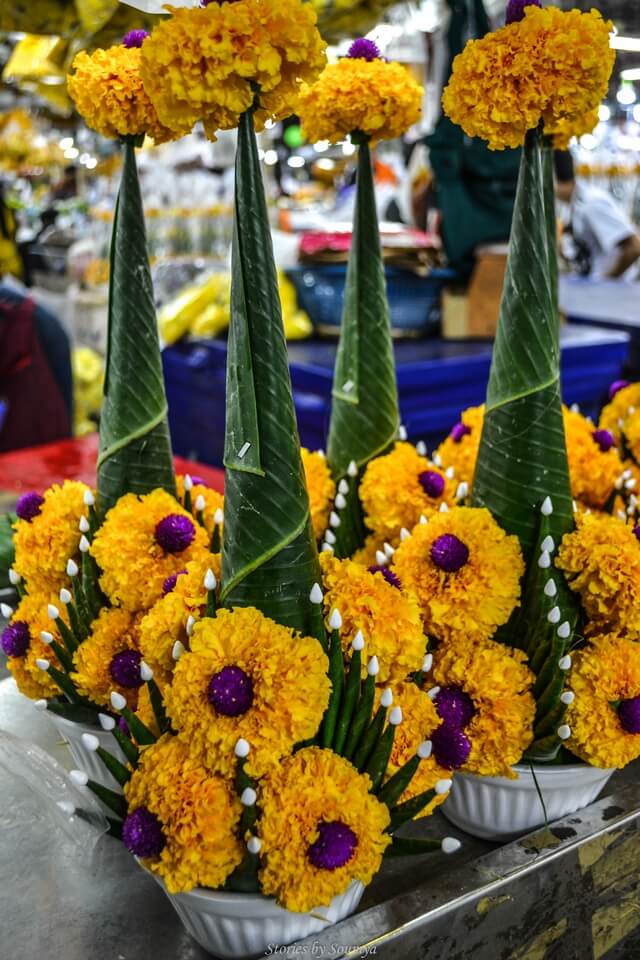 The most prominent arrangement is the one shown above with marigolds and globe amaranths surrounding a leafy cone in the middle. You must have noticed these quite a few of these in the temples in and around Bangkok.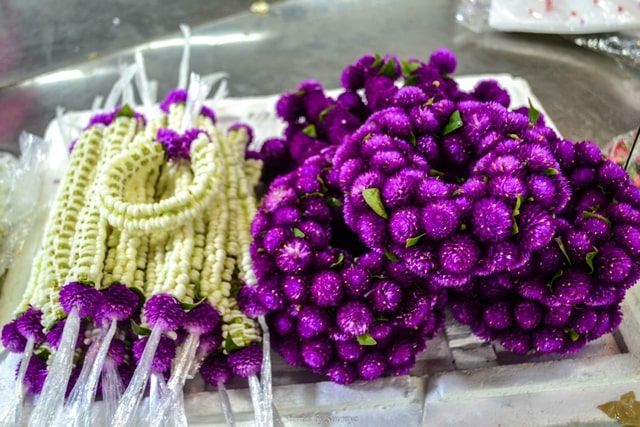 My favorite was this combination of white jasmine and purple amaranths. They made such a beautiful picture, the light and the dark existing in complete harmony.
Globe amaranths grow in the wild in India too. But they are hardly ever used here for worship or anything else. This innovative use of the flowers made so much sense to me.
The hustle and bustle and a day in the life of Bangkok's flower vendors
Even if you are not interested in flowers, Bangkok's flower market is a great place to be part of the local culture and people-watch. You can watch flower vendors get to work as customers start coming in.
You will see porters carrying out baskets of flowers after customers purchase them. You will see monks coming in to bless shopkeepers. And you will see vendors engaged in animated conversations about the day's prices and demands.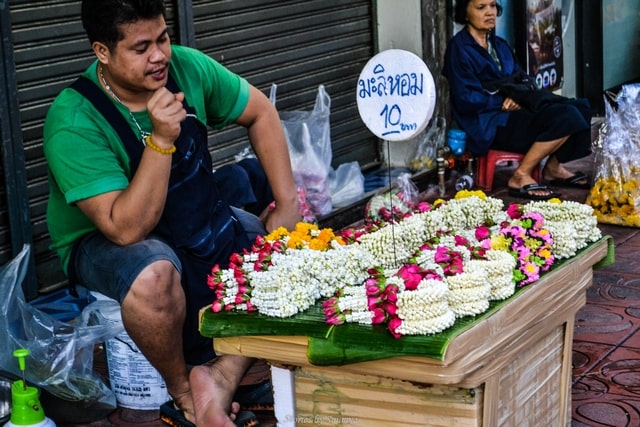 Good Time To Visit The Yodpiman Flower Market
Yodpiman Flower Market of Bangkok never sleeps. It is open throughout the day and night. But throughout the day may not be a great time to visit. And here's why.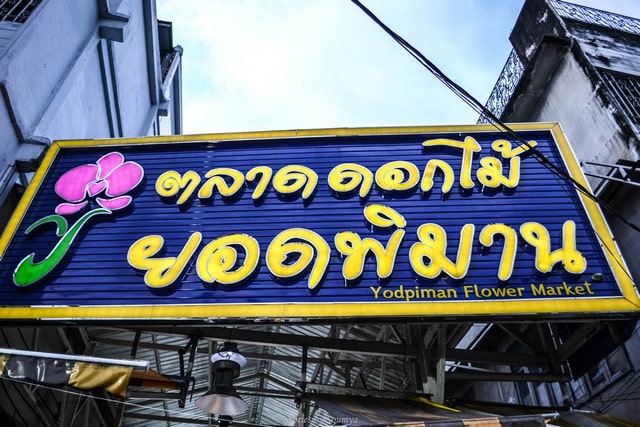 A little research had told us that between midnight and 4 am was the best time to see this beautiful market. That is when the market is most active.
Flowers come in from different parts of the country and the trading and receipt of flowers happen then.
The whole place turns into a melange of colors, a dewy medley of fragrances, and an amazing cacophony of raucous vendors. If you want to catch the market at its peak, then midnight – 4 am is the best time.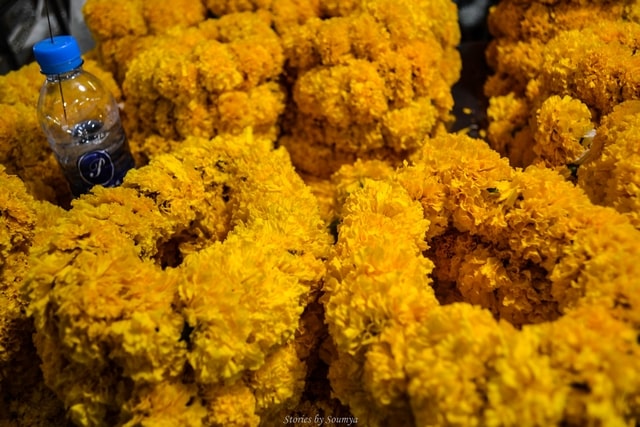 But, who on vacation, wakes up in the middle of the night! Additionally, we travel with an active 6-year-old who needs his daily dose of sleep. It felt unfair to deprive him of his much-needed sleep.
So, we were up at 5 and got to the market at 6 in the morning. The deliveries had been done by then but the flowers were all fresh and fragrant, right out of their boxes.
Buyers were starting to trickle in. The day's business was starting off. Monks were pouring in for a daily ritual of blessing the shopkeepers. There was so much activity even then.
So, if you are not a late-nighter, 6 a.m. is a really good time to get there.
Around noon is not the best time to go because there isn't much happening. Sales are all done by then and flowers get droopy. So, the earlier you go the better.
Click here to read about my experience at the best food market in Bangkok, the Or Tor Kor.
How To Get Here?
We took the ferry to the Yodpiman Pier, a 2min walk from the flower market. Getting to the market by boat put the experience in a different league altogether.
Boarding a ferry on the Chao Phraya River when it was still dark, getting to see some early risers shuttling to work, and watching the sun rise over the Bangkok skyline were just some of the things that made this trip even more memorable.
Here is quite a detailed post on the Chao Phraya river public service boats and a helpful map that will help you get to the Yodpiman pier from anywhere in Bangkok. A stroll down the Yodpiman River Walk is also highly recommended if you have time.
Markets in Bangkok are no mean feat. They are large and attractive. And a must-do among the most important things to do in Bangkok. Yodpiman was the biggest flower market I had ever seen. And it was just so beautiful.
I am sure these colors and our little friend up there will entice you to make a trip to the Yodpiman Flower Market soon enough. Maybe you will discover something more interesting here. Do let me know when you do that.
And don't forget to share your experiences if you have already visited this part of the world!
If you are looking for suggestions on what to eat in Bangkok, do check out our unusual food guide of Bangkok. And while you are at it, don't forget to follow us on Facebook to get regular updates on interesting markets and shopping destinations across the world.
Loved our Yodpiman Flower Market Guide? Pin it for later!