Last Updated on May 23, 2023 by Soumya
Looking for the best tours in Cappadocia, Turkey? Want to explore Cappadocia's surreal landscape with interesting insights from locals? Wondering what is the best way to learn about the ancient civilizations that once inhabited this region?
Well, we have got answers to all your questions, right here.
On my recent trip to Turkey, I discovered that guided tours and excursions were a great way to see the best attractions of Cappadocia. Tours are fun, engaging, and a great way to dig deeper into the history of this ancient region in Turkey. For example, guests absolutely love this cool, full-day tour of Cappadocia's highlights while this sunset ATV tour gives you a unique perspective of Cappadocia's picturesque valleys.
In this comprehensive post, you'll find everything you need to choose the perfect Cappadocia tour for yourself. Whether you love private outings with knowledgeable guides, magical balloon rides, immersive local experiences, or thrilling outdoor excursions in Cappadocia, I have the best listed down here.
One quick thing. Typically, we use Get Your Guide or Viator to book our tours when we travel. They usually have highly-recommended excursions with flexible cancellation policies. However, in the case of Cappadocia, I would like to point out that sometimes it may make more sense to book directly with a vendor. In each of my sections on the best Cappadocia tours, you'll find tips on how to do that in order to get maximum value of your money.
Highly recommended balloon tours of Cappadocia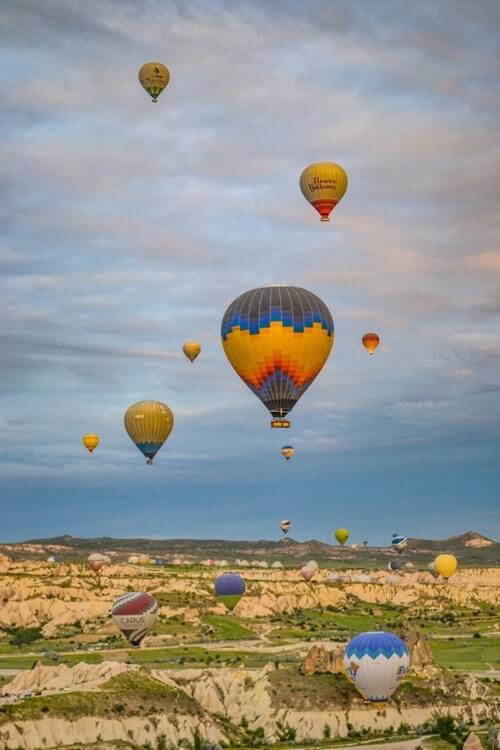 Please note: This post may contain affiliate links which means I may earn a commission if you make a purchase by clicking a link on this post. This will be at no additional cost to you. Affiliate links help me keep this website up and running. Thanks for your support!
Riding a hot air balloon in Cappadocia is an amazing way to experience the beauty of this region. As you fly over the fairy chimneys and glide with a hundred other balloons in the sky, the feeling is one of pure magic.
Honestly, I am now falling short of words in my effort to describe the adventure. You have to go in and experience the balloon ride for yourself.
Pro tip: Be prepared for balloon flight cancellations in bad weather. Balloons get cancelled if the wind speed rises above 10 km per hour. Read our guide on how to deal with Cappadocia balloon cancellations so that you have a plan B in place.
Here are some of the best balloon tours in Cappadocia.
Hot air balloon ride by Butterfly Balloons
On this amazing hot air balloon flight, you'll enjoy a magical ride over the stunning landscape of Cappadocia at sunrise. Butterfly Balloons will pick you up from your hotel in an AC van and take you to Goreme where you'll take off. But not before enjoying a light breakfast with the crew and other passengers. Then, you will go on the most beautiful ride of your life over fairy chimneys, rock-hewn churches, tinted towers, and troglodyte villages. There will be a glass of champagne at the end of the tour.
This hot air balloon ride by Butterfly Balloons is one of the highest-rated and most-booked balloon tours in the entire Cappadocia region. They have 966 reviews on Viator with 937 of them being 5-stars and the remaining 4-stars. Read all reviews here.
Incredible flight, would recommend to anyone. Butterfly Balloons were incredibly efficient, couldn't fault them.

Kirsty, Customer on Viator.
Anyone who has flown Butterfly Balloons knows you are in good hands. Their processes are efficient and well-managed. They have expert pilots who can take you both high above the clouds and low into the valleys. Butterfly Balloons is, indeed, one of the best agencies to fly with in Cappadocia.
Hot air balloon tour with light breakfast & champagne
If you don't manage to get a ticket for this Butterfly Balloons tour, try this tour on Get Your Guide where they offer you both standard and deluxe packages.
On this tour, you'll enjoy light snacks for breakfast early in the morning, take off with your group in a hot air balloon, and catch a bird's eye view of Cappadocia's martian terrain. At the end of the tour, you'll receive a certificate and celebrate with a glass of champagne.
Cappadocia private balloon watching tour
If flying at 3000 ft makes you uneasy but you still want to get some great balloon-filled pictures over the valleys, try this private balloon watching tour in Cappadocia.
The tour operator will pick you up from your hotel and take you to the balloon launching point where you can see balloons getting ready and taking off. After the take off, you'll drive through several valleys of Cappadocia and watch the balloons as they fly over you. Then, you'll head to Peak Point at Love Valley and take some gorgeous pictures of yourself, the balloons, and Cappadocia's famous fairy chimneys. Remember to pack your camera.
Best cultural day tours in Cappadocia
Cultural day tours are one of the best ways to check out Cappadocia's famous tourist sites. These tours come in 3 different colors – red, green, and blue and take you to different parts of the Cappadocia region.
The Red Tour is one of the most popular tours in Cappadocia, followed by Green and then by Blue.
What are Red, Green, & Blue tours in Cappadocia?
Red Tour includes Cappadocia's top highlights such as Goreme Open Air Museum, Uchisar Castle, Pasabag, and Devrent Valley. This is a really great tour if you are visiting Cappadocia for a short time and wish to see the maximum. The Red Tour shows you the best of northern Cappadocia.
Green Tour, on the other hand, takes you to southwestern Cappadocia and shows you some of the lesser-known historic sites such as Selime Monastery and Ilhara Valley. This tour also includes an underground city – Derinkuyu or Kaymakli. So, if you wish to see one, this is the tour you should be taking.
Blue Tour usually includes a hike along the Rose Valley, an underground city, the Pigeon Valley, and the Ortahisar Castle.
Pro tip: If you have a Cappadocia or Turkey Museum Pass, you can get discounts on your tour price. That is because if your tour includes a heritage site that is already covered by these passes, the tour operator will not have to buy tickets for you. In such a scenario, it is best to book your tour through the hotel or directly through a Cappadocia travel agency. Online portals such as GYG and Viator do not recognize these discounts.
So, here is a list of the highest rated colorful tours of Cappadocia.
Small Group Red Tour
This small-group, Red Tour is one of the most popular tours in Cappadocia. In this tour, you'll visit the must-see attractions of northern Cappadocia in under 7-8 hours.
Start by exploring the Goreme Open Air Museum which has the largest density of rock-hewn churches in a small area. The frescoes inside some of these churches such as the Apple Church are stunning. Next, you'll marvel at the mushroom-shaped fairy chimneys of Pasabag followed by a quick walk among the fascinating shapes of Devrent Valley. You'll, then, head to Avanos for an immersion into Cappadocian pottery. Note that the itinerary may change depending on the weather and crowds.
The tour includes hotel pick up, entrance to the sites, and the services of a professional guide. Priced at $60+ per person, this tour is real value for money and a great choice for first-timers. What's better is that the tour is GYG-certified and includes transportation, all entrance fees, and lunch.
Small Group Green Tour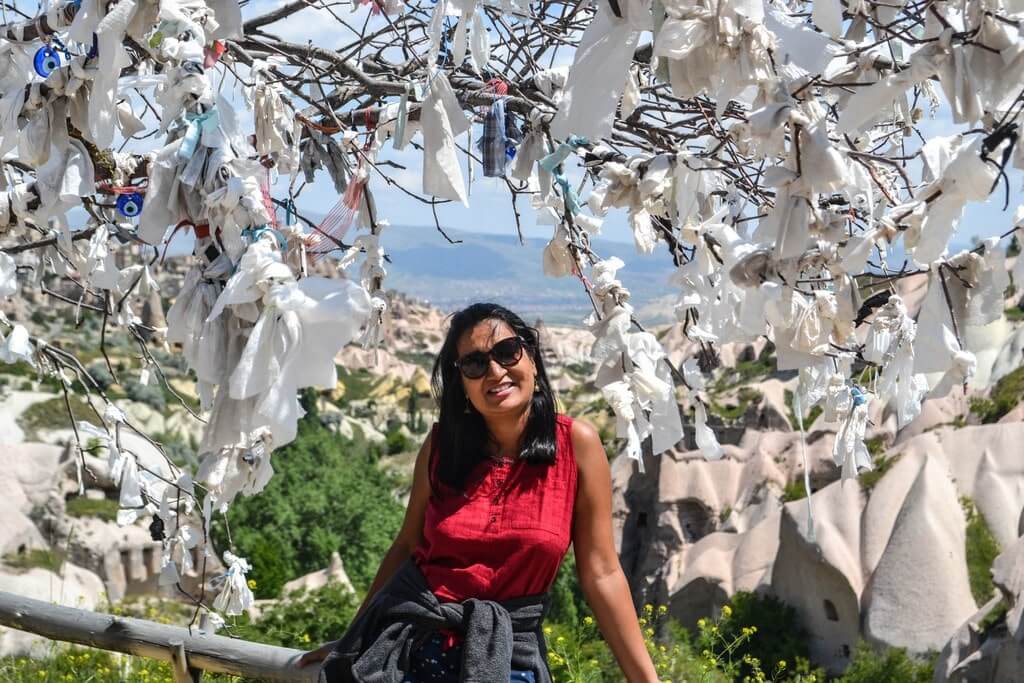 After a lot of thinking and researching, I went ahead and chose a Green Tour on my last visit to Cappadocia. That was because a Green Tour includes several attractions that are not easily accessible by public transport from Goreme.
Take the case of Ilhara Valley, Selime Monastery, or the underground cities. You would need a car or at least a change of buses to get to these destinations. The Green Tour, on the other hand, makes it super easy to visit these Cappadocia attractions. They will pick you up from your hotel around 9:30 am, show you around, and drop you back around 5:00 pm. Very convenient!
On this small-group, Cappadocia Green Tour, you'll begin your day by enjoying the views from Goreme Panorama and then head to Kaymakli Underground City where you'll see how ancient Christians survived under the ground for months on end. Next, you'll see a rock-cut church in Ilhara Valley and then hike through the Ilhara Canyon, visit Selime Monastery, and end the day with some great shots at Pigeon Valley.
You'll love the Green Tour because it helps you cover so much ground in under 8 hours. It shows a bit of both the history and the scenery of Cappadocia. Find out what other guests have to say about this Cappadocia Green Tour.
Full day Cappadocia Blue Tour
Unlike the Red and the Green tours, the Blue Tour in Cappadocia includes a hike through the Red and the Rose Valleys. After that, you'll visit Cavusin, an old Greek village that is filled with rock-cut dwellings. Post lunch, the guide will take you to one of Cappadocia's subterranean cities where you'll learn how the ancient people of Cappadocia escaped religious persecution. You'll end the tour at Uchisar and Ortahisar castles.
I would not say Blue Tour is the most popular thing to do in Cappadocia. Red and Green tours are more popular. But if you are looking to hike/walk around the valleys a bit, then a Blue Tour definitely makes more sense.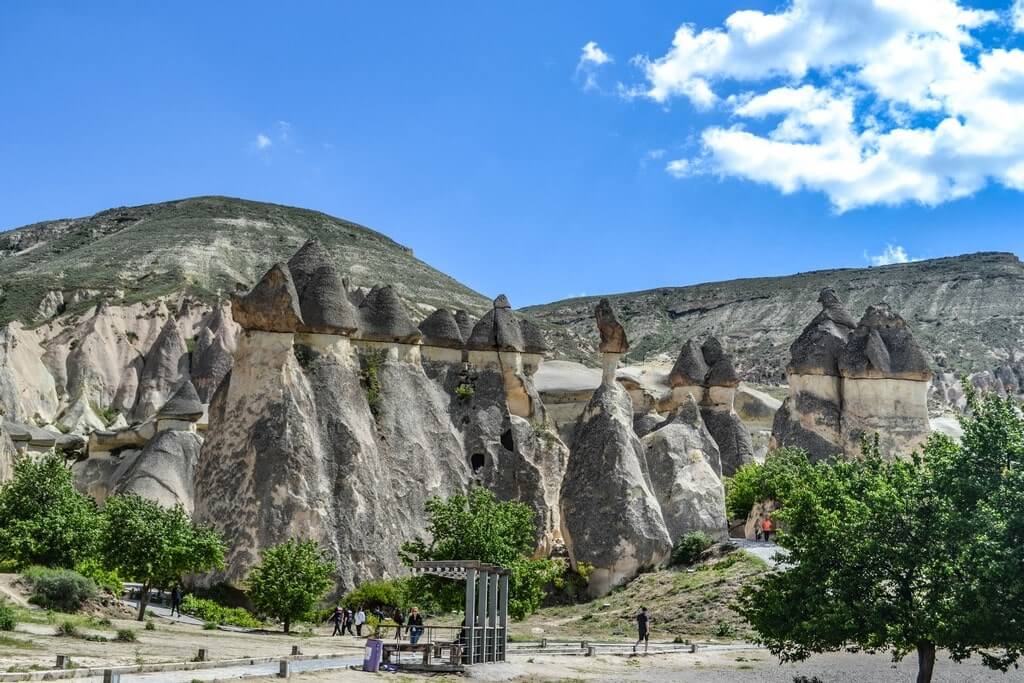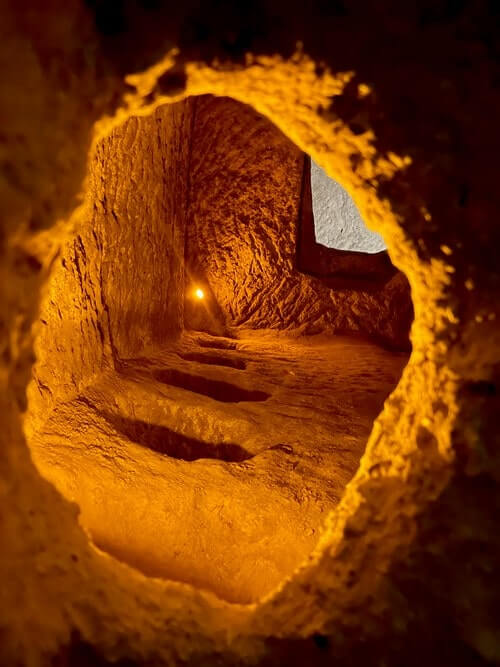 Cappadocia highlights tour with lunch
If you are confused between the red, the green, and the blue tours, then it is a good idea to sign up for this highly recommended, full-day highlights tour of Cappadocia.
This Cappadocia tour has a mix of the best attractions from all the 3 tours. You'll visit Goreme Open Air Museum, Cavusin Village, Pasabag, Devrent Valley, Pigeon Valley, as well as an underground city – all in one day and under $60! That is great value for money and an efficient use of your time if you spending between 1 – 2 days in Cappadocia.
The best part is that they have two different kinds of this tour – a small group version and a private version. If you are a group of 3 or more people, it is actually cheaper to get the private tour.
The guide is amazing and knowledgeable which makes this full-day tour one of the highest rates tours in the Cappadocia market. Even though the tour includes a lot of different attractions, guests don't usually feel rushed which is a good thing. If you look at the stats here, you'll realize that this is one of the most populars Cappadocia tours in the market.
Highest rated outdoor excursions in Cappadocia
Cappadocia's landscape is fascinating. It is filled with large valleys of unusual rock formations called as fairy chimneys. Formed by years of erosion of Cappadocia's soft tufa cover, these fairy chimneys make the landscape entirely unusual and absolutely picturesque.
It is a great idea to venture out in the open in Cappadocia. Hiking, driving an ATV, or riding a horse are some of the best ways to explore Cappadocia's outdoors.
Some of the popular adventure companies out there are Cappadocia Adventures and Tourmania. Cappadocia Adventures mostly organizes outdoor tours in the Cappadocia region whereas Tourmania is a leading tour company all over Turkey.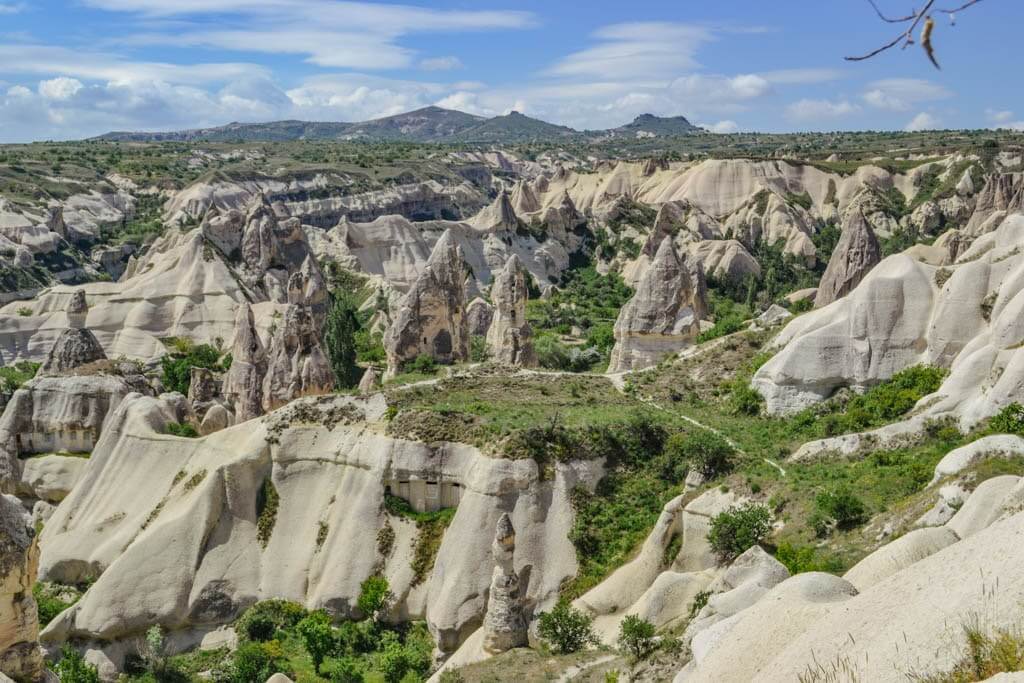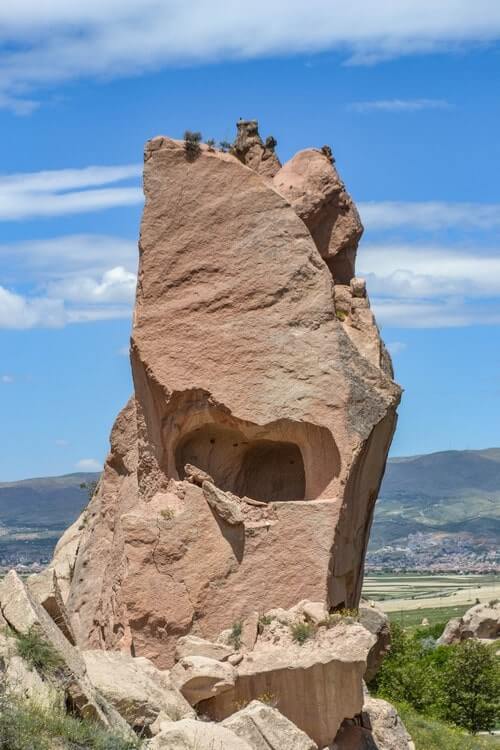 Sunset ATV tour
An interesting way to explore Cappadocia is on ATVs. Even though I have never ridden one, my friends tell me that riding an ATV through the strangely martian landscape of Cappadocia gives you an adrenaline rush like nothing else.
Here's a sunset ATV tour by Cappadocia Adventures that's always in demand. You'll ride a quad bike through the Sword, White, Love, and Red Valleys of Cappadocia, learn all about ancient Greek architecture in a village in Cavusin, and end your day by watching a beautiful sunset over Rose Valley. The tour includes hotel pick up and helmets for the ride.
Guests love everything about this quad bike tour – the tour guides, the valleys covered, and last but not the least the memorable sunset. The Cappadocia Adventures guys are always there to assist you in case you need something. No doubt, this is one of the most popular outdoors tours in Cappadocia.
Horseback riding tour through Cappadocia's valleys
How about a horse ride through the scenic valleys of Cappadocia? A tour that could actually make you feel like an ancient Greek or a medieval Turk surveying the valleys on horseback. Doesn't that give you goosebumps already?
Cappadocia has long been the place where beautiful horses roamed. The name "Cappadocia" literally translates to an ancient region in Anatolia that was known for its horses. Even today, you can get a unique perspective of the place while sitting on a horse.
Here's an amazing horseback riding tour that starts in sleepy Cavusin, goes all the way to the Red and Rose Valley, and then to a sunset point for gorgeous views.
It is one of Cappadocia's highest-rated excursions with 56 5-stars out of 62. Therefore, it has a Badge of Excellence from Viator. Guests love the experience especially because the ranch people and the guides are great and the horses look happy and healthy. Check out all guest reviews here.
Salt lake tour with underground city and caravanserai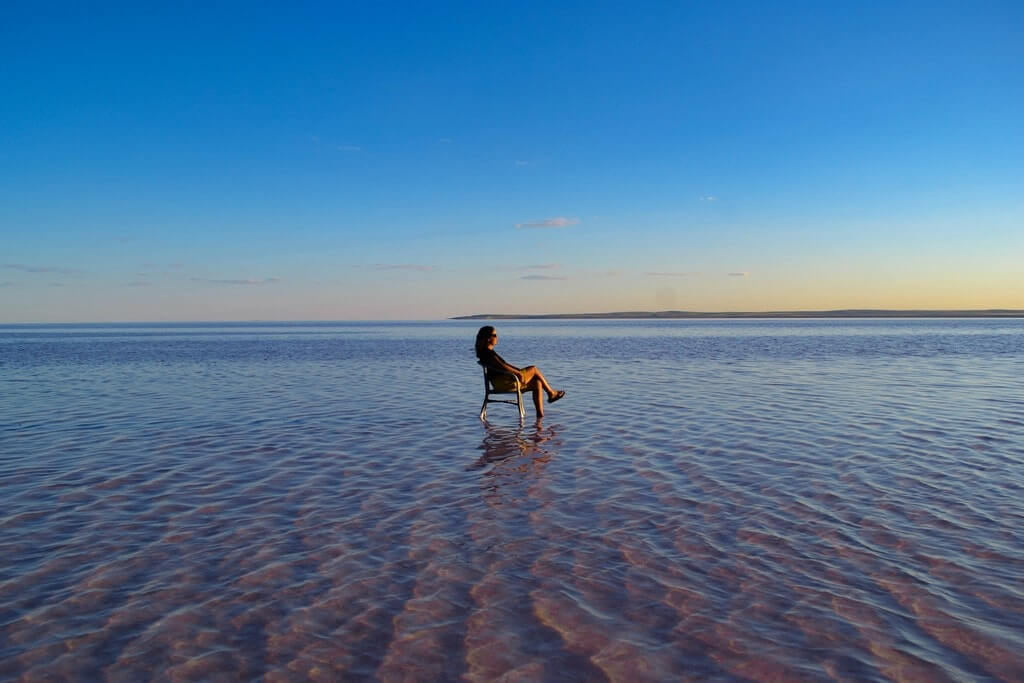 It is just amazing how diverse the landscape of Cappadocia is. On one hand, you will see a surreal terrain filled with rocky towers and troglodyte villages and on the other hand, there is a massive salt lake that changes color at sunrise and sunset.
I am talking about Lake Tuz which is one of the largest salt lakes in the world. Located just 2 hours away from Goreme, it makes for a wonderful escape from the hustle and bustle of hot air balloons and rock-cut churches.
Here's a tour that runs daily from Goreme and takes you to Saratli Underground City, an old caravanserai called Tepesidelikhan (it is now a coffee shop and Turkish souvenirs center), and ends at Lake Tuz.
Be sure to carry your slippers or crocs because it can be difficult to walk barefoot on the salt layer. The lake is not very deep in the fringes at least. Therefore, you can walk up to a great distance and experience the feeling of being in the middle of nowhere, exactly like I felt in the picture above.
Note that the lake is not as pink as some pictures on the internet will show you. The borders which are filled with salt turn pink at sunrise/sunset. That is a good time to photograph the lake.
Immersive local experiences in Cappadocia
Whirling dervishes ceremony in a historic caravanserai
I am sure everyone has told you that a whirling dervish ceremony is a must have on every Istanbul bucket list. But you know what? You can now experience the ceremony in Cappadocia too. In a historic caravanserai on the ancient Silk Road. How cool is that?
The whirling dervish or the Mevlevi Sema ceremony is a mystical dance of Sufi ascetics that took birth in Konya sometime in the 13th century. The ceremony was inscribed on the UNESCO list of Intangible Cultural Heritage in 2008. It is an absolute spectacle to watch today.
This highly-rated tour will take you to the historic Saruhan Caravanserai where you'll watch a real dervish ceremony. It is an amazing experience especially if you wish to know more about this mystical dance form and its connection with Turkey. The tour includes transfer to and from your hotel.
Cappadocia cooking class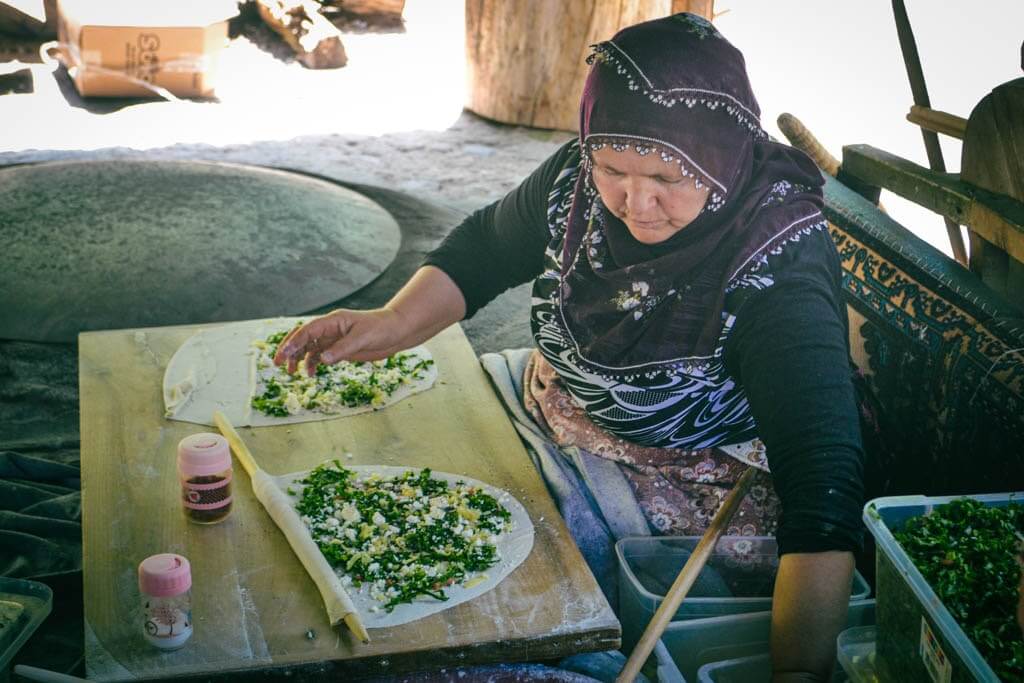 Interested in a cooking class in Cappadocia? Try this highly-recommended cooking class in Goreme where you'll learn how to bake traditional boreks and baklavas and make your own stuffed eggplant.
You'll begin the tour by shopping at a local market, cook your own food, enjoy a 3-course meal, and wrap it up with traditional Turkish coffee. The best part is you can do either a lunch class or a dinner class, depending on your availability.
One of the best things about this experience was cooking foods we hadn't seen on menus, but were common for what a local family would have for dinner.

Danica, More reviews here.
Turkish cuisine and culture night
The best thing to do in Cappadocia at night is to sign up for this enjoyable evening of Turkish culture and cuisine. You'll watch Turkish folk performances, a belly dancing show, sip on unlimited wine/beer, and enjoy traditional Turkish food. This is, truly, the a fun way to catch a glimpse of the vibrant Turkish culture.
Guests love everything about Turkish night including the dances and the guide who's very attentive and courteous. Check some of their reviews here.
Cappadocia travel tips
If you have a Cappadocia/Turkey Museum Pass, be sure to ask your Red/Green/Blue tour operator for a discount. That is because these museum passes covers entrance to several heritage sites in Cappadocia.
Cappadocia balloon rides may get cancelled in bad weather. Your balloon company should give you a complete refund in case of a cancellation. But it may get difficult to get balloon tickets for subsequent days. Find out how to deal with balloon flight cancellations here.
You'll be required to walk/hike on many Cappadocia tours. Be sure to get a good pair of walking/hiking shoes.
It is not necessary to hire a tour guide in Cappadocia because you can travel to all the attractions by car or minibus and see them on your own. But having a local guide is beneficial owing to the fact that Cappadocia has a long and diverse history plus a rich variety in landscape. Doing a tour with a knowledgeable guide is definitely a more enriching experience especially in Cappadocia.
Explore more of Cappadocia

Read our posts on
Best things to do in Cappadocia | From riding hot air balloons to crawling through subterranean settlements, there are lots of interesting

things to do in Cappadocia, Turkey

.
Hot air balloon ride in Cappadocia | What do you do if your balloon flight gets cancelled? Find out in our

Cappadocia balloon cancellations guide

.
Cappadocia Green Tour | Signed up for a Green Tour? Find out all you need to know about the tour (itinerary, price, time)

here

.
Love this curated list of Cappadocia tours? Pin it for later!