Last Updated on October 13, 2022 by Soumya
What are the best weekend trips from London? Where to go from London for the next weekend? Are there quick London getaways that will make you fall in love with history and nature? Or epic city breaks near London that can be easily done by train?
My answer to all your questions is a big, resounding YES!
With the most eclectic collection of weekend getaways, London satiates the needs of every traveler. Whether it is venturing out in the wide open meadows of Surrey Hills, marveling at the stunning architecture of Bath, visiting a bustling city with centuries of industrial history, or doing some soul searching at Stonehenge, London provides everyone with a plethora of weekend trip options.
In this ultimate bucket list, I have listed 16 epic weekend escapes from London. This list is a combination of short and easy trips as well as longer getaways where you can combine 2-3 places and see a bit of everything – history, architecture, nature, and much more. If you are wondering what to do in London over the next weekend, try one of these amazing getaways and thank me later!
---
Please note: This post may contain affiliate links which means I may earn a commission if you make a purchase by clicking a link on this post. This will be at no additional cost to you. Affiliate links help me keep this website up and running. Thanks for your support!
Best London Weekend Trips for History Lovers
Salisbury & Stonehenge – An epic weekend escape from London
Salisbury and Stonehenge are just 20 mins from each other and make for an easy weekend getaway from London.
Stonehenge is the abode of a mysterious megalithic circle in the Salisbury Plain that is more than 4500 years old. Archaeologists are still unsure who built Stonehenge and the jury is out if it was a scientific observatory or religious site for ancient Britons. Or maybe a place for ancestral worship! Nobody knows for sure.
Salisbury has lots of interesting things to including visiting the magnificent Salisbury Cathedral (known to hold an original copy of the Magna Carta), walking through the historic center, and exploring the aisles of the Salisbury Museum.
No doubt, there are tons of amazing places to visit in Salisbury and Stonehenge. You can also head to the stone circle of Avebury and visit the Old Sarum Hill nearby.
One of my favorites, this weekend trip combines historic sites and wide open meadows and is, therefore, a wonderful mixture of both history and nature. There are several camping sites nearby if you wish to spend the night under the stars and be close to Stonehenge at the same time. Remember to hire your motorhome in London and plan for an epic outdoorsy getaway.
Bath – Austen fans will love this one!
If you are a history buff like me, you'll love visiting the historic city of Bath on a really popular weekend trip from London. Located only a couple of hours away from London, the City of Bath is a UNESCO world heritage site steeped in history.
Bath is home to well-preserved Roman Baths that once functioned as a thermal spa town in medieval Europe. In the 1700s, the city also became one of the most elegant towns in Europe with abundant examples of neoclassical architecture. The Assembly Rooms, the Queen Square, and the Royal Crescent are stunning examples of Bath's architectural achievements.
Oh, and I forgot to add Bath was once home to my favorite author, Jane Austen for 5 years of her life. If you are a Jane Austen fan too, then you know where to visit.
Oxford – The City of Dreaming Spires
Home to the world famous University of Oxford, the spires-filled city of Oxford is a wonderful place to visit near London. There are so many amazing things to do here than you'll run out of time even on a long weekend trip.
Among the numerous attractions of Oxford, Christ Church College with its close association with Harry Potter and Blenheim Palace with its stunning Baroque architecture are the most iconic.
Christ Church College's Great Hall and top stairway are said to have inspired the enchanting dining hall and the grand stairway at Hogwarts. In fact, a Harry Potter tour is one of the most popular things to do in Oxford.
Some of the other popular places to visit in Oxford are the Bodleian Library, Museum of Natural History, Ashmolean Museum, and the Oxford Castle. The Radcliffe Camera or the Rad Cam is the most photographed building in Oxford.
If you are a Harry Potter fan and/or an architecture enthusiast, then you have to visit Oxford – "The City of Dreaming Spires".
Cambridge – one of the quickest weekend trips from London
Cambridge is another university town that makes for a great weekend break out of London. Even though it is often done as a day trip from London, Cambridge deserves at least a couple of days because it has so much to offer.
One of the best things to do in Cambridge is to step into King's College Chapel where you'll see the world's largest fan vaulted ceiling.
See the Mathematical Bridge which is nothing short of an engineering wonder. Marvel at historic relics in the Fitzwilliam Museum and discover the history of earth at the Sedgwick Museum of Earth Sciences. Go punting on River Cam or simply chill in the university's botanic garden.
With so many amazing museums, stunning university buildings, wide open parks and gardens, and popular eateries, Cambridge will keep you busy for a weekend and more.
Stratford-upon-Avon – For the Shakespeare fans
Stratford-upon-Avon is the birthplace of William Shakespeare and a historic town built on the River Avon. It is not just the "Mecca" for Shakespeare fans (of course, it is a big one at that) but is also a place of interest for lovers of nature, good food, and shopping.
The best thing to do in Stratford-upon-Avon is to follow in the footsteps of Shakespeare. You can visit the house where he was born, see where he courted his wife, Anne Hathway, and explore the New Place where his final home was built.
Be sure to explore the town center that is filled with happening streets, clothes and lifestyle shops. Henley Street and Wood Street are the most popular. Also, check out the black and white Tudor style cottages on High Street to get a feel of medieval times.
Best London Weekend Getaways for Nature Lovers
The UK is blessed with amazing natural beauty. Chalk white cliffs by the sea, sprawling national parks, and areas of outstanding natural beauty (AONBs) abound in this country. No doubt there are so many amazing weekend escapes from London for every nature lover.
Bonus: Most of these places have attractive camping sites where you can unplug from city life and enjoy the magic of nature.
Seven Sisters Cliffs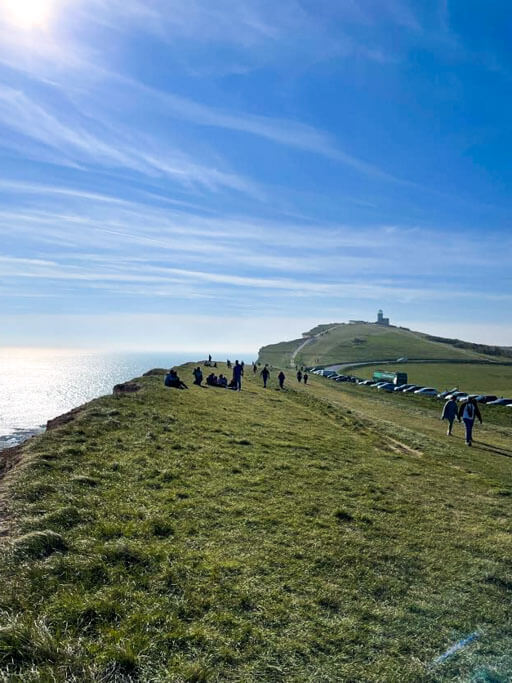 Located just a couple of hours from London, Seven Sisters is a beautiful series of chalk white cliffs along the East Sussex coast.
Created by nature millions of years ago, the Seven Sisters have a soft white allure due to the presence of chalk on their faces. The sheer beauty of this natural landmark makes it one of the most scenic places to visit in the UK.
The cliffs are called so because there are 7 peaks of varying heights plopped by the coast, almost as if 7 sisters are having a fun day by the sea.
A walk on the cliffs is probably the best way to enjoy the beauty of this place. Club it with Brighton and you have the most amazing weekend holiday near London.
To get to the Seven Sisters, take a train from the London Victoria train station to Eastbourne or Brighton (about 90 mins) and then take a Brighton & Hove 12X bus to the Seven Sisters Park Center. From the bus stop, you can hike a scenic 1.5km trail to the cliffs.
White Cliffs of Dover
England is bestowed with stunning landscapes and beautiful mountains. And the White Cliffs of Dover are one of the most iconic among them.
Another set of chalk white cliffs in England, the Dover cliffs face the Strait of Dover and are the closest to mainland Europe. The cliffs are extremely symbolic because they are often the last sight of home for every English man who leaves his country. Essentially, the White Cliffs of Dover are an inherent part of British heritage.
One of the best things to do at the White Cliffs of Dover is to walk along the coastal path and appreciate the beauty of the region. Also, check out the old Dover Castle that dates to the 13th century. There's also a Victorian lighthouse at South Foreland which makes for a great addition to any Dover trip. Do not miss the tea and some homemade cakes at Mrs. Knott's tea room, located right beside the lighthouse.
Kent Downs AONB
Kent Downs are one of the prettiest AONBs in England. Stretching from Surrey border to the Dover cliffs, Kent Downs comprise of sprawling woodlands, rich wildlife habitats, and a unique sandstone cliff called the Greensand Ridge.
When in Kent Downs, you can walk and ride through woodlands, go hiking on peaceful trails, experience wine tasting at one of the many vineyards in the area, drop into unique village churches, and sample local delicacies at farmers' markets.
Located just 65 miles southeast of London, Kent Downs AONB makes for a refreshing weekend getaway from London. Getting here by car is the most convenient with the ride taking about 1.5 hours. You can also take a train to Bearsted from London Victoria and then walk 30 mins to get to Kent Downs.
Surrey Hills AONB
The Surrey Hills is another beautiful AONB that makes for an easy weekend getaway from London.
Bordered by Kent Downs AONB (in the east) and South Downs National Park (in the south), Surrey Hills have tons of interesting things to do. Walking trails, hikes, wide open meadows, local wine, quaint churches, and fantastic views are just to name a few.
Do not miss the spectacular views at Devil's Punch Bowl and the unending miles of tranquil trails at Newlands Corner.
Located just 25 miles south of London, Surrey Hills AONB is easy to get to by car. The drive takes only an hour and 15 mins. Since it is in the same direction as the Seven Sisters Cliffs, you can easily club the two together.
Peak District
Yet another nature-filled and adventure-packed trip from London is to the Peak District National Park located up north in Central England.
Filled with hiking trails, camping grounds, quaint villages, and thrilling rock climbing opportunities, Peak District is a tempting destination for thrill-seekers. The region is especially known for its stunning limestone valleys such as Dovedale and Cave Dale. These valleys abound with walkers, hikers, and cyclists, especially in summer.
However, the Peak District is not just about nature and hiking trails. Here, you'll also find the majestic Chatsworth House, that was used as Pemberley, Mr. Darcy's residence in the 2005 movie "Pride and Prejudice". You can also visit Buxton, a spa town from the medieval times.
Epic Weekend Escapes to Charming Towns & Castles
The Cotswolds – One of the prettiest London weekend getaways
The Cotswolds is an AONB in central England that is filled with charming villages, limestone hills, and picture-perfect landscapes. If you are looking for a rustic escape from London, then a Cotswolds village is the perfect place to be.
Some of the prettiest villages in the Cotswolds include Bourton-on-the-Water – known as the Venice of the Cotswolds because of its beautiful 18th century bridges, Burford – known for its thatched roof cottages, and Castle Combe – the quintessential English village. In Castle Combe, you'll find an abundance of houses built with the yellow Cotswold stone.
The most convenient way to get to Cotswolds is by car. Not all villages have train stations and it is difficult to see many of them without a car at your disposal. Some of the bigger villages, however, have a train station. These are Moreton-in-Marsh and Kemble. You can easily reach Kemble from London by train. From there, you can take a taxi to explore.
Highclere Castle – For fans of Downton Abbey
Are you a fan of the British drama, Downton Abbey? Well, I am. A big one at that. And obviously, I want to visit the Downton Abbey house whenever I am in London.
I was so glad to know that Highclere Castle, where the series was filmed, was just a stone's throw away from London. Located 70 miles west of London, Highclere Castle not only makes for a good day trip from London but also a great weekend break if clubbed with Bath or North Wessex Downs AONB.
Highclere Castle, built in 1679, is massive with more than 250 rooms. However, not all are open to the public. On your tour, you can see many of the state rooms that were featured in Downton Abbey. In the cellars, there is an Egyptian Exhibition.
The castle grounds have several gardens to interest the naturalist in you. The Monks' Garden, the Wood of Goodwill, and the Rose Arbour are some of the most prominent ones.
Canterbury
One of the prettiest and most historic towns in England is Canterbury. An important pilgrimage center for the past 800 years and the seat of the Church of England, Canterbury has some of the finest religious buildings in the world. Canterbury Cathedral, St. Augustine's Abbey, and St. Martin's Church combine to form the Canterbury UNESCO world heritage site today.
One of the best things to do in Canterbury is to visit the magnificent Canterbury Cathedral, which is the seat of the Anglican Church. It has some gory history also – this is where Archbishop Thomas Becket was assassinated in 1170. The history, the stunning Gothic architecture, and the aesthetic stained glass windows make the Canterbury Cathedral one of the best places to visit in England.
Step into Canterbury Norman Castle for spectacular views of the town. There is also a Roman Museum that gives you an insight into the city's Roman past.
Perhaps, the most interesting thing to do is to take a stroll through the town or do a historic river tour and marvel at Canterbury's architecture. Gorgeous half-timbered buildings line the River Stour and the streets on King's Mile. Easily transported me to the Bavarian towns of Nuremberg and Rothenburg ob der Tauber where I had seen some of the most beautiful half-timbered buildings during my 10 days in Germany.
Best Weekend City Breaks from London
Cardiff – Welsh history and culture
If you'd like to explore a bit of Wales on a weekend from London, then head to Cardiff. Whether you choose to drive or take the train from London, you'll be in Cardiff in under 3 hours.
Cardiff is the capital city of Wales and has lots of interesting things to do. First and foremost, is a visit to the Cardiff Castle, one of the best preserved historic castles in the country. Some of the highlights include the state rooms, the clock tower, the banquet hall, and gorgeous chapel.
Step inside the Cardiff National Museum to learn all about Welsh history. See the medieval Llandaff Cathedral. Stroll through Cardiff's many green spaces and walking trails. Or visit the fairytale Castle Coch, located just a few miles from the city center.
Portsmouth – a coastal weekend break from London
A port city in southern England, Portsmouth makes for one of the most amazing weekend trips from London. Whether you wish to discover miles of uninterrupted coastline or centuries of storied history, Portsmouth in the UK has something for everyone.
If you are interested in naval history, the best place to visit in Portsmouth is the Historic Dockyard where you can check out old warships and submarines. Also visit Spinnaker Tower, modeled on a ship's sail, for stunning views of the sea and the countryside.
Step into Portsmouth's Museum and Art Gallery for curios dating back to the 17th century. Plan a visit to the home where Charles Dickens was born. It is now a museum and gives us an insight into the life of the famous novelist.
Be sure to check out some of the fab beaches near Portsmouth. Southsea, West Wittering, and the Hayling Island beaches are some of the most popular ones.
Sheffield – An unusual weekend getaway from London
Sheffield is not the usual weekend getaway from London. It is a little too far from the capital. But I still have it on my list of best London weekend trips because once upon a time, it was my favorite city to visit in the UK.
Sheffield has always been known as an industrial city. And the industrial history of the city shows in many of its attractions such as the Kelham Island Museum and the Abbeydale Industrial Hamlet.
Several other interesting museums dot the city. Some of the most popular ones are the Graves Gallery (home to a large art collection), the Turner Museum of Glass, and the Weston Park Museum that tells you the real story of Sheffield. Cannon Hall Museum, a magnificent Georgian country home-converted-into-museum is not very far from the city.
The best part about visiting Sheffield over a long weekend is that you can easily club it with Peak District. So, you'll have a bit of nature, history, and city life – all bundled up in one vacation.
Interactive map of best London weekend trips
The interactive map (above) gives you an idea of how far each of these destinations is from London. The best part about seeing it on a map like this is that it makes it easier to visualize things and combine discrete options into one long weekend getaway from London.
For example, Oxford, Stratford-upon-Avon, and other villages in the Cotswolds can be easily combined into one trip. And so can be Canterbury, Kent Downs, and the White Cliffs of Dover.
Loved this London weekend trips bucket list? Pin it for later!