Last Updated on June 21, 2020 by Soumya
You will inevitably chance upon Mango Tree when you are researching for food in Hampi. It is the most famous restaurant in Hampi and is loved by locals and tourists alike. Delicious food and efficient service were splashed all over when I started looking up Mango Tree, Hampi. So we decided to give it a try when we were here.
Read more about what you should see and visit in Hampi.
Let's find out what I ate and saw at Mango Tree.
Mango Tree has been around for some time in Hampi. Earlier it used to be located under an iconic mango tree by the side of river Tungabhadra. But now it has relocated to a cozy, tented place inside the Hampi Bazaar, very close to the Virupaksha Temple.
Our first day in Hampi we decided to try out this popular restaurant. And the best part is we went back there on Day 2 as well. For a lunch that came after a trip to the elegant Vijaya Vittala Temple and a relaxing coracle ride on the Tungabhadra, I had very high expectations. And Mango Tree did not disappoint me at all. Two amazing experiences in a couple of days speak volumes about the restaurant. Let's have a little peep at the details.
Ambiance
The restaurant is a big place and has two eating areas. The first one only has tables and chairs whereas the second area also has mattresses to sit on. The tables are shorter and you can sit on a puffed mattress and enjoy your food the traditional Indian way. Since you have these mats to sit on, you are required to remove your shoes before getting into the restaurant. A shoe rack is available outside and it is quite safe to leave your footwear there.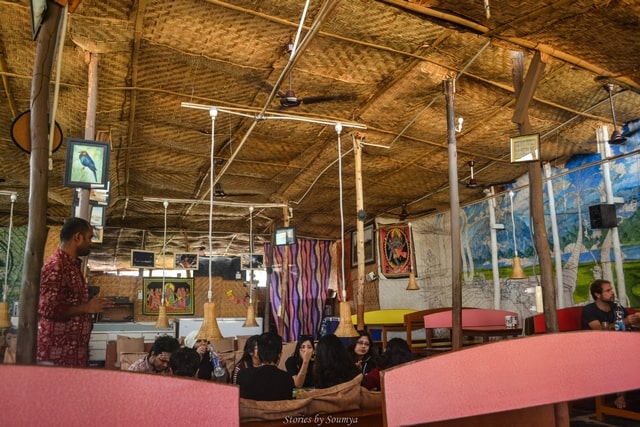 We took a normal table in the second room since we had a 5-year-old with us and needed minimal mess. The room is filled with pictures of Hindu Gods. Tall logs of wood support the bamboo ceiling above. There is a wash basin at the far left corner. Lights and fans hang over you. The atmosphere is extremely relaxing, almost soporific after a long day's travel!
Food
On our first day at Mango Tree, we ordered fresh fruit juices for ourselves, a lunch thali, and a veggie sizzler. The juices (mixed fruit, lime and mint, and watermelon) at Mango Tree were simply amazing – very fresh and unadulterated. The thali consisted of two chappatis, a portion of rice, yogurt, lentils, a couple of curries, sauteed vegetables, and a portion of pudding. Quite filling for a single person.
My sizzler (picture below) had rice, noodles, veggies, French fries, and veg koftas. Even though it may not look that appealing at first, it tasted great. The sauce was just rightly done and the rice well cooked.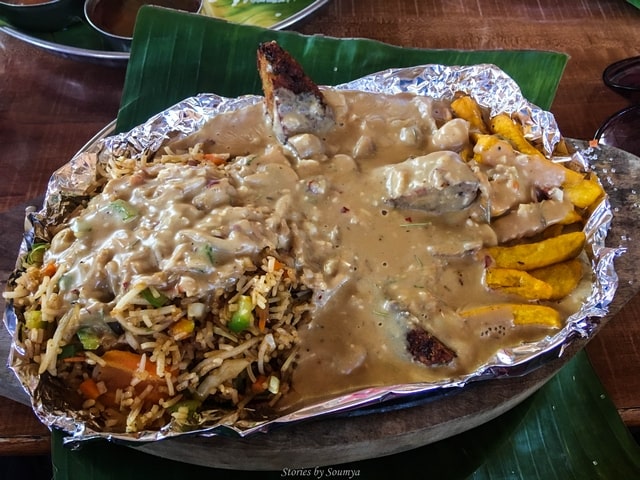 We were quite sure we wanted juices when we went in the second time. However, I decided to get a mango lassi this time while the husband and the son decided to sip on their favorites. The lassi was perfectly done. The husband went for his usual thali. He is a big fan of them. And this time, the semolina pudding in the thali was delicious.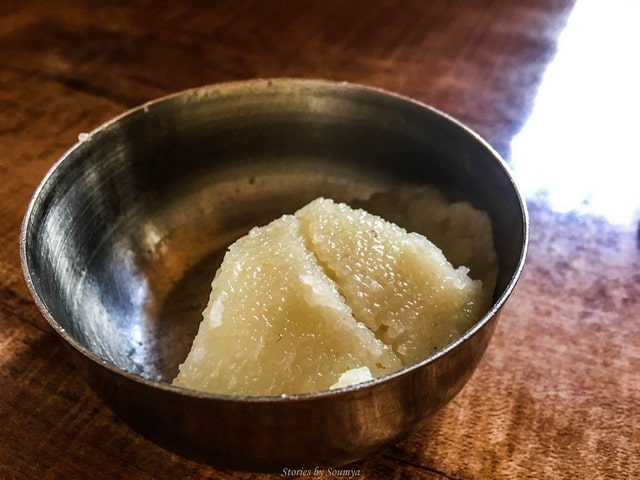 I decided to try something new. And my eyes fell on the Egg Bhurji (a form of scrambled eggs) on the menu. I was so happy to find something closer to meat. It is hard to come by non-vegetarian food in Hampi especially in the area where there are temples. I ordered the Egg Bhurji without a second thought. And it turned out to be the best egg bhurji of my life. Perfectly done with the right amount of onions and coriander and served with two chappatis, the dish filled me up for the rest of the afternoon.
Apart from the usual Indian fare, Mango Tree has a number of continental items on the menu as well. Additionally, there are some interesting Meditterranean and Israeli items.
Service
Waiters are knowledgeable about the items on the menu and can clearly converse in English. They are quite happy to serve you as soon as you enter and are readily available when you need them. We were there in the shoulder season which is why the restaurant was not filled to the brim but it can get quite crowded in December-January, the peak season. The cutlery is not fancy but neat. Service is pretty fast.
Helps To Know
There are no toilets within the restaurant premises. The closest toilet is at a walking distance of 2 minutes from Mango Tree in the Hampi market.
You will not find non-vegetarian items on the menu except for some egg dishes.
The older Mango Tree restaurant that faced the river has now been shifted to the Hampi market, very close to the Virupaksha Temple.
Read more about Virupaksha Temple and the mystery behind its inverted shadow here.
Final Verdict
I absolutely loved the place and I understand why it is Hampi's most popular restaurant. The food quality is great and the service is good too. I would highly recommend their fresh fruit juices and the Egg Bhurji. I will definitely eat here the next time I am in Hampi. So while you are enjoying the many wonders of Hampi, do not forget to grab a bite at the Mango Tree.
Check out Mango Tree Hampi on Facebook.
NOTE: This is not a sponsored post and I paid for my lunch at Mango Tree Hampi on both days. My review and opinions are all my own and are based on the dishes I tried here, all of which are listed above.
Like It? Pin It!